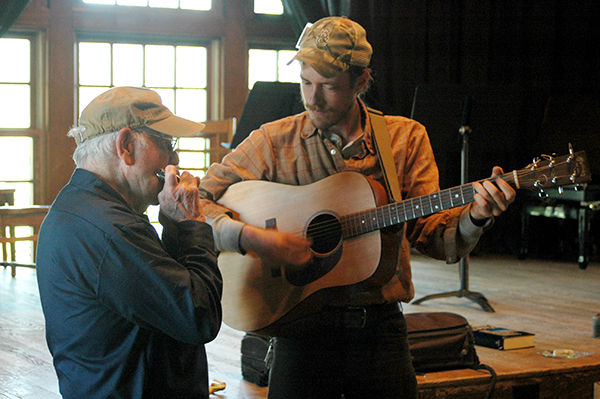 [caption id="attachment_10289" align="aligncenter" width="480"]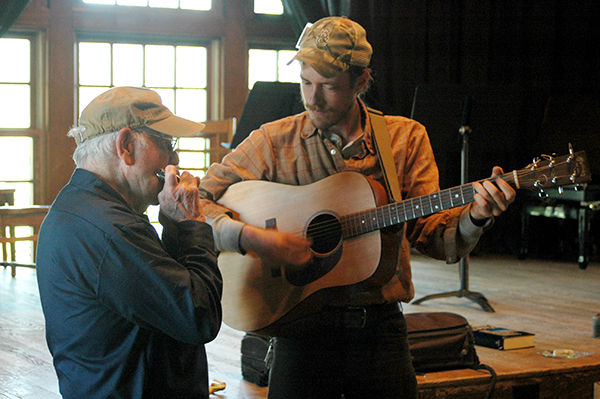 Cory and fellow Tinsmithing student play music in the Community Room after Show and Tell[/caption]
In the spring, the
Berea College Bluegrass Band
comes down from Kentucky to charm the Folk School Community with a Friday night concert and a jumpin' Saturday night dance. I had the opportunity to have a good porch sit with Cory Shenk, a former Work/Study,
Sticks in the Mud
Dancer, and former man-about-Brasstown. Cory left Brasstown to pursue his undergraduate degree at
Berea College
. He is a member of the Berea Bluegrass Ensemble who will be playing at the Folk School April 4.
[caption id="attachment_10295" align="alignright" width="228"]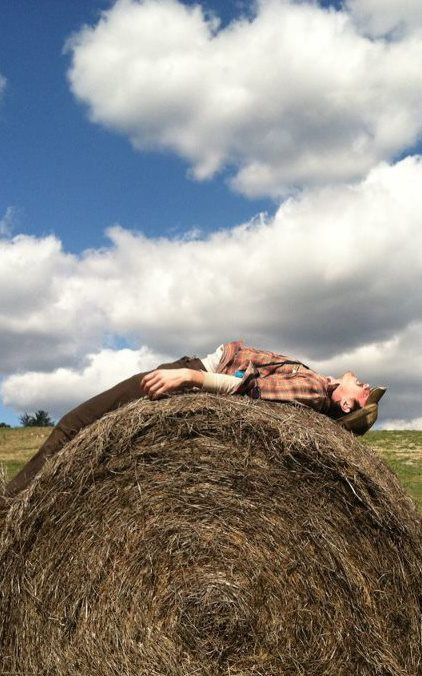 Laying on the hay in the Folk School field[/caption]
CP: When were you a Work/Study?

CS: March 14 – May 15, 2010. I remember the date clearly because I recall being mesmerized by the St. Patrick's Day Party at the Murphy L & N Train Depot. Dale's imitation of a leprechaun trapped in a brown paper bag - I thought that was brilliant!
CP: What have you been up to since your W/S session?
CS:I am currently a student at Berea College. I have been there for three years pursuing my undergraduate degree. I've also done a bit of working and traveling. I went to Ireland and Japan with the Berea Bluegrass Band. For a while before I went to Berea, I was working with Meredith Dahle (former host) at Sugarboo Farms in Blairsville. That was great because I could still be involved at the Folk School.