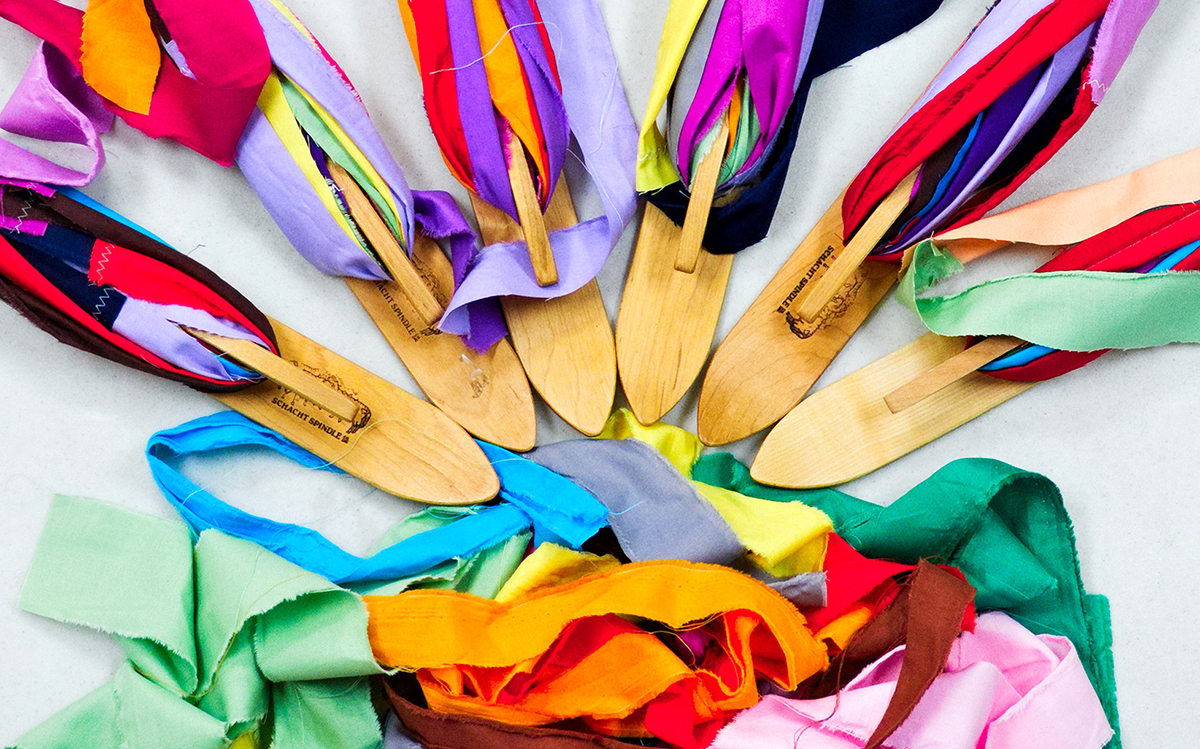 16 Oct

Weavers' Work Week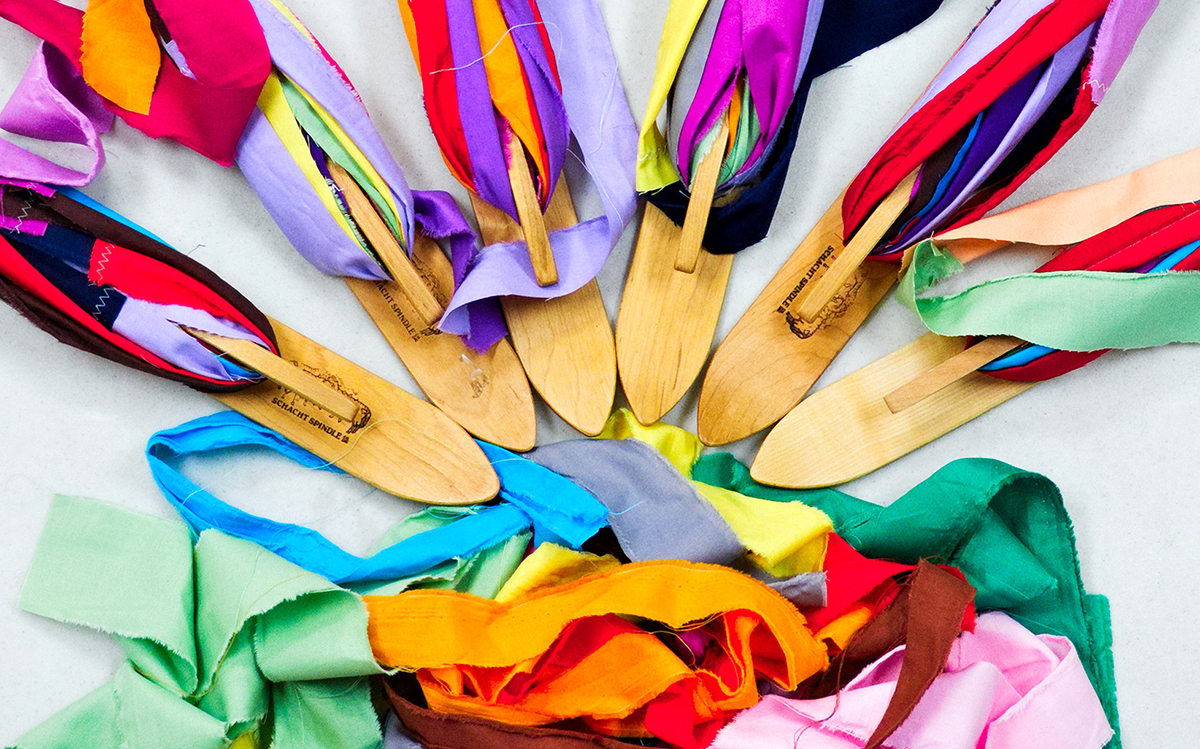 Weavers' Work Week is an annual tradition at the Folk School where skilled weavers are invited to come for a week and volunteer their time to do projects around campus and make improvements in the studio. Let's learn more about the week from Pam Howard, longtime Weaving Resident Artist.

CP: What is Weavers' Work Week, and how did it start?
PH: The idea for Weavers' Work Week started in 1992. A weaving teacher, Betty Hancock Smith and her weaving student, Dee Richard were talking about how hard it was sitting all week on the loom benches. Those two got to talking about what if weavers were invited to come to the school and weave fabric to make the cushions. They asked Jan Davidson, former director and Ruth Truett, former programs director. It was approved, and in the spring of 1993 the first Weavers' Work Week happened.
I was assisting Betty in her weaving class in 1992, and I was the first weaver that was asked to participate. I have been to every one since. From 1993 to 2000, Betty was in charge of organizing the yearly event. In 2000, I became the Resident Weaver and took it over organizing it. Things went on fairly smoothly till 2008 when I had health issues and inherited relatives I had to take care of. After the dust settled and things had calmed down in my life, I thought it was time to restart the tradition of WWW. So, on February 4, 2015 I sent a letter to the "powers that be" and got Weavers' Work Week back on the schedule.
CP: How was Weavers' Work Week this year?
PH: Very colorful and productive! With a new director, Jerry Jackson, I went to him and asked if there was something he had in mind for us to weave for the school. Right away he said, new banners for the dinning hall. I said, "well this is not a woven project so maybe someone else should do it?" But Jerry had all the confidence that the Weavers could perform the task and we did, with flying colors!
CP: Tell me about the new pieces in the Dining Hall. What was the design process?
PH: This was ALL Jerry's idea. Jerry described what he was thinking and then produced a colorful drawing. It was his design and vision. He and I went to Bless My Stitches quilt shop in Murphy, and with the owner's help, we picked out 25 solid colors. Jerry came up with the idea of 25 colors for 1925 when the Folk School was created. The banners represent the rag coats that the Border Morris Sticks-in-the-Mud team members wear when dancing.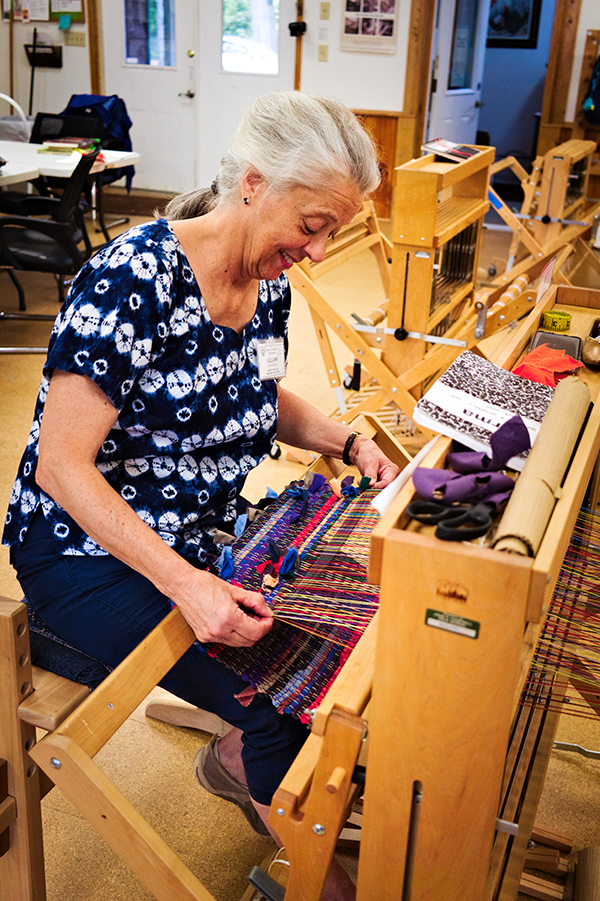 CP: What other projects did you tackle this year?
PH: One of the reasons why the Weaving Studio has such a great reputation is the studio is in great condition. That is because of Weavers' Work Week. Weavers are invited to come and help with different projects. They will work on the looms, clean and organize the equipment and yarn room, sort and catalog the Fiber Library, and weave items for the Folk School. Every year is different. I just make a list each year of what needs to be worked on for the coming WWW year.
CP: How many people come to Weavers' Work Week? Are attendees also Folk School instructors?
PH: This varies from year to year. Usually there will be around a dozen worker bees. Since I am the one who heads this up, I take notes all year on what would be a suitable project and who would be most helpful in working on that project. It usually is a mix of Folk School instructors and students who are invited. The most important requirement is they are all friends of the Folk School. Being a weaver, a sewer and is willing is very helpful too. Just like Blacksmith Work Week, participation in WWW is by invitation only. It is wonderful that so many people are enthusiastic to volunteer their time and skills, but we are limited by the number of looms and space available.
CP: What are some memorable projects of the past? What are some projects visitors can still see today around campus?

PH: Oh my, there are so many! What got WWW started was the loom bench cushions. Since the first 1993 WWW, we wove fabric and created loom bench cushions. In 2016, we took that old woven fabric and re-designed a new loom bench cushions. We have gotten lots of comments about how more comfortable they are. So if you take a floor loom weaving class you will most likely notice them. There are also hand-woven curtains on many of the windows on campus. We have made table runners that are used in the dinning hall on the tables for special occasions. Of course work has been done with all of the books, magazines and notebook in the Fiber Library. There is an outdoor woven garden feature located in the front of the Weaving studio. Each year we add a bit more to it. We encourage students from other classes to add to it. The main benefit of WWW is making sure that the Weaving Studio is in top-notch condition so that the students have a positive experience.
CP: What's your favorite thing about Weavers' Work Week?

PH: Well at the end of the week knowing that something has been created that will be seen and enjoyed by those who come to the Folk School. We have gotten quite a lot of positive comments on the colorful banners.
CP: Any closing words? Or is there anything you would like to mention that I did not ask about?
PH: I think having work weeks in the Folk School studios is very important. So far there is the famed Blacksmith Work Week in addition to Weavers' Work Week. Both of these studios have lots of equipment that require attention. It is wonderful that there are Folk School supporters that will come together and help keep these studios going. It is a big job for Christie Rogers, Assistant Resident Artist and myself to do. We appreciate the support of Folk School and those who come to help us out.
Photos of Weavers' Work Week by Brian Gatti.