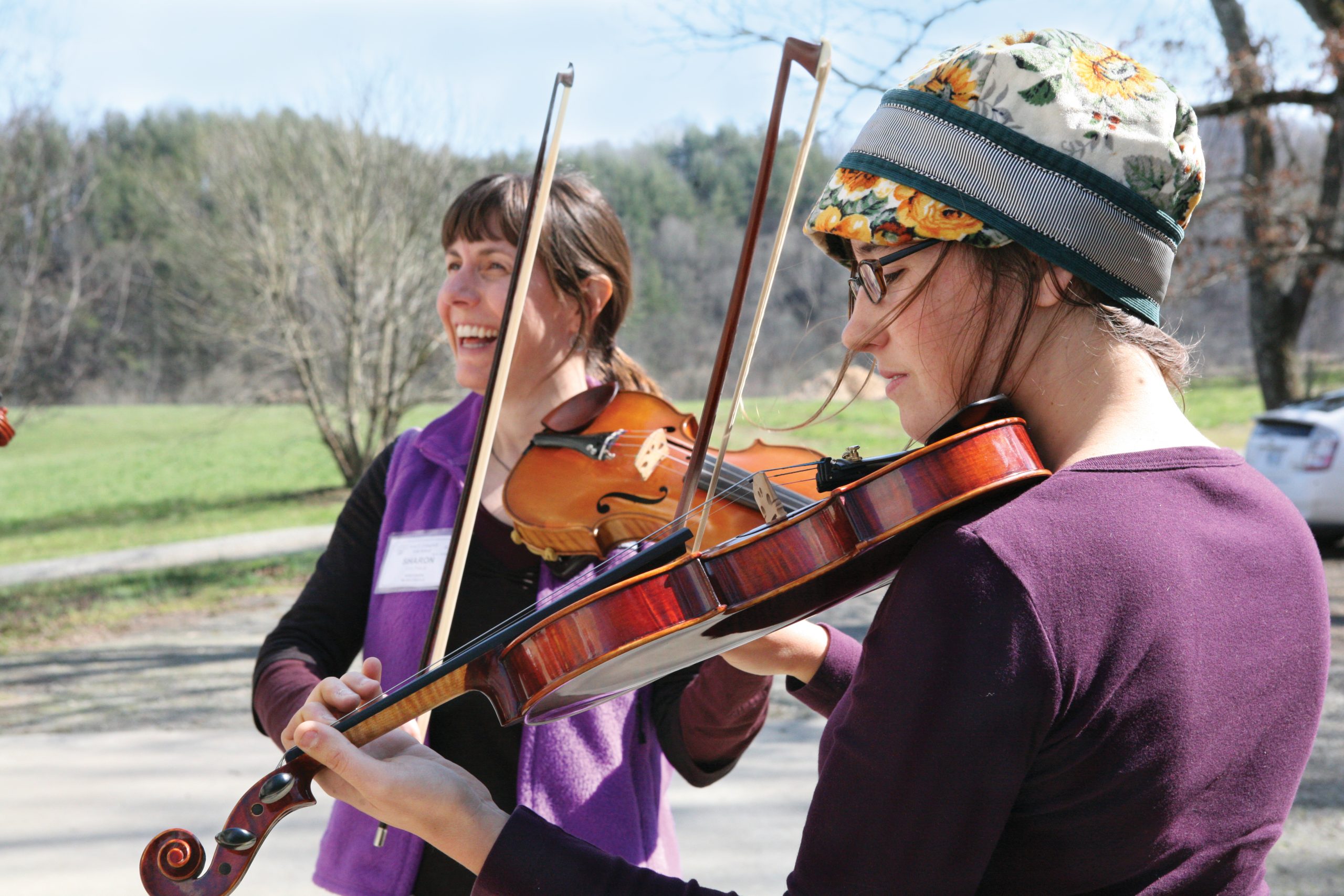 28 Jan

March of the Fiddlers

When students show up at an Intermediate-level fiddle class, they already know how to play some tunes — maybe some fast ones, maybe some waltzes; tunes learned from a friend or teacher or family member, tunes laboriously acquired from a scratchy old recording, or tunes read out of a tunebook. But it's pretty much a sure thing that those students don't all know the same tunes as one another. One of the things we do as a class is learn a common repertoire, starting with whatever tune I teach on the first evening. That first tune is always something uncomplicated so that students weary from a day of travel can easily locate it under their fingers and bow.

Of course, the next morning students are sure that the previous night's tune is forgotten and gone. But no, we get it back and go on with our day; not just learning tunes, but figuring out how to coax more style and grace and pizzazz from the fiddles.

Usually, by about Wednesday, we're ready to go serenading. We head over to one of the clusters of studios and walk along playing our fiddles. Sometimes, an instructor or a student has heard us coming and hurries to open a studio door and usher us in. In other cases, I put my head in the door and ask if it's a good time for us to share a tune. We play a tune for the wood-turners or the potters or the quilters or the cooks, and in turn, they show us what they're making (or feed us tidbits). In no time at all, everyone's beaming – excited and happy to show what they're working on.

Some specific memories from fiddle serenades have stuck with me. One year some of the blacksmiths pointed out, wistfully, that we hadn't visited their studio (we remedied that). Once a PBS film crew, on campus for a day or two to get some JCCFS footage for a program, spotted us fiddling as we walked from Davidson Hall to the Painting Studio. The cameraman raced over to film the action, and then to our astonishment, wanted us to go back and repeat it so he could record the sound.

But more than any specific memory, what lingers in my mind is the overall experience of visiting Folk School studios with fiddles in our hands. We brought the joy of the music with us, and – no surprise – found every studio already humming with the joy inherent in creating.

Susan Conger will be teaching "Make Your Fiddle Sing and Dance" on March 17-23, 2019.