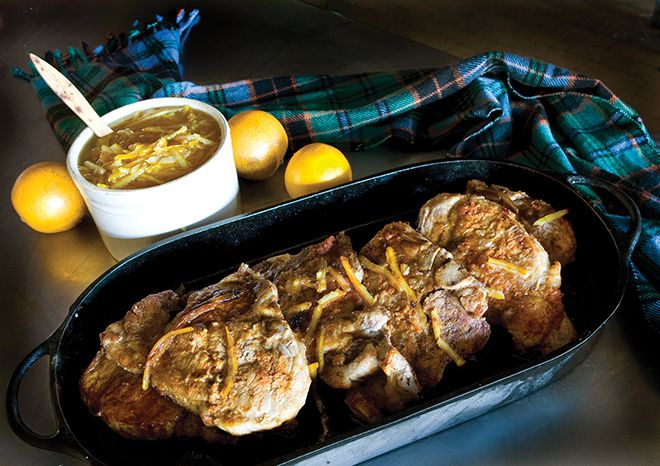 23 Nov

Marmalade Pork Chops Recipe

This recipe turns humble pork chops into supper for guests, especially when you serve it with Nanette's Apple Chutney (page 235 of The Folk School Cookbook), Rumbledethumps (page 65 of The Folk School Cookbook), braised beet greens, or broccoli.

In a heavy skillet, brown until golden on
both sides:
4 (6-ounce) pork chops, seasoned with salt and pepper
1 tablespoon butter
1 tablespoon olive oil

Drain the pork chops well and place in a
baking pan or casserole with a lid.

Mix together in a small bowl:
2-inch knob of fresh ginger, grated
½ teaspoon paprika
½ teaspoon black pepper
½ teaspoon salt

Rub one-fourth of this mixture onto each chop.

Place on each chop:
1 teaspoon good orange marmalade

Mix together and pour into pan with
coated chops:
¼ cup cider vinegar
¼ cup water

Cover pan tightly and bake at 325°F for
45 minutes. Serves 4.

Garnish with:
1 orange, thinly sliced

Recipe featured above appears in The Folk School Cookbook by Nanette Davidson; Cookbook photography by Keather Gougler, unless otherwise noted.
The Folk School Cookbook:
A Collection of Seasonal Favorites
Arranged by the seasons, the 336-page hardcover book features Southern Appalachian cooking as well as cuisine from other parts of the world—especially those that have helped to shape the history of the school. Folk School regulars will recognize dining hall favorites, Fall Festival fare, Appalachian classics, and treats made for holidays and special events.
Nanette Davidson, cookbook author and former Folk School Resident Artist in Cooking, meticulously collected and curated over 200 recipes including some of the most memorable recipes served family-style in the school's Dining Hall over the decades.
Between the beautiful photography, illustrations, stories, and the delectable recipes, you'll be tempted to come to Brasstown for a visit. We hope you will! In the meantime, cook up a taste of John C. Campbell Folk School at home and share it with friends and family.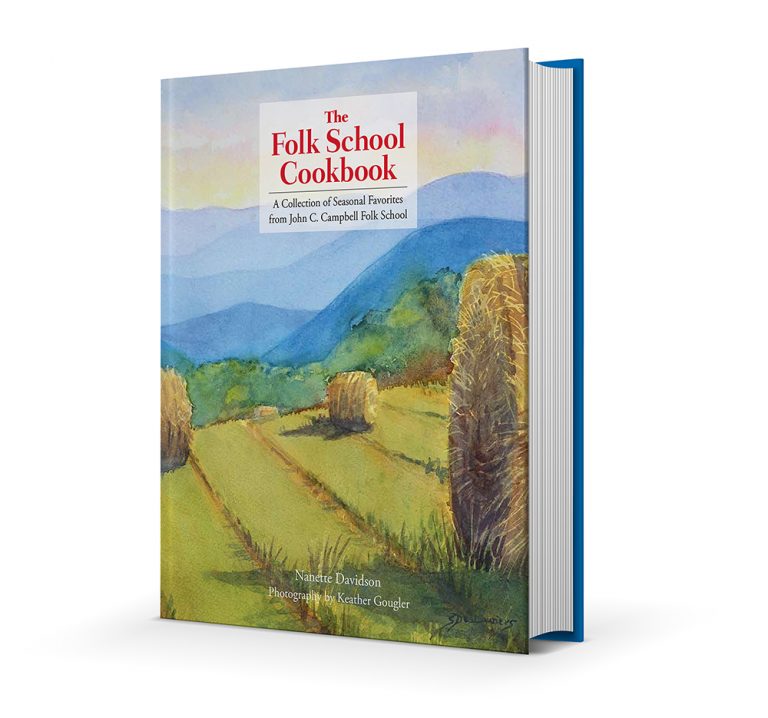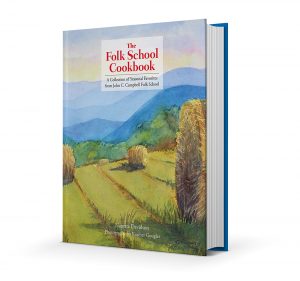 The Folk School Cookbook is available at the Folk School Craft Shop. Place an order through our online store to have the cookbook shipped directly to you.