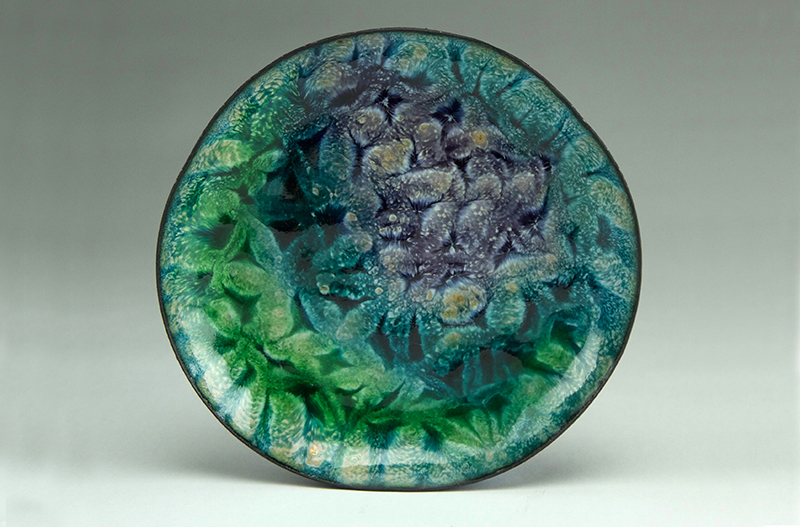 11 Jul

Sienna's First Class: Enameling

The summertime at the Folk School offers two opportunities for people under the age of 18 to take classes at the Folk School: Little/Middle Folk School and Intergenerational Week. For many young people, this is an ongoing tradition, so what happens when you turn 18 and age out of these programs? Do not fret, you are not banished from the Folk School! On the contrary, now you can take ANY class all year long.

I recently met Sienna Bosch, an 18-year-old recent high school graduate from Fort Collins, CO who was taking "Beginning Techniques in Enamel" with Christie Schuster. She was here with her mom, who was in printmaking class, and her dad, who taught woodturning. I sat down with her and talked about her experience. Enjoy our interview!

CP: Had you been to the Folk School before this trip?

SB: I had never been to the Folk School before this trip. I had heard a lot about it from my sister and parents, but this was my first time at the Folk School.

CP: Do you have a favorite craft?

SB: I don't necessarily have a favorite, I work mostly in wood, metal, and wire, but I really enjoy trying new things and experimenting with a variety of crafts.

CP: Why did you decide to take Enameling?

SB: I decided to take enameling because it was something that I had never tried before, but was interested in. I had seen pictures of enameled copper and was curious what the process was like. There were many classes that sounded interesting to me, but enameling really sparked my interest.

CP: What was your favorite part of the class?

SB: My favorite part of the class was learning the different techniques of enameling, and then being able to experiment with them myself. There are many different processes and techniques that all end up with very different final pieces. My instructor was great at showing us the process, but then letting us take it in our own direction and try whatever it was we wanted to.

CP: What are things that you enjoyed the most about your time at the Folk School?

SB: I enjoyed getting to talk with the people that I met at the Folk School. Everyone at the Folk School is very kind. At each meal, I got the chance to sit with new people, and hear about the other classes that people were taking as well as get to know them as a person. There are also many fun experiences outside of class at the Folk School that I enjoyed. There was a harp concert, which was something that I hadn't ever experienced before, and getting the chance to go see that was unique and fun. At the end, there was also an exhibition of all the work people had done throughout the week, which I really enjoyed seeing. It was awesome to see what the other classes had made. Whether it was class or other opportunities at the Folk School, I was always busy with something that was fun.

CP: Do you know what class/subject you want to take next?

SB: I don't have a particular class that I want to take next, but there are many classes that interest me. I think that pottery or printmaking class would be fun to take, because both of those I have tried, but I haven't had much experience with, so I think that would be a good class to try.

CP: That's pretty cool that your dad is a professional woodturner! Are you interested in wood turning at all or have you tried it?

SB: I began learning to wood turn when I was about 7 or 8 years old. Most of the time when I was younger, I would turn a few times a year, and that was it. Throughout high school, I began woodturning more often. Now woodturning is part of many of my pieces, however I have begun to explore other types of sculpture which I combine with woodturning to create my pieces. I really enjoy woodturning because it is such a unique process and I will continue to wood turn during college.

CP: Is the Folk School a good place for a family vacation?

SB: The Folk School is a great place for a family vacation. At the Folk School I was always busy, which made it very fun. It is awesome because family members can take a class together if they wanted to or they can take different classes if they are interested in different things. There are many options for classes at the Folk School, so everyone in the family can find something that interests them. This is different from some other family vacations in that families can still be together, but everyone can get a unique experience and be doing something that they enjoy that someone else many not enjoy as much. The Folk School is a great place to come as a family and try something new or further expand on knowledge of a particular craft. Due to the fact that I was planning on coming the week that my dad was teaching, I only had the option of the classes that would be available during that week, but there are so many great options every week. There were many classes that I wanted to take, and I think this is the case for every week, there are great classes for anyone, which makes it awesome for families.

CP: What inspires you?


SB: I'm inspired by the incredible world that we live in. Being from Colorado, I have grown up close to the mountains with a love for the outdoors and the great opportunities that it offers. I love traveling to national parks and seeing the beautiful world that we live in. This inspires me explore our world and meet the people that are a part of it. There are many people that inspire me including my parents, siblings, and close friends. They have inspired me to pursue my love for art, and I one day hope to be as compassionate as them.
CP: What's next for you now that you have graduated from high school?
SB: I plan on attending CSU (Colorado State University – Fort Collins, CO) to study art, specifically sculpture.
CP: Would you ever apply for the Work/Study or Host program?

SB: I think that either a Work Study or Host program would be really fun. I think it would be an awesome experience and I would learn a lot from it.
CP: What's your favorite thing about the Folk School?

SB: My favorite thing about the Folk School is that it gave me the opportunity to explore a craft that I may have never been able to try otherwise.