21 Jul

Thank you for our new EV Charging Station!

Posted at 11:11h

in

Fund A Need

,

Fund: Archives

,

Fund: Baskets, Gourds, Seats & Brooms

,

Fund: Blacksmithing

,

Fund: Book & Paper Arts

,

Fund: Clay

,

Fund: Cooking

,

Fund: Enameling

,

Fund: Fiber

,

Fund: Gardening

,

Fund: Jewelry, Metals & Cold Glass

,

Fund: Music & Dance

,

Fund: Nature Studies

,

Fund: Painting, Drawing & Mixed Media

,

Fund: Photography, Writing & Storytelling

,

Fund: Quilting

,

Fund: Weaving

,

Fund: Woodcarving

,

Fund: Woodturning

,

Fund: Woodworking

,

Giving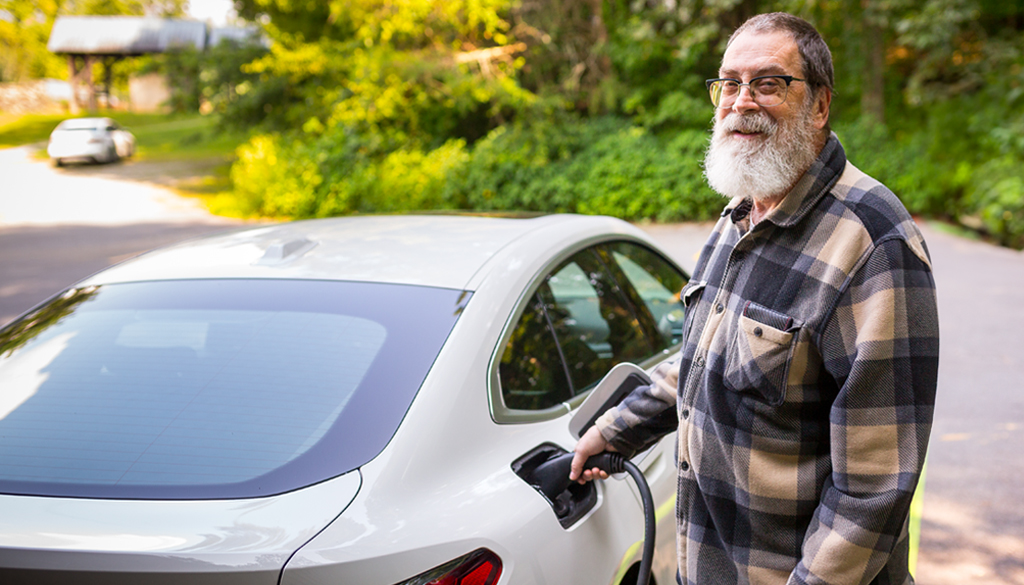 Student and Archives Volunteer Steve Byers charges his fully-electric BMW at the Folk School's new charging station.
At the John C. Campbell Folk School, we believe in fostering creativity, preserving traditional crafts, and connecting with nature. Thanks to the incredible generosity of our donors, we are excited to announce a groundbreaking addition to our campus that aligns perfectly with our values.
We're proud to introduce our very first EV charging station! This cutting-edge addition will not only benefit our Folk School community but also contribute to a greener, more sustainable future. By providing EV charging infrastructure, we are actively reducing our carbon footprint and promoting eco-friendly transportation options. Electric vehicles produce zero tailpipe emissions, helping to improve air quality and mitigate the effects of climate change.
One of the wonderful aspects of this EV charging station is that it will be free for our students, instructors, and staff to use. We want to make it as convenient and accessible as possible for our Folk School community members who have embraced sustainable transportation.
Did You Know?
Did you know that a single EV charging station can save approximately 1.5 million grams of CO2 emissions per year? That's equivalent to planting 30 trees or taking 10 gasoline-powered cars off the road!
As of late last year, there are over 47,000 public electric vehicle charging stations in the United States, and this number will only continue to grow. We're proud to add ourselves to the list and help travelers from all over!
About the Wallbox Pulsar Plus
About the Wallbox Pulsar Plus
We selected the Wallbox Pulsar Plus, a state-of-the-art charging solution known for its reliability and efficiency. With its advanced technology, the Pulsar Plus can fully charge an electric vehicle in just 3 to 5 hours, ensuring a quick and hassle-free experience for our users.
Teslas will need to use their factory-supplied adaptor for J1772 connections. Most others can plug in right away!
In the future, we plan to make the charging station available to the public for a nominal fee. This revenue will help us cover the operating costs and further support the Folk School's mission.
"We would like to extend our heartfelt gratitude to all our donors who made this EV charging station possible," says Folk School's Interim Executive Director Bethany Chaney. "Your support has empowered us to take a significant step towards sustainability while also enhancing the overall experience for our students, instructors, and community."
"I thank the Folk School for being forward-thinking and committed to supporting sustainable transportation," says student and volunteer Steve Byers, pictured above charging his electric BMW. "As EV owners, we are now responsible for making sure that this wonderful resource is used with consideration for others."
Together, we are creating a greener, more vibrant future. Thank you for your incredible generosity!
For more information on how you can continue to support our initiatives or for general inquiries, please visit our website at folkschool.org/fundaneed or call us at 828-837-2775