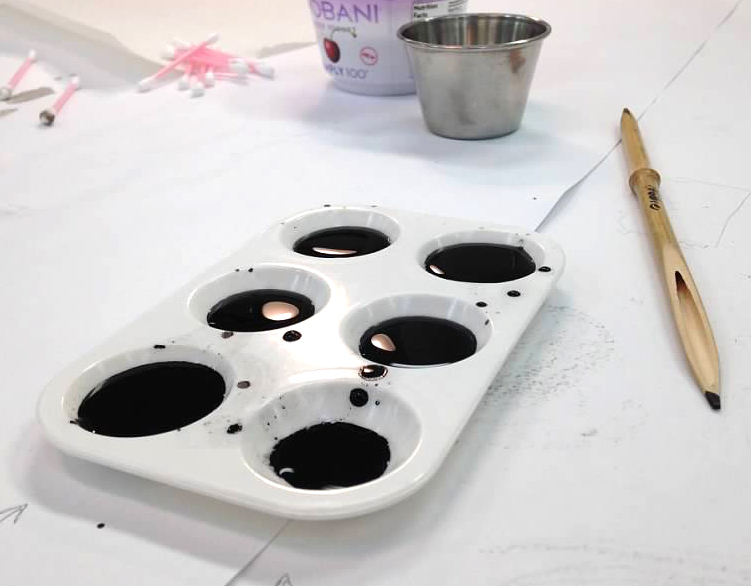 08 Jun

Drawing in the Moment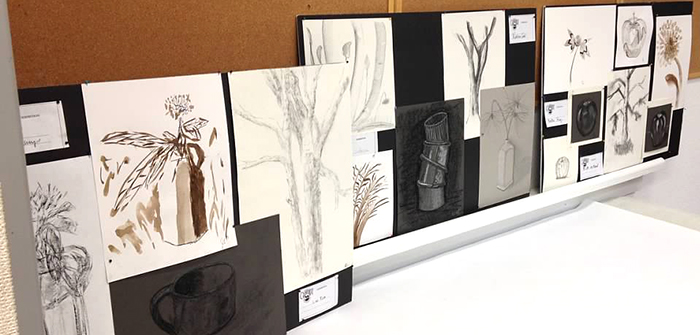 What's better than a week at the Folk School? Two weeks, of course. That's why after teaching the Science of Bread in May I stayed to take Drawing Techniques and Tools with Pebbie Mott and Pam Beagle-Daresta.
The first day we learned about the tools we'd be trying: drawing pencils (which range in darkness from the pale 9H to the black 9B), water color pencils (draw, then add water), charcoals (soft and hard, plus white to use on gray paper), ink with a brush and bamboo pen (Pam brought walnut ink she'd made in a previous class), and Micron pens. After trying the techniques, we'd pick one for a final project.
Pebbie stressed the need to let go of the pictures in our heads–to learn to see what's before us and faithfully render it. (Later we might choose to draw what we don't see, but this should happen intentionally.) She passed out square blocks and then watched us all draw squares, even though we were looking at the blocks sideways. We tried again, using our pencils at arm's length to measure the block's width versus height, just like artists do in movies. The square side was no longer square at all.
Each time I began a new drawing that week, I overcame a slight hurdle of fear, then sank into the process, tuning out both my chattering classmates and the usual parade of thoughts that marches through my brain, often circling back for multiple performances. When I'd come up for air, I'd realize how deep the radio silence had been. Yoga? Meditation? They'd never worked like drawing did!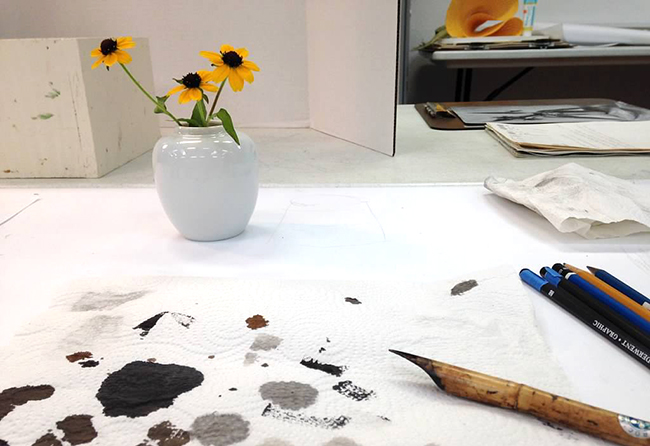 During my first week on campus, I'd enjoyed passing under a giant ball of pink rhododendron hanging over the driveway outside Keith House. Now, walking from the art studio, I watched the flowers wilt and brown. I could've been sad over this: the ephemerality of the flowers, and also the ephemerality of most things in life. But I tried to let go of the rhododendron, looking for new flowers to enjoy. I found a patch of lady's slipper in the woods. It was a new week.
Even now, writing a blog post on my lunch break, I'm tempted to wish I were still at the Folk School, but I don't want to miss the moments that are coming.
---
Emily Buehler, the author of this blog, is also an instructor of Bread Making at the Folk School. She became a bread baker in 2001, intending to take a break after finishing a degree in chemistry. Six months later she began teaching bread classes. Emily has written a book on bread making – techniques, not recipes – that includes a section on the science occurring in the dough. (Chemistry does come in handy!) Visit Emily's website
Save
Save