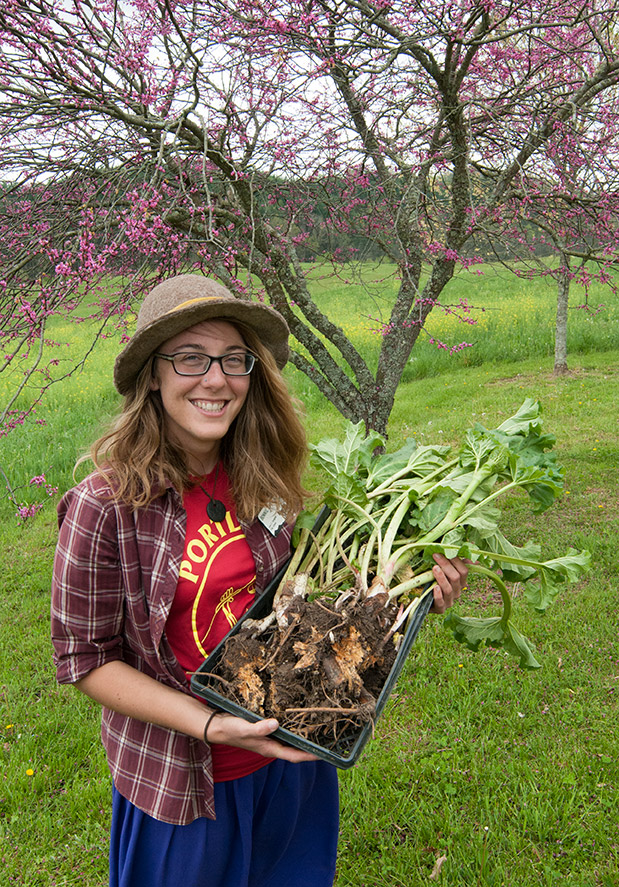 15 Jun

Catching Up With Host Bonnie Lenneman

The hosts at the Folk School keep the show running smoothly. Unlike the year-round staff who go home at night and the regular students who are here for only a week, they are fully involved in the daily life of the School for a four month period. Without further ado… Let's get to know a little bit about our current senior host, Bonnie Lenneman!

CP: Where are you from and what do you do there?
BL: I am originally from Michigan, but most recently I was working for a non-profit in Portland, Oregon.

CP: What about the Folk School appealed to you before you first came?
BL: Last spring I was leaving my job at the non-profit and I wanted to do something new & different that engaged both my artistic/creative side and also involved doing something outdoors. The Work/Study program was a perfect fit!* The Sing Behind the Plow motto also appealed to me – the idea of working more closely with the land and celebrating the simplicity and satisfaction of our labor. (*Bonnie came here first as a Work/Study in Fall 2013, now she is host)

CP: Were you crafty before you came here?
BL: I knit, but that was it.

CP: Why are you knitting a tiny sweater (Bonnie is currently knitting a small mustard sweater)?
BL: This week I am taking the Aran & Gansey-style Knitting class. I don't have time to knit a big sweater, but I want to learn all the techniques, hence the tiny sample sweater.

CP: What new crafts have you taken to since you've been here?
BL: I really love the banjo and had never picked one up until I came here. Now I've taken three banjo classes and have a few tunes under my belt. I also have played morningsong a few times with friends. It's been cool to be surrounded by music and everyone has been really nice and welcoming – I wouldn't have explored it on my own.

Basketry is another new craft love. I almost didn't take a basketry class, but now I've taken three! Basketry is a rich cultural tradition in many places around the world. I like that baskets are both functional and beautiful. Basket makers use natural materials and what's avilable to them in their region. I like that you can do crazy and creative things with them.

CP: What is the favorite thing you've made?
BL: My felted hat I made with Kay Patterson in a workshop that Lauren Kelischek organized. When I went canoeing recently, I had my banjo and my hat. I thought about if the canoe tipped over, which one I would pick to save and I couldn't decide… luckily it didn't come to that!

CP: What's your favorite thing about the Folk School?
BL: The feeling of the place and grounds, the energy of history. I love to walk on the campus trails and see the mountains and the changing of the seasons. It's very grounding here. Also the sense of camaraderie in the broader Brasstown community – everyone had been really generous and encouraging. I also love the weird, quirky traditions the have developed and endure like the morris dancing, the mayday celebration, singing at the end of each dance.

CP: Do you have a favorite place on campus?
BL: The field between the garden and trails with all the wildflowers & wild weeds, looking at woodchucks and birds. I also love the rhododendron trees by the Mill House trail.

CP: If you had a favorite Dining Hall meal, what would it be?
BL: Meatloaf & Steak Salad and I was a vegetarian before I came out here!

CP: Fav season?
BL: Fall or Spring. The leaves in the fall are really exciting. The awakening and renewal during spring is magical with the buds and flowers, swimming holes, thunderstorms and fireflies, and baby birds.

CP: You been a host and a work/study student? How do they compare?
BL: In the Work/Study Program you get to work outside. You develop a camaraderie with the others as you do physical labor side-by-side – it felt really good to me. The maintenance crew is also a pleasure to work with.

When you are a host, taking a class every week is a really amazing gift. You get to know more people and the instructors. A host is more connected to the day to day running of the Folk School. I also like ringing the bell at meals, which is a host duty!
---
Do you have questions that you want to ask a host? Leave your interview question ideas in the comments!