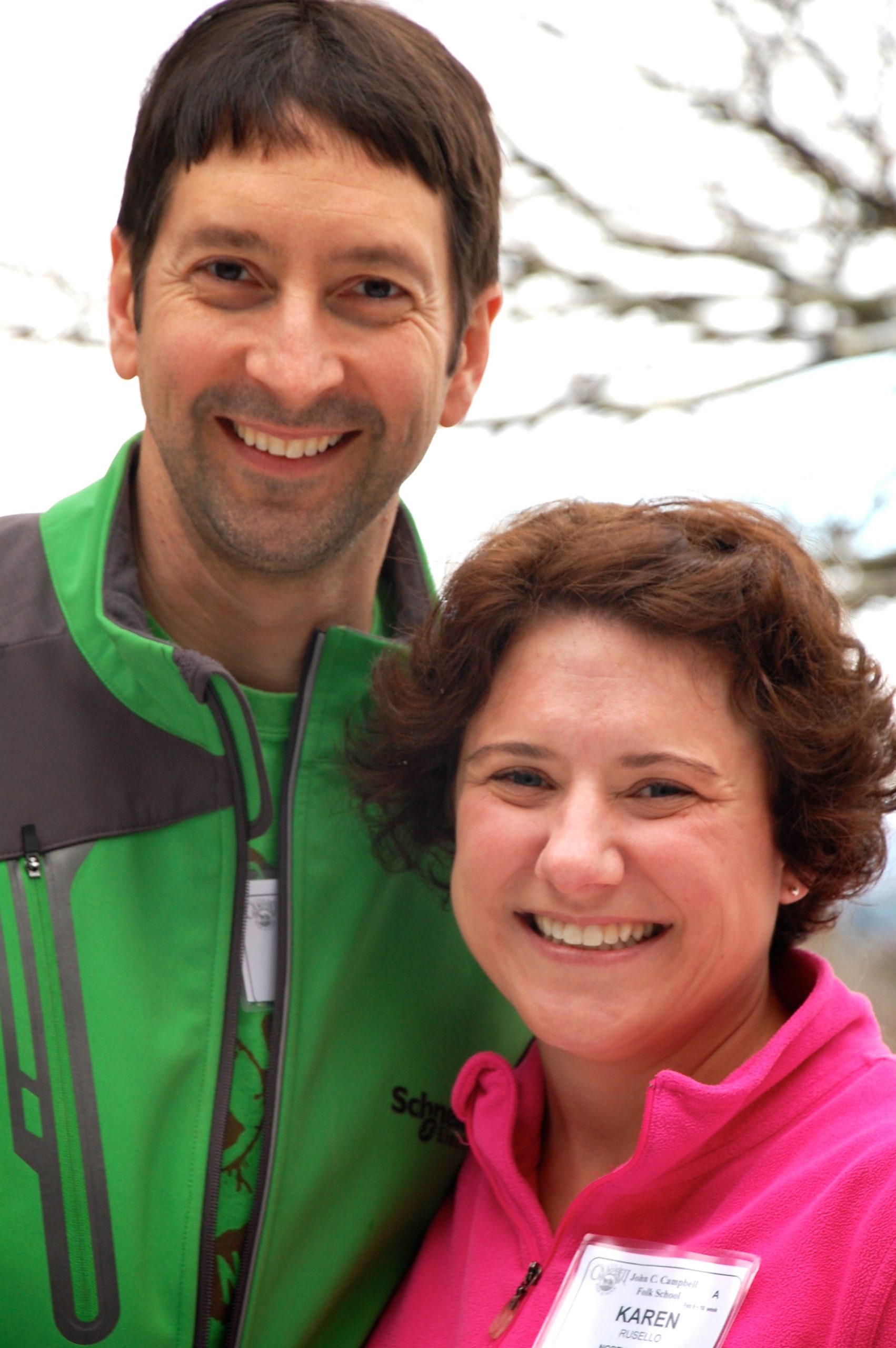 14 Feb

Celebrating Love: Valentine's Week at the Folk School

It's Valentine's Day here at the Folk School.  I caught up with some friends and classmates this week to hear more about what folks are doing to mark the occasion.

Karen and Paul


 Karen is a second-time Folk School student who brought her husband Paul here for the first time.  They did not pick this week intentionally for Valentine's Day but are happy to be here to celebrate with the Folk School community. Karen and I are classmates in Martha Owen's Sheep to Shawl spinning/dyeing class together, while Paul is over in the Woodturning class with Phil Colson.

Karen: I loved it here and knew he would love it too. So we looked through the catalog and found  a week where we could be here and work on stuff together.

Leah: So between the two of you, who is craftier?

Paul: She is.

Karen: I might be more artistic, but Paul's an engineer. He is into figuring out how stuff works and making beautiful things that function well.

Leah: What are you learning this week that you will take home with you?

Paul: In wood turning, you have to concentrate hard for short amounts of time and then stand back and watch to see the potential emerge.  I think that's something I am taking away from this week that applies in our life.

Karen: (laughs) So you concentrate on me for short periods of time??

Paul: (laughs) Yes – and then all the potential emerges.

Karen: I think the way we are spending time with each other this week is really reflective of how we want our lives to be, so it's a good way to practice what to prioritize.

Leah: That's beautiful you guys.  However, I actually meant – what are you literally taking home for each other?!

Paul: I am making some spinning tools, and a bunch of stuff for our home.  And I am working on a special thing that I haven't told her about yet.

Karen: I am learning a bunch of techniques.  I don't know how much knitting I am going to get done, but eventually these techniques will turn into sweaters.  Or socks.


 I miss you Darling Cory

Christine Grummon is a work-study student, meaning she is spending nine weeks here at the Folk School.  In exchange for six weeks of working on the maintenance crew, she will spend three weeks in class. 

Leah: Hey Christine, what have you got there?

Christine: I crocheted a heart garland to send to my girlfriend Cory for Valentine's Day. She's in Massachusetts. And I am here. It's cheesy, I know. But they are handspun!


Leah: Really??? Handspun?!

Christine: I took a beginning spinning class last weekend and made little bits of yarn. Not enough for a hat, but perfect for a project of this size.

Leah: handspun means true love. 

Lovebirds

There is love, companionship, and adorable things happening in the chicken coop these days.  These guys were a little harder to interview but rumor has it that all the hens have been cuddling up with poor Ed the rooster these past couple weeks.  Ed lost his tail feathers during an unfortunate incident with a crow, but he and the ladies (Doris, Florence, and Marilyn) have been spotted snuggling in the corner of their enclosure. 

As for me

I got a Valentine in the mail yesterday from bread-making instructor, friend, and fellow folk school blogger, Emily Buehler. Ain't that sweet?