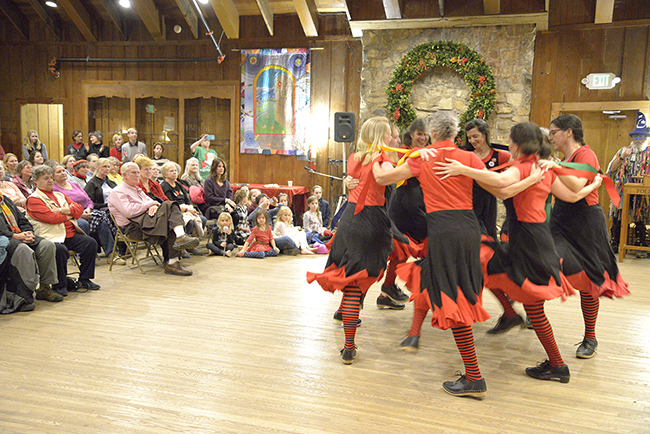 [caption id="attachment_15948" align="aligncenter" width="630"]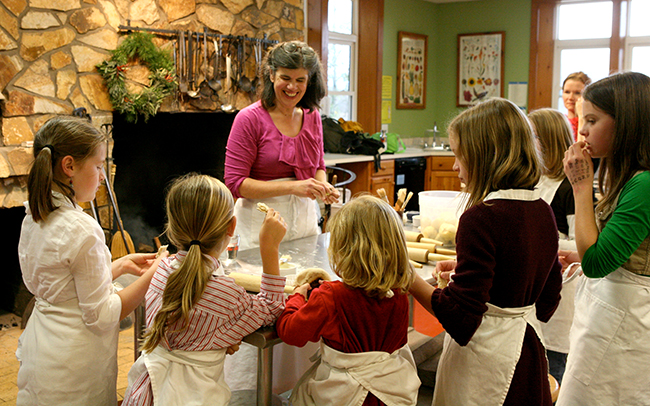 Children make cookies for the Holiday Kids Party[/caption]
The month of December is a special time at the Folk School. Events, parties, food, themed classes, concerts, dances and performances unite the community in the holiday spirit. When the wreaths, garlands, and handcrafted ornaments appear in early December, we know the magic of the season has arrived. Recently, I connected with Nanette Davidson, our longtime decorating maven and mastermind, to ask about holiday traditions at the Folk School. Enjoy our interview!
[caption id="attachment_15944" align="alignright" width="228"]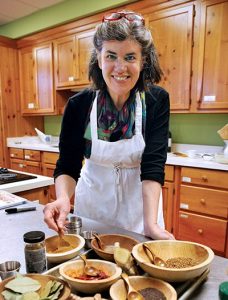 Nanette in the Cooking Studio[/caption]
CP:
When does the holiday season begin for you?
ND:
Well, I think about this off and on through out the year, planning simple projects for the winter holiday season and for spring's May Day and June's Auction Gala sometimes many months in advance. I have asked for help from other artists and dancers in the community to generate handmade decorations including giant puppets for parades. Jan and I love the seasonal celebrations that come from many rural, agricultural communities. When you live in the Appalachian countryside where there are distinct perennial landscapes, it's easy to celebrate the beauty of the changing seasons.
CP:
What is your favorite Folk School December holiday tradition?
ND:
We have so many great parties in December for the local community as well as our students who come in for a week. In the original days of the JCCFS, the student body was closely tied to the community and seasonal events were held to pull everyone together. We still want to include our local community and they are present here at weekly dances and concerts. We have the Old Folks Party, Christmas Dance/Dessert Potluck, New Year's Eve Dance, and the Children's Party when Santa arrives in the BFD Firetruck, sirens wailing. I have always helped with the Children's Party which includes crafts, musical chairs, storytelling, Morris performance, homemade cookies, and live music and dance for the kids. Even though we are an adult school we reach out to our local kids at Christmas and in the summer. More and more show up on the dance floor now. Every child that has a great folk school experience can help us preserve the school for the future.