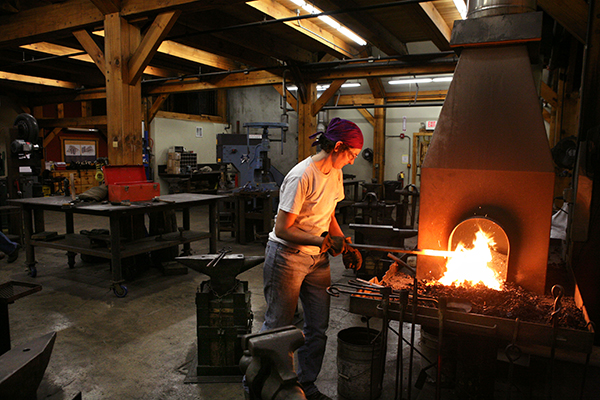 I stopped by the Oscar Cantrell Blacksmith Shop, the current shop of Resident Blacksmith, Paul Garrett. Paul and I talked about the upcoming Blacksmith & Fine Craft Auction on November 1, a special event planned for October 31st, and about Folk School life in general. Enjoy!
[caption id="attachment_11679" align="aligncenter" width="600" class=" "]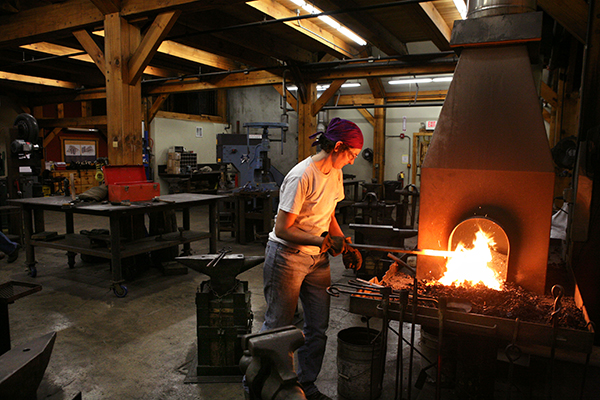 See blacksmiths in action forging items in the Clay Spencer Blacksmith Shop on October 31 at 7 p.m. Items created will be auctioned off the following day at the Blacksmith & Fine Craft Auction.[/caption]
CP:
So, the Blacksmith & Fine Craft Auction is coming up on November 1. I hear there's going to be a new special event on Friday night. Can you talk about that?
PG:
I can. Traditionally, there has been a joint meeting of the
Appalachian Area Chapter of Blacksmiths (AACB)
and
NC ABANA
at the Folk School during the auction weekend. The meeting is on Saturday morning, bright and early. [caption id="attachment_11683" align="alignright" width="320"]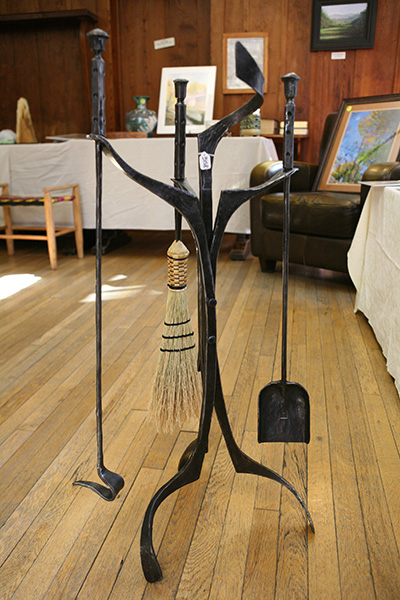 Fire place set forged at the "Hammer In" 2013[/caption] I had been trying to think of a way to expand the meeting and make it more appealing for smiths to stay over on Friday night. Last year, we tried a small invitational Friday night "Hammer In" (A "Hammer In" is where blacksmiths get together and make things collaboratively). It went really well. We made a few things for the auction, including a fireplace set, and it was encouraging enough to try it again this year. I put the word out to members of the blacksmith chapters and we are expecting quite a few smiths on the evening of October 31st. We are opening the shop up to auction goers to come and see what's involved in the work and to observe how the items are handcrafted. I believe it will add value and interest to the pieces if folks can see the forging process. Tim Ryan is going to have a kettle of cooked goodness to offer up for a small cost per bowl. It's gonna be fun! We are going to have a few set projects: a fire tools set and maybe a sculptural piece. Blacksmiths can forge smaller items too. It'll be a good crowd.