14 Feb

Talking Shop with Blacksmithing & Metals Coordinator Elizabeth Belz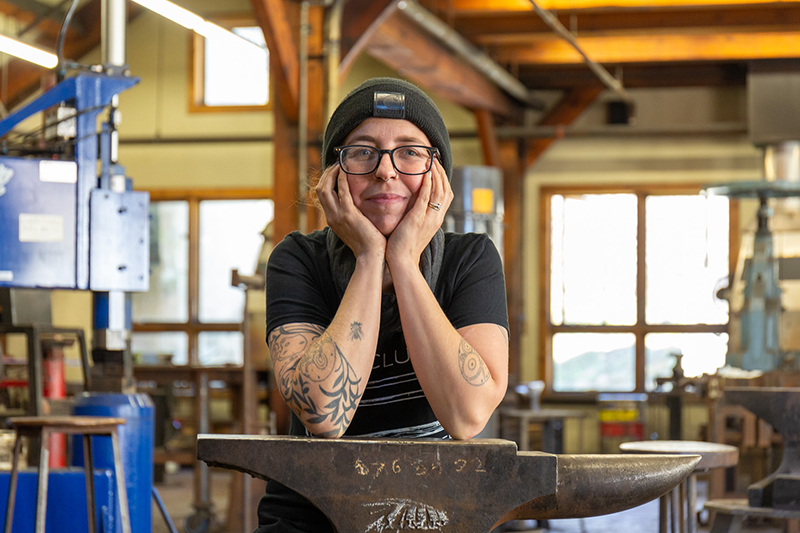 Curious about what's new in the Blacksmith Shop? Enjoy this interview with Elizabeth Belz, our Blacksmithing and Metals Coordinator, and learn more about classes, our blacksmithing program, and Elizabeth and her craft.
CP: What's new in the Clay Spencer Blacksmith Shop?
EB: We got classes in full swing again down here, the sound of anvils ringing bellow my office makes the world a little brighter.
In 2022, we did a lot of maintenance on the shop and the tools, the roof has a new soffit and the Say-Mak power hammer has a fresh new oiler. Also, with some generous donations from Blacksmith Shop supporters, we were able to purchase three new KMG 2×72 belt grinders from Ohio which have opened up endless possibilities for teaching more tool and knife making classes.
CP: What are you working on right now? Do you have any personal projects you are excited about? Any cool Folk School or Shop projects?
EB: I am currently working on creating a giant centipede sculpture that will occupy the space between the floor and a wall, trying to focus on making movement in my work. I am also finishing up an installation piece of small insects collecting around a large outdoor light which i started as an artist in residence at Arrowmont last year.
In the shop, we are gearing up for Blacksmiths Work Week and we have countless awesome projects we will be working on this year; including more campus signs and a new railing for some of the housing.
Mike Dixon was here while the shop had some down time and he designed and built a beautiful new sign for the dye garden on campus.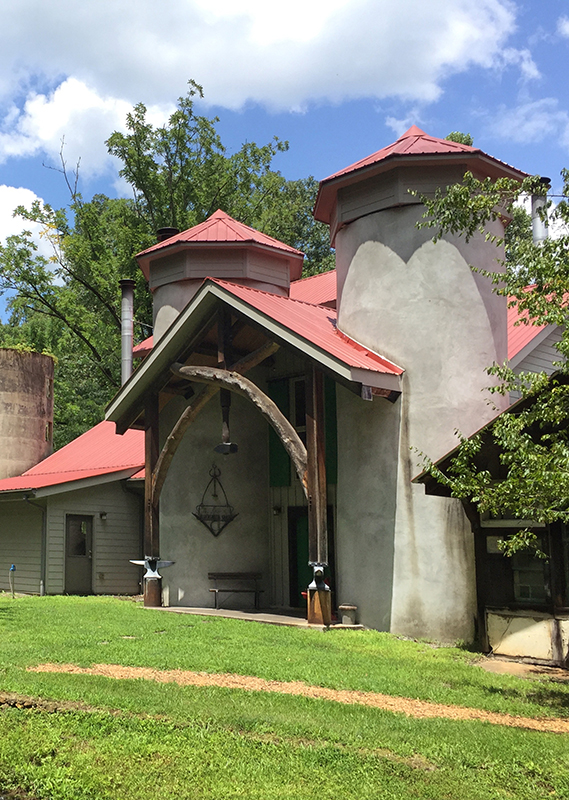 Clay Spencer Blacksmith Shop Timber-framed Entrance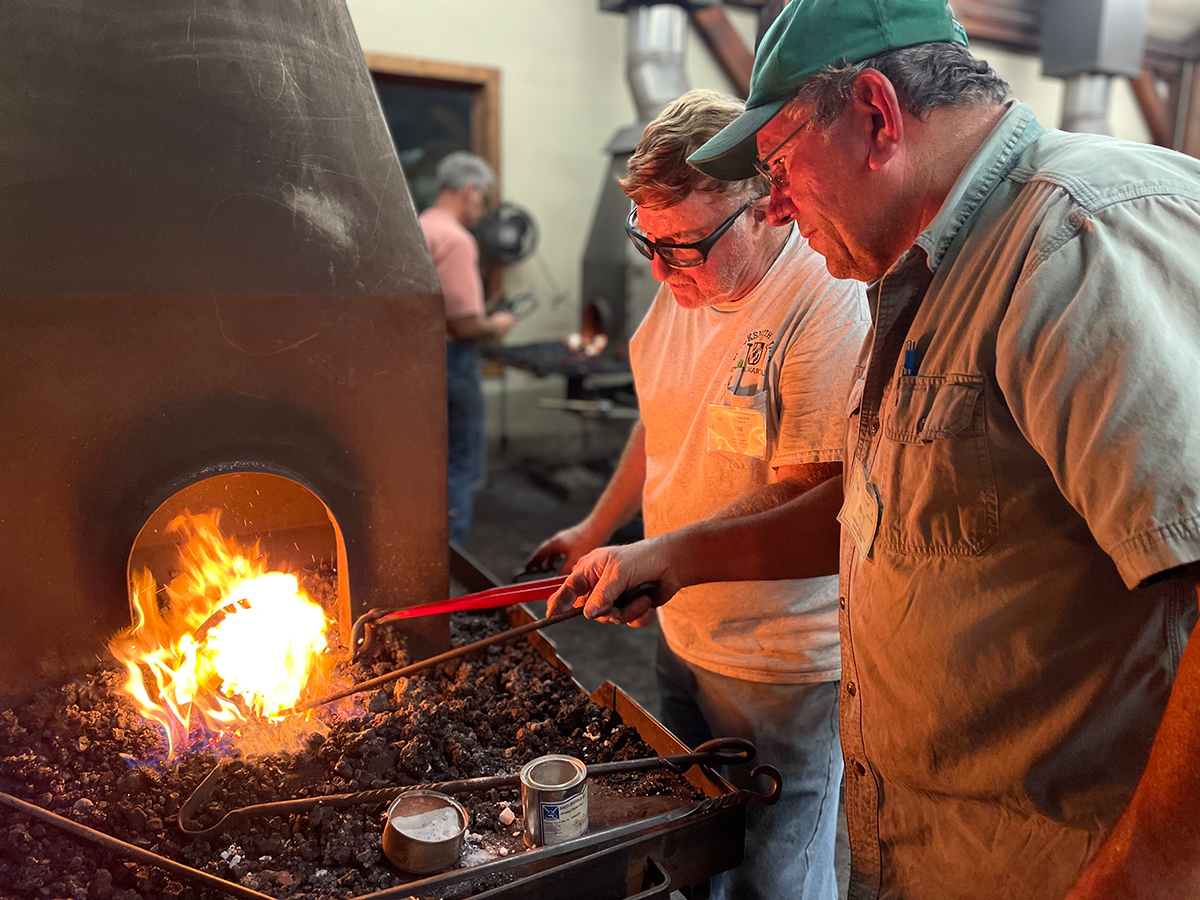 Fiery Forge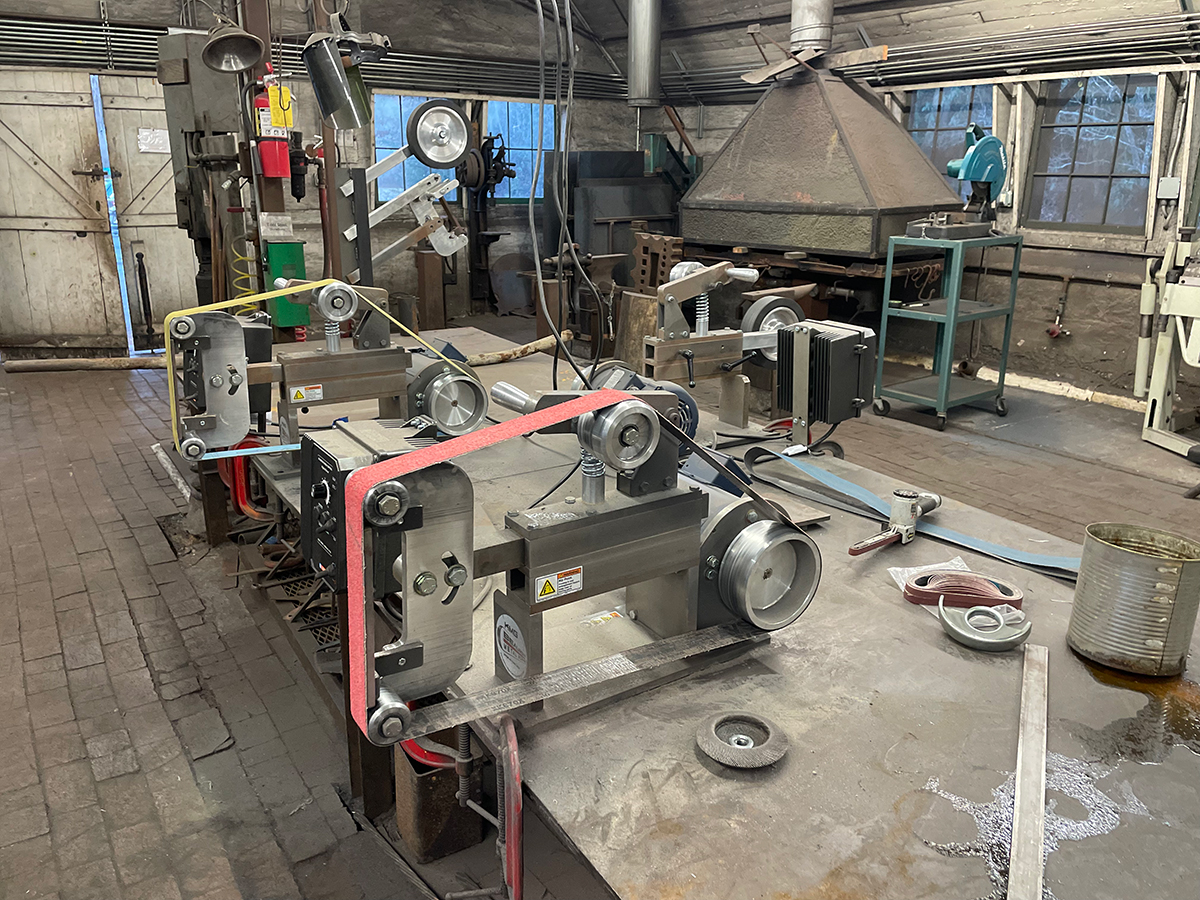 New KMG 2×72 Belt Grinders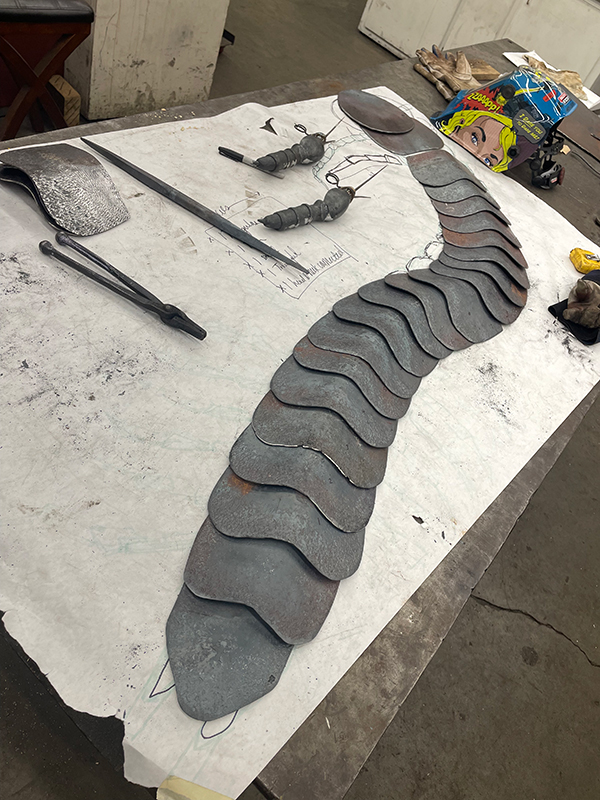 Centipede in Progress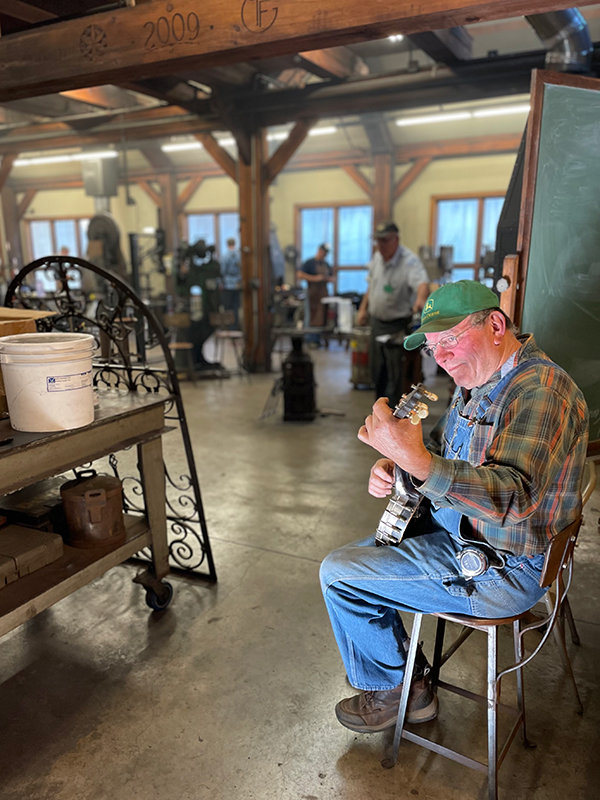 Banjo Break in the Shop
CP: You've participated in many fellowships and residencies at craft schools and art organizations all around the US and abroad. How has this influenced your perspective and practice?
EB:  My broad experience has shown me there's never one way to do something and that everyone's input can be valuable. And a little patience and organization can go a long way in blacksmithing.
CP: What does the Folk School have to offer that you won't find anywhere else?
Being here on campus, you not only see the difference, but you can feel it. John C. Campbell offers an immersive community experience like no other. Only at the Folk School can you walk into the Blacksmithing Shop during a traditional joinery forging class and not only be fully surrounded by the history of the facility and the excitement of the students, but you might also hear the sounds of the shop assistant playing their banjo near the chalk board as people work on their projects.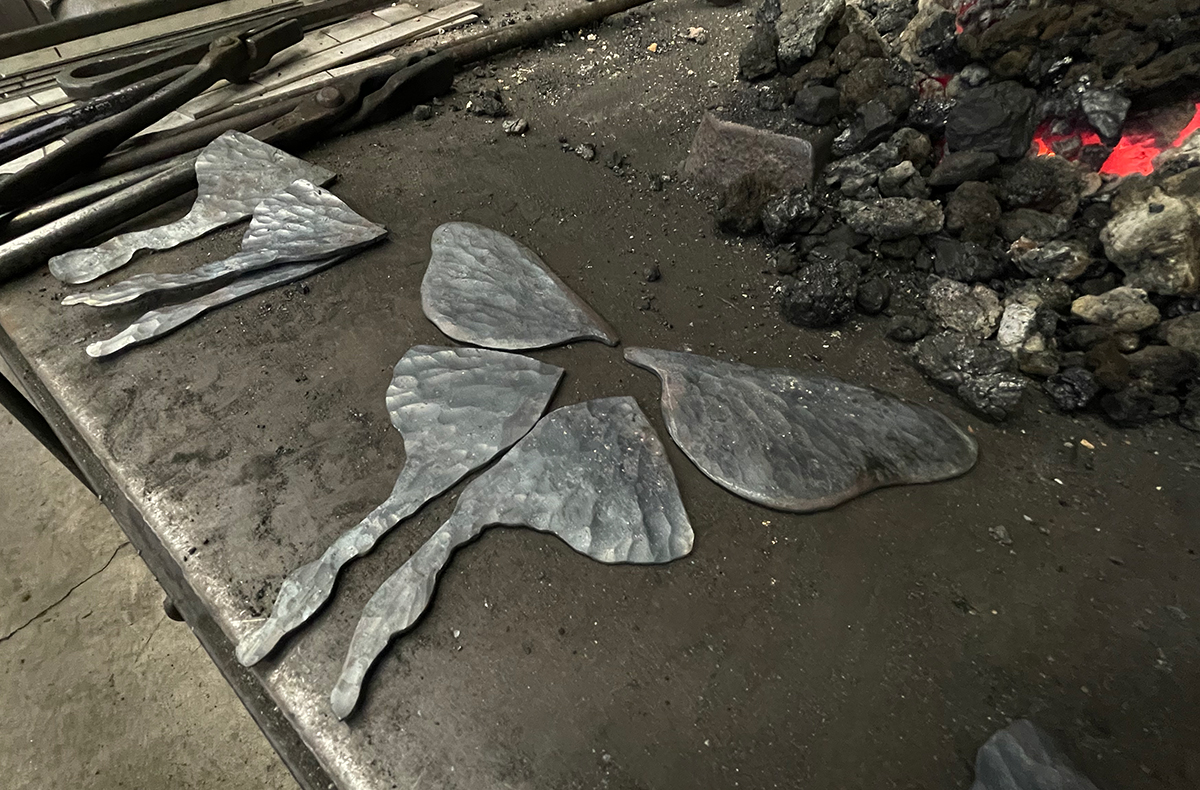 Metal Luna Moth in Progress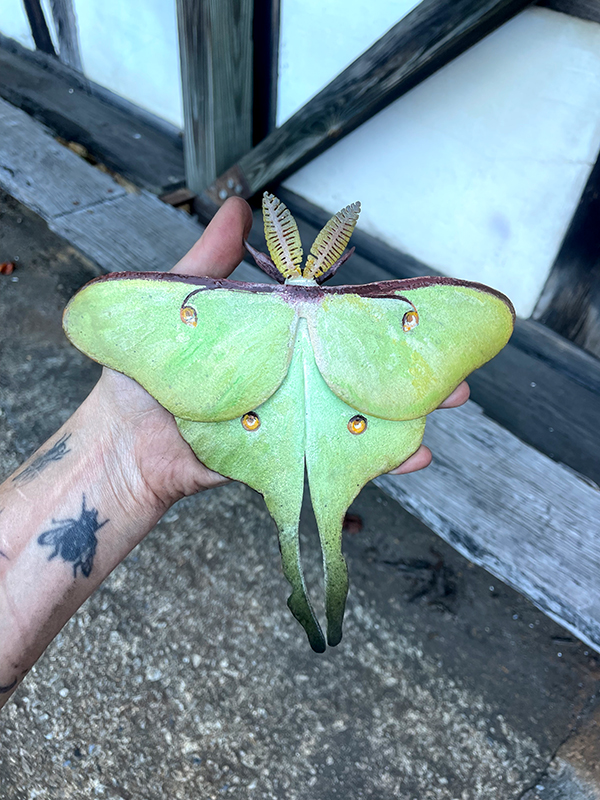 Giant luna moth makes a great muse.
CP: So, bugs! A main motif in your work and your forge is Black Widow Forge. What do you find inspirational about bugs? Do you have a favorite bug right now?
EB: We know so little about bugs, there is this great book called, The Secret Life of Flies that covers it pretty well but they are an endless mystery and source of inspiration. How could that ever get boring.
What started as a fascination with insect anatomy quickly evolved into an exploration of their narrative qualities and representational nature through the use of metal. By distilling the appearances of different species into general shapes, I push the limits of what is identified as "insect" while urging others to consider how astounding insects truly are. I use steel to capture these creatures through a detailed process involving both forging & fabrication techniques.
I am really loving on weevils right now. I think of them as the puppies of the insect world.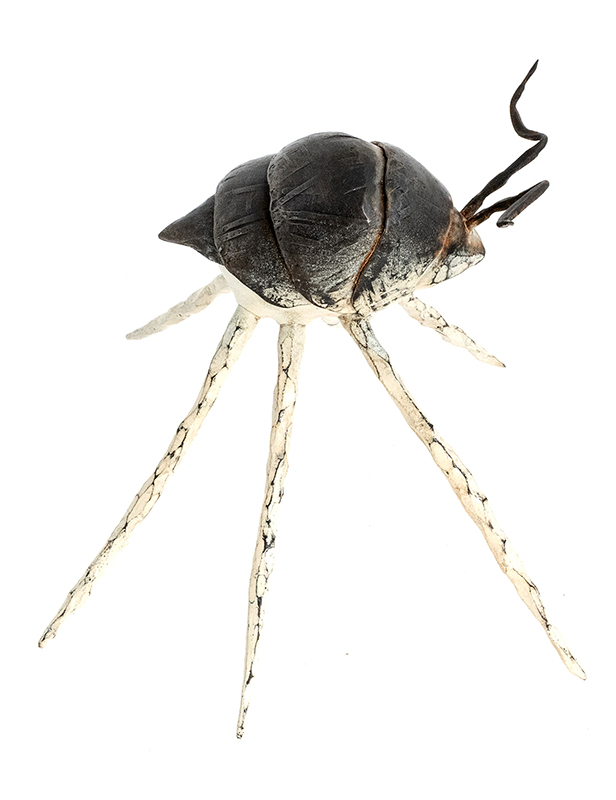 Roly-Poly
A Student with Newly Forged Hook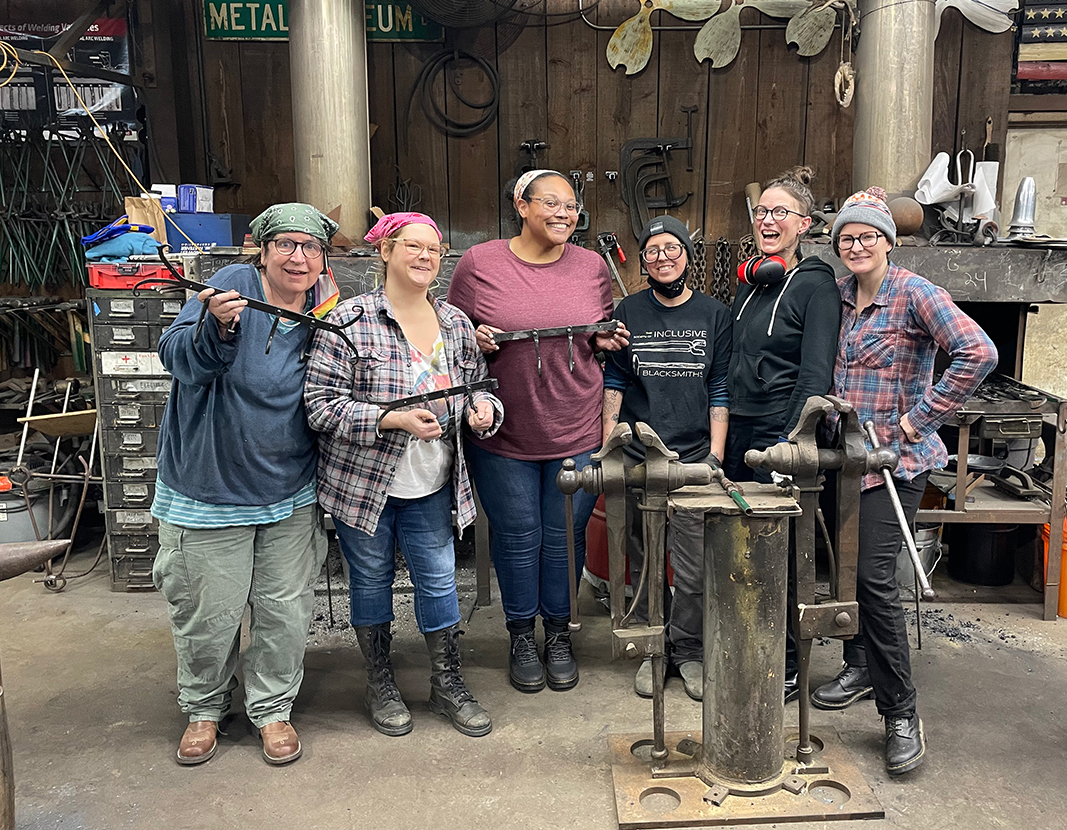 Class Photo
CP: Tell me about the Society of Inclusive Blacksmiths. How are you involved with the organization and how can the Folk School work in alignment of the group's mission?
EB: The Society of Inclusive Blacksmiths is an organization committed to building equity and diversity in the field of blacksmithing. We offer blacksmithing mentorships, grants, and scholarships to individuals all over the US and beyond.
I am head of the scholarship and grants committee and work heavily in outReach and development.
The Folk School has the perfect foundation to support equity and diversity in blacksmithing. This facility has the capabilities of hosting a wide range of classes and the volume of classes we hold each year allows for over 50 different instructors to come in and share their skills with students.
CP: You have three beginning Olive's Porch Blacksmithing workshops coming up. How are these classes different from a Folk School class? Who are the ideal students for these workshops?
EB: These short classes are really designed for locals who are busy during the week to take an evening or Saturday to try out something new. Something they maybe can't commit a week to if they don't know if they are going to like it.
CP: And speaking of classes, your Folk School class Open Forge is scheduled for May 26–28. What is this class all about?
EB: This "class" is an opportunity for people who have worked in a forge or shop before to come in and use the folk schools facility. Students are expected to come with their own projects in mind and I will be in the shop to help them problem solve and assist where they need it.
CP: Are there any special plans for Blacksmith Work Week this year?
EB: We have an exciting railing project and we are partnering with Gabe Strand in woodworking to make some spring pole lathe parts for an upcoming woodturning class.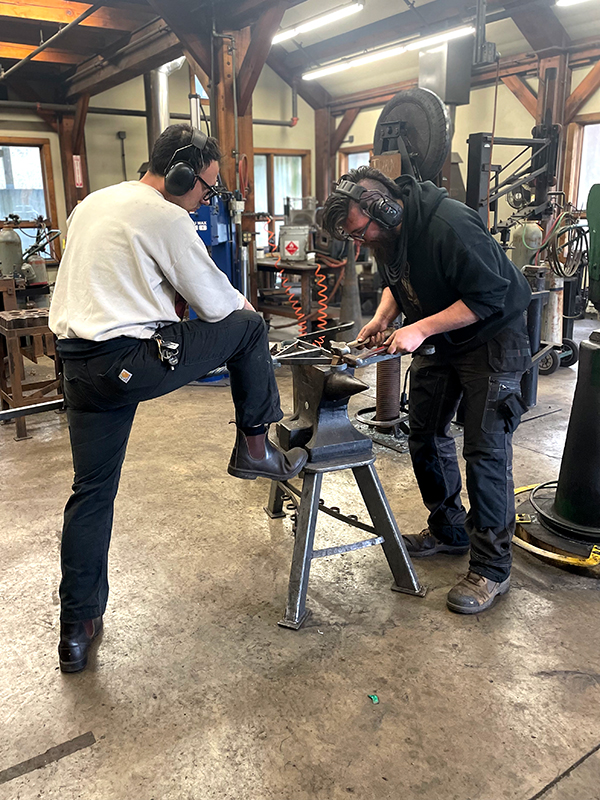 Team Working at the Anvil
Blacksmith Shop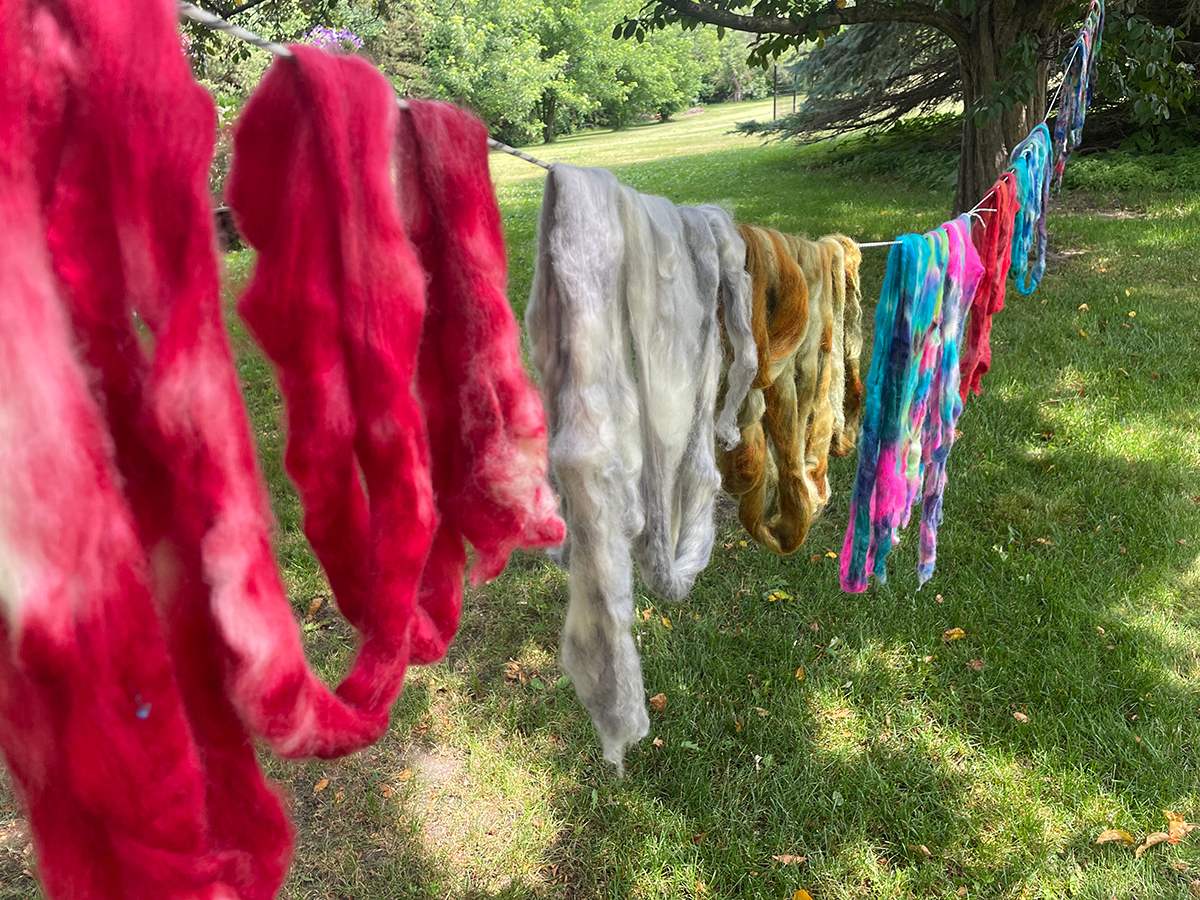 Wool Dyed by Elizabeth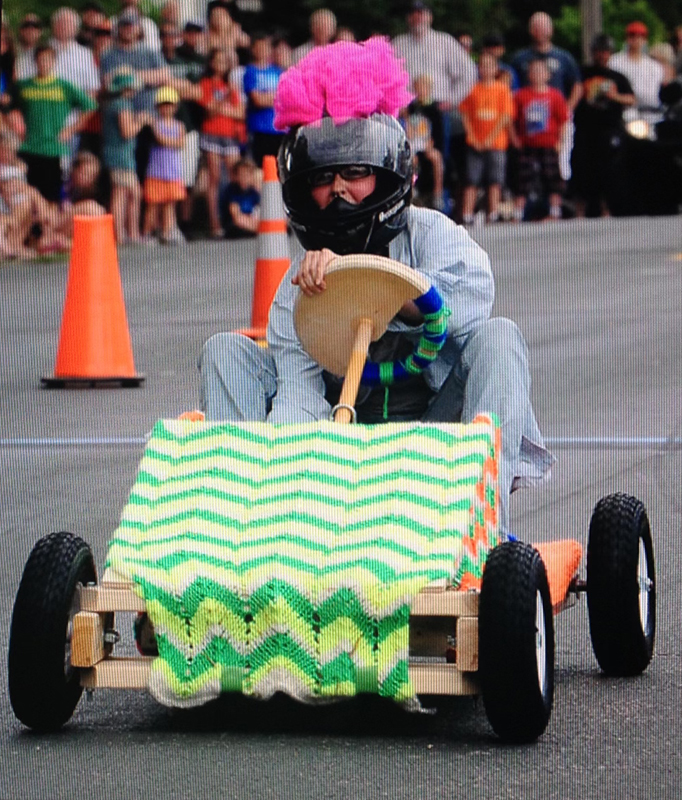 Elizabeth zooms down the track in her knitted craft car.
CP: Has craft always been part of your life?
EB: Art has always been part of my life. Craft really entered my life when I started working and volunteering with the Minnesota Center for book arts in Minneapolis as a teenager. I learned lead typesetting, printing, paper making, book binding and most importantly I was given the opportunity to work with two mentors one being Wendy Fernstrum. At some point she realized I was not ready to go spend more time sitting in a class room after I graduated high school. So she asked me one day "Have you ever heard about Penland School Of Craft?" And the rest is really history!
CP: Beside metalwork, do you have any other craft interests?
EB: Other craft interests include knitting and spinning, gardening, green wood turning on a pole lathe and still some photography but I have really been focusing on blacksmithing since my internship at North House Folk School in 2016.
CP: What is your favorite metal piece on campus? 
EB: My favorite metal piece on campus is the red railing outside the dining hall
CP: Do you have advice for people starting out in blacksmithing?
EB: Don't go tool crazy. Find people to work with who have a shop you can work in for trade or a small fee, locate your local (or closest) blacksmithing guild and get involved. Blacksmiths are usually willing to tell you everything they know or have learned whether or not you want to hear it.
CP: Tell me about some new instructors or new classes on the 2023 schedule who are bringing a new technique, style, or class format to the program.
EB: We were able to hire 15 new instructors this year in the Blacksmithing program and each one brings their own special flare to our line up.
We have April Franklin coming to teach in June a beginning blacksmithing class, there is Reed Peck Kriss teaching garden tools at the end of may, and Lisa Geertsen who is currently a Southern Illinois MFA – Blacksmithing student coming to teach a weekend class in July.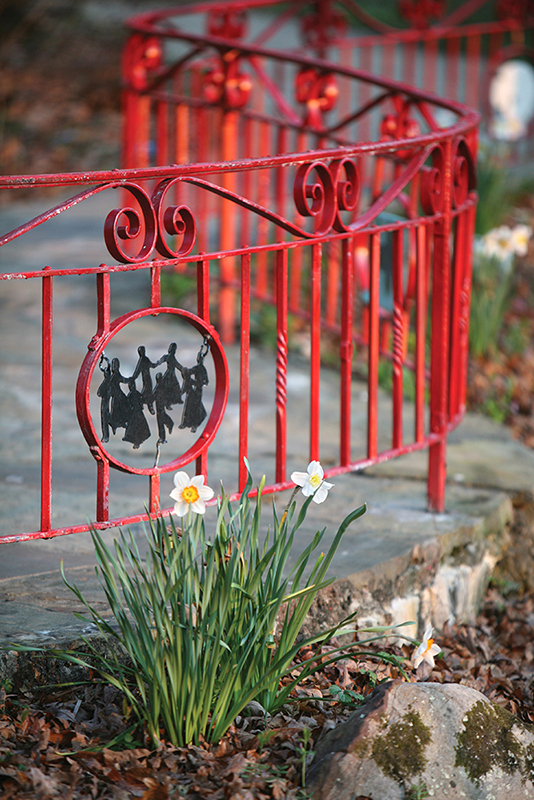 Red Rail by the Folk School Dining Hall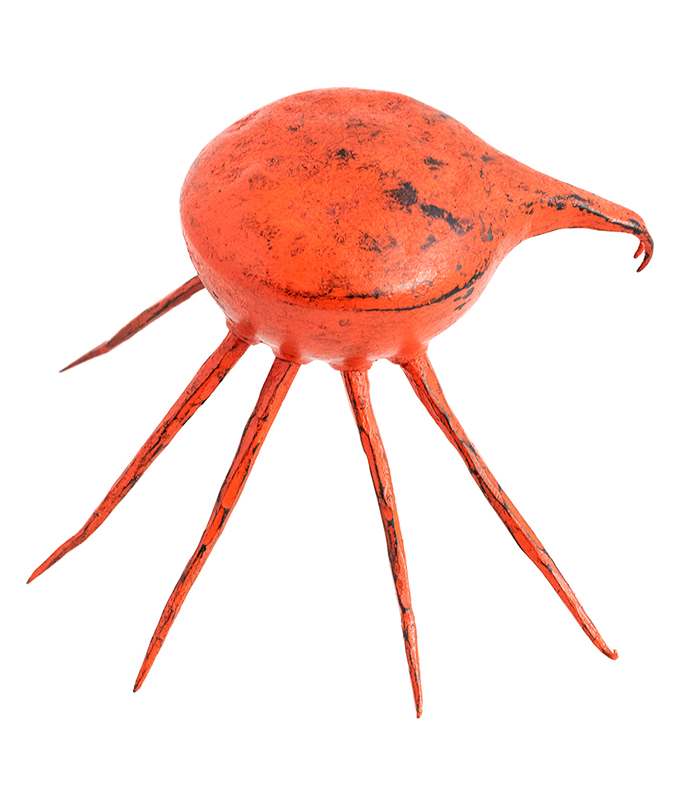 Bugs Everyday!
CP: What is one thing you would like the world to know about the Folk School?
EB: We have one of the best blacksmithing shops in the country, not only are we well equipped but the new building (Clay Spencer Shop) was built with the Timbers Framers Guild and it is exceptionally beautiful.
CP: Is there anything else you would like to talk about that I have not included here?
EB: Bugs all day every day and i enjoy every minute of teaching. 
Upcoming Classes with Elizabeth
Open Forge
May 26–28, 2023
Intermediate, Advanced

If you have had a project bubbling in your mind for a while that you've needed space and time to work on, this is the weekend for you. We will cover shop safety and orientation while students work on independent projects. The instructor will provide individualized guidance and support as needed for each student. Students are encouraged to bring designs and have knowledge of forging or general metal working. Note: Additional materials fee is estimated from $40-$100.
Get to Know Forging: Bottle Opener
February 25, 2023 • 5–9 p.m.
Ages: 16+ Beginner level. No experience required.
Learn to Forge: Wall Mounted Coat Rack
Saturday, April 15 • 10 a.m.–6 p.m.
Ages: 16+ Beginner level. No experience required.
Elizabeth Belz is a blacksmith, educator, the owner of Black Widow Forge and is the Blacksmithing and Metals Coordinator at John C. Campbell Folk School. She was the blacksmithing apprentice at the Metal Museum in Memphis, TN for two years where she trained under master smith Jim Masterson. Elizabeth was a craft education intern at North House Folk School, a resident artist with the Science Museum of MN, a Creative Catalyst fellow and has spent a lot of time at craft and folk schools across the country. Elizabeth has shown her work, competed, and taught blacksmithing throughout the United States and internationally and has most recently finished up a year long artist residency at Arrowmont School of Arts and Crafts. Elizabeth sits on the board of the Society of Inclusive Blacksmiths which is an international nonprofit committed to building equity and diversity in the field of blacksmithing.