16 May

Learn the basics of the forge with Blacksmithing Instructor April Franklin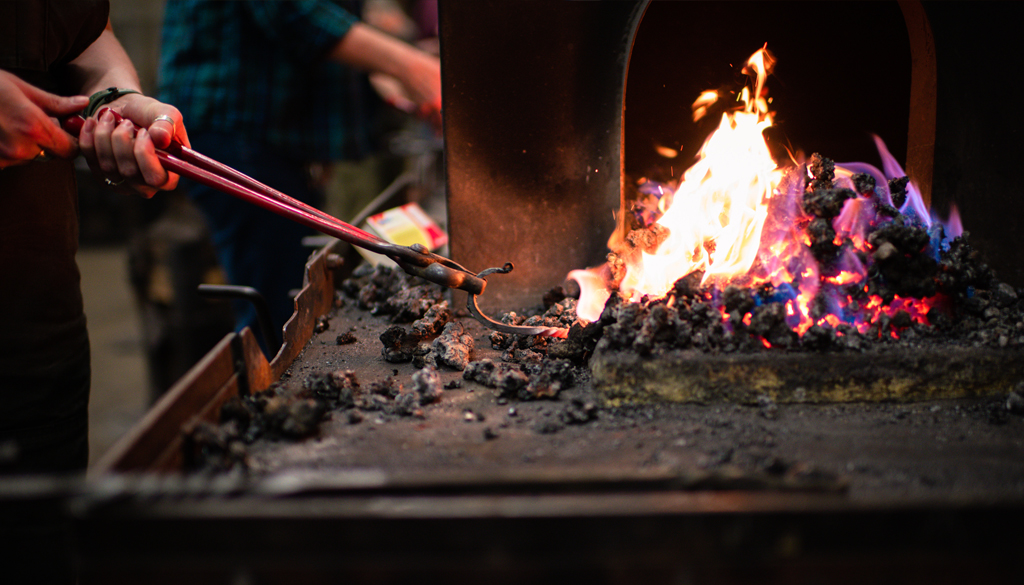 April Franklin is an accomplished blacksmith and skilled instructor, teaching at folk and craft schools across the country and appearing on the third season of the popular reality show Forged in Fire. She's teaching at the John C. Campbell for the first time this summer, and we can't wait for her to arrive!
In her upcoming class, "Forge Basics," from June 25-July 1, April will cover the building blocks of blacksmithing techniques. In students' hands, these projects will evolve into a variety of forms–from a hook rack, BBQ flipper, spatula, or more. Her class is the perfect week-long excursion for someone looking to try blacksmithing for the first time, especially those with no experience working with hot metal and steel. 
Learn more about April in our interview below! Interested in April's upcoming class? There are still a few spots available–register online today!
JCCFS: Tell us more about your upcoming blacksmithing class, "Forge Basics," happening in June. What will folks learn and what can they expect to leave this class with?
AF: We will begin with tapers which is like a potter learning how to center clay on a potter's wheel – it is the basis of the techniques that will evolve into a variety of different forms. Students can expect to come out of this class with at least 3 finished projects: a hook rack, a BBQ flipper, or a spatula, and possibly more depending on their aptitude for the process and material. Of course, students are welcome to bring sketches or ideas to show me!
JCCFS: How did you get into blacksmithing?
AF: I have a background in sculpture, fabrication and foundry, but I fell in love with the immediacy of the forging process. The fact that you can treat a material like steel in such a way that mimics the plasticity of clay is amazing to me.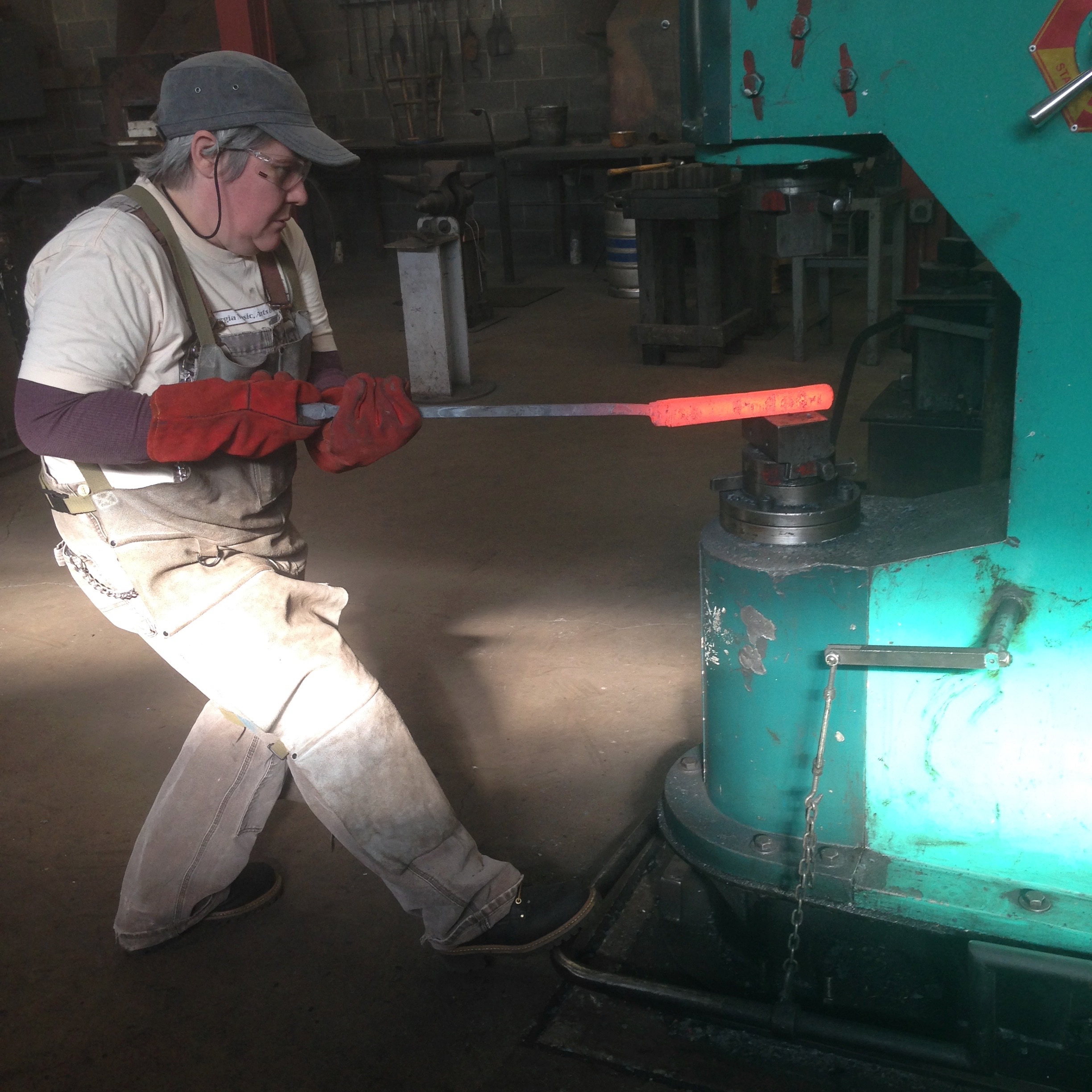 April using the power hammer!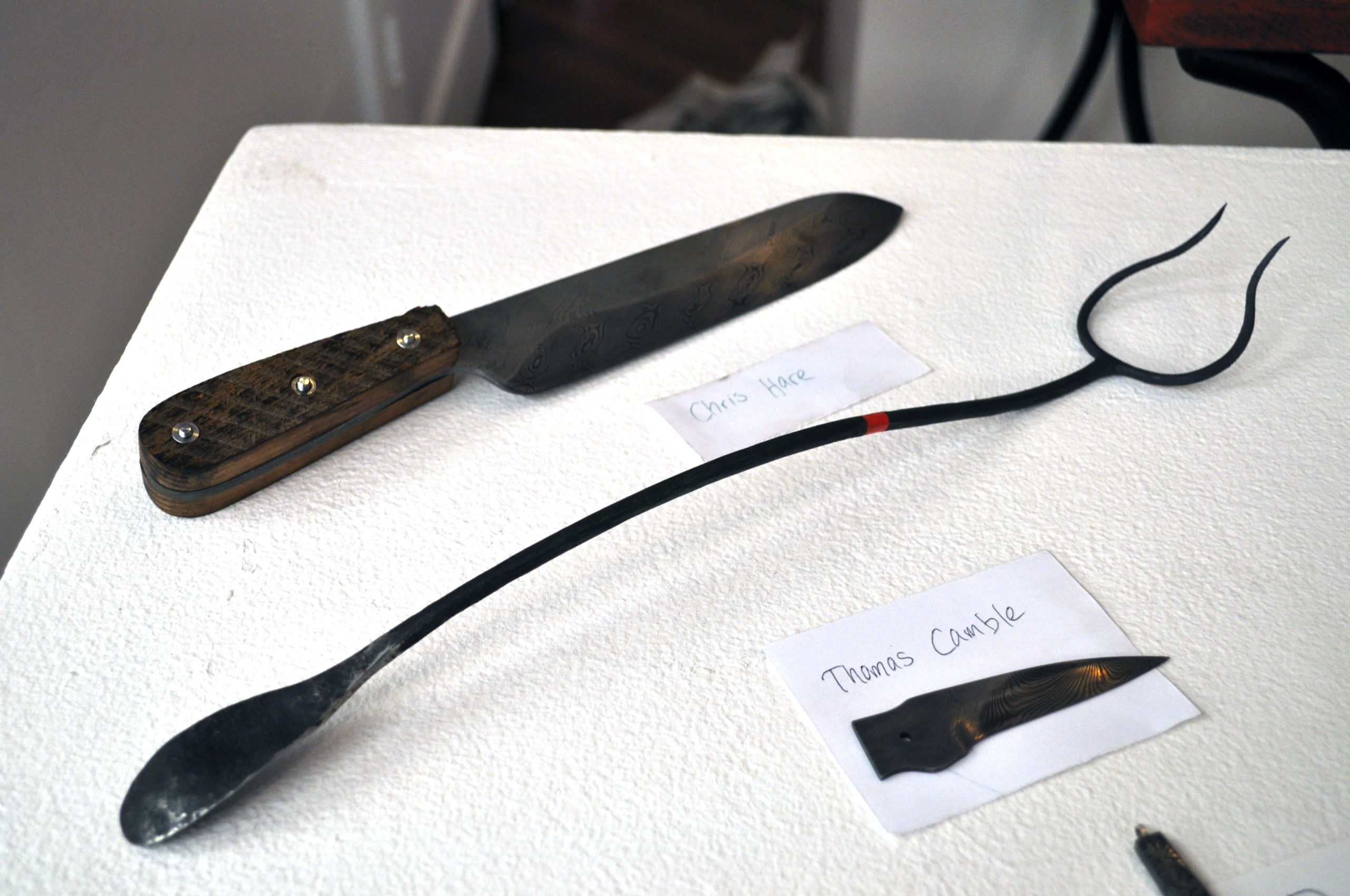 Student work from another one of April's classes.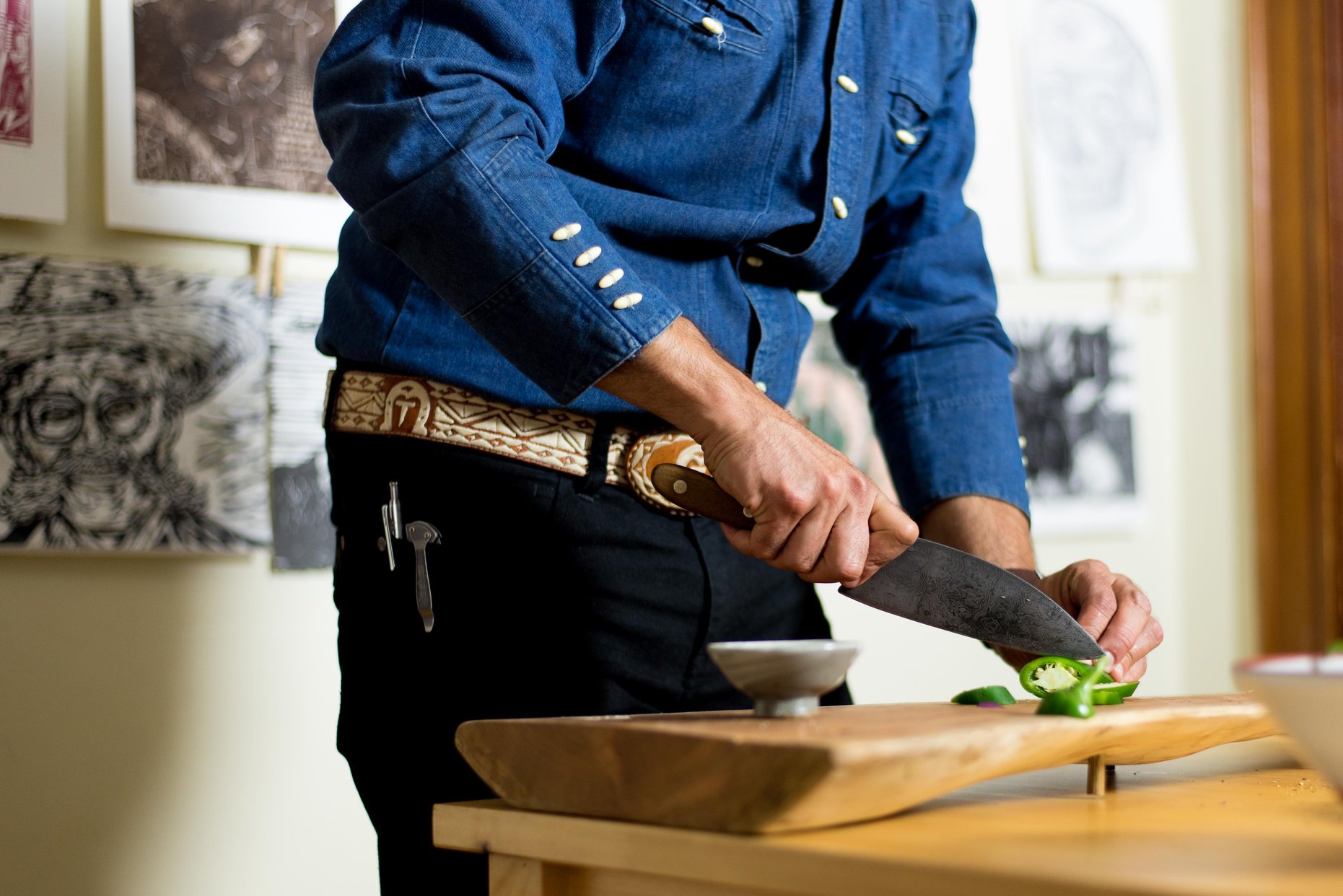 A client using one of April's forged knives.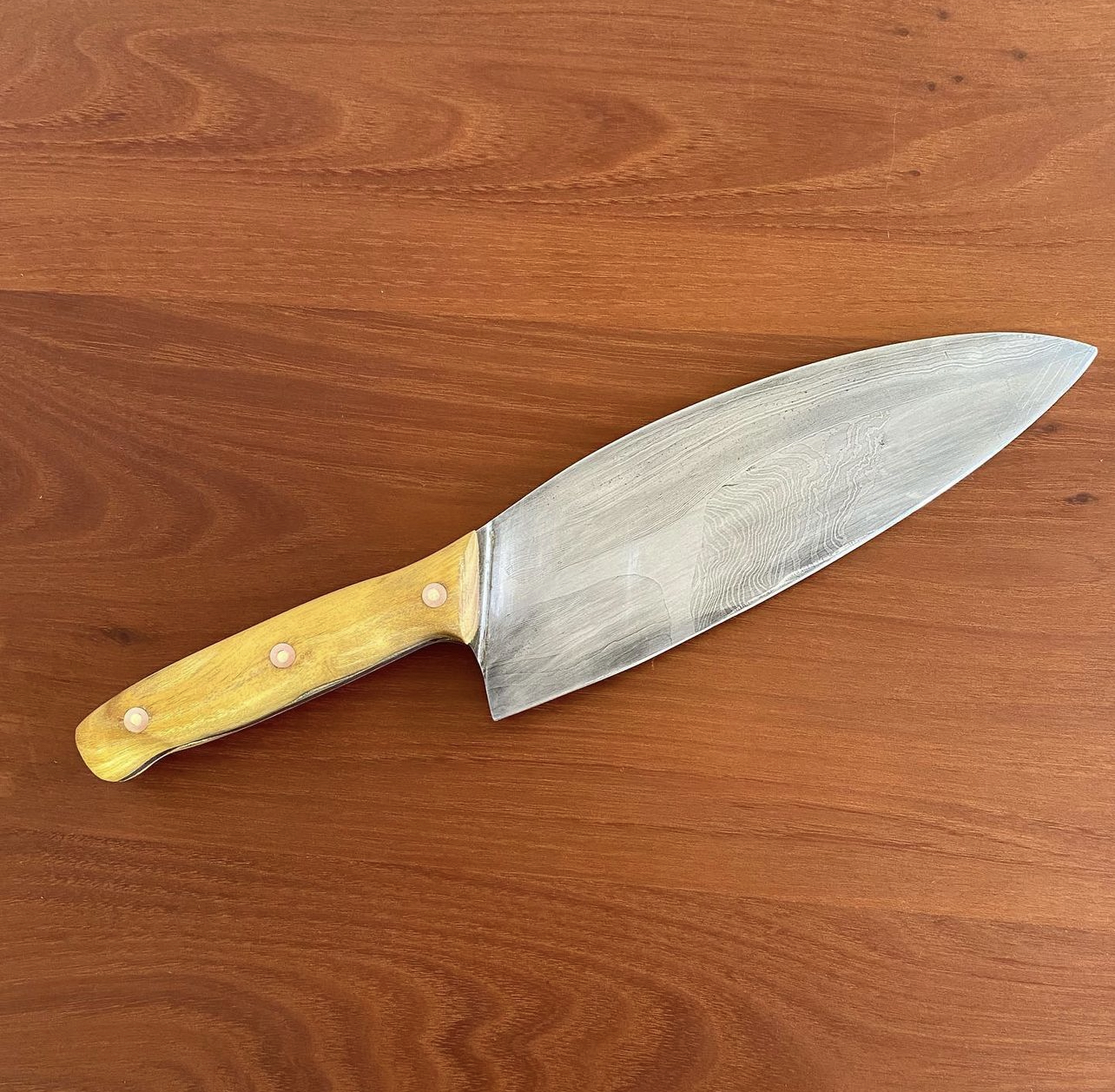 One of April's knives up close
JCCFS: What led you to the John C. Campbell Folk School? What are you looking forward to during your time teaching here? 
AF: The craft school experience is so inspiring, to be amongst a group of people who really are interested in learning is good for the soul. I have always heard about John C. Campbell and have been so interested in being able to visit a place that supports craft education in such a wide array of mediums.
JCCFS: Where else have you taught, and what do you enjoy most about teaching?
AF: I have taught at Penland School of Crafts in North Carolina, where I led both 2-week classes as well as an 8-week concentration. Their shop is quite big, so the classes are large. I was lucky to have been a "Core Student" at Penland when I got out of college and was able to experience a wide array of different crafts and practices. Other great places are Snow Farm in Western Massachusetts where I taught welding basics. At Peters Valley in New Jersey and the Steel Yard in Rhode Island, I have taught different levels of blacksmithing.
My day job is working as the manager of a Woodshed/Fabrication Lab for the graduate program at the School of the Museum of Fine Arts which is part of Tufts University in Boston. This allows me to work with students and advise them to make a wide variety of objects from canvas stretchers for painters to helping sculptors exhibit their work successfully and safely.
The thing I like most about teaching is seeing folks discover that this material that is so "rigid, inflexible" can be quite malleable. It's just like language: when you know how to communicate with the material, things are going to go your way. Fostering self reliance is a very fulfilling thing.
JCCFS:What advice would you give someone who wants to try blacksmithing but is nervous about the process?
AF: Being willing to try blacksmithing is a great idea but knowing that, like all things, learning the craft will take time. In my class, we will make a great start!
Overall, try all the things. You never know what will resonate with you. This past year, I began to embroider, something that the women in my family have always done in Tennessee. I realize now how important it is to slow down and concentrate on the craft at hand. 
JCCFS: Where can folks find you if they want to stay up to date on your work?
AF: Folks can follow me on Instagram at @vexedmetalapril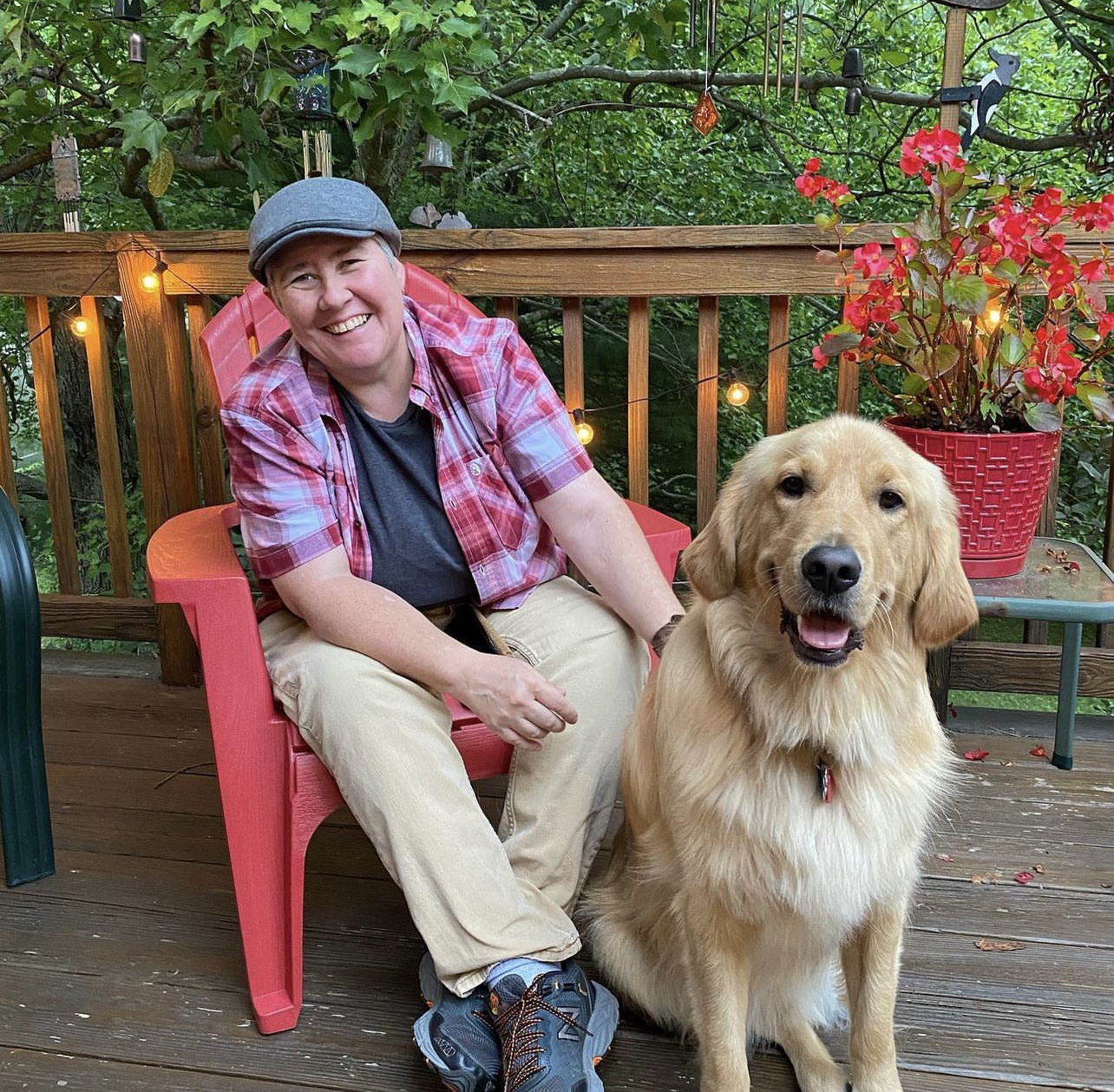 April with her dog Finn
Upcoming Class with April
Forge Basics
June 25 – July 1, 2023
Get comfortable and familiar with all the tools and materials needed to start forging. We will extensively cover forge and anvil anatomy, proper hammer technique, and color recognition as applicable for different processes. Learn basic skills such as drawing down, spreading, shouldering, punching and slitting, and drifting.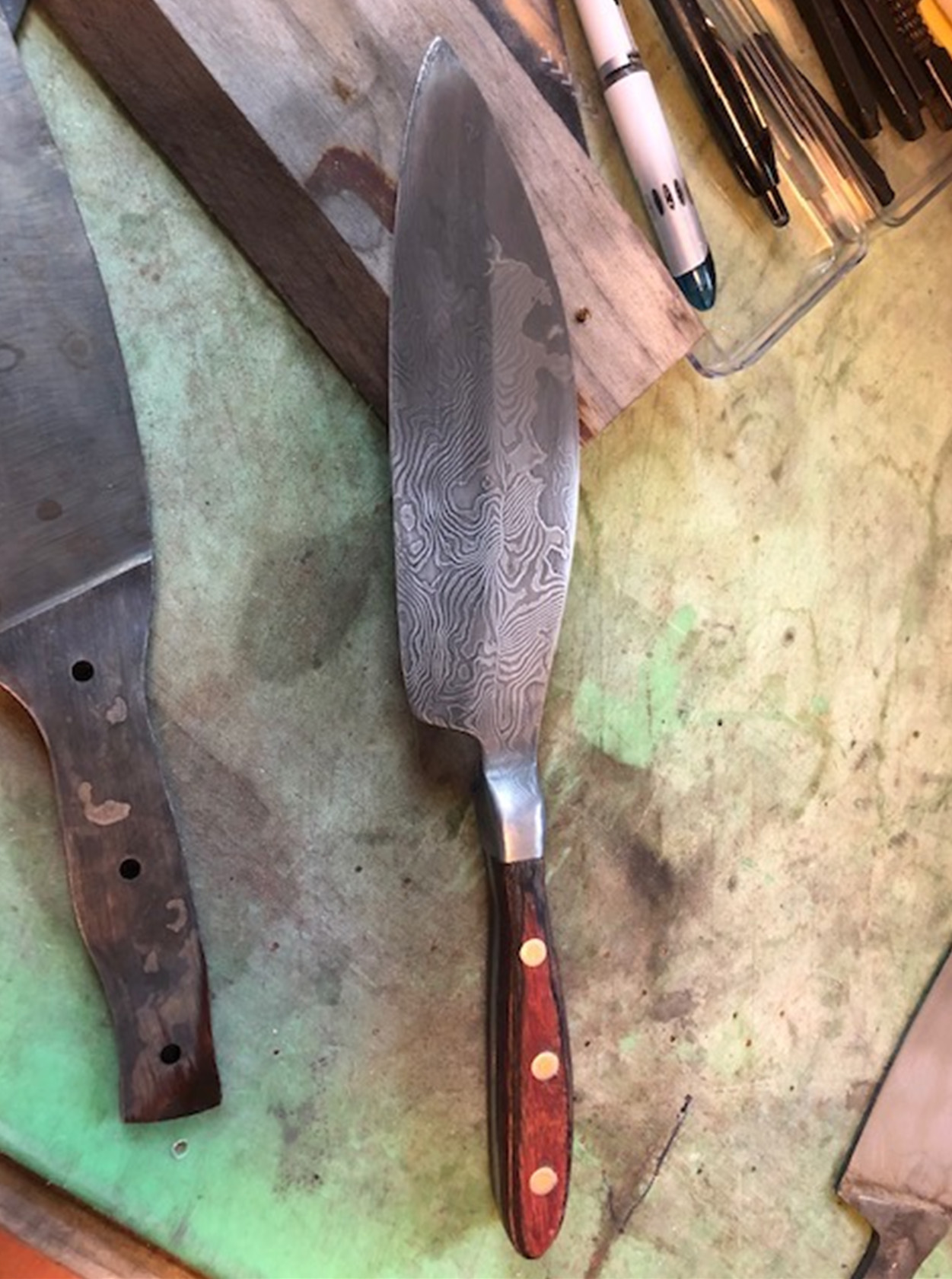 April Franklin has taught at Peters Valley School of Craft and Penland School of Crafts. She has exhibited at the Penland School of Crafts in Penland, NC and the National Metals Museum in Memphis, TN. April is currently the Fabrication Studio Manager at the graduate program at the School of the Museum of Fine Arts at Tufts University.