10 May

Forge Your Own Cookware with Jordan Borstelmann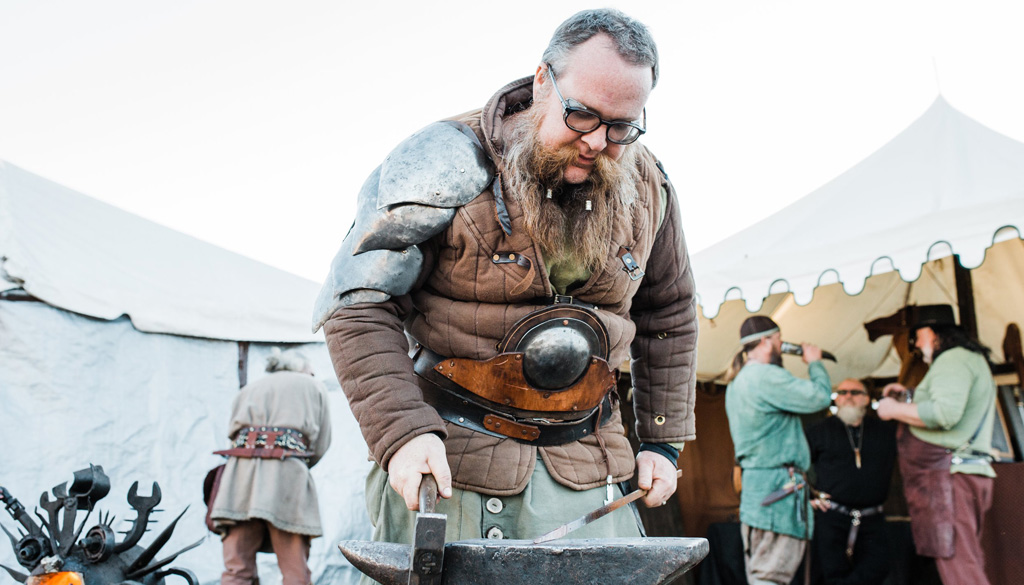 What better way to learn blacksmithing than by creating household objects you'll use daily? This was instructor Jordan Borstelmann's approach when he was starting out, and, now, he's bringing that same teaching method to his all-levels, beginner-friendly Blacksmithing class, "Simple Techniques for Useful Cooking Tools," happening July 9-15.
Jordan is an accomplished blacksmith who recently made cookware for a Michelin Star restaurant in Chicago, so, safe to say, he knows a thing or two about forging useful cookware! Jordan has also been helping beginners feel comfortable at the forge for a decade now–and we're thrilled to have him teach at the Folk School this summer.
There are a few spots available in Jordan's upcoming class. If you're interested, we recommend registering online today!
JCCFS: Tell us more about your upcoming Blacksmithing class, "Simple Techniques for Useful Cooking Tools," happening in July. What will folks learn and what can they expect to leave this class with?
JB: When I was first learning the skills of a blacksmith, I had a really hard time motivating myself to practice techniques. Spending hours forging tapers, or taking steel from square to round, did not appeal to me. Once I realized I could take those tapers and make them into a useful item, you couldn't keep me out of the shop!
We are going to use very simple beginner techniques to forge out useful items that anyone can make use of at home. Spatulas, forks, steak turners, and oyster shuckers all rely on the most basic blacksmithing techniques. Once you've learned how to make them, they can become the foundation for building good technique. You get to practice your fundamental skills while making something useful for the home, or as a great gift to a friend.
More importantly, students will leave with the basic skills they will need to become blacksmiths in their own right. Also expect to leave with blisters, a sore arm, and a new outlook on forging steel.
JCCFS: Your class is open to all levels. What would you tell beginners who want to try blacksmithing for the first time but are nervous about the forge?
JB: Accessibility is key to me. There is a lot about this craft that can be intimidating. I want all people to feel comfortable and safe in my shop, both physically and socially. My motto is, "Anyone can be a blacksmith". I've had students as young as 13, and as old as 76. I have even accommodated individuals in wheelchairs. I have taught over 300 students a year since 2016. Most of these students have never swung a hammer before.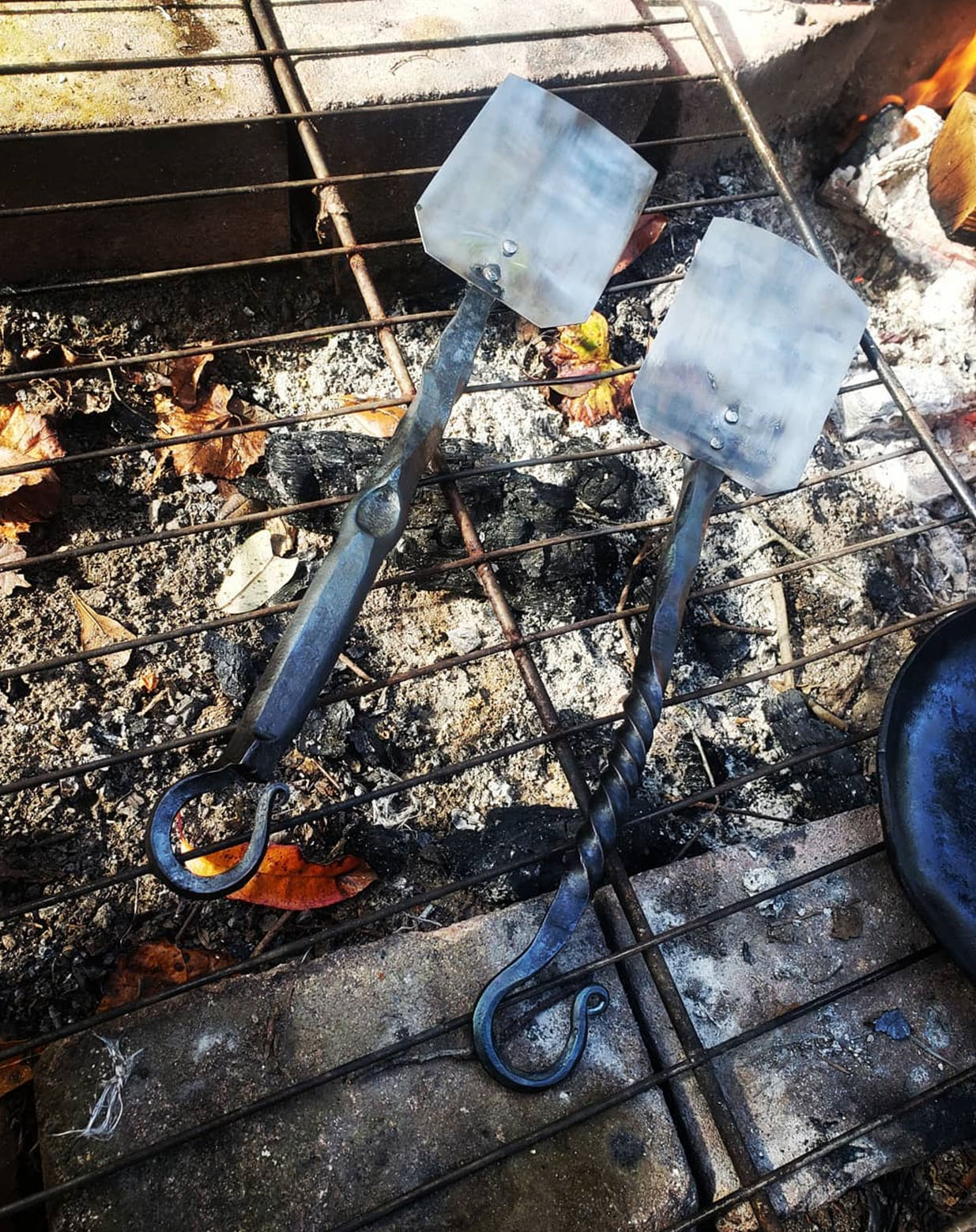 A set of forged spatulas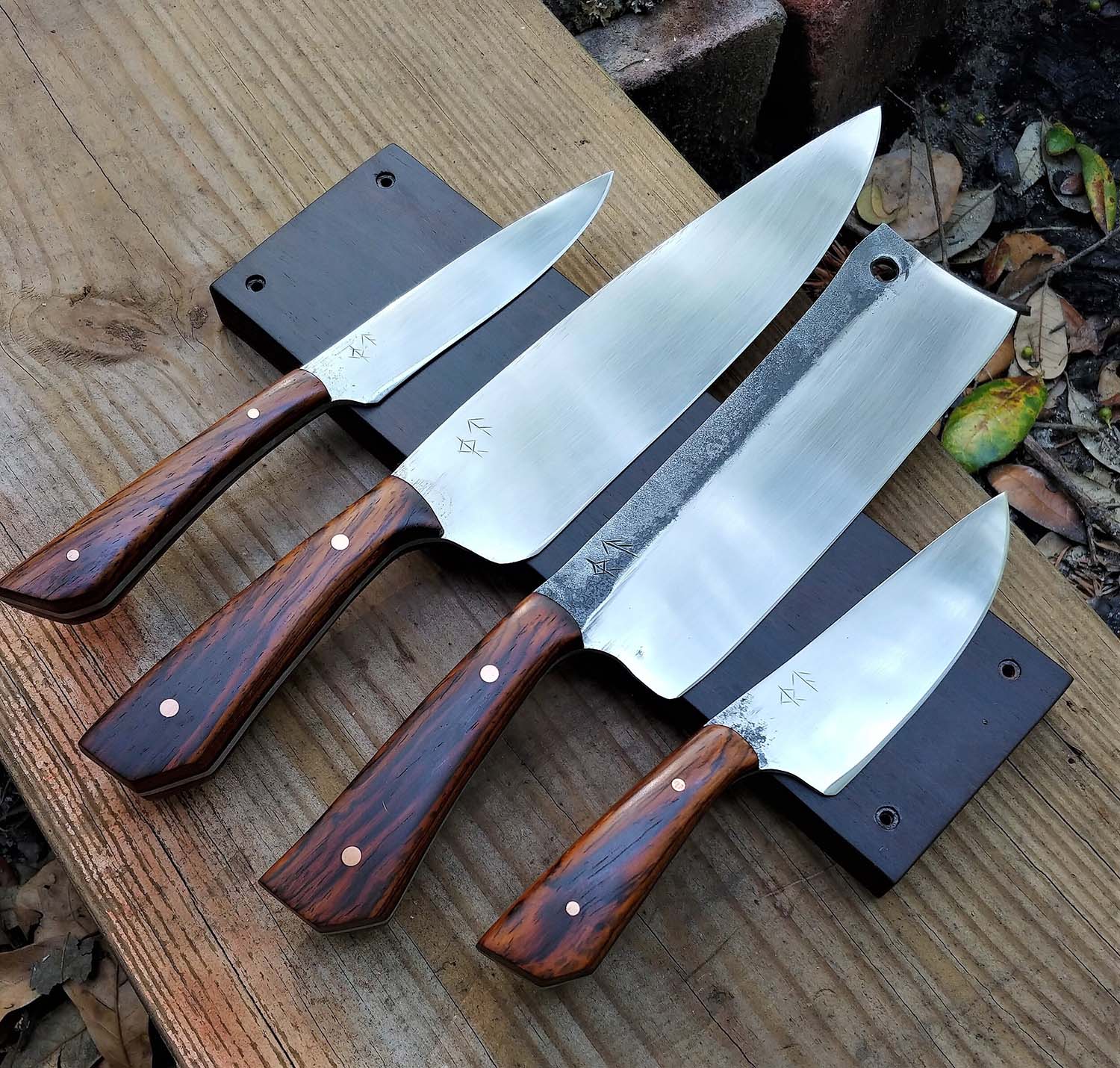 Some of Jordan's hand-forged knives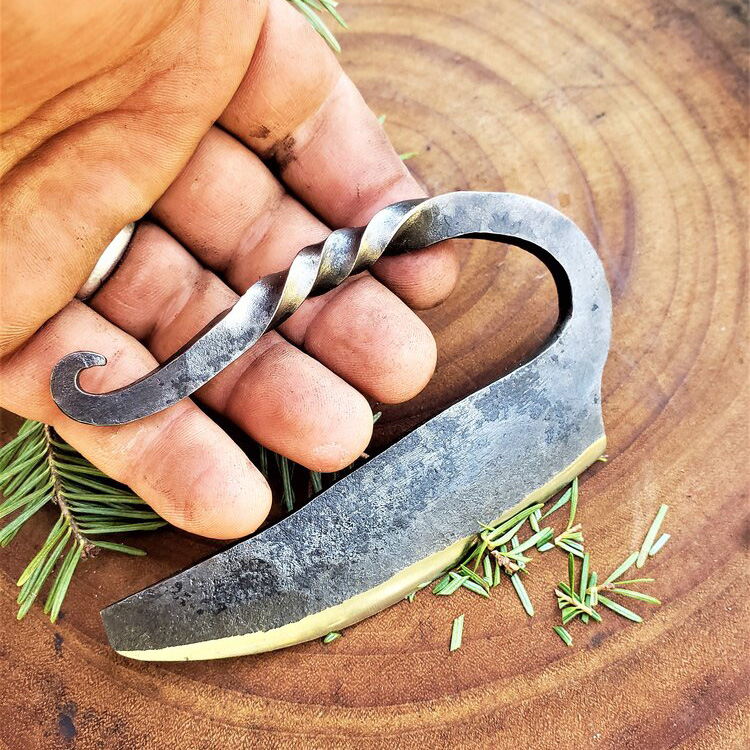 Jordan's herb chopper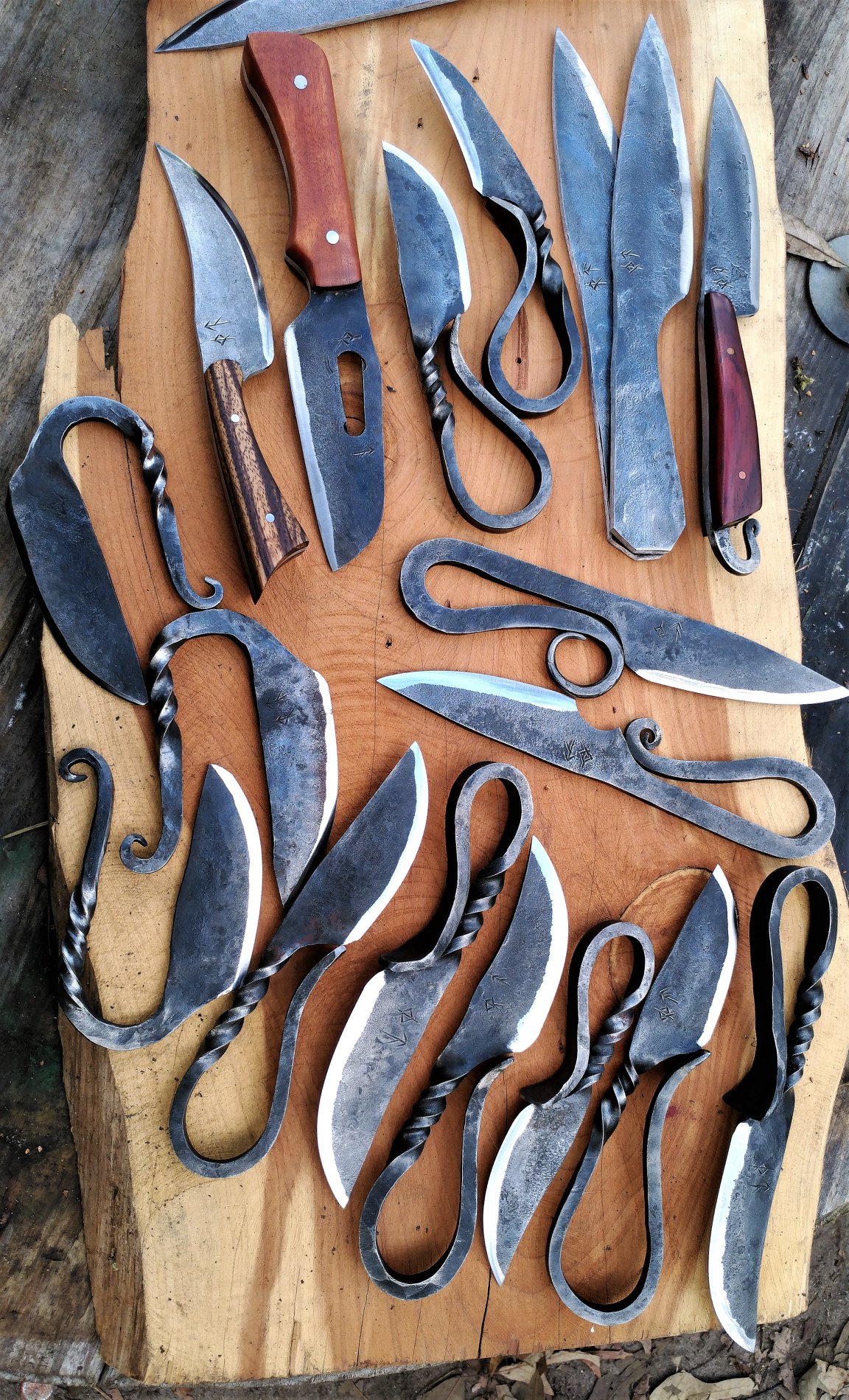 Some of Jordan's knives and herb choppers
JCCFS: Tell us a little more about yourself for those who are unfamiliar. How did you get started?
JB: I have been serious about Blacksmithing since 2010, but I had several blacksmithing experiences before then. My first blacksmithing experience was a 2 week beginners blacksmith course in 2004 at the Penland School of Crafts. I also apprenticed from 2008 to 2009 under blacksmith Yaw Owusu Shangofemi. I didn't acquire my own shop to work from until 2010. From then on I could and did forge nearly every day. I have been a full time blacksmith since 2018, running a forge at home for commission work, and owning a separate workshop for teaching.
I have been teaching blacksmithing and bladesmithing since 2013. My focus has been mostly on workshops based around students walking away with a finished item. I stress safety first, of course, but also ensure that students have fun!
JCCFS: What do you enjoy most about teaching?
JB: The generosity of the craftsfolk who taught me is something I am determined to pass on to others. The chain of knowledge goes back far, and, as a blacksmith, it's part of my duty to forge more links in that chain. It is an honor to continue passing that knowledge on to those willing to learn. Showing a beginner how amazing it feels to hammer on hot steel also reminds me how I felt the first time I swung a hammer. That keeps me feeling invigorated to continue my own exploration of the craft.
JCCFS: What attracted you to the John C. Campbell Folk School?
JB: My first experience at the Folk School was as a student learning how to make hinges and gate latches. It was such an awesome getaway from my daily life. Being immersed in the craft pulls you away from the day to day of your normal life. At the Folk School, all you have to think about is what's right in front of you. For me, it is the best kind of mental headspace to be in and it allows me to feel creative and free.
JCCFS: Where do you draw inspiration from in your work?
JB: I prefer to draw my inspiration from historic works. Since most of what I make are tools, it is important to understand their geometry, and how that specific shape lets the tool do it's job. This often means I need to look back into history to when many of these tools were in actual use. The history is only a stepping stone: I never want to copy the work of another blacksmith, even if they haven't been alive in a 1000 years. I take that historical background and then put my own imagination and incite into creating a new piece. This is what I refer to as, "historically plausible."
JCCFS: What's something you've made recently that you're proud of?
JB: I recently made some cooking tools for a Michelin Star Restaurant in Chicago. Roister is a restaurant that specializes in wood fired cooking, and I have been working with Chef Achatz to make some fascinating devices. Most recently, I forged a Flambadou, a metal funnel with a long handle. The Flambadou is put into the fire until it heats up, then oil or fat is put into the wide end of the cone. The heated steel ignites fat, and hot drippings fall from the bottom of the funnel. The oil is hot enough it will cook seafood, or help in the basting of large roasts.
JCCFS: So cool! Thinking about your extensive experience in Blacksmithing, what tips would you give an aspiring craftsperson?
JB: Take more classes, meet more craftsfolk! Build yourself a network of fellow craftsfolk, preferably people that you can speak to and work with in person. Blacksmithing is one of those crafts that really works best with more than one set of hands, certainly it works better with more than one brain. There is a lot of problem solving that needs to happen in the world of blacksmithing and it's extremely helpful to have a group of people you can bounce ideas off of, and to collaborate with. The internet can help with some things, but there is no substitute for working together in person with mentors or colleagues.
JCCFS: Where can folks find you if they want to stay up to date on your work?
JB: crookedpathforge.org is my website. You can follow me on Facebook at Crooked Path Forge and on Instagram at @crookedpathforge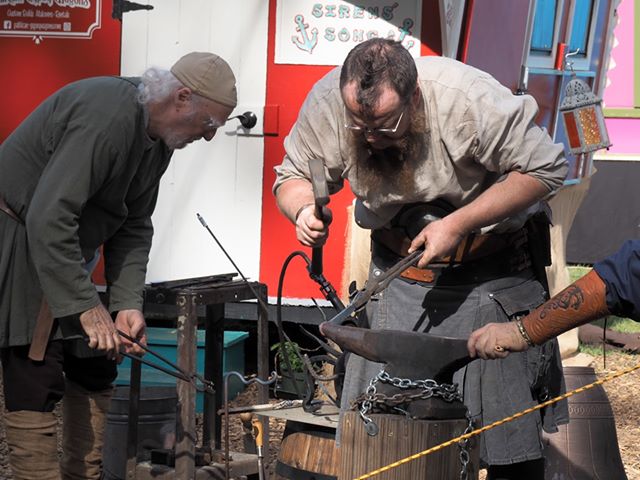 Jordan demonstrating at a festival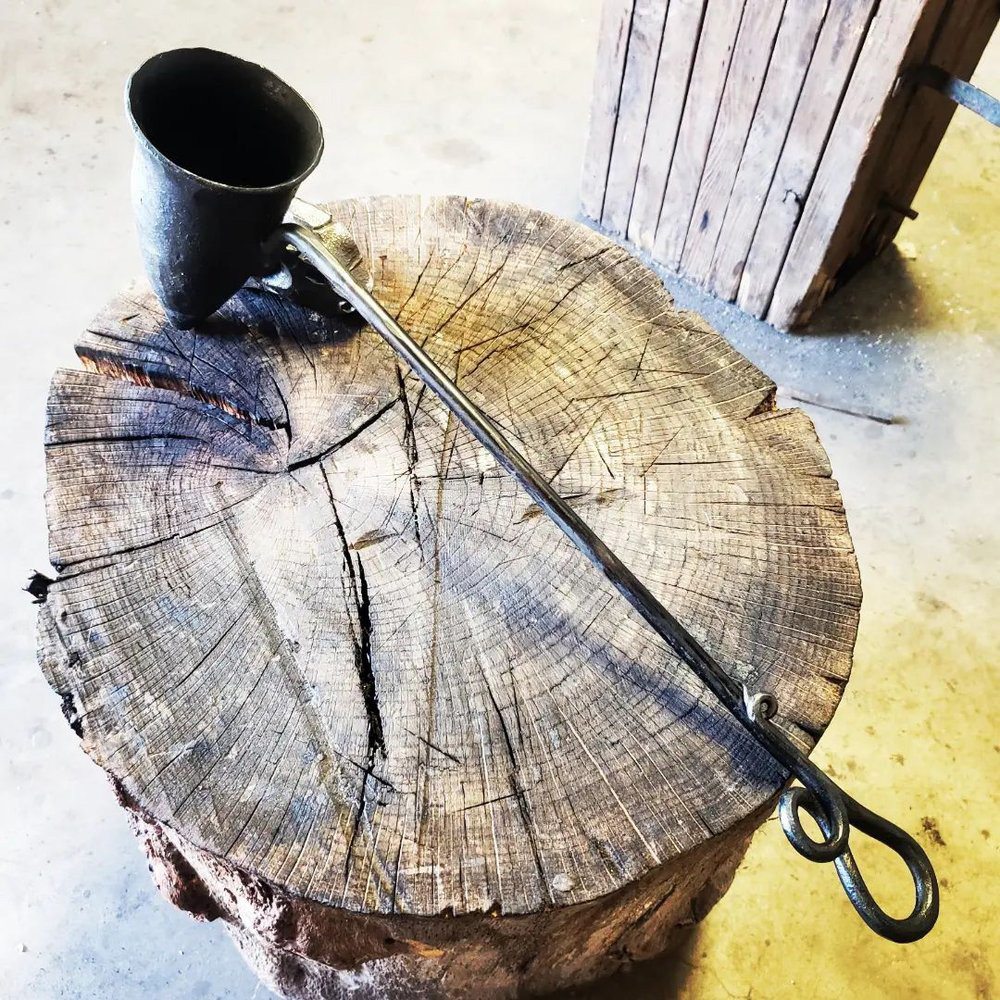 One of Jordan's finished Flambadous! You can see more on his website.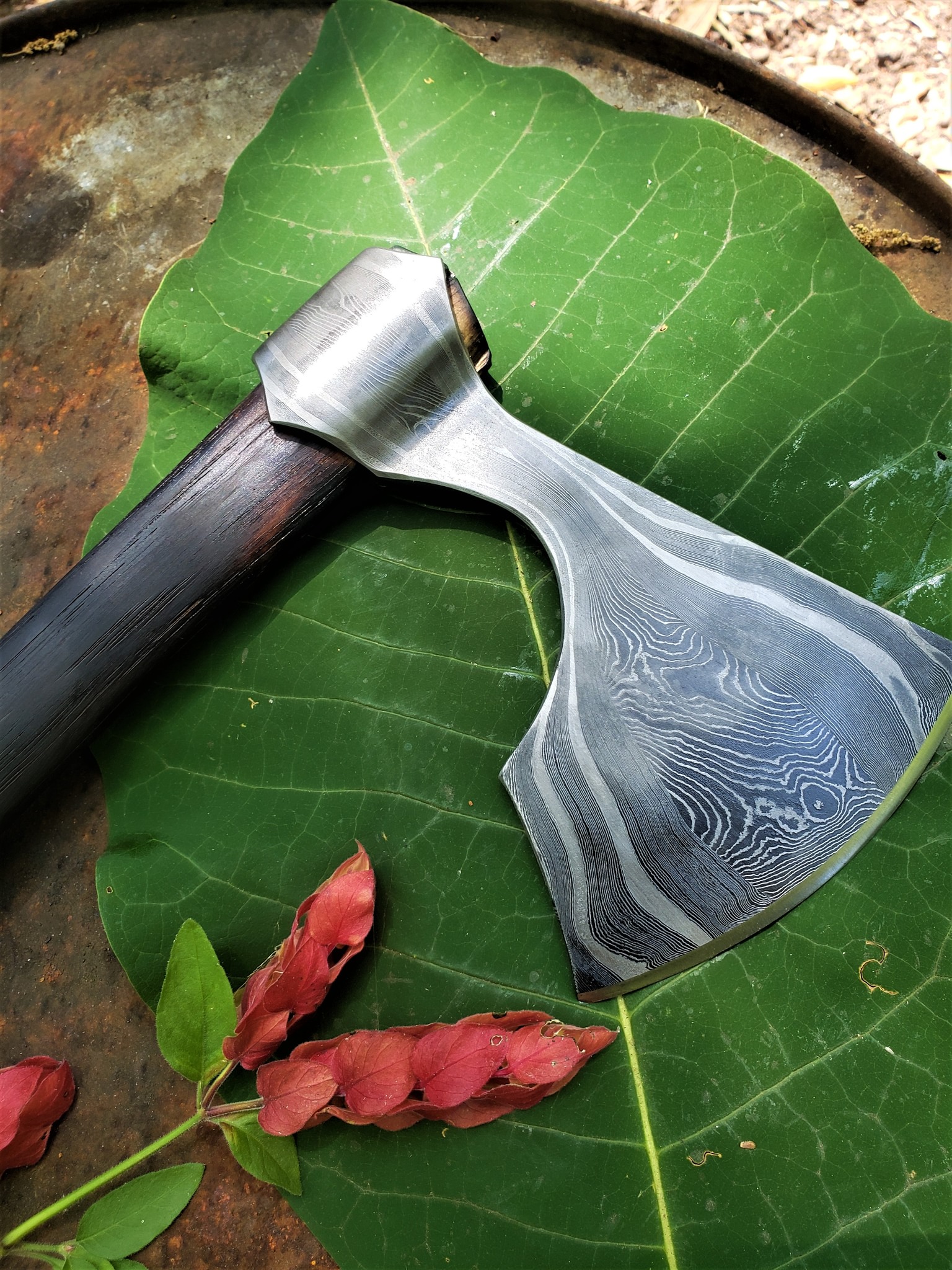 An axe forged by Jordan
Upcoming Class with Jordan
Simple Techniques for Useful Cooking Tools
July 9-15, 2023
Gain an introduction to basic blacksmithing skills and forge tools for the kitchen that are anything but basic! Master fundamental techniques such as tapering, squaring and rounding, hot cutting, bending, and twisting. Then, forge ahead into making s-hooks, steak flippers, spatulas, forks, and a tripod for over the campfire. All levels welcome.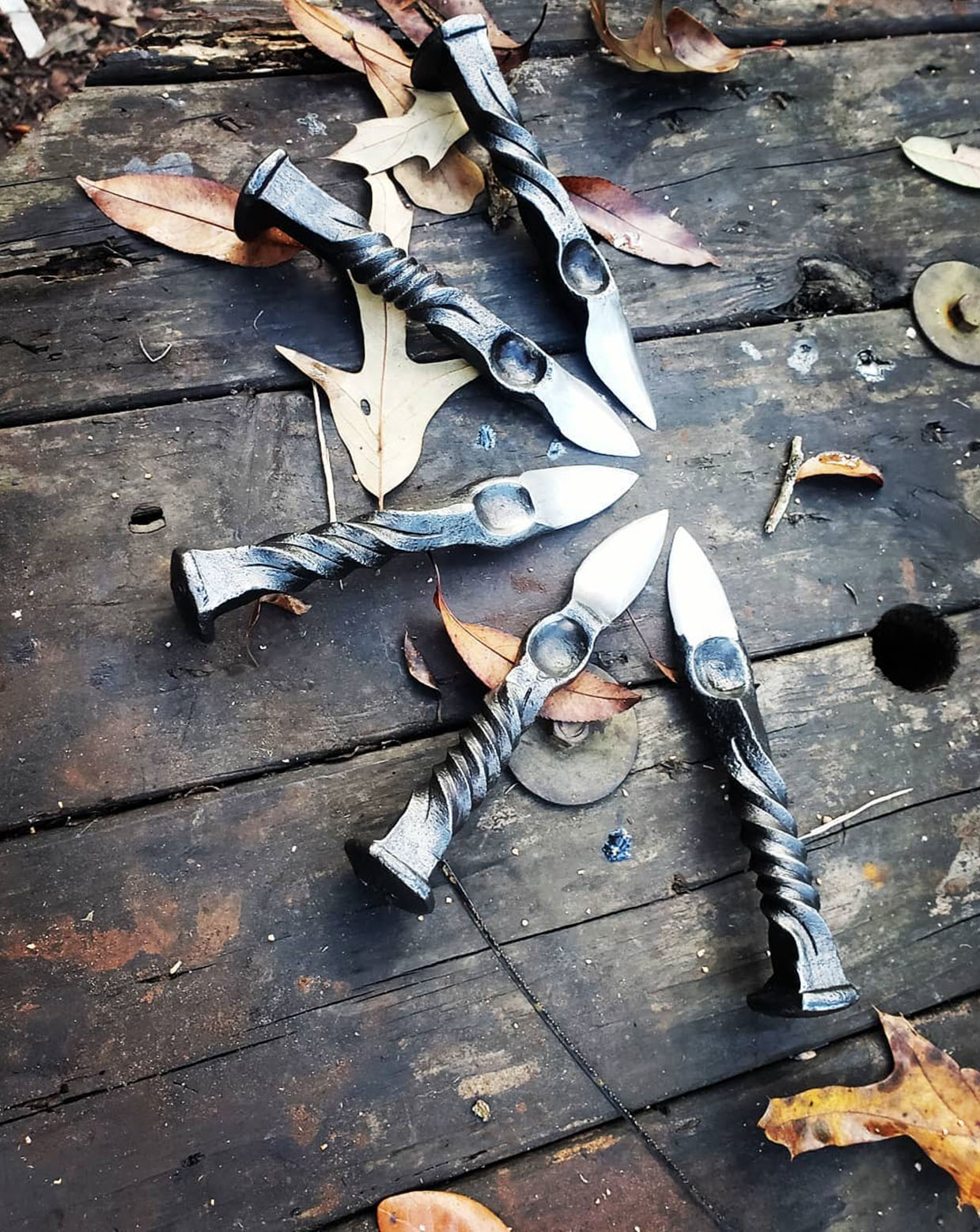 Jordan Borstelmann is the owner of Crooked Path Forge. He began blacksmithing in 2004 at the Penland School of Crafts, and then apprenticed under blacksmith Yaw Owusu Shangofemi from 2008 to 2009. Jordan acquired his own shop in 2010 and continues to be fascinated with tools, how they work, and why they are the shape that they are.