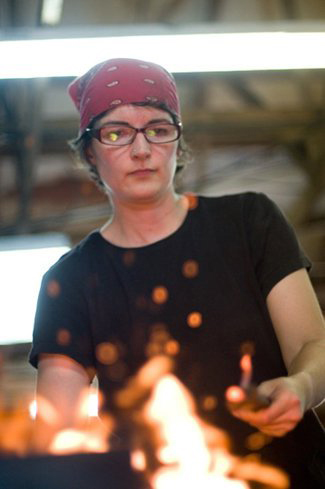 30 Apr

Interview with Blacksmith Lynda Metcalfe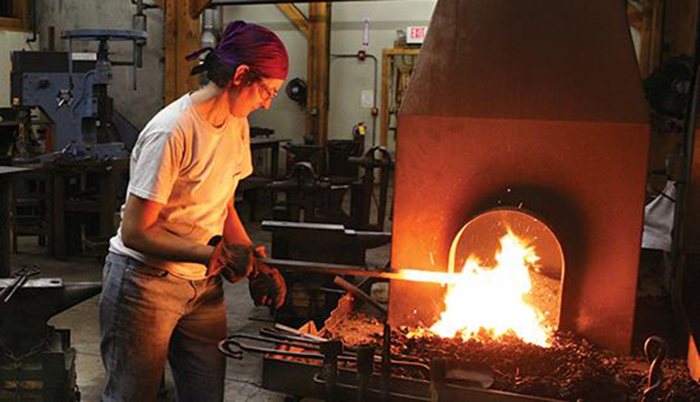 A big congratulations to Brasstown artist Lynda Metcalfe for being the recipient of a NOMMA (National Ornamental and Miscellaneous Metals Association) Top Job 2015 Silver Award. She received the honor for creating an impressive railing for the Lost Hollow Children's Garden at the Daniel Stowe Botanical Garden near Charlotte, NC. I was delighted to sit down with Lynda and learn about this exciting project and what it's like to be a local artist in the Folk School Community. Enjoy our interview!
CP: Congratulations on your recent award! Can you tell me about the project?
LM: Of course! The award was for a 30 ft. long railing that I designed with landscape architect W. Gary Smith and it is for the new Lost Hollow Children's Garden at the Daniel Stowe Botanical Garden in Belmont. This part of the botanical garden is a whole new area, and up until then, had been an unused piece of land. It has lovely terrain and has been transformed into a fable-like children's environment. The railings I contributed were functionally needed as guard rails as part of a balcony, but the space is a feature point and will also be used for celebrations, so the landscape architect wanted an extra special artistic touch. My 30 ft. went in between two other longer section of plain railing. I just did the sparkly bit in the middle.
CP: Tell me about the award.

LM: The awarding body is the National Ornamental & Miscellaneous Metals Association (NOMMA) and they have a yearly trade show and conference where they give out annual awards. We got the Top Job 2015 Silver Award in the exterior forged railings category. Considering we were a small outfit (basically a pair of artists working together) competing nationally against every other ironwork company and artist out there, it very exciting to receive this award at that level especially when you have companies of enormous difference competing.
CP: What drew you to blacksmithing?
LM: I did my undergraduate degree in 3D Design specializing in Metals from the West Surrey College of Art & Design in England (now part of the Surrey Institute). Making the choice to do that was partly down to helping my dad with the cars and things as a kid. Being asked to come out and put your foot on the clutch, or just pass the nuts and bolts. I knew I wanted to work in three dimensions, but it was actually the workshop smell that felt right and the metal working environment seemed right.
CP: What brought you to Brasstown all the way from England?
LM: I came in 1999 as a Work/Study. I had apprenticed with a Blacksmith after school, but eventually took on an office job to pay for school debts. I wanted to get back into doing creative metalwork and I also wanted to travel, so I bought an around-the-world plane ticket and traveled west. R.J. Hadle who teaches Toothbrush Rugs and Blacksmithing at the Folk School connected me with the Work/Study program and the Folk School.
CP: What kind of projects do you enjoy the most?
LM: I like working on bigger projects because I really am a bit of a design head as well as enjoying the process of making objects. I work in a mixture of modern and traditional blacksmithing. I don't like just cut-and-weld ironwork, I prefer there to be the forging and moving of metal and some traditional joinery, but if you completely tie yourself into a corner with that, the work can fall into particular style. I try to push the envelope a bit and I do what the work needs.
My ideal project is a non-repeating railing where I can play design-wise with shapes and develop themes throughout the railing. I made a railing like that for Robert and Donna Forsyth which was really fun to work on. My appreciation for lines and curves stems often from Art Nouveau. The railing at the Daniel Stowe Botanical Gardens doesn't have any repeats. That really is my favorite way to work, to have a basic theme and a design and not have a rigid progression of bars.
CP: Any advice for aspiring blacksmiths, especially aspiring blacksmiths who are women?
LM: If you are a friendly and relaxed person and willing to get along with people, then people will get along with you. I think being a woman in a more male world, you could take the attitude that everyone thinks I'm "this" or "that" or "the other" and get self-conscious about it. It's better not to get in that mindframe, instead to just get on with it. In the world of blacksmithing and metalwork, it really depends on the kind of work you do. If you put out decent work, you're well regarded. Just do good work.
CP: Do you have a favorite tool?
LM: Well, I have to say the power hammer (laughs). I can make it do a lot of work for me and we have three in our shop. My favorite hand tool is the hammer that Elmer made for me. For blacksmiths, your hand hammer is what you most need to be comfortable using. Everything stems from that and it needs to feel good in your hand.
CP: You are also a jewelry maker, which is quite small work. How did you become drawn to that?

LM: Since I have had my son Joel, I've worked on jewelry in between larger projects. I really enjoy making work to wear as opposed to small ironwork. I got into making Mokume Gane, which is hot fused copper and silver. At the moment I am playing with Enameling (taking classes with Kay Patterson and Charity Hall), but I am not sure if I am going to incorporate it into my work.
CP: What is your involvement with the Folk School?
LM: Living near the Folk School has enriched my life a great deal with both the actual active participation of either teaching or taking a class, but also just being around the people who come through the area because of the Folk School. It's been a really big influence on me developing artistically and finding a base from which to grow.
There are always people around that you can learn from. Learning and working with my peers in the Blacksmithing world is a valuable asset. We don't even need to be of a different skill level to learn from each other, because everybody does things so differently, it's just interesting being around different people.
Also, there are always interesting things happening. Like just jumping into a blacksmithing project with Paul Garrett, Susan Hutchinson and Julie Clark the night before the Blacksmith Auction a couple of years ago. We made a fireplace set for the auction and were up until 2 a.m. the night before the event – it was lots of fun. We had a great time at the forge working together. Things like that don't come about if you are stuck in the middle of nowhere and don't talk to anyone or make connections. Just being around other artists is great.
CP: What is your favorite thing about the Folk School?
LM: My favorite thing about the Folk School is the way there is so much community around it and there's not just one community, it's lots of interlinked communities and different groups of people. It's a great hub for people to know each other.