21 Feb

Register Today for Dance Musicians' Week 2023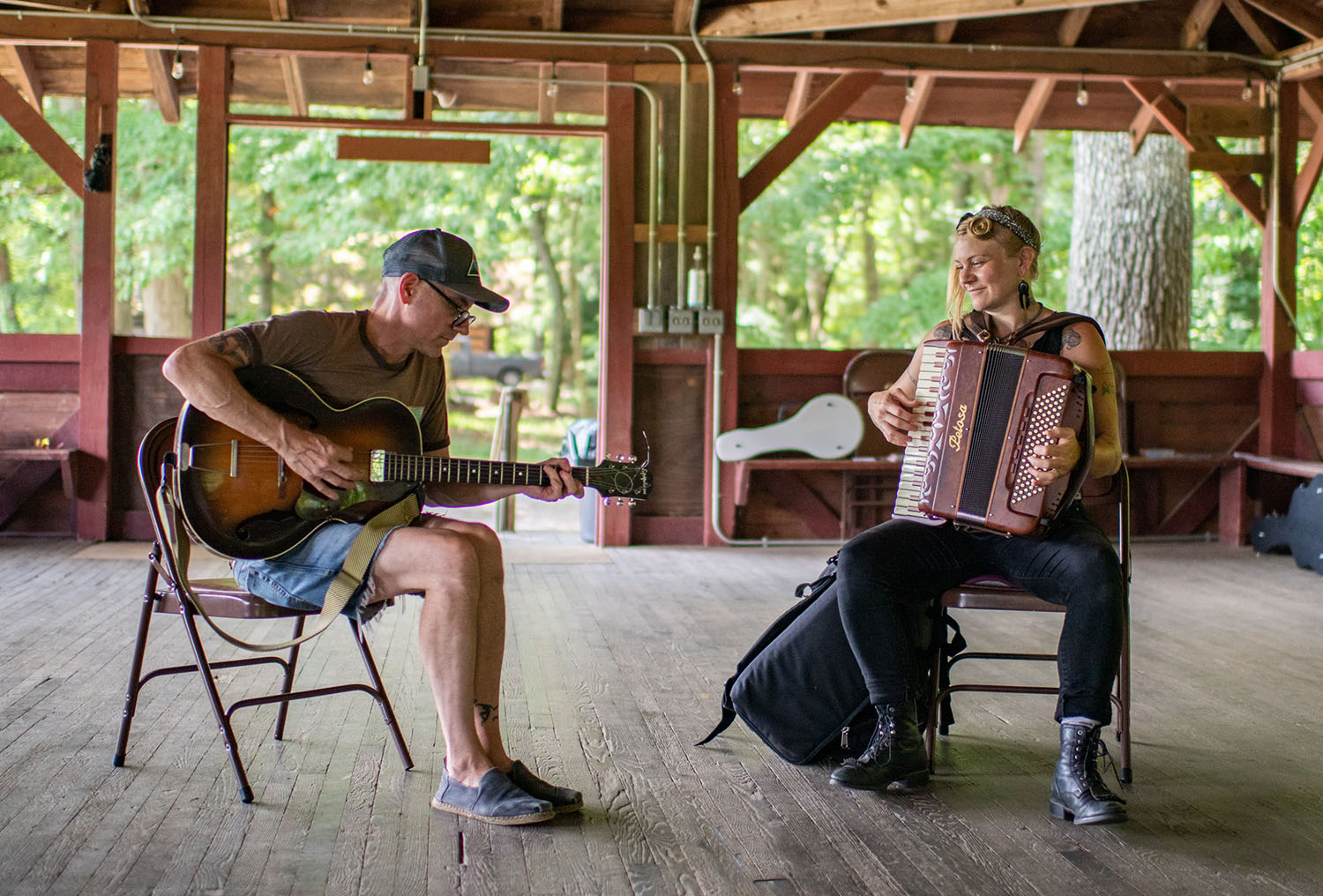 Dance Musicians' Week returns July 9-15, 2023! We're counting down the days to the 29th anniversary of this fun-filled week devoted to learning and improving techniques of playing and arranging music for traditional contra, square, and couple dancing. Our relaxed, non-competitive environment makes for a wonderfully unique experience.
This year, we're thrilled to bring back instructors Betsy Branch, Andy Davis, Peter Siegel, & Sue Songer. The Folk School is proud to offer a special scholarship for this week, in memory of David Kaynor, which folks can apply for today. Learn more about our upcoming Dance Musicians' Week, register for the class today, and explore the scholarship opportunity in the story below.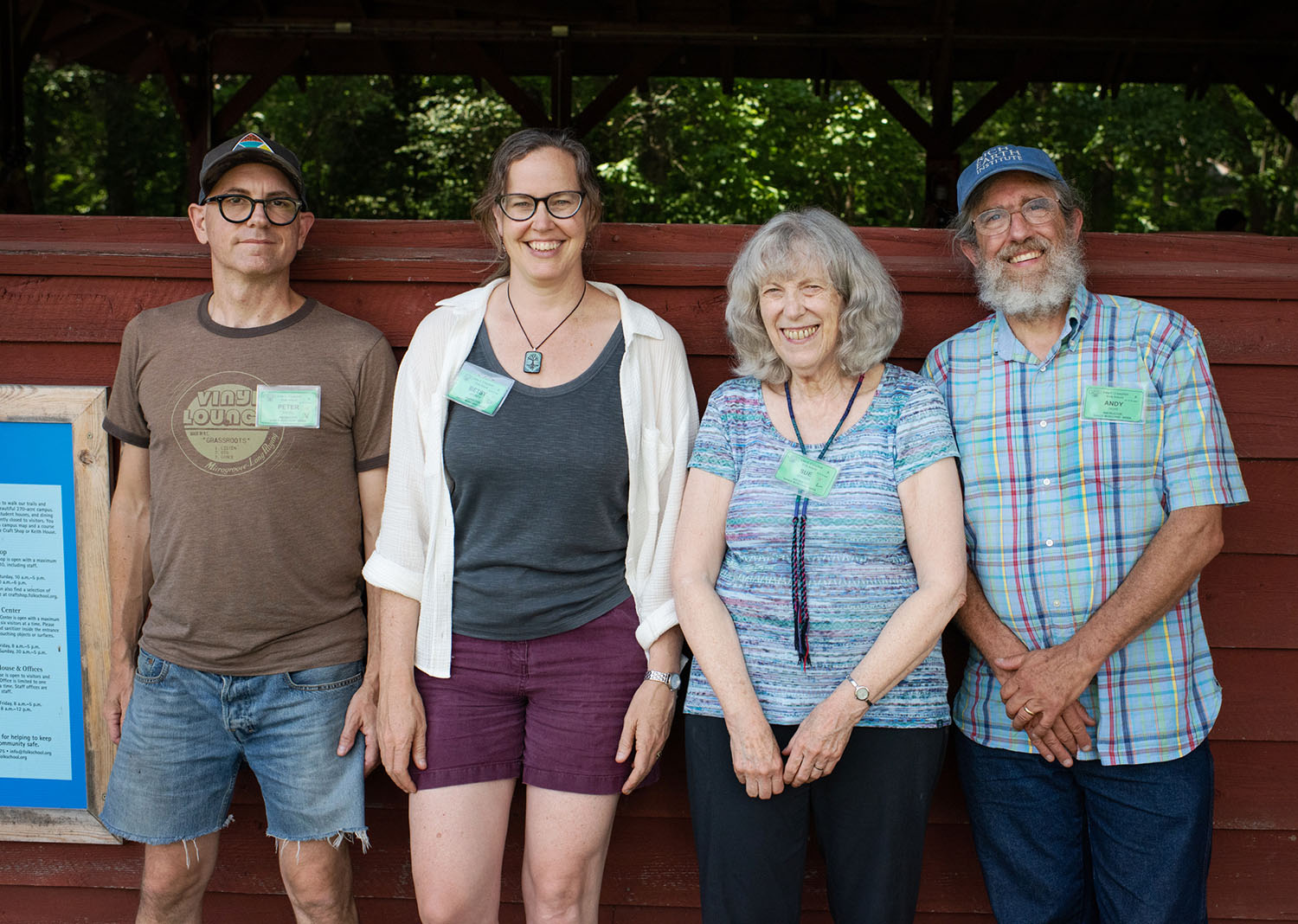 Dance Musicians' Week Instructors. From right to left: Peter Siegel, Betsy Branch, Sue Songer, and Andy Davis.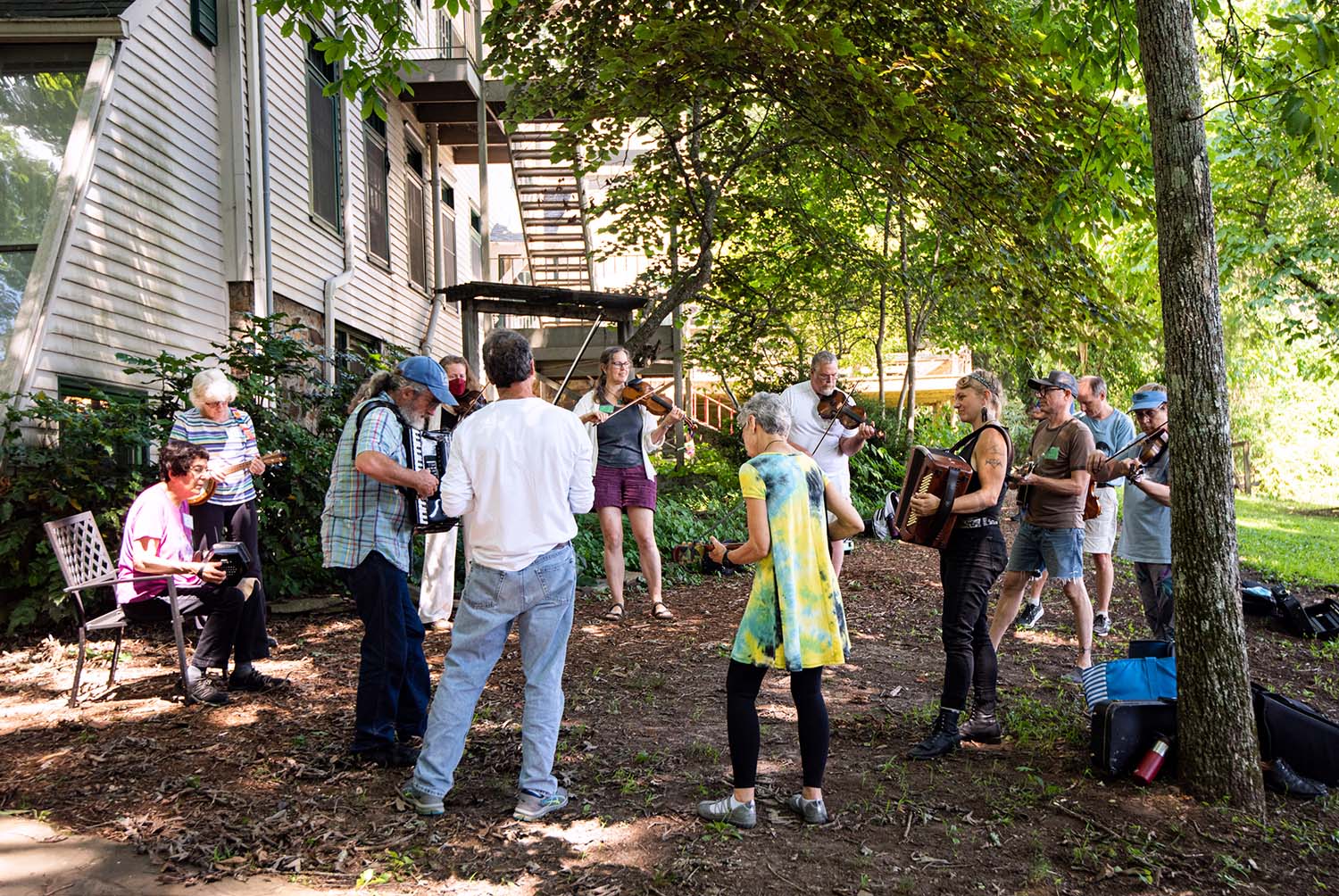 Jamming before lunchtime as students make their way to the Dining Hall
We spoke to Sue Songer, who's been involved with Dance Musicians' Week since 2010. Sue has been playing fiddle and piano for contra dances since 1993, all across the United States with many different musicians. She recently compiled and published 3 volumes of contra dance music with nearly 1,000 tunes among them: The Portland Collections, Vols. 1,2, and 3. She also directs the 75-member Portland Megaband, a contra dance orchestra that plays for a huge event once a year.
She told us Dance Musicians' Week employs a wide variety of teaching techniques, "from whole-class discussions and tune teaching, to group instruction tailored to each instrument, to individual lessons, to forming participant bands so students can learn from each other. A co-operative, supportive spirit is stressed throughout all."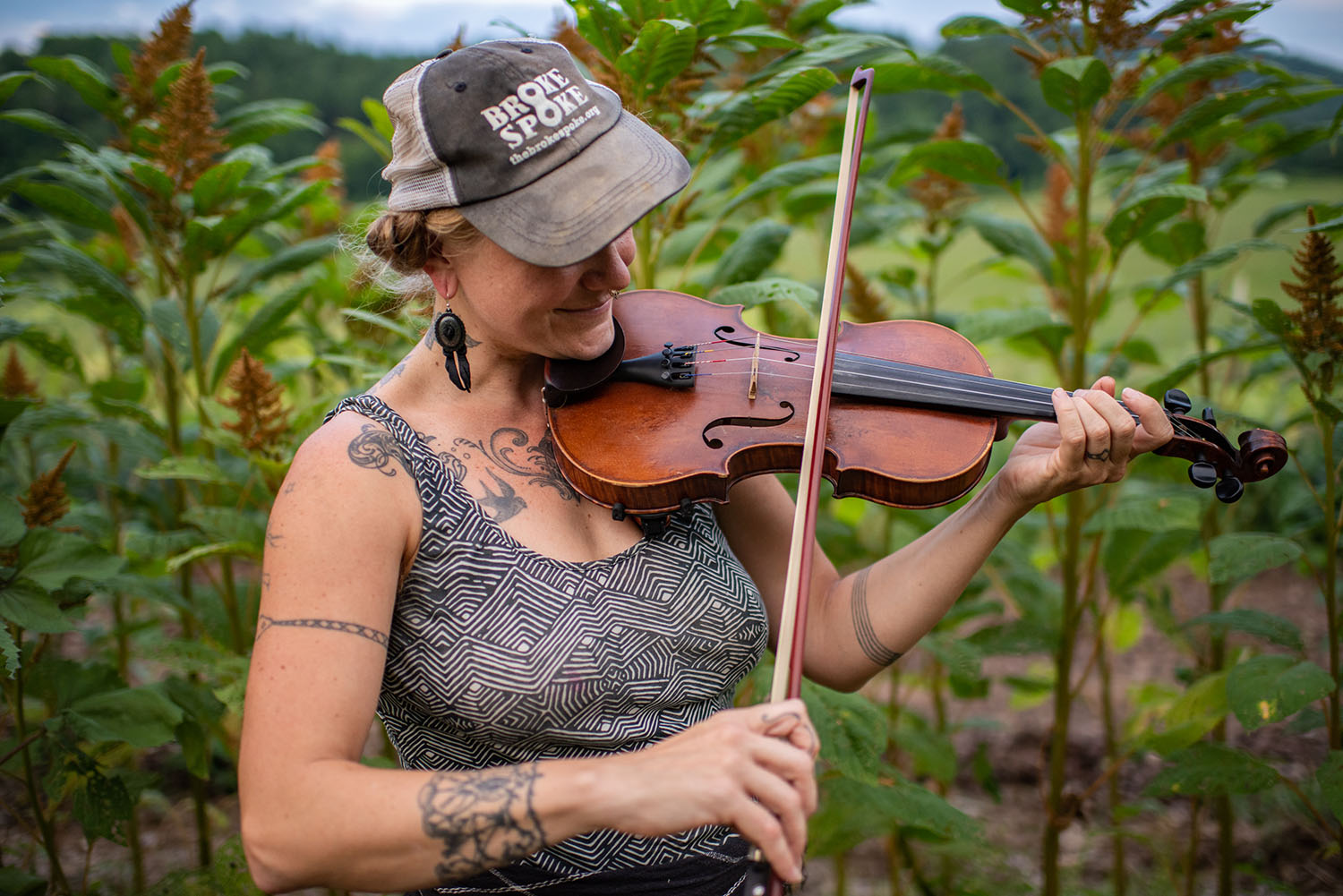 Sparrow playing in the Folk School Garden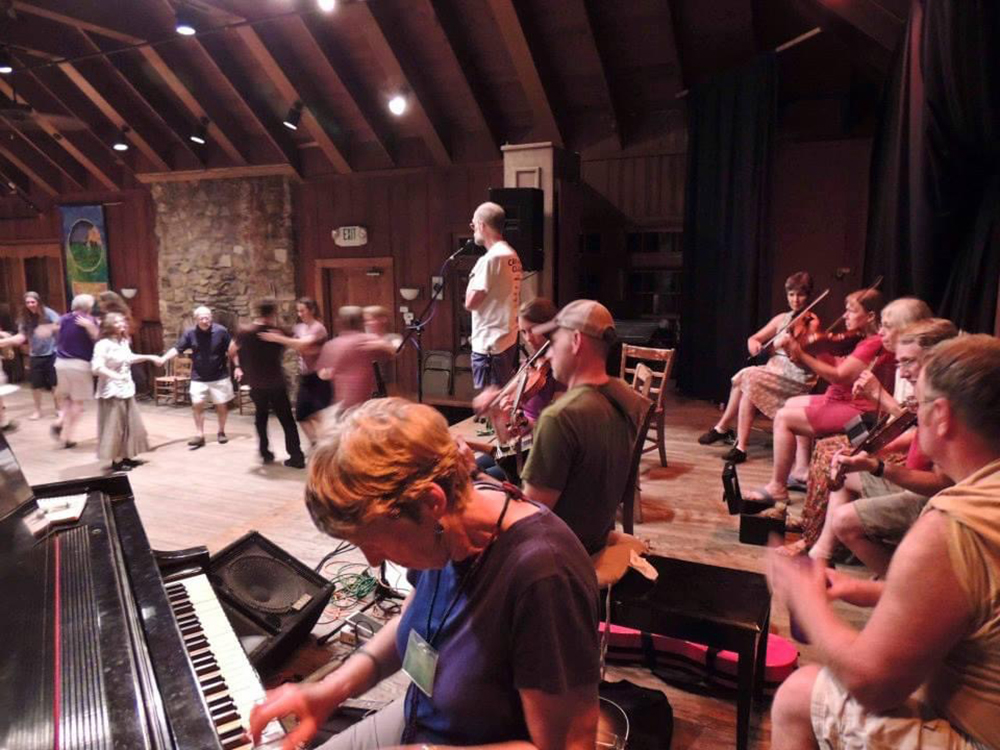 Playing for a dance in the Keith House Community Room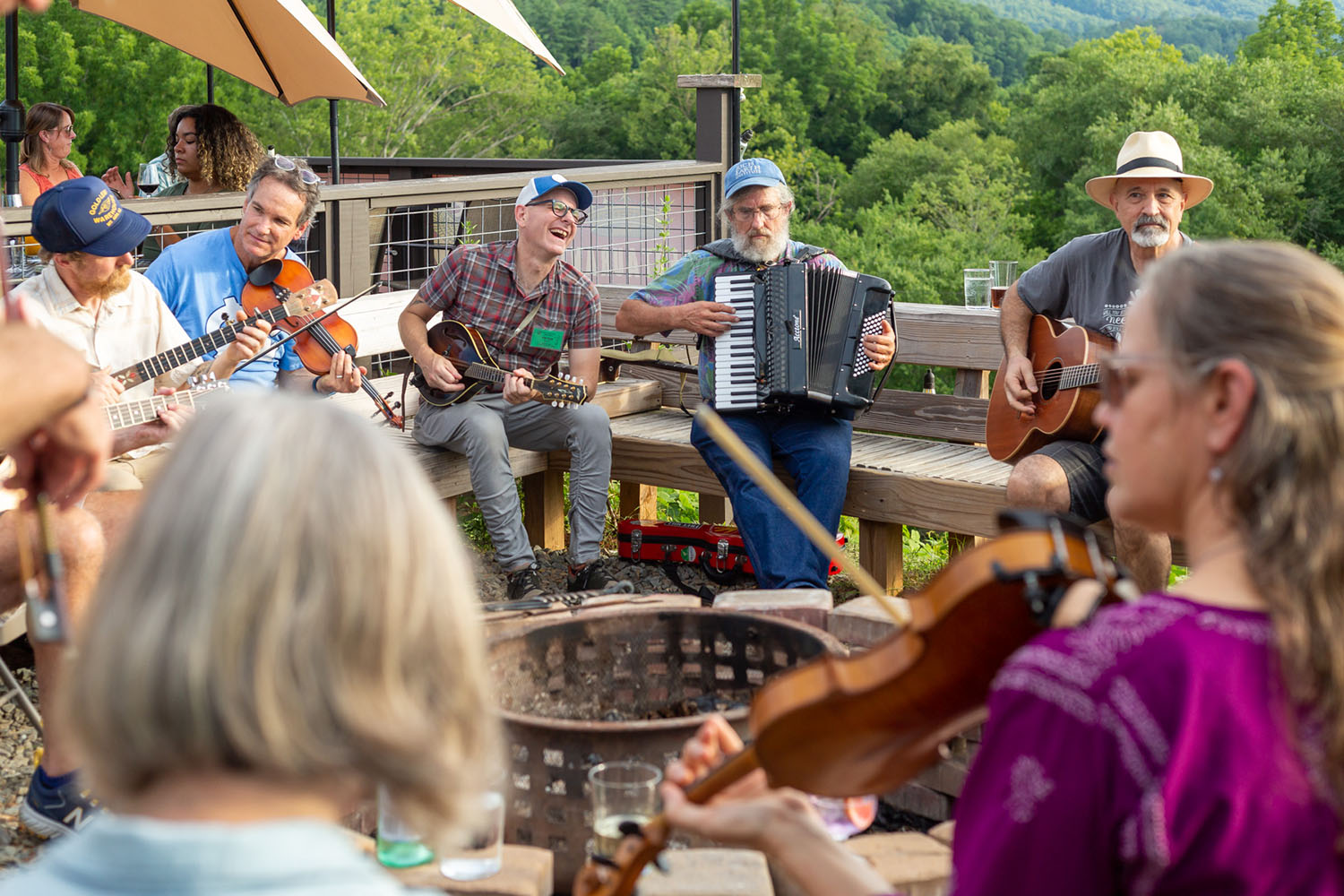 Enjoying the community jam at The Crown Restaurant
The excitement from class time runs into the evening hours, with instructors and students playing for public dances most nights, leading our Thursday evening Community Jam at the Crown Restaurant, and performing in the Festival Barn for our Friday Night Concert.
What does Sue enjoy most about the week? "Watching students gain in confidence and skill. I like figuring out how to help each student take the next step whether it is learning how to form a basic chord or learning tricky techniques on their instrument. It is very rewarding to see, and assist with, a student's joy in accomplishing a new skill."
She also emphasized the impact Dance Musicians' Week has on its students and instructors alike–and how the week's lessons move far beyond our pastoral, 270-acre campus. "Our participants take their experiences at Dance Musicians' Week home with them," Sue said. "They bring new music and new skills to their local communities while continuing the musical and personal relationships forged at John C. Campbell throughout the year. I like to think that our emphasis on pulling together as a music team goes out into the world with them too."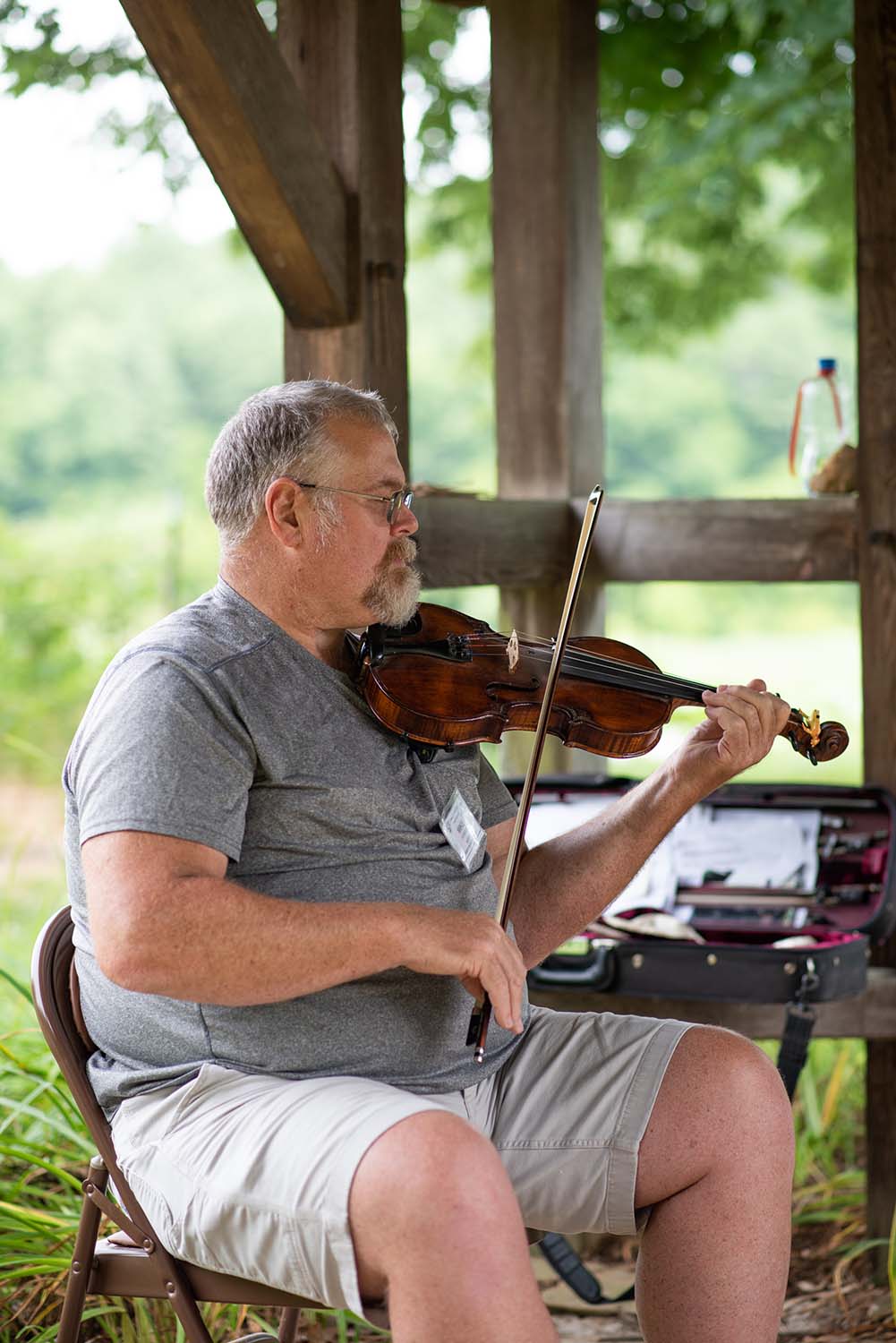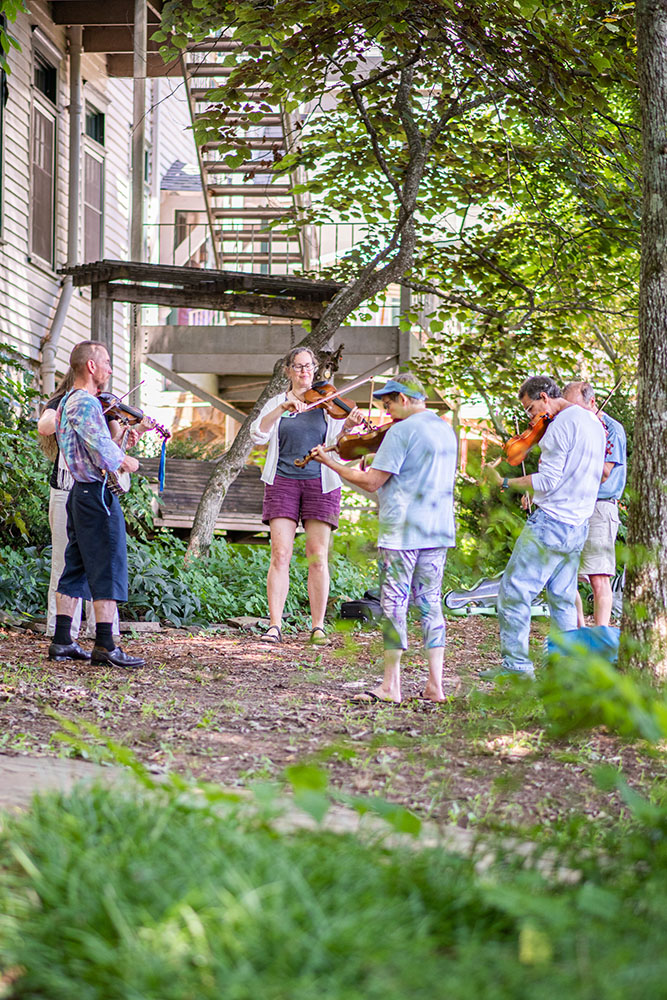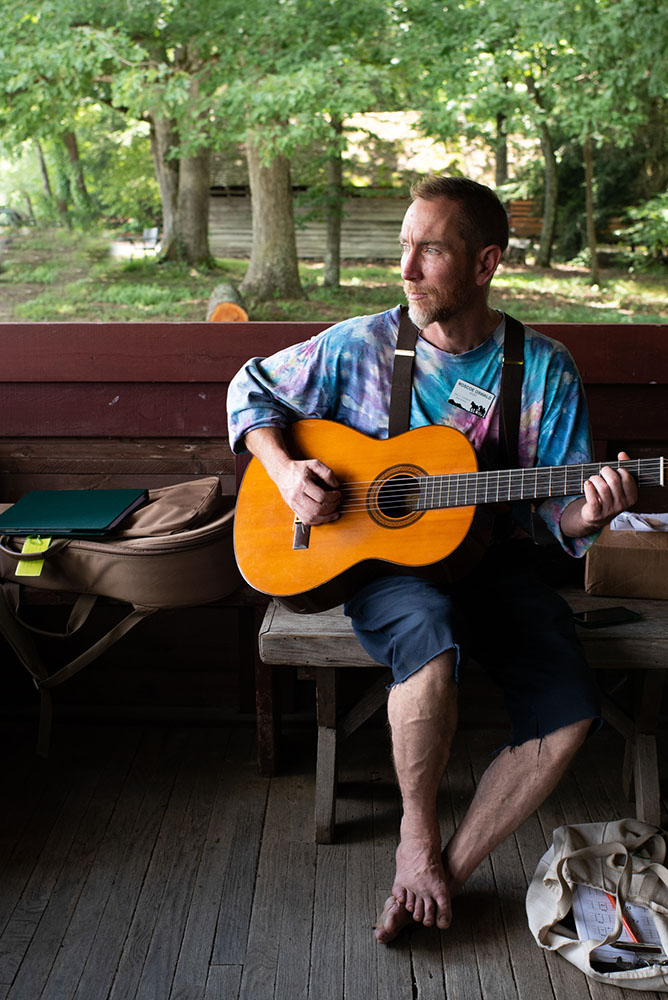 Instruction is oriented toward those who can play or accompany some tunes on their instruments and who are familiar with contra dance music.
Sue's favorite part of the Folk School? "It's hard to pick one thing. Definitely the co-operative, supportive atmosphere that pervades the place. Reconnecting with friends I've made at the school and in the area. Working with my co-instructors. Watching and assisting our participants come together, learn as a group and individuals, feeling their joy as they play for the showcase on the last day."
Her advice? "Stick to your own path no matter how fast or slow the progress. Aside from learning and being inspired by others, don't compare yourself to anyone else and what they can or can't do."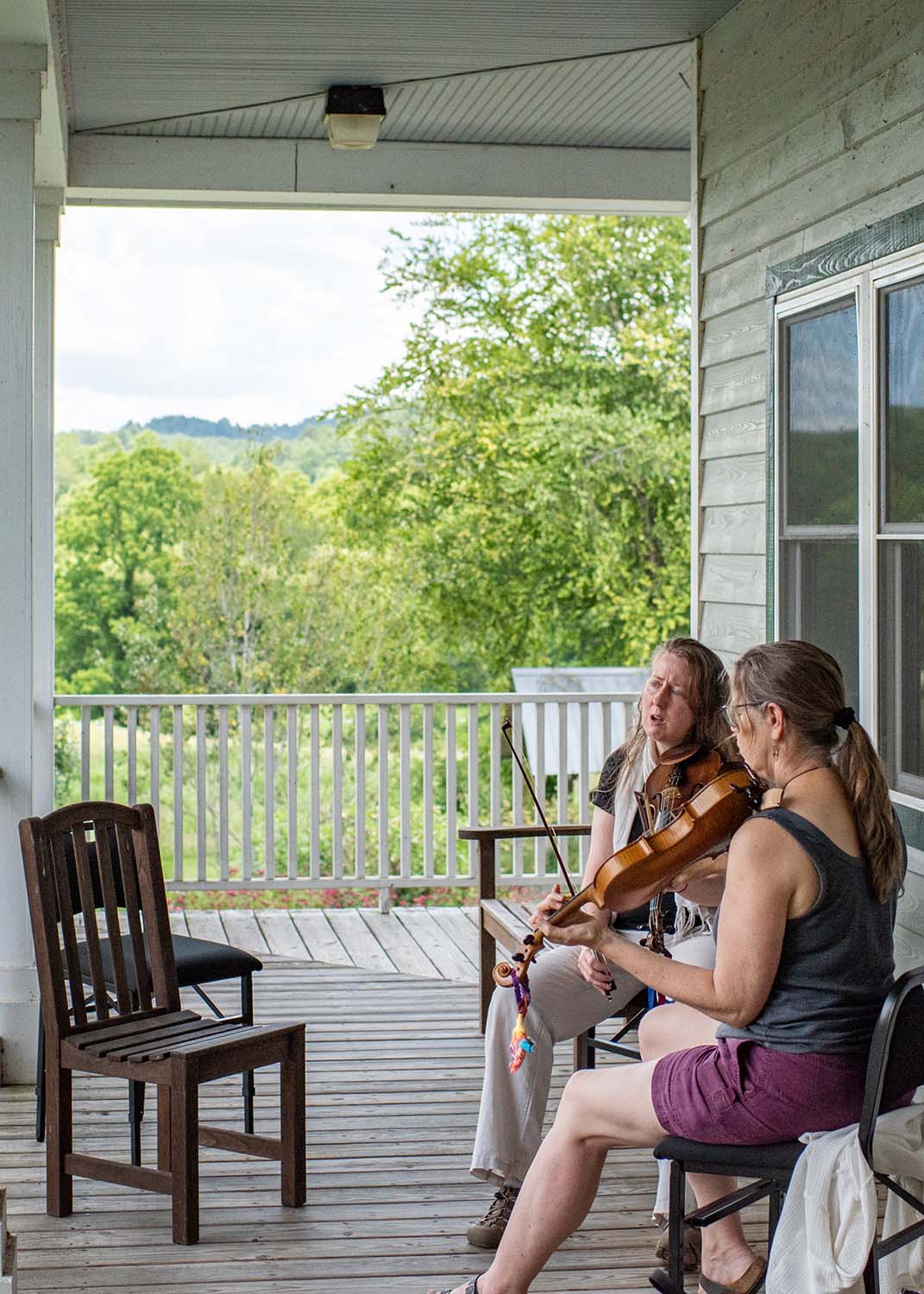 Playing on the porch of Davidson Hall
Register for Dance Musicians' Week Today
July 9-15, 2023
This fun-filled week features learning to play traditional and contemporary fiddle tunes for dances on any acoustic instrument. Enjoy slow-tune and faster jams, instructor presentations, individual and group lessons, discussions, small-ensemble band work, playing for dancers, and dancing. For intermediate and advanced students who can play or accompany some tunes on their instruments and who are familiar with contra or square dance music. For planning purposes, please register by May 20.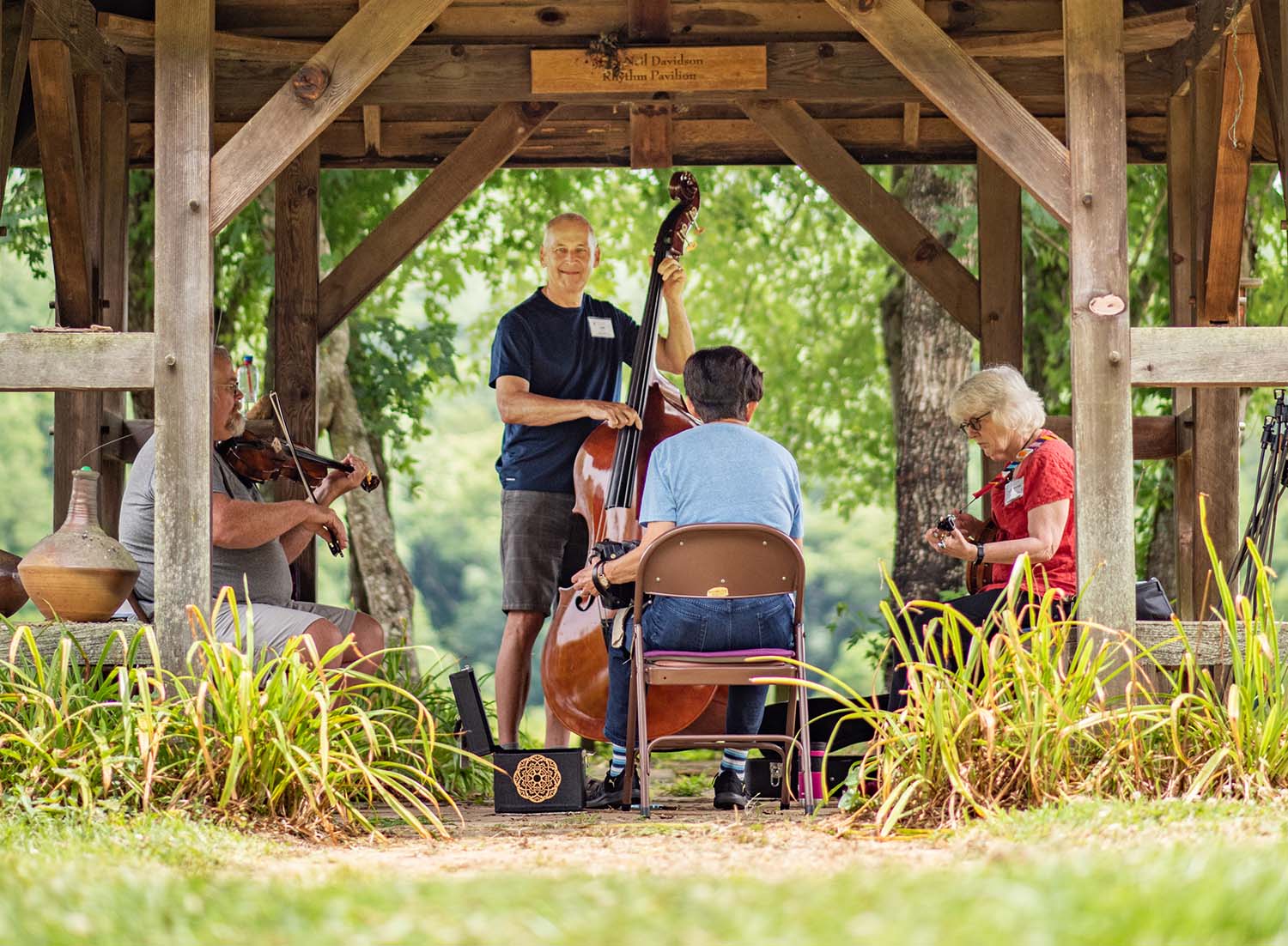 Playing together in the John Neil Davidson Rhythm Pavilion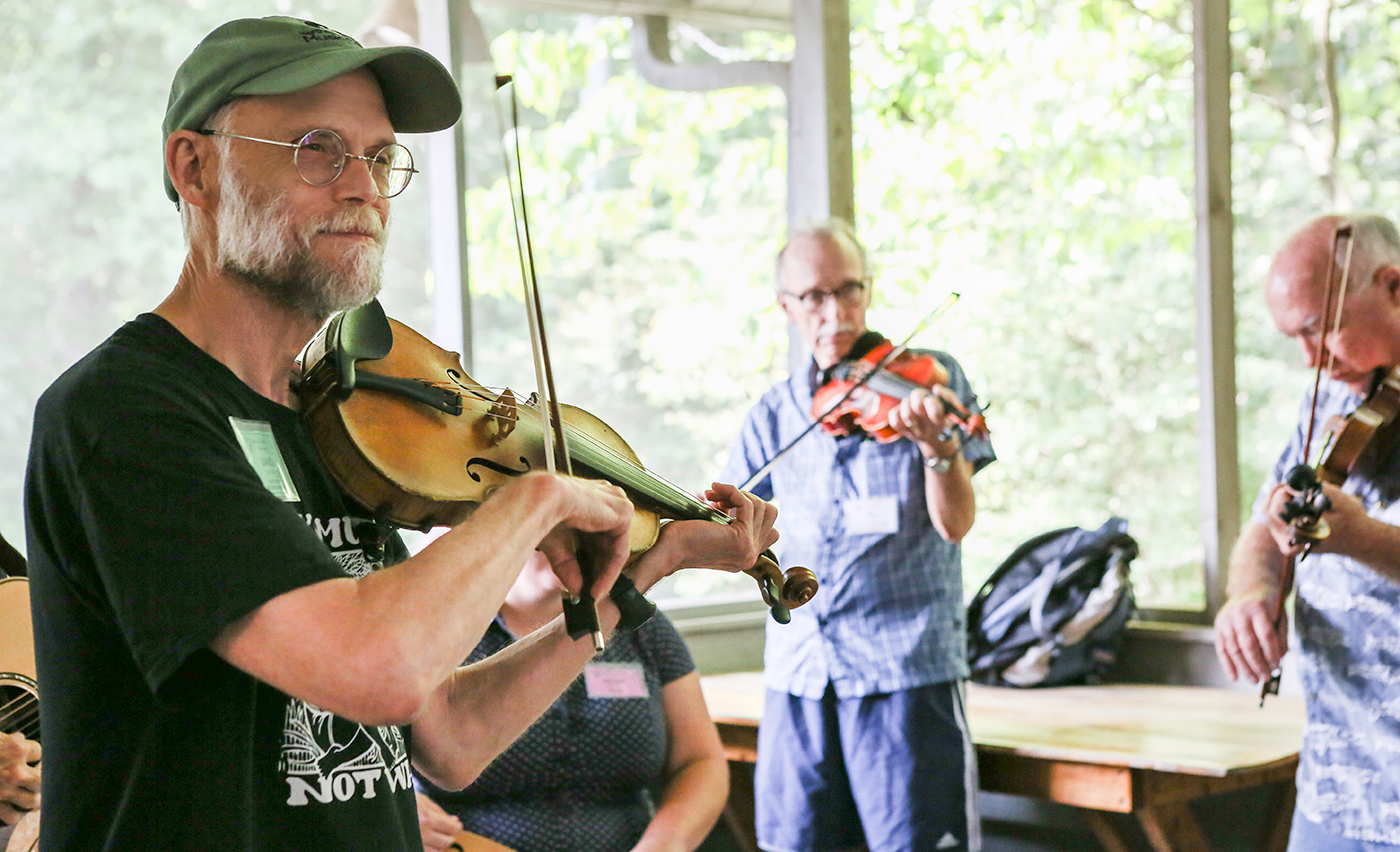 About the David Kaynor Memorial Dance Musicians' Week Scholarship
Provided by his many friends in memory of dance musician David Kaynor, this scholarship is dedicated to his passion for dance music and for life. It covers tuition for the school's annual Dance Musicians' Week for someone who would otherwise be unable to attend.