07 Nov

"I Don't Believe in Keeping Secrets": Learning Soda Firing with Jesus Minguez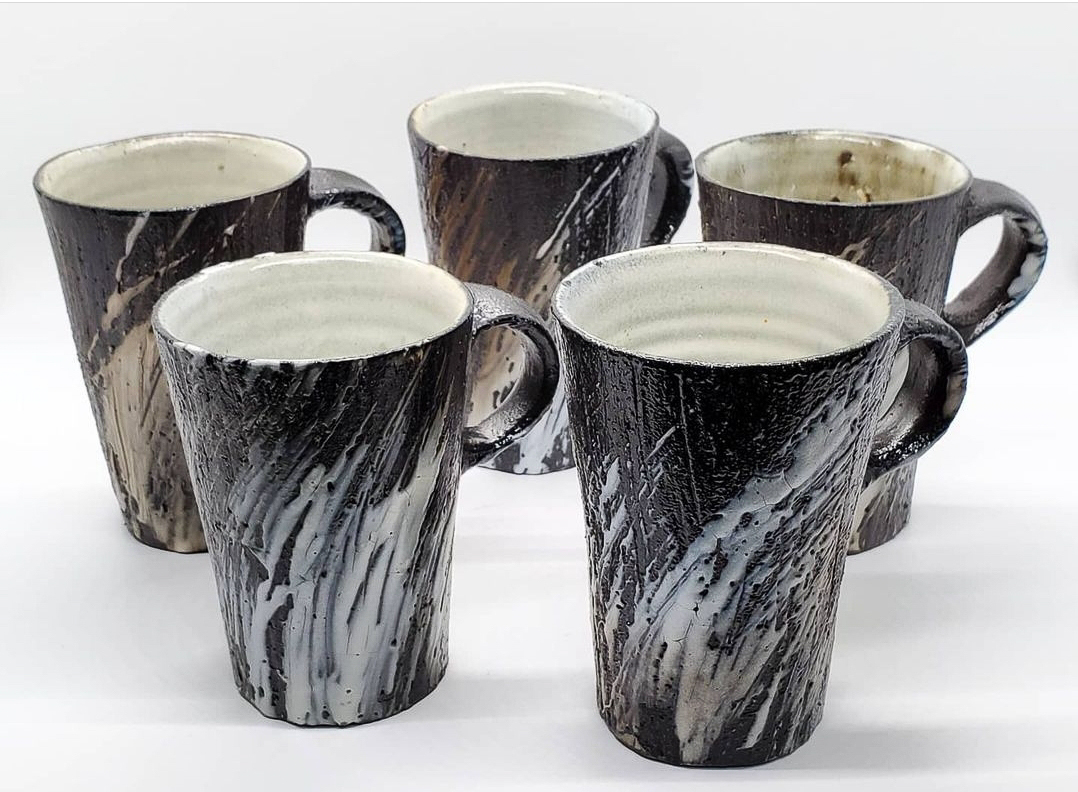 Soda firing creates beautiful flashes of color and texture on ceramic pieces, but the process, which permanently affects the kiln, can be a challenge for a shared studio like ours. We're thrilled to share that this winter, students will have the chance to explore various soda firing techniques in Jesus Minguez's class–thanks to a special kiln converted by the instructor himself!
We wanted to hear more about this process from Jesus while also learning about his background in clay and his favorite aspects of the Folk School. Enjoy our interview below in advance of his class "Fast Fire Soda Kiln Experiments," happening December 4–10, 2022. A few spots are available in this all-levels class if you're interested!
BW: For those who don't know, what is soda firing?
JM: Soda firing is a type of atmospheric firing where sodium carbonate is introduced in a hot kiln. Sodium vapor becomes a flux (melter) to convert the natural silica on the ceramic surface to sodium silicate glass.
BW: We don't have a soda kiln at the Folk School, so I heard you're bringing your own! Why does soda firing require its own kiln?
JM: Soda firings affect the kiln bricks. Once a kiln gets exposed to sodium vapors, that surface is there forever.
BW: How does soda firing change the look of a piece?
JM: Soda firing documents the flame path on the surface of the piece creating flash markings. During a soda firing process, the atmospheric conditions in the kiln also interact with certain glazes which creates variation in colors and textures.
BW: Tell folks a little bit about you and your background in clay. How did you get started?
JM: I took my first clay class in high school. I became obsessed with ceramics and immediately became a professional potter. I then went back to school and received my Bachelor of Fine Arts at the University of Central Florida.
BW: What inspires your work, and what's your favorite part of the creative process?
JM: This depends on the type of work I'm making. Nature, natural forms, textures, silhouettes, atmosphere, and more inspire my work.
Every step, every stage, I enjoy. I do love throwing on the wheel, cutting and trimming, and decorating and painting on the surface. BUT! My favorite is loading an atmospheric kiln. This is when I get to visualize the flame and atmosphere and create a strategy for firing the kiln.
I begin thinking of kiln loading way before I throw the first piece on the wheel that will be fired in the kiln. I do this to help me decide what clay body, slips, or glazes to formulate to make the next body of work. For example, if my firing strategy is to reduction cool the kiln, then I make work using clay that best responds to that type of firing and atmosphere.
BW: What's a piece you've made recently you're proud of, and why?
JM: There was a plate that I painted a stegosaurus silhouette on with the intention of loading it in such a way that the wadding marks created an asteroid shower.
BW: You're teaching an upcoming class at the Folk School, Fast Fire Soda Kiln Experiments. What can folks expect to learn and take away after the week?
JM: I want folks to gain confidence in their own process by helping them understand raw materials and how they interact with the firings. Folks can expect to learn about clay body, slips and glaze formulations, throwing, and hand-building techniques.
BW: What was the first class you took at the Folk School?
JM: I officially took a blacksmithing class during the summer of 2021, however, I assisted in a class conducted by Fong Choo back in 2018 and taught my first class at the Folk School a few months later.
BW: What's your favorite part about coming to the Folk School, and what do you enjoy most about teaching?
JM: Other than the beautiful location, I love the community of people who are there to learn and experience new techniques. I teach so I can learn more, if that makes sense.
BW: How can readers stay up to date on what you're making?
JM: Readers can follow my journey on my Instagram page. I am very open to my process and techniques. I don't believe in keeping secrets. I want as many people to learn from my successes and failures. My Instagram page documents all.
Upcoming Classes with Jesus
Fast Fire Soda Kiln Experiments
December 4 – 10, 2022
Explore various soda firing techniques using an old electric kiln that has been converted into a fast-fire gas kiln. Make small salt and pepper shakers using a soft slab technique, then dry and bisque-fire in preparation for soda firing. Learn how to load the kiln for maximum flashing effects.
Jesus Minguez has been a Central Florida potter for more than 20 years. He received his bachelor of fine arts at the University of Florida (UCF) and is now teaching ceramics at Valencia College. He currently works for Laguna Clay Co.as the studio technician, and teaches various workshops at art centers and schools.
"My love for ceramics began when I was a child growing up in Quezon City, Philippines where I was exposed to traditional folk-art pottery my grandparents owned. I love to share knowledge that I gain. As soon as I learn something new through my experiments and experiences, I am inspired to share with other fellow artists. This passion to share knowledge and teach is what drives my ceramics work. I am constantly humbled and reminded of nature's power and importance in our lives. Through clay, I connect with nature. Clay and nature can exist without me; I cannot exist without them."