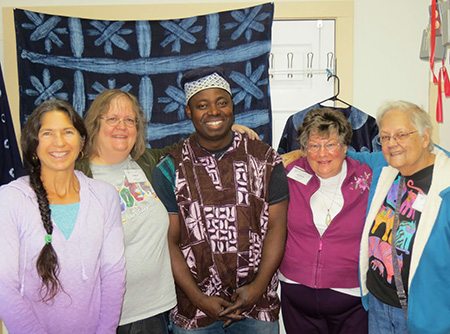 28 Oct

Indigo Fun at the Folk School

Cindy Alley wrote a great blog about her experience as a student in last week's "Yoruba Batik, Adire, and Tie Dye" with Gasali Adeyemo (Oct. 20-25, 2013):

Just back from another wonderful week at John C. Campbell Folk School. I went with two State College friends, Mart and Judy, and my mom from Cleveland. It was a wonderful week. Gasali is a native Nigerian from the Yaruban tribe. The Yarubans are known for their indigo fabric.

Indigo grows wild in Nigeria. They harvest the leaves and pound them into tiny bits in a wooden container with big wooden poles. When it is chopped into pieces, it is mixed with wood ash. Handfuls are scooped out and pressed into balls and dried. These are used to start a dye pot.

Before our class started Sunday evening, Gisali took about 95 of these balls and placed them in a big pot with water. They needed to sit for three or four days as they ferment. As he put them in the pot, he called to the "Lady of the Indigo" saying her name three times, praying the indigo would work.

Sunday evening we met for a little while. Besides our four, there were 8 other students and our able assistant, Charlotte.   Gisali welcomed us and told us a little about the history of indigo. Since just dyeing fabric blue would be a boring week, we would be learning how to put designs on our fabric. These are called resists as where the design will be resists the dye.  

There were four types of resist we would be learning:
• Adire eleko is a paste resist (If someone just says Adire, this is the technique they are referring to)
• Adire oniko is a tied resist
• Adire alabere is a stitched resist
• Adire alabela which is a wax resist, the Yaruban version of batik

Gasali himself is a wonderful teacher – very gentle and soft-spoken, caring greatly that his students enjoy the process.  He laughs a lot and answers questions carefully.

After our introduction, we were dismissed and could go to our cottages and collapse in bed.  It had taken two days of driving to get here.  We were glad to sleep…

Keep reading about Cindy's fun Folk School week in it's entirety and see all the photos on her blog: Penguin Alley Creations.