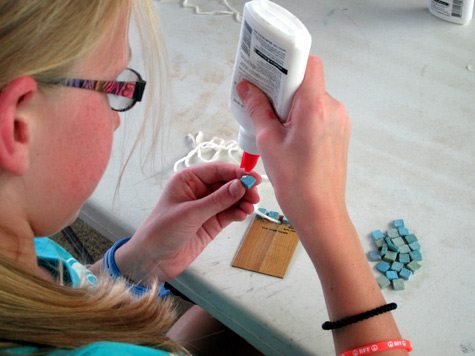 01 Jul

Littles Use Big Creativity in Mosaics by Jeannette Brossart

I always love time spent at John C Campbell Folk School, whether I'm teaching or taking a class, the experience is always wonderful. But the Little Middle week holds a special place in my heart. It's the week each summer that the Folk School is given over to our youngest creative friends, kids ages 7-17.

I've taught the "Littles" mosaics in the Festival Barn for three years now, and enjoy every minute of it. One of the most amazing things about this week is that in general, kids don't know that they CAN'T do something, so with a little guidance, and access to materials, they embrace all the new methods and materials with unbelievable energy and excitement, and just create.

Important behind-the-scenes preparation that goes into a successful week with children, both on the part of the instructors and wonderful Folk School staff, but it's plain to see on Thursday's performance day and Friday's Finale Exhibit why this week is so special. Thank you JCCFS for continuing this summer tradition of sharing and creating with our young people, and thank you kids for making the week so incredible!

Visit Jeannette Brossart's website, Mother Nature Mosaics, to see her incredible Mosaic Work.