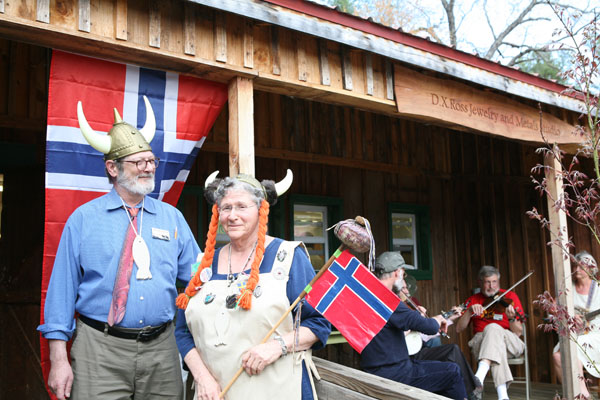 23 Mar

A Celebration in the Jewelry & Metals Studio

Guests who came to the Jewelry & Metals Studio Dedication on Wednesday afternoon were greeted by musicians on the porch, jewelry students in Viking garb, delicious hors d'oeuvres, and many friends who came to witness the dedication of this studio to two very special women. The studio was named in memory of late jewelry and enameling instructor, D.X. Ross, who taught at the Folk School for over 10 years. The day's celebration was also in honor of Alice Ahlers, who was taking her 200th class at the Folk School! Alice was surprised with the recent addition to the studio named for her: the Alice Ahlers Room.

Alice is part of a group of students who return to take Resident Artist Barbara Joiner's class the same week each year. This fun loving group of accomplished jewelers was instrumental in fundraising for the 600 square foot addition to the studio. Read the blog from last year about their fundraising efforts. The reunion usually takes place during Scandinavian Heritage Week (which would explain the Viking horns and profusion of Helga's and Dagmar's.)

The afternoon included a slideshow of the beautiful work of D.X. Ross, a tribute to D.X. read by kaleidoscope instructor David Baker, the presentation of a class certificate and plaque to Alice Ahlers, and a special ceremony leaving the newly dedicated space with positive energy. Thanks to everyone who made this such a special occasion.