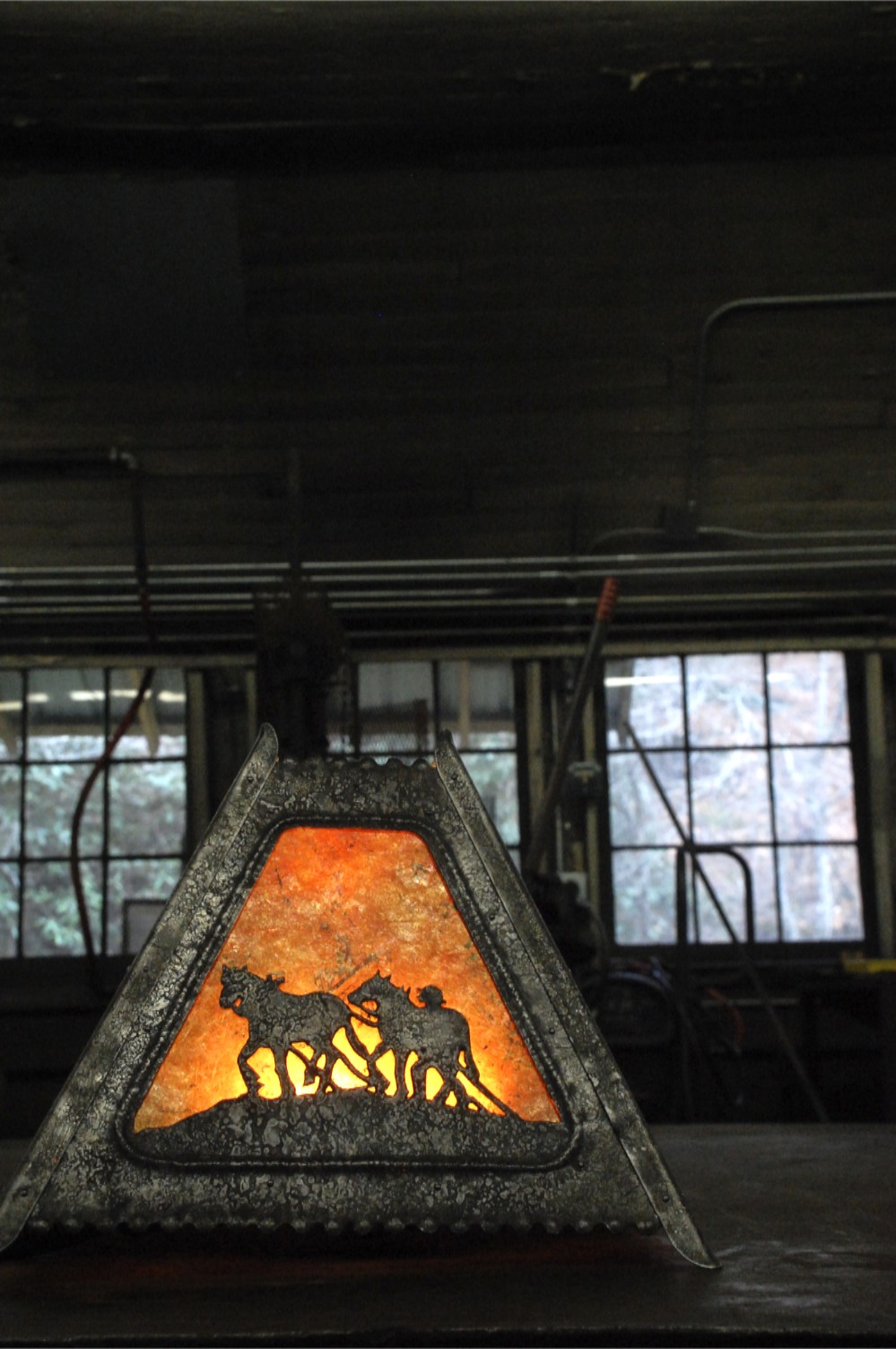 [caption id="attachment_10387" align="alignright" width="232"]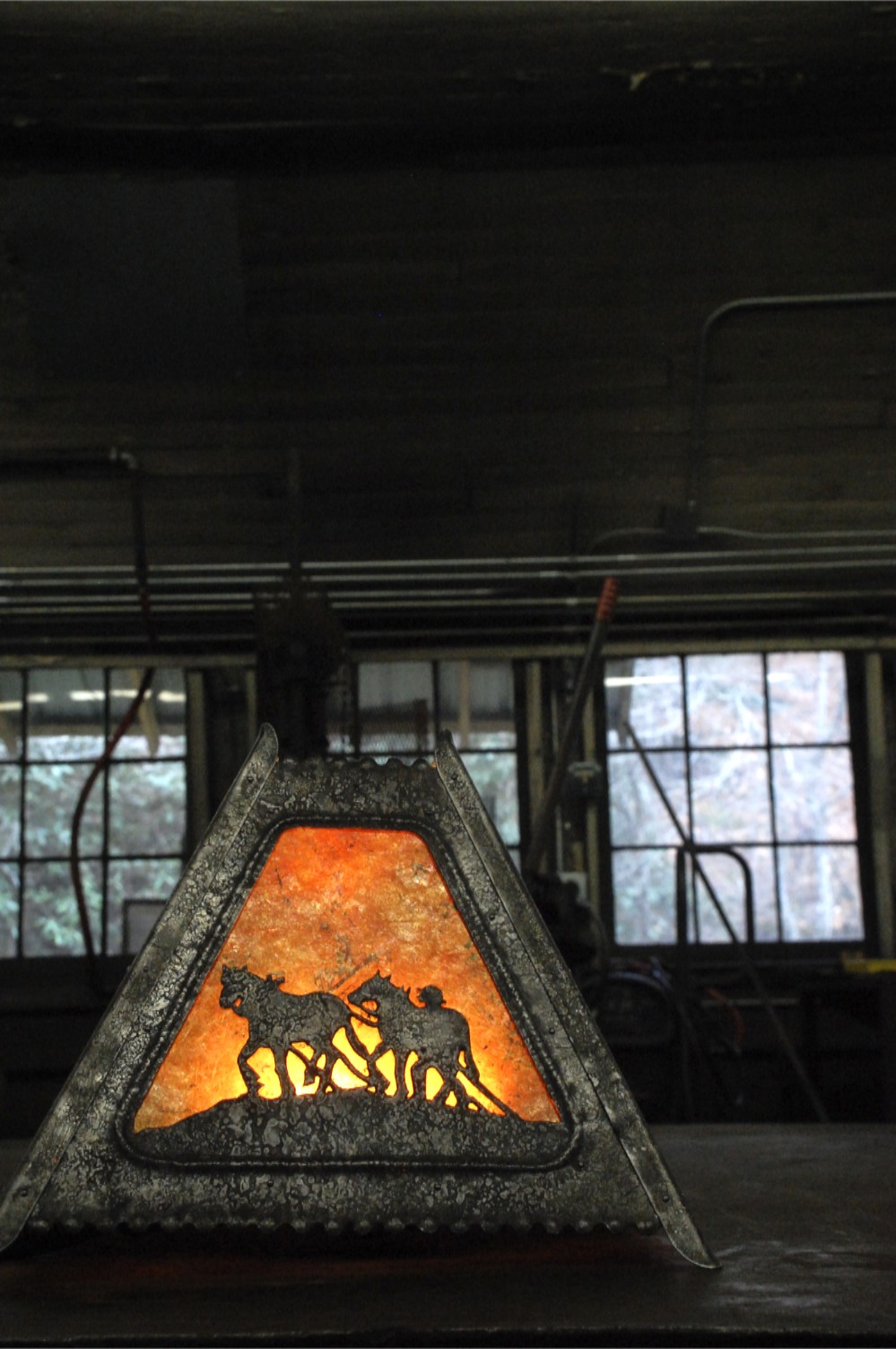 Sing Behind the Plow lampshade by Ron Nichols[/caption]
Blacksmith Work Week is an annual Folk School tradition, bringing 20 professional blacksmiths/instructors from around the country together to volunteer their time for the purposes of 1) beautifying the Folk School campus with functional ironwork; 2) repairing and creating new tools and infrastructure for the Blacksmithing program; and 3) spending a week learning and exchanging in the company of peers and mentors.Work Week was started by Clay Spencer (namesake of the new blacksmith shop) in the early 1990s and is currently coordinated by Paul Garrett, resident artist blacksmith. I had the chance to visit the shop and interview some of the blacksmiths as they put finishing touches on their projects and reflected on their connection to this very special community and yearly opportunity to participate in Work Week.
Leah Dolgoy:
Paul, how's it gone this week? What were your priority projects and what's been accomplished during Work Week?
Paul Garrett:
There were many priorities this year. One was making chandeliers for upstairs. They won't get done this year but we'll keep working on them next year. The shop is named after Clay Spencer so I gave Clay free reign on the design and he chose something very contemporary and out of the ordinary. Other priorities included work in some of the studios. We mounted some equipment for the Jewelry studio. We built a pot rack for the cooking studio. And we finished installing the door latches I made for the main door to the new blacksmith shop. We made two treadle hammers, and two treadle torches. We fixed a lot of tools – hammers and tongs, punches and grips. We also do whatever else pops up. I really wanted to do the Keith House door so that got done this year. We etched and epoxied the bathroom floor in the shop so that housekeeping can come in and clean it more easily now. Then there are all the little things that come up. I have these little job sheets that I put out and I find that works well. People pick their jobs based on their area of interest and expertise.
LD:
What does it mean to be the coordinator of this thing that everyone regards as so special? [caption id="attachment_10391" align="alignright" width="232"]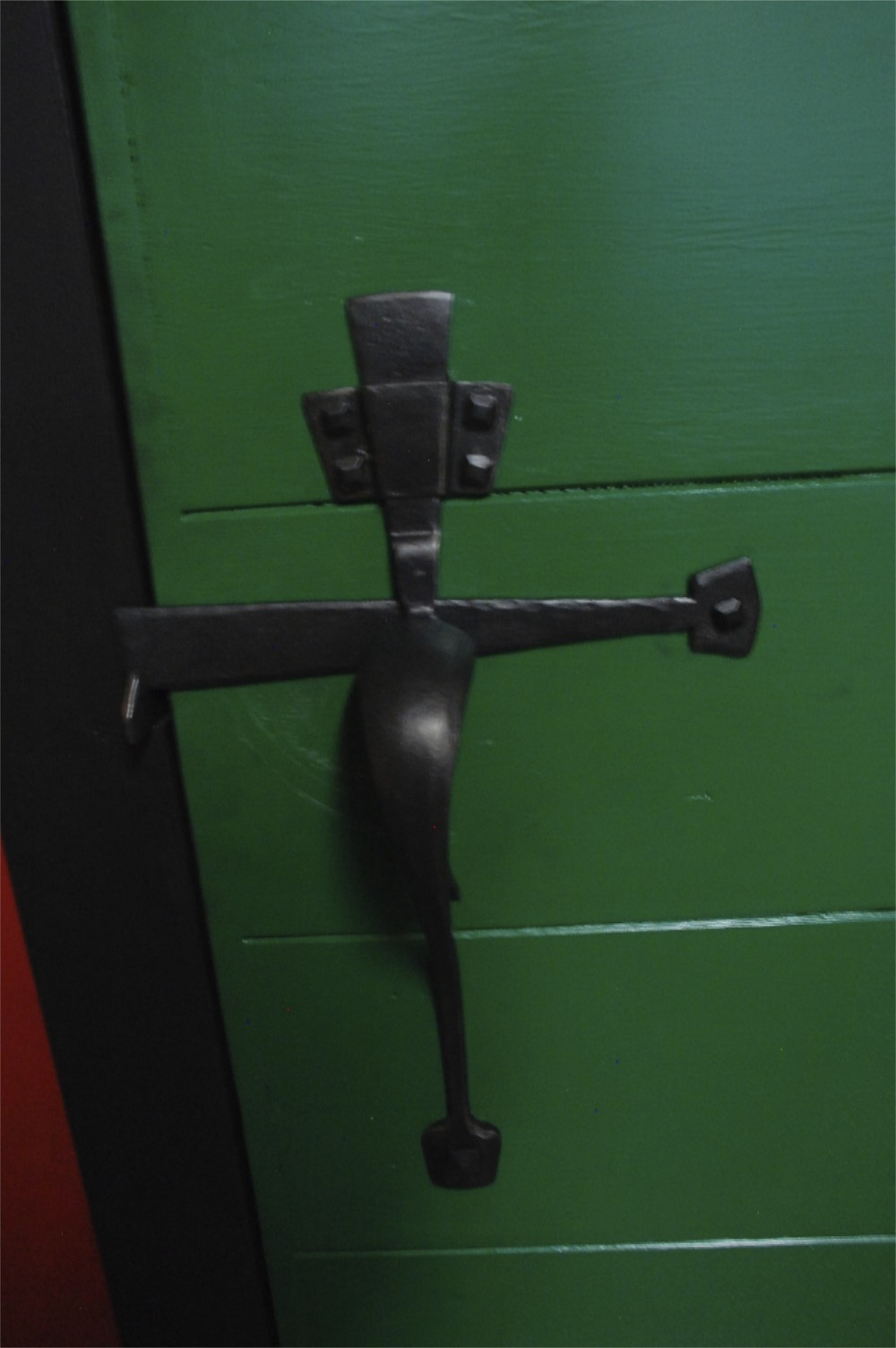 New door hardware for the Blacksmith Shop made by Paul Garrett[/caption]
PG:
For me, it's an honor and a privilege to be a part of Work Week. I just love having everyone here. As the coordinator, it's up to me to make the most of it. We have 1000 hours of volunteer labor every year. My role is to keep everyone else working, and to make sure that they can get what they need to get the job done. Funny story - 13 or 14 years ago I came here as a student, and I asked Clay if I could come to Work Week. And basically he said no, because he had enough people and he didn't really know me that well. (laughs) It wasn't to be mean or anything. He just had his team that he needed. I understand that now that I am on the other side of it. I believe this is my 10
th
year as the Work Week coordinator.