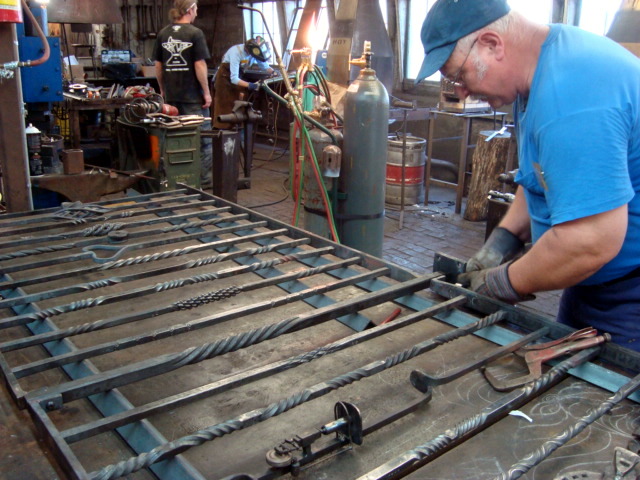 20 Apr

All's Well in Brasstown…

The 2010 Blacksmith Work Week was again a great fellowship of friends pooling their efforts to benefit the Folk School.  The April weather was cooler than the previous summer time work weeks and the fact that we were finishing up a year long effort to complete the new shop, made it all the more special.  My teammate, Steve Barringer, brought a professional trailer filled with all the neat high tech "toys" to make our job easier.

On Monday we hung a compressed air line extension from the old shop to the one to tie the systems together.  Tuesday we rebuilt a warped, tired old tumbler barrel so it could be used again to clean up the 19 posts for the new rail.  Wednesday we welded casters on three tool bins that were recycled safety deposit boxes.  Rigging and handling were the special challenge.  Thursday we unloaded and placed new power hammers, layout tables, and a new I-R compressor in the shop.  We anchored the hammers and compressor to the concrete floor.  Friday we extended the existing compressed air piping in the old shop to go through the concrete wall and connect to the piping in the new shop.

In addition to our small part, about 18 other smiths made forges, hoods, railings, spiral hand rails, a giant anvil and hammer, tool racks, tub casters, painted the Nail Rail and much more.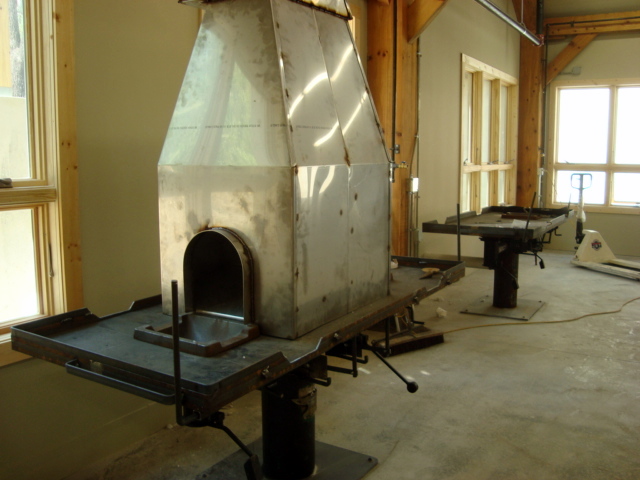 We were treated to a special museum tour and party by fellow brother, Tim Kris.  Most importantly, the bond among a group of friends and to the Folk School grew ever stronger.  All's well in Brasstown…