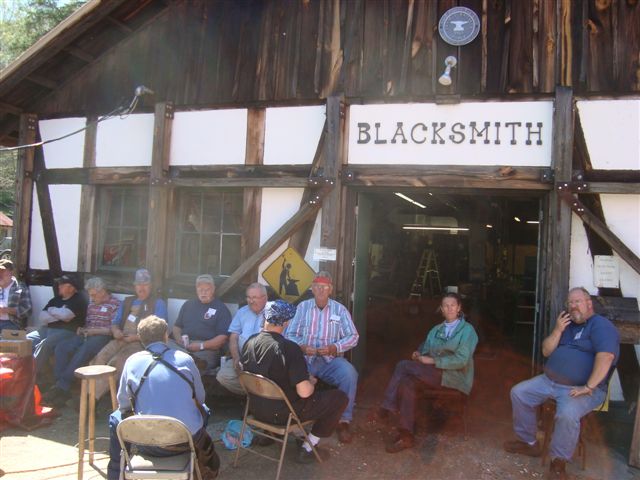 26 Apr

Peeking in During Blacksmith Work Week

Blacksmith Work Week is a wonderful annual tradition at the Folk School where blacksmiths from all over come and volunteer their time to do smithing projects around campus and make improvements in the Shop. It's been 15 or 20 years that they have gathered here every spring, for Blacksmith Work Week, so Paul Garrett, the Resident Blacksmith tells me. When I visited, there were about 20 men and at least one woman circling like bees. They are all over the balconies, in corners and down on the floor.  Red hot metal is being pounded beside blazing forges, power hammers have metal running through at a rapid speed, and components are being welded together.  It is high-level intensity with professional focus in the shop today.  No students are here; the blacksmiths are giving their time and talent to retrofit the Francis Whitaker Blacksmith Shop. What was the primary blacksmith shop is now being set up for material storage, welding, grinding, and drilling. A few forges have been left in place for this studio.

Clay Spencer takes me on a tour of the new shop to see the newly forged elements of the sign to be mounted on the silo.  In all, close to 50 jobs were listed on index cards lying on a table.  Each person takes the card of choice and when the job listed is complete, the card gets initialed and put in a file folder.  At this time on Thursday afternoon, an impressive 34 jobs are already complete.  As we are standing there, Rooney Floyd and another man lift up an anvil to a just finished metal stand with a rack underneath to hold tools.  My tour concludes with Clay showing me the tire hammer.  It is a smaller power hammer than the Little Giant and others in the shop.  He explains that he has taught blacksmiths all over the country how to build this hammer for their shops with a spare tire and a 1 horsepower motor. When he starts the hammer with the foot pedal, the force and the noise are so unmistakable that I jump back!  Turning to look as I leave, I feel a surge of gratitude at the hugeness of talent so freely given to the Folk School.  I feel blessed and a bit awed to be any part of such dedication to the highest ideals in art.  The giving of your devotion to following generations of students inspires me on the path of my true calling.