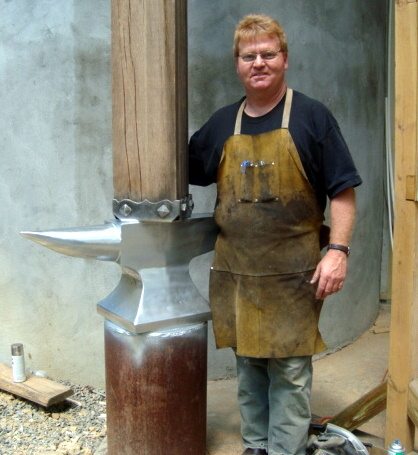 16 Apr

Blacksmiths at Work

Every time I come to Brasstown, I'm not sure what to expect.  So many things happen here, each studio existing as a world of it's own, and there is always so much to see and be a part of.

This week the Blacksmiths are in the spotlight as they work day in and day out to get the new shop up and running.  The group of twenty-two have been divided into teams – installing equipment, assembling the custom railing on the mezzanine, building the new forges and hoods, finishing up the front entry and more.

This anvil was presented to resident blacksmith Paul Garrett during lunch on Tuesday.   It was wheeled into the dining hall and Folk School instructor and volunteer Julie Clark demonstrated how strong Folk School women are when she picked it up and handed to Paul.  The anvil is a fabricated replica of a 900lb one in Tim Cris's nearby forge.  Ted did a great job — it will fool us all when we see it holding up the arch way to the entrance of the shop.

Timber framer and woodworker, John Campbell stood high above the entrance shaping the front archway with a chainsaw.

The Clay Spencer Shop stands behind the Francis Whitaker Shop.  Together they will provide one of the finest Blacksmith Shops to work in.