18 Sep

Beyond "Simple Gifts": Learn the Music of the Shakers with Chris Moore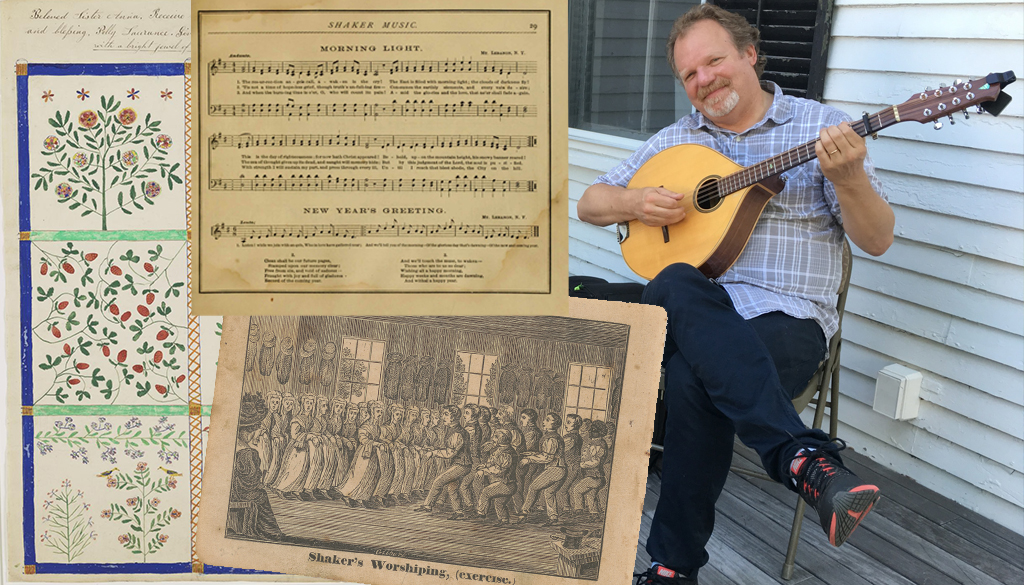 Our annual Shaker Week brings together a number of classes honoring the Shakers' contribution to crafts–always functional and recognizable for their simple elegance. During this special theme week, students become inspired by Shaker history through nightly activities and guest presentations and put their hands to work in a productive atmosphere of learning and sharing. 
We're thrilled to have Chris Moore lead "Music of the Shakers" from November 5-11, helping students delve into the American musical tradition that gave us iconic and comforting tunes such as "Simple Gifts." Chris brings a wealth of knowledge to the Folk School–"the music of the Shakers has followed me since childhood," he tells us–and we can't wait to hear what his students learn, discover, and sing together.
Read more about Chris Moore and his upcoming class in our interview below!  Interested in his class? No singing or previous music experience is required! Register today to secure your spot.
JCCFS: Tell us more about your upcoming class, "Music of the Shakers," from November 5-11. What can folks expect from this class, especially if they are unfamiliar with Shaker tunes or culture?
CM: Traditional Shaker music offers contemporary students an exceptional and direct musical window into the sensibilities, emotional, and spiritual lives of 18th- and 19th-century rural Americans. Shaker music came from the people who joined the 19 Shaker communities from Maine to Kentucky, and this music has much in common with the fiddle & fife dance tunes and ballads of early America.
The Shaker repertoire, totaling an estimated (and astonishing) 10,000 tunes, provides a vast, diverse, and accessible repertoire for folk singers, history enthusiasts, and spiritual seekers alike. From their big hit "Simple Gifts" (written by Maine Shaker Elder Joseph Brackett) to the lively wordless step tunes and marches, to the beautiful "solemn songs," "laboring songs," "gift songs," Anthems, and later hymns–pastoral imagery, along with the Shaker ideals of simplicity, humility, and union–all set to beautiful, simple, and memorable melodies.
During the week, the group will engage in a compelling, wide-ranging, and fun introduction to the Shaker musical tradition. Learning primarily by ear, we will explore the various ways the Shakers composed, notated, shared, and sang songs together. We'll learn about the people behind the songs and entertaining stories about the Shaker way of living in community.
JCCFS: What can students expect to leave with? 
CM: Students can expect to come away with a thorough introduction to Shaker music and culture, along with a robust repertoire of new and beautiful tunes, in a variety of styles and modes. You'll develop your ear training and ensemble singing skills, as well as tools you can apply to your own singing, composing, and songwriting.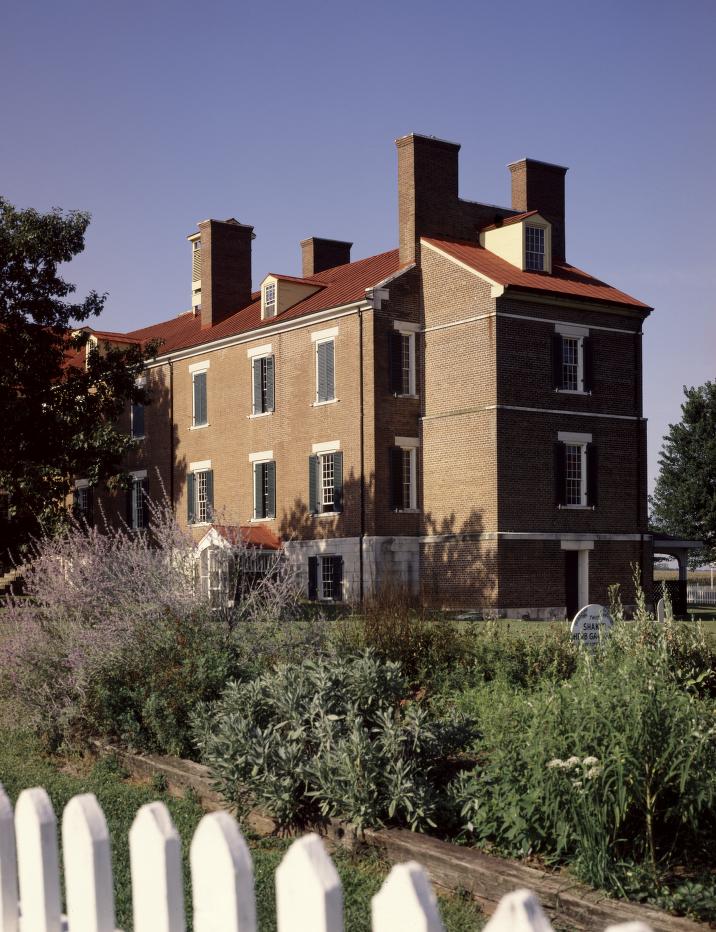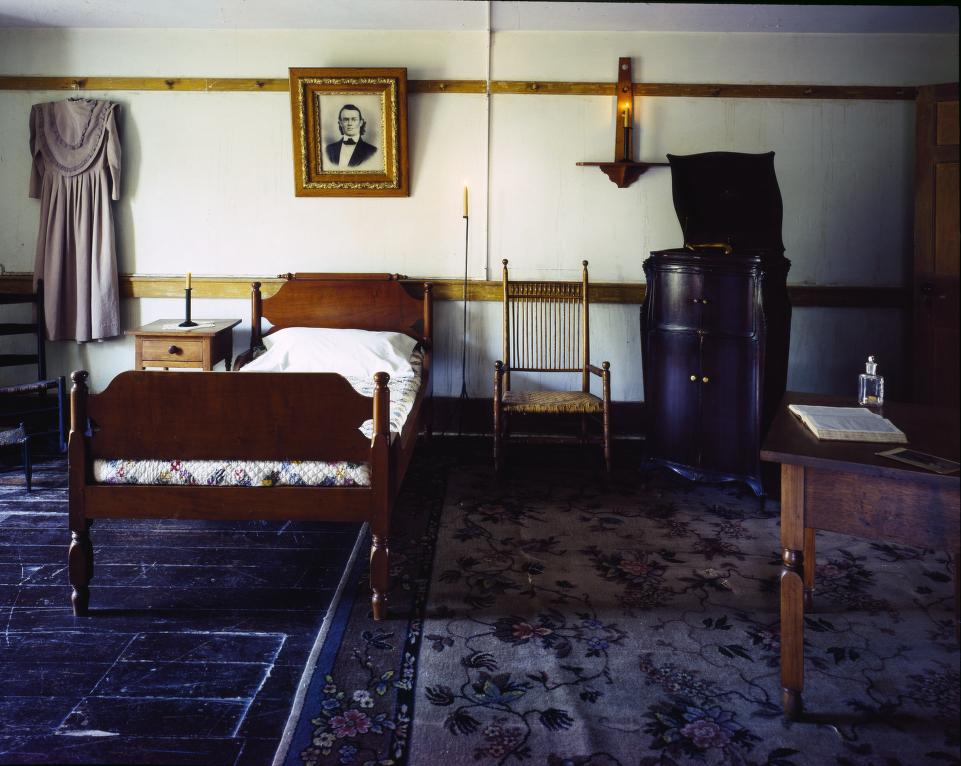 Photograph of Shakertown, South Union, Kentucky and one of the bedrooms. Photographs in the Carol M. Highsmith Archive, Library of Congress, Prints and Photographs Division.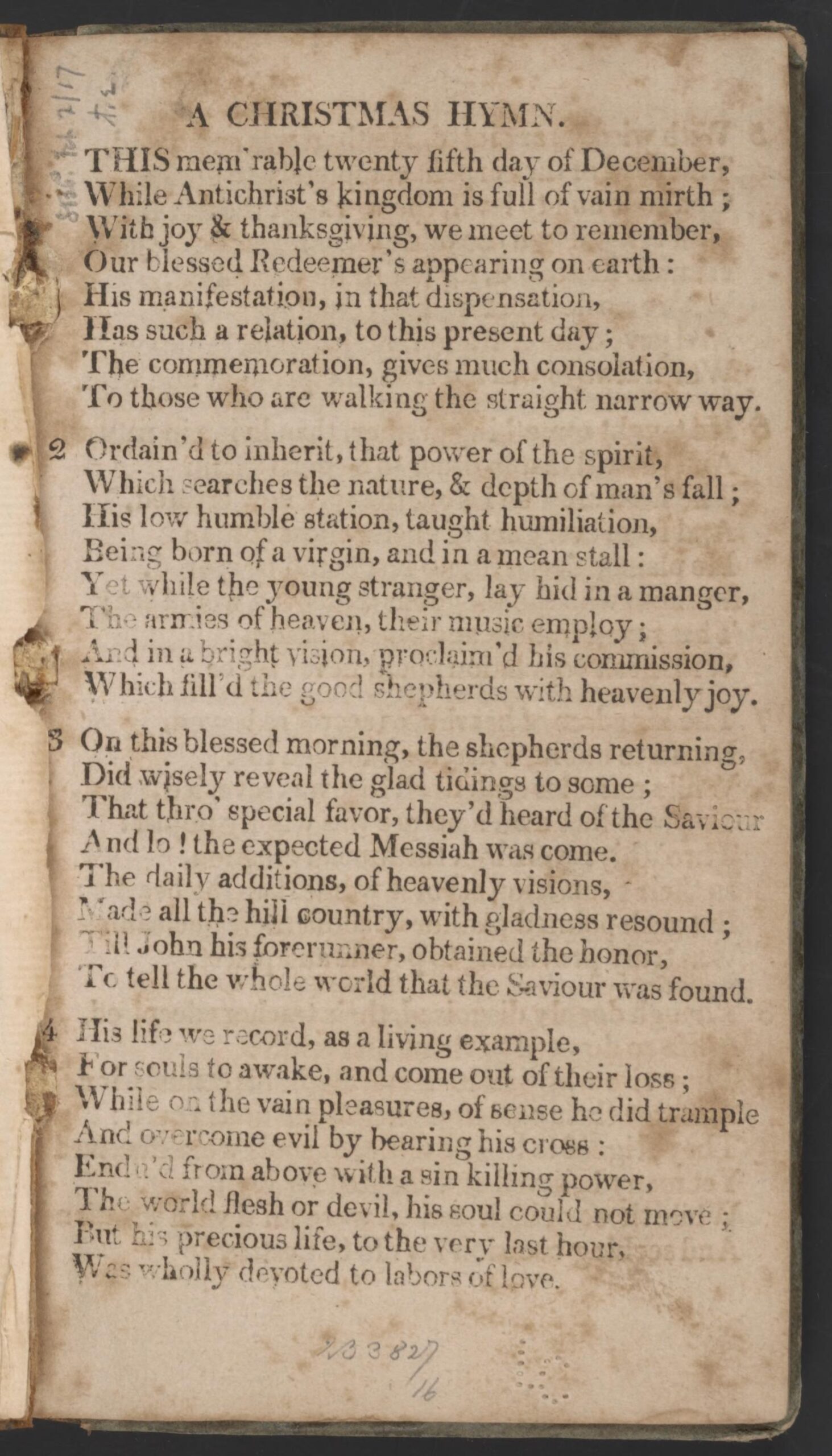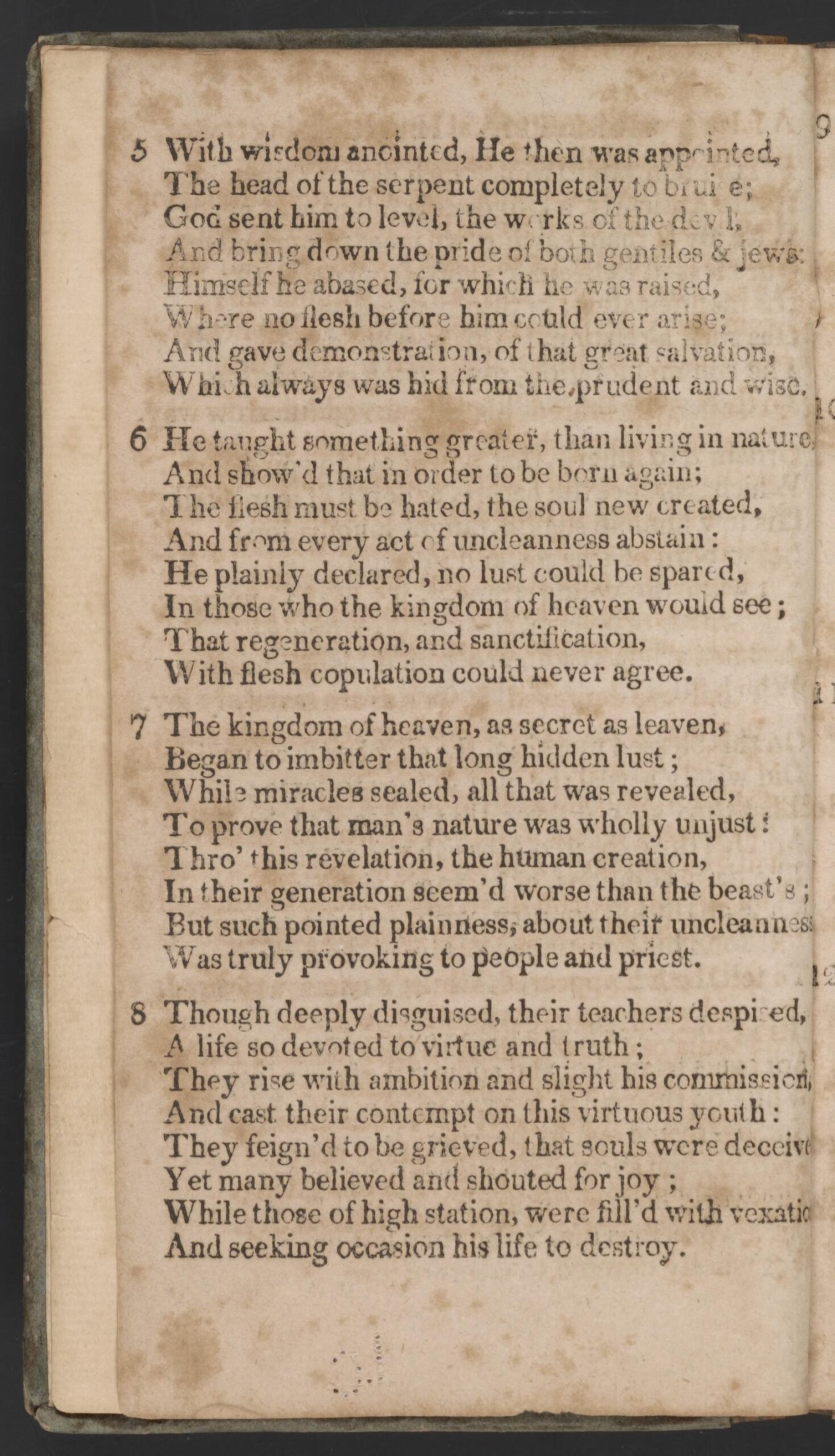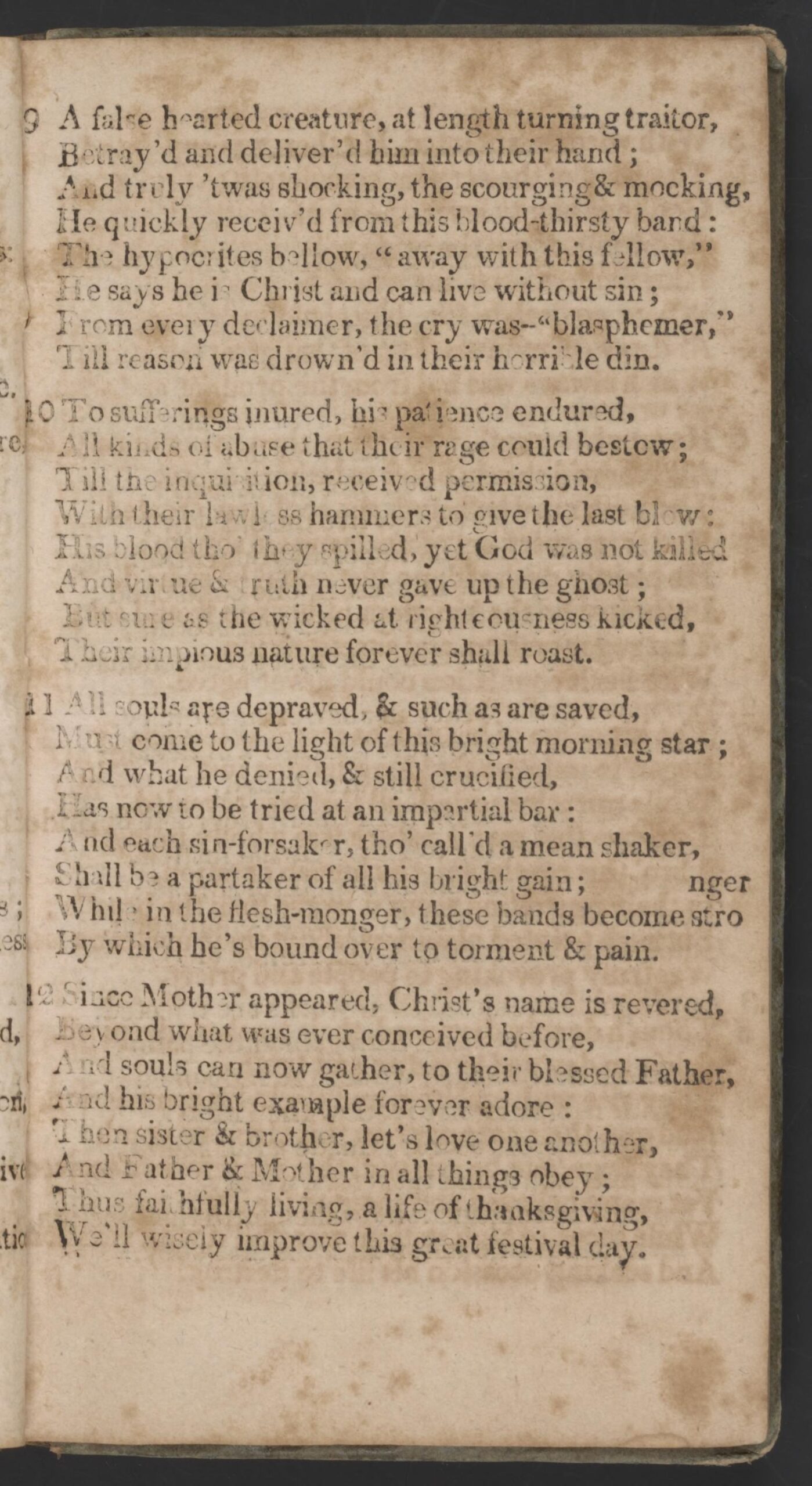 from a Shaker Hymn book in the Library of Congress
JCCFS: Tell us a little more about yourself! How did you become an expert in Shaker music?
CM: I grew up in Gorham, Maine, in a musical household. My maternal grandfather was a professional piano player and songwriter, so I knew at an early age that making up tunes was something that people could do. I studied piano and violin until I discovered the mandolin, bluegrass, old-time, and Celtic music as a teenager. My personal musical journey and interests have led me back in time through the traditional music of 19th and 18th century America and across the Atlantic to the folk traditions of the British Isles, France, and Italy. My mandolin teachers have been Andy Statman, John McGann, and Carlo Aonzo. I spent 10 years in Nashville working for one of my musical heroes, Tim O'Brien, who also produced and played on a record called "Snows of March" with my band Rust Farm, which I started with John McGann. In Nashville, I wrote songs for, performed, and recorded with the band Kindling Stone. I also played contradances and English Country Dances in Tennessee with a group called The Contrarian Ensemble.
The music of the Shakers has followed me since childhood, and it has grown to become one of my primary musical passions. My first experience with the Shakers was attending a Sunday meeting at Sabbathday Shaker Village in New Gloucester, Maine, as a child in 1970. I will never forget hearing Sister Mildred Barker (1897-1990) and the other community sisters and brothers singing Shaker tunes that day in the 1794 meetinghouse. Sabbathday Lake Shaker Village remains the only active Shaker community in the world. I currently work there, interpreting Shaker history and music with visitors from all over. A small group of us gather weekly, led by Shaker Brother Arnold Hadd, to learn and sing some of the 10,000 songs written by the Shakers, originating from their 19 communities.
While at Skidmore College, I spent time at the Hancock, MA Shaker village doing research for an original music, dance, and theater production about the Shakers called "Sphere of Heaven." In Nashville, I became friends with Diane Sasson, a Shaker scholar at Vanderbilt University. I provided an introduction to Shaker music for Diane's Shaker Seminar class in the Div School. We also took several trips to the Kentucky Shaker communities to look at 19th-century music manuscripts. Through Diane, I developed a friendship which continues today with folklorist Dan Patterson at UNC in Chapel Hill. Dan, now retired and in his 90s, wrote and published what is still the definitive scholarly work on Shaker music: "The Shaker Spiritual." I developed a Shaker music education and concert program with 20 community singers as part of the "Gather Up The Fragments" Shaker exhibit at the Frist Museum in Nashville. During this time, Kindling Stone also performed Shaker music at festivals and concert venues from Maine to Kentucky, including the Grey Fox Bluegrass Festival, Music City Roots, the Bluebird Café, The Laurel Theater, Bristol Rhythm & Roots, Omega Institute, and in the 1794 meetinghouse at Sabbathday Lake Shaker Village in Maine.
I returned to my home state of Maine from Tennessee in 2013 and worked for 10 years as director of music education at 317 Main Community Music Center, a folk and traditional arts music school in Yarmouth, Maine. In addition to teaching mandolin and songwriting, I developed 13-week classes in Shaker music for adults and teens, culminating in performances at the 1794 meetinghouse at Shaker Village. My current obsession is studying the thousands of wordless Shaker tunes, many of which were used to accompany the Shaker dances and marches – the primary form of Shaker worship from 1780 through most of the 19th century.
JCCFS: What do you enjoy most about teaching?
CM: I love to share my passion and knowledge with others about Shaker music. I love connecting with new people, and I like to make sure that everybody feels at home in the group. We all have different gifts, and I like to help students connect with theirs. I like to provide students with tools they can use to help them navigate through new challenges, and I believe that everybody already has everything they need to become a better musician. I'm a deeply spiritual and seriously curious creative person, and I like to laugh and have fun in the process of learning and making music together.
JCCFS: What tips would you give an aspiring musician? Anything you wish you had known earlier in your career?
CM: Stay curious. Don't be afraid to try something new. Keep working hard. One of the most important things to remember as a student is this: We don't have control over when we receive the benefits of our hard work as craftspeople. Our job is to simply keep working diligently and joyfully on our craft, keeping faith that the rewards of our hard work will come in time when the conditions are right.
JCCFS: Where can folks find you if they want to stay up to date on your work?
CM: I have videos on my YouTube channel. Come visit me at 317 Main Community Music Center!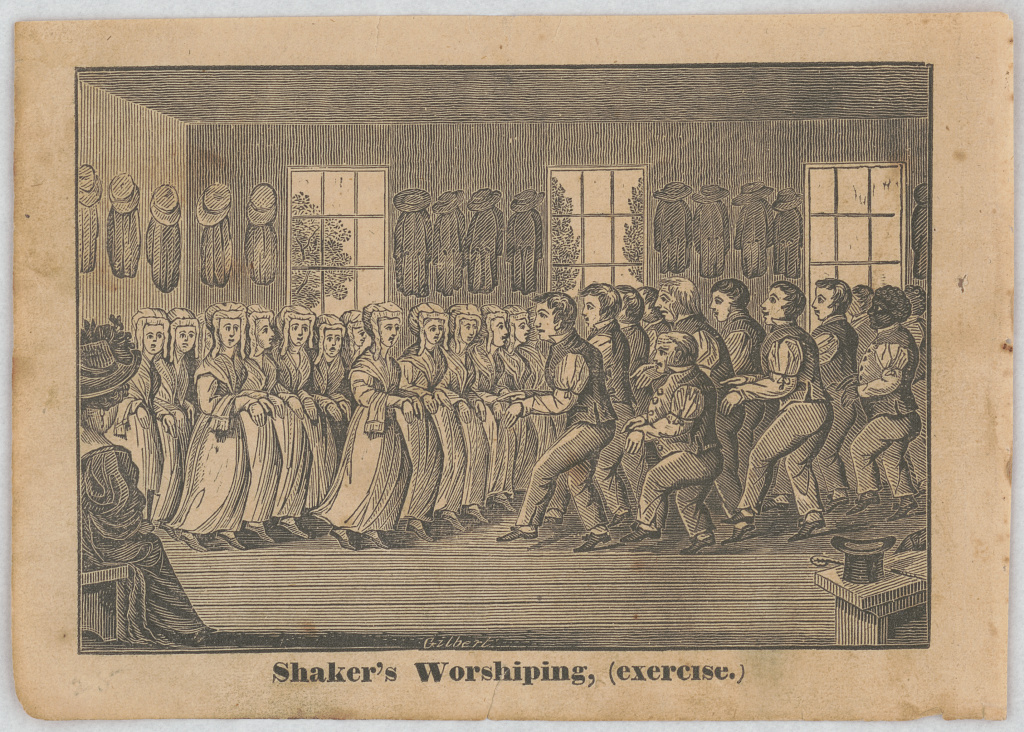 Print shows several rows of Shakers, separated by gender, performing a step dance in the meeting hall at New Lebanon, New York, c. 1790. (From Library of Congress)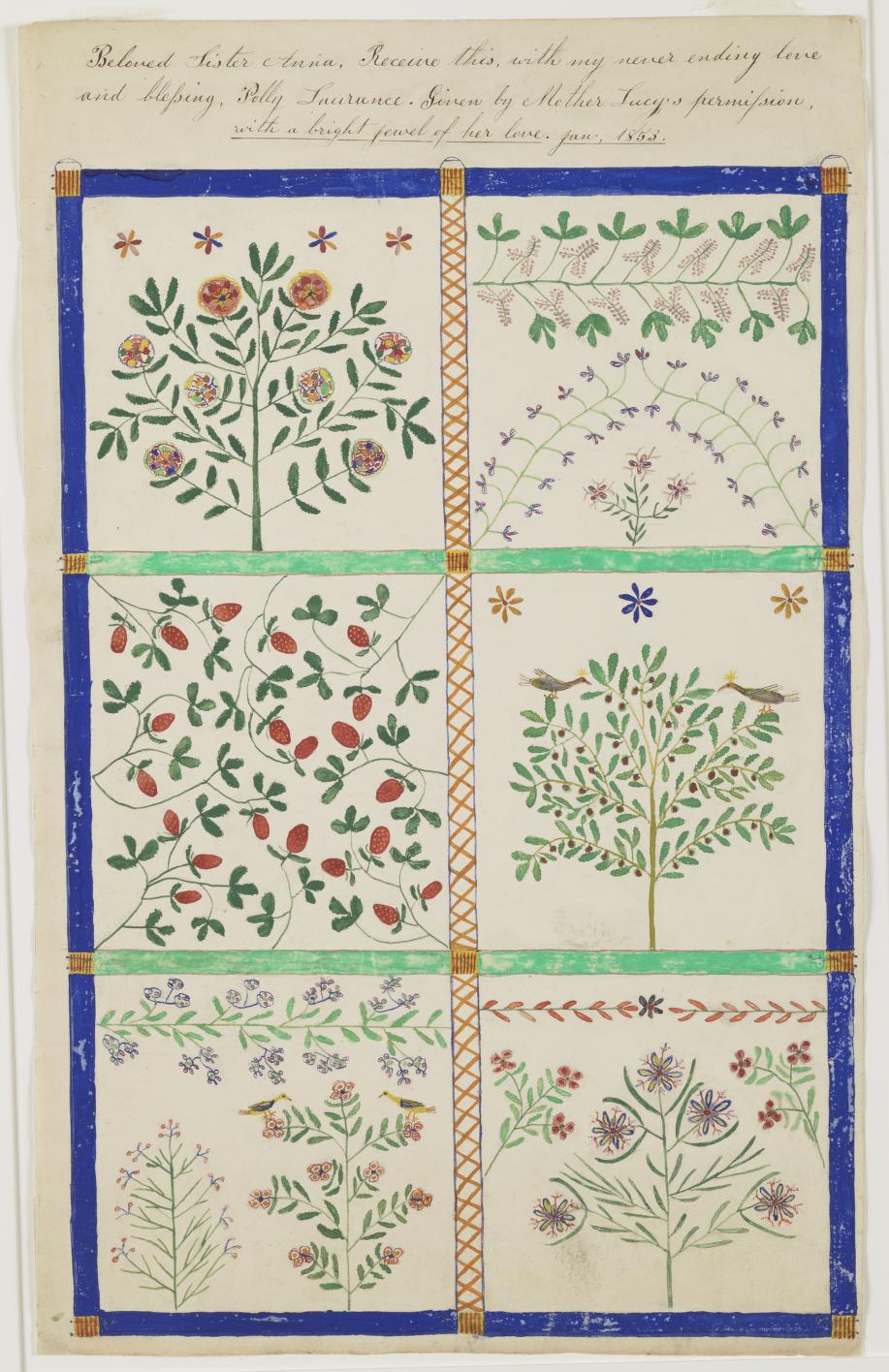 Shaker religious greeting, watercolor, January 1853. (From the Library of Congress)
Listen to an interview with Chris about the legacy of Shaker songs on NPR's weekend edition
In the video below, Chris gives a brief introduction to his class for Folk School friends:
Upcoming Class with Chris
Music of the Shakers
November 5-11, 2023
Delve into the American musical tradition that gave us iconic and comforting tunes such as "Simple Gifts." In this active and collaborative class, explore Shaker songs from a historical and cultural perspective and learn to read the various notation systems used in Shaker hymnals. Get familiar with the songs, dances, and "motioning" used by the Shakers during their meetings, or worship services. Then, choose and learn Shaker songs of personal interest to present individually and/or in groups.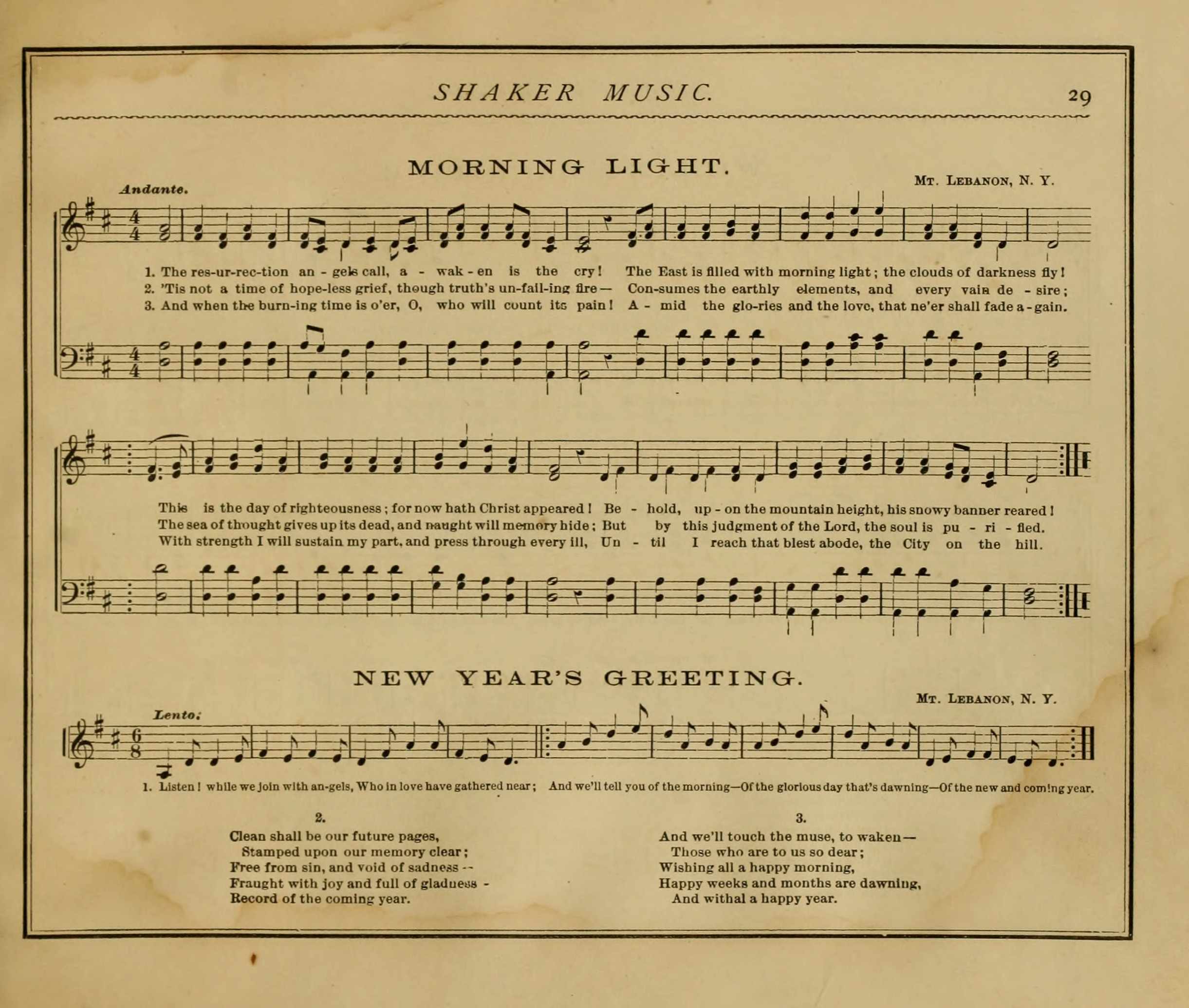 Chris Moore began studying piano at age seven and classical violin at age ten. He graduated from Waynflete School and received his degree in acting from Skidmore College. While living in New York City, Chris worked as a performance artist, musician, puppeteer, and on the staff of the Arts at St. Ann's concert series in Brooklyn. While in New York, he studied with mandolin master Andy Statman. Chris founded the band Rust Farm with Boston guitarist John McGann. Rust Farm released two albums, the second produced by bluegrass great Tim O'Brien. Maine audiences also know him as the mandolin player for The Fogg Brothers bluegrass band. Chris has composed, performed, and recorded music for dance, film, television, spoken word, theater, and visual art projects. He has performed as a classical soloist, and was awarded a Maine Artist Fellowship for songwriting in 2001. His songs have been recorded and performed by Adrienne Young, Mark Erelli, Rani Arbo, Carol Noonan, Barnstar!, Northern Lights, Dennis Brennan, Joe K. Walsh and others. Chris has taught lessons, classes, and workshops for mandolin, songwriting, traditional Shaker music, and English Country Dance music. He lived in Nashville, TN from 2003-2013, where he founded the band Kindling Stone with fiddler Mark Wingate. Chris returned to Maine in 2013 to work as the Director of Music Education for 317 Main Community Music Center in Yarmouth.