24 Jul

Hear from Terra Ciotta, Our New Executive Chef!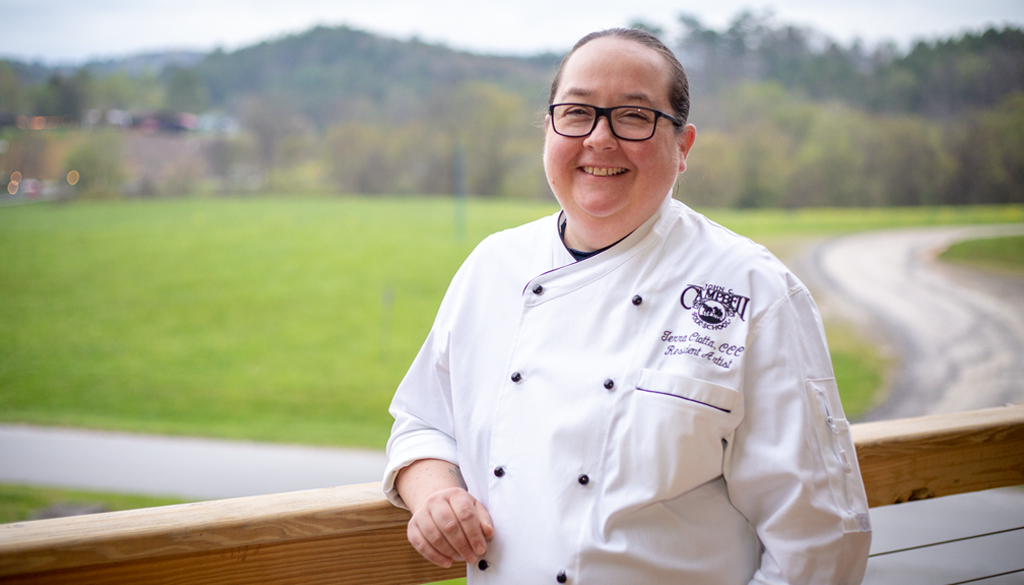 We're thrilled to announce that Terra Ciotta, our Creative Program Advisor in Cooking, is now our Executive Chef! Terra brings a wealth of experience to the Dining Hall and is passionate about bringing the Folk School experience into the kitchen–by treating staff as culinary apprentices, serving fresh vegetables from our garden, and making mealtime staples from scratch.
Prior to moving to Murphy, North Carolina and working for the Culinary program at Tri-County Community College, she was a culinary instructor at the Art Institute of Charlotte. With over 20 years experience in professional kitchens and 10 years in post-secondary culinary instruction, she offers a well-developed blend of food and teaching skills to help students develop their own cooking talents and craft phenomenal meals. Chef Terra's culinary interests include local foods, history and culture, fine dining, and traditional cooking techniques.
Enjoy our interview below and hear more about Terra's extensive cooking experience, her appreciation for the Folk School, and her ideas and grand vision for our Dining Hall!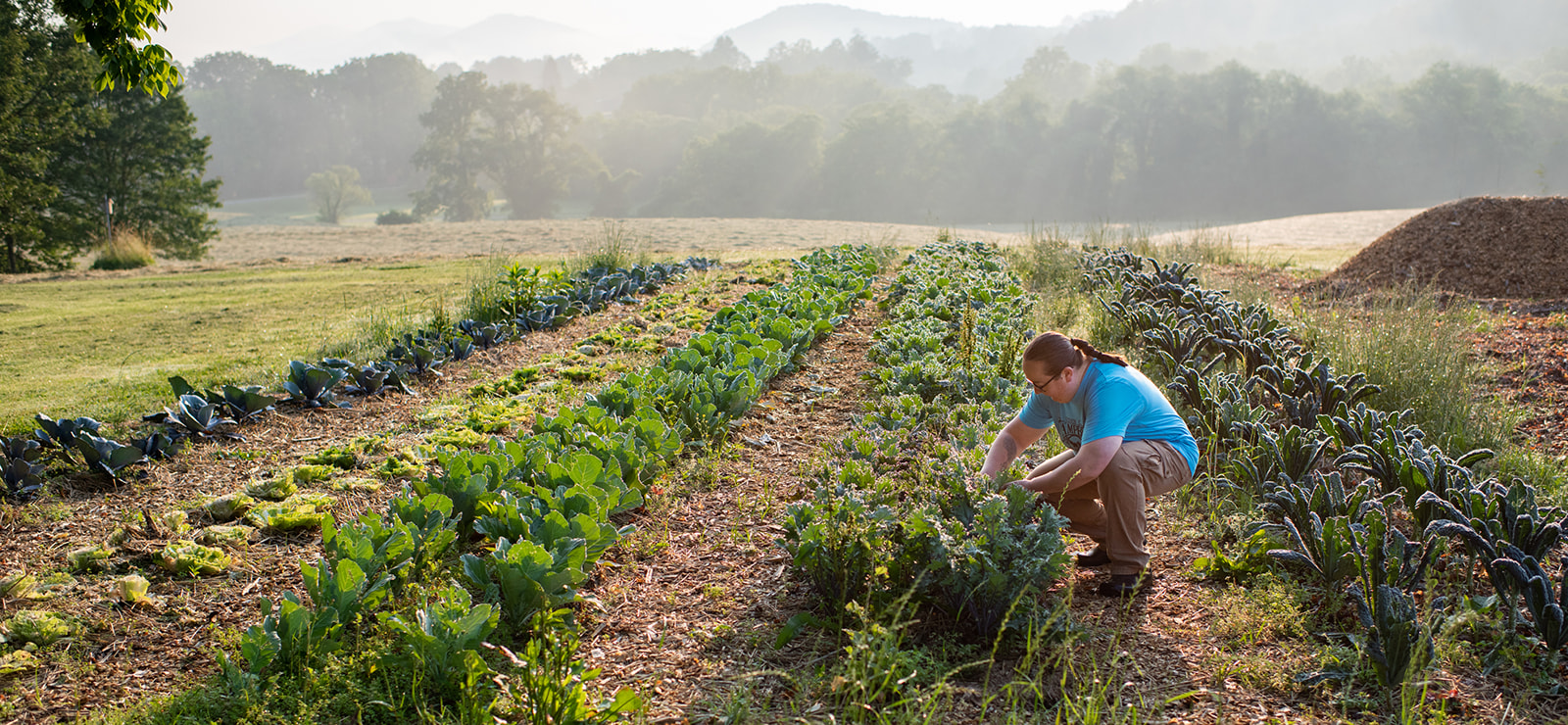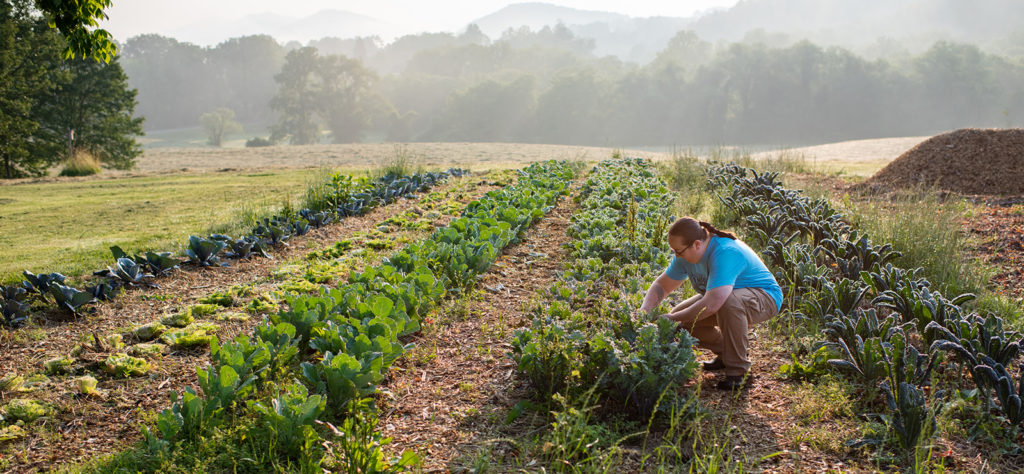 JCCFS: For those who are unfamiliar, tell us a little bit about yourself and your experience.
TC: I've been working in food service since I was 15. I've worked for small, independent restaurants, a catering company, and even at a goat farm making cheese. I've done a lot of different things. I started teaching in 2010, and I liked the environment. I liked helping people develop their skills.
Food is like any other art or craft, except it disappears. On the one hand, that's great because there's a strong spiritual connection between cooking for people and nourishing them. But also, I work for hours and hours making food. People sit down, and then it's gone in a minute. The better it is, the faster it goes.
Around 2017, I was getting frustrated with this aspect of cooking and thought, maybe I can make knives or something, try my hand at something new. I came across the Folk School looking for blacksmithing classes, signed up for a Book Arts class because of my schedule, and fell in love. My teacher showed me the cooking studio and the garden, and I thought, I'm going to work here one day. Fast forward a couple of years, and I saw Tri-County Community College, right down the road from the Folk School, was hiring. My wife and I moved down here so I could take the job, and shortly after that, Nanette Davidson, the Resident Artist in Cooking at the Folk School, retired, and her position was open. I applied for that one, got it, and have been tickled pink ever since.
I've helped in the Dining Hall a lot through the years and had a great relationship with our previous chef. Being in this position now feels like where I'm supposed to be. It's great.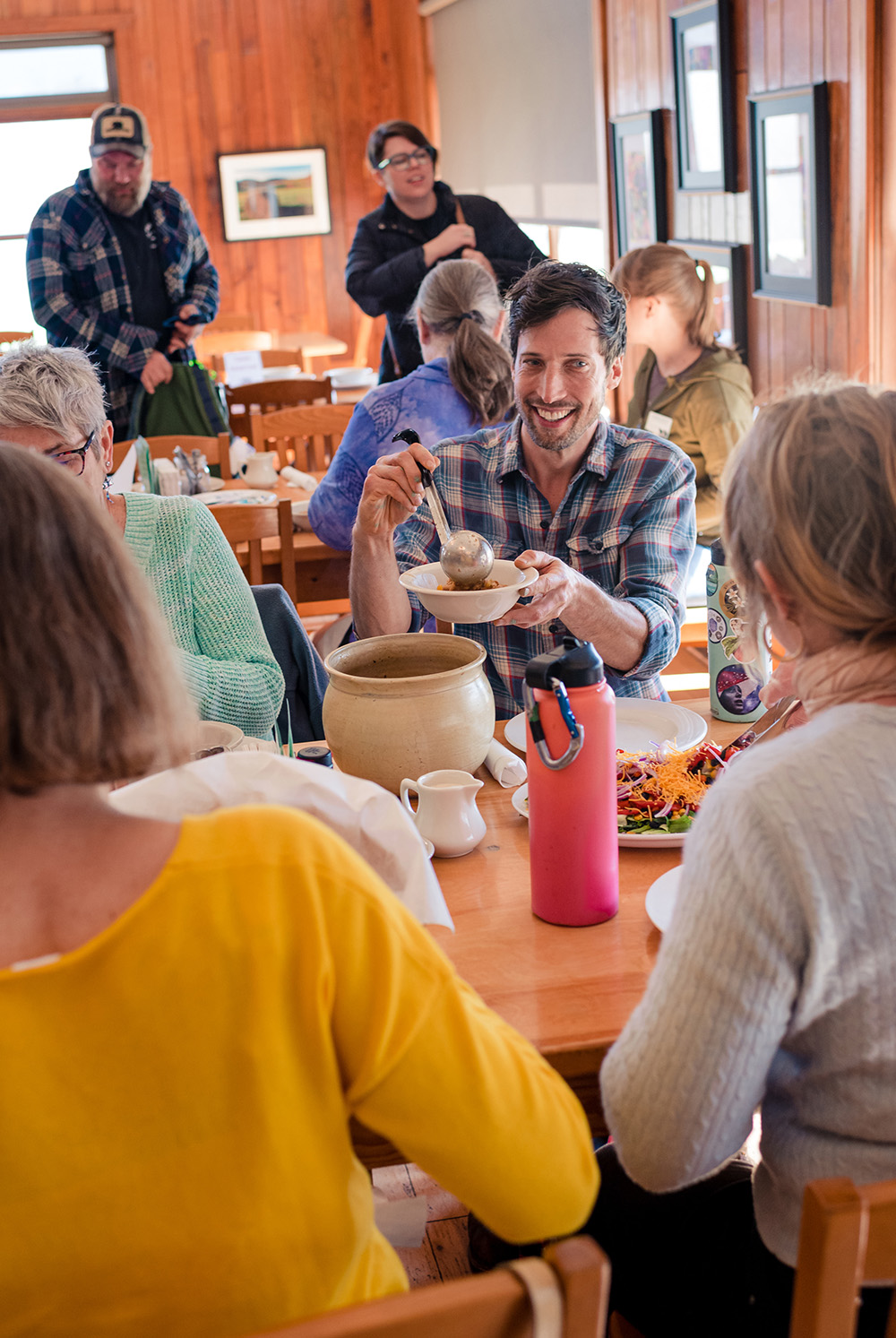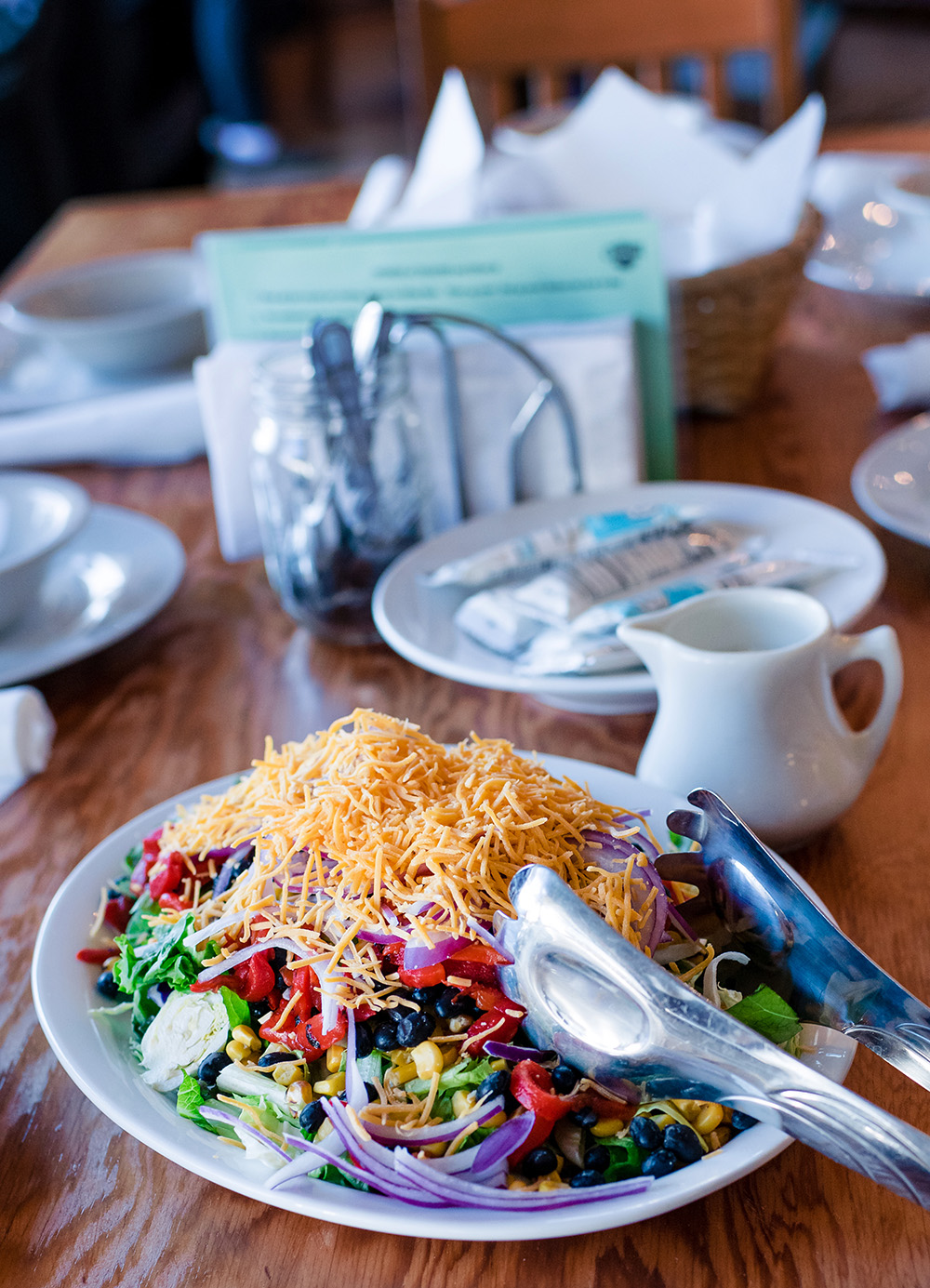 JCCFS: I love what you said about how feeding people creates such a strong connection between folks. Part of your excitement, it sounds like, is getting to practice your craft every day.
TC: It is! The Folk School is a unique place, and the food we prepare every day is an essential and memorable part of the experience here. In my view, the Dining Hall is the heart of the Folk School–in that, every day, my heart is beating, doing its work, and I don't even think about it. And unless something great or awful happens, you don't think about how your heart is doing. You know it's getting the job done. The Dining Hall is the same way, and the Dining Hall's staff is doing important work.
That's what I want to emphasize: it's not just me! Oftentimes, people compliment me on the meals we prepare, but I hope they are also approaching and thanking those working hard behind the scenes too.
JCCFS: What are some of your ideas and goals for the Dining Hall?
TC: I want this to be a training kitchen. That's what I've done for years: teach people how to cook. I want this to be a similar situation–I want people to come here to work and think of this as an apprenticeship job. Get the basic skills you need, some experience, learn how to do some volume, and then elevate those skills in other kitchens.
Menu-wise, my goals are simple: more vegetables, seasoning done at an expert level, and utilizing the Folk School's garden as much as possible. It's tough because it takes a lot of labor to process all those vegetables, but that's part of the hard work that goes into the food.
JCCFS: Some small changes have already made a big difference–like making dressings from scratch and serving fresh-squeezed lemonade…
TC: People may not realize that the Executive Chef position is not all about cooking. It's about ordering the right amount of food, managing staff, working within a budget, and things like that. It simplifies a lot if we start making our own dressings or our lemonade from scratch. My staff members making all this are so excited that they're learning how to do these staples on a large scale.
JCCFS: I've enjoyed seeing you come out of the kitchen after meals to visit tables and ask for their opinion. Feedback is important to you, isn't it?
TC: Yes, and I always ask folks to tell me what they think while on campus. I read student surveys and consider them, but I want to make sure people are happy and feel taken care of while they're here in class. That's part of the communal experience here at the Folk School! If you have an issue, allergy, or special request, I'm happy to accommodate. I often find myself coming up with a creative solution to incorporate into a future meal!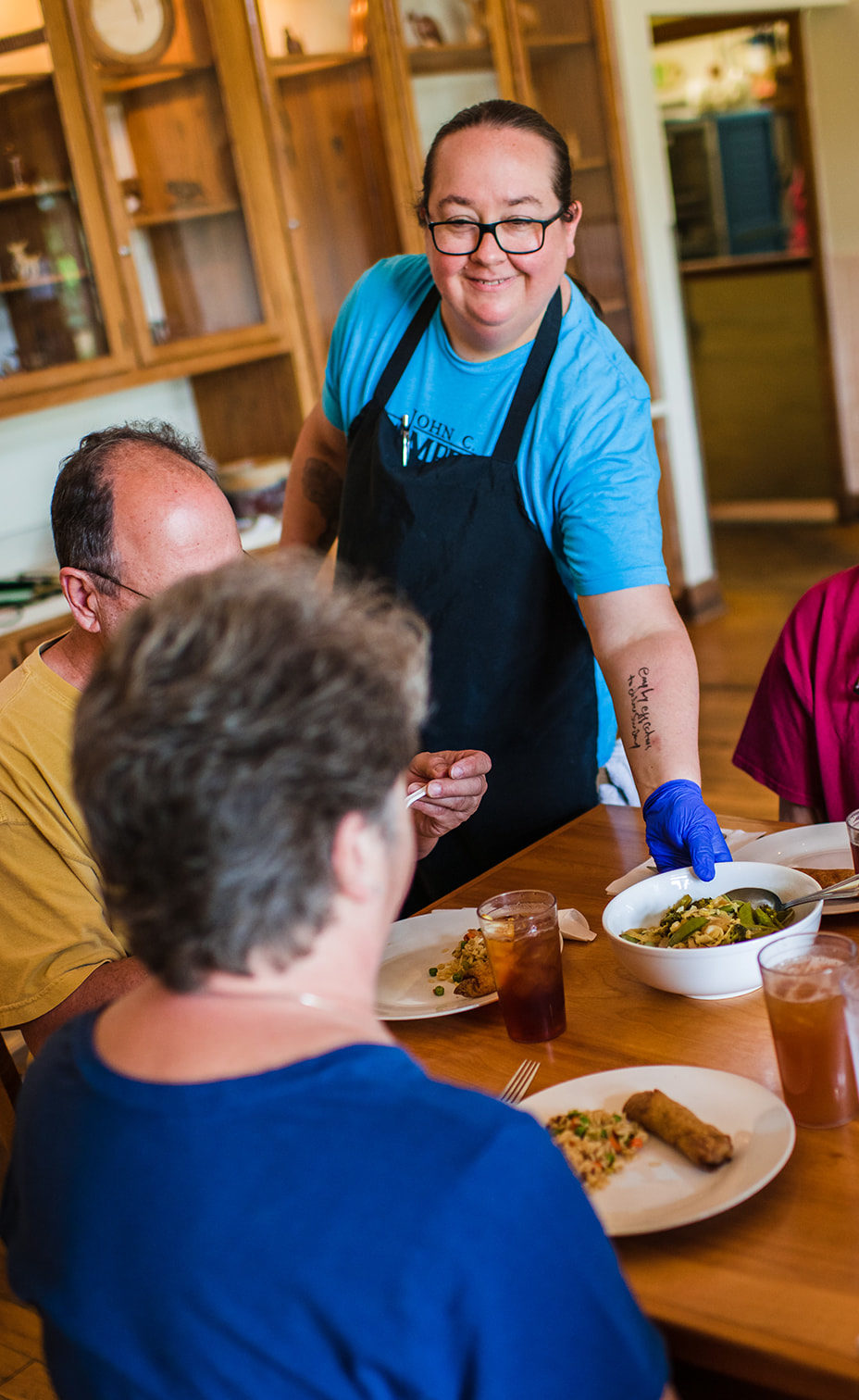 Lunch in the Dining Hall
Crafting a meal for over 100 people three times a day is no small feat, but Terra, her crew, and the hosts have us covered! Photos on this page were taken on the same day and feature the creation of a recent lunch: Coriander-ginger pork loin with fried rice, stir-fried vegetables, and egg rolls. It's amazing to see how our team works together to prep, cook, and serve delicious family-style meals. We love our Dining Hall crew!