24 Jul

Scholarship Story: Appalachian Greenwood Stool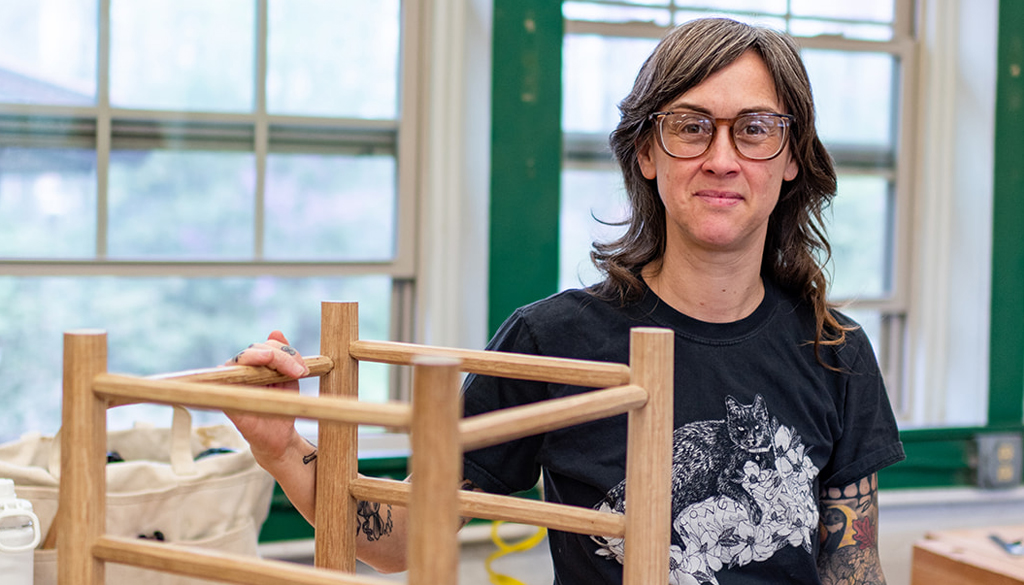 Elysha Diaz wasn't doing any woodworking when she heard about the John C. Campbell Folk School in 2020. Having graduated with an MFA in Photography and an associate degree in Cabinetry over a decade ago, Elysha was now focused on her family business, a small coffee roasting company in New Orleans, Louisiana. She also balanced freelance work and raising her two young children. "I had put woodworking down," she said, until encouragement from a friend changed her course.
The friend who told Elysha about the Folk School encouraged her to apply for a scholarship. She was ready to dip her toes into woodworking again, but the financial commitment was too much for the family to manage. Elysha received a Kathryn Byrd Memorial Scholarship to take a class with renowned woodturner Matt Monaco. Elysha describes her week in the studio as "such a gift."
Elysha's scholarship covered housing and meals too, and she felt "totally cared for." She describes, "If I could somehow be in the ear of every tired mom or caretaker on the planet, I would tell them they should find you," she says with a laugh. "The restorative nature of spending a week at John C. Campbell," she said, "of no dishes, no driving, no grocery shopping, no bedtimes, no mommy taxi service to dance class back and forth–it was priceless."
I can't even explain how pivotal, important, and life-changing it was being able to 100% focus on my craft. –Elysha
Elysha returned to New Orleans invigorated, ready to bring what she learned from the classroom into her daily life. With her new woodworking venture, Little Dinosaur Design, Elysha sells handmade wooden toys, jewelry, housewares, and more at area art markets. When she wanted to bring handmade furniture into the fold, it made sense to return to the place where she felt immensely encouraged and supported before.
She applied for the Jim Davis Woodworking Scholarship and was able to take Appalachian Greenwood Stool with Gabe Strand, our Wood Coordinator. She finished her stool frame in class and then used pink and purple shaker tape so it would fit perfectly in her daughters' room. As of this writing, she is halfway through finishing her second one in her home studio.
Elysha's woodworking career has flourished because of her time at the Folk School, but she comes here for more than expert instruction and professional development. Reflecting on the Folk School experience, Elysha stressed that, "community is everything. Being able to come back and dance, laugh, listen to music, share meals with a bunch of different people," is paramount. "Most of the joy in learning," she says, "comes from learning together."
Thanks to our generous donors, the Folk School offers numerous scholarships year-round for lifelong learners, young adults, beginners, dabblers, semi-professional craftspeople, and anyone who admires the Folk School's unique education model but faces financial hurdles. Scholarships allow folks from all over the country to experience the Folk School and help us in our mission to bring traditional crafts and skills to new audiences. Consider donating a scholarship using the button below.
Each year, the Folk School awards a limited number of scholarships to students with financial limitations. Scholarships provide partial or full financial support for tuition, housing and meals.
Visit folkschool.org/scholarships for more information on scholarship applications
Applicants must be 18 years of age or older.
Applications are accepted year round and there is no deadline, but scholarships are awarded on a first- come, first-served basis and are dependent on space availability.
Applications typically take two weeks to be processed.
Please note: We are unable to award scholarships for classes in which you are already enrolled.
Learn More