22 May

Music & Dance Events are Back Outside at the Folk School this season!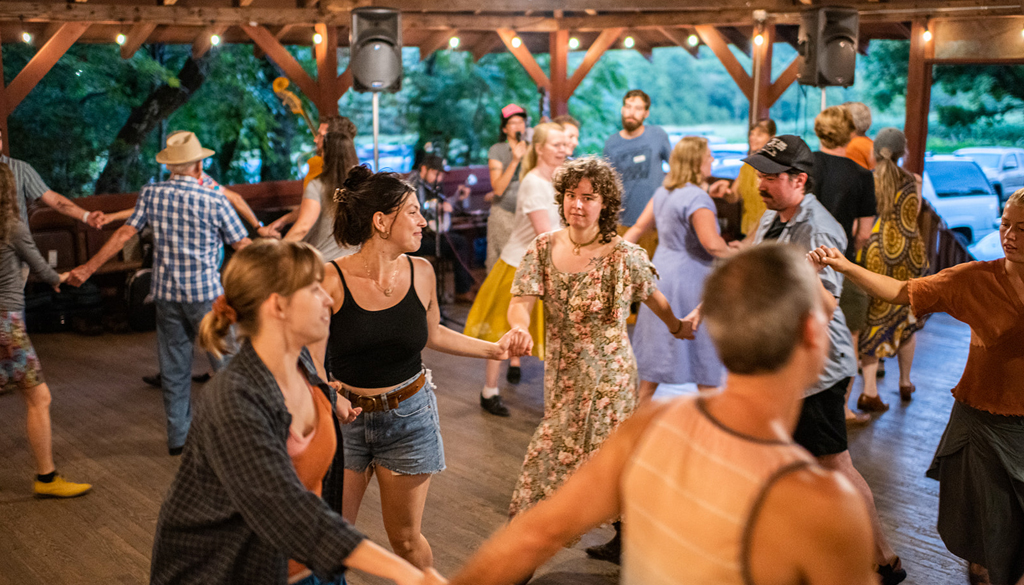 Subscribe to our online calendar and receive weekly music & dance event updates directly in your inbox! Click here: https://eventactions.com/eventactions/folkschool#/subscribe
We're happy to announce a warm season of outdoor events at John C. Campbell. All are welcome to join in on this integral part of the Folk School experience.
Friday Night Concerts feature acts performing eclectic roots music.  Scheduled for most Fridays, they're back in Festival Barn, June 2nd with Junior Appalachian Musicians performing.
The outdoor Saturday series kicks off May 27 with a Fais Do-Do: Honky Tonk & Cajun Dance Party with Jambalaya Feed! Our rajun Cajun instructor, James Naquin, is crafting up the hearty iconic dish to share at 6:30pm. Our Lafayette instructor, Harold Bernard, teaches us basics of Cajun-style partner dancing at 7pm. Hello Trouble, Brasstown's honky tonk two–steppin' band will play from 7:30-10pm. Formed by friends and employees of the Folk School, they take their acoustic old timey chops up a notch, offering a contagious electric rhythm.
We emphasize the social gathering element of our community dance events. Even if you don't dance, we'd still like to have you be part of the fun. Enjoy our gardens, campfires, and scenic setting with your family and new friends.
Tuesday nights are when locals and visitors gather to learn the basics of holding hands and set dancing together. There's little pressure to dance and there are dance partners available as folks switch throughout. No special attire required, though clean hard soled shoes make it easier.
Starting May 23rd dances will take place in Open House and concerts will be in Festival Barn and events start at 7 p.m. going for an hour unless noted otherwise. A donation of $5-10 per adult is suggested for most events, but all are welcome regardless of contribution. Lineup and schedule are subject to change. Our most up to date listings can be viewed at folkschool.org/events-calendar  We hope to see you soon!
The Folk School is a 501(c)(3) nonprofit organization, and any funds raised support traditional arts and help with equitable pay for our performers. Want to get involved? We're always looking for volunteers to help with our events and programs. Give us a call at 1-800-FOLK-SCH (1-800-365-5724) to learn more.