01 Aug

Lindsey Liden, Banjo Builder

In 1925, Lindsey Mulheron Liden's great-grandfather William Mercer Fain, the Mayor of Murphy at the time, donated $25 dollars to help get the Folk School off the ground.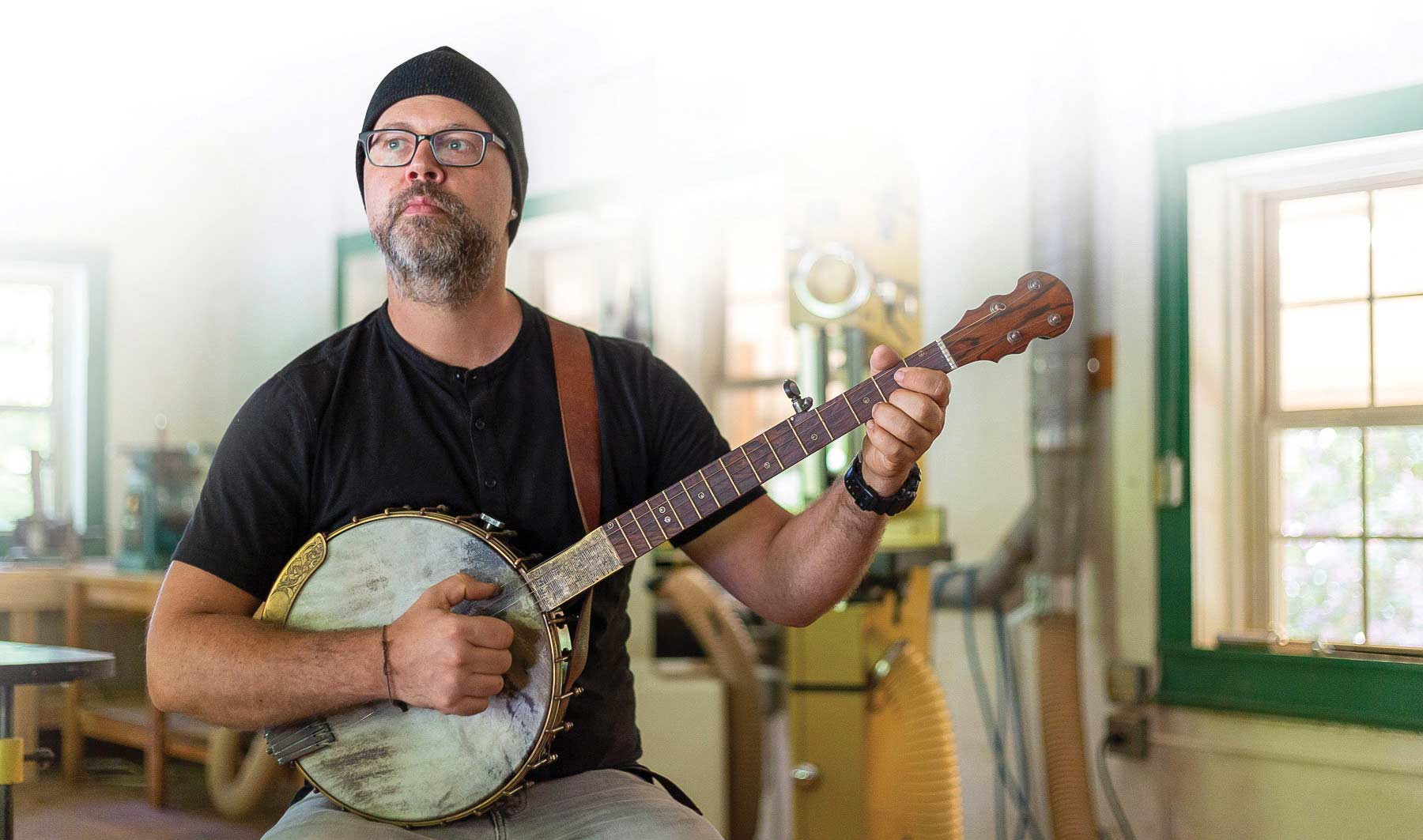 His grandmother helped develop the school's History Center and established the school's Fain Archives in the family's name. More recently, his aunt, father, and siblings have worked here in various capacities; his mother, Martha Owen, has been the Resident Artist in Spinning, Knitting, Felt Making, and Dyeing for the past 30 years. For Lindsey, the Folk School was just part of growing up––and, in turn, a place he had to leave to truly appreciate. 
A touring musician looking for somewhere to land, Lindsey came back home in 2014 to focus on luthiery and fine woodworking full-time. Settling near the school had other rewards, too: music and dance are integral to our programming, giving Lindsey plenty of chances to play old-time music with his family, full of talented musicians, while meeting regional musicians of all kinds.
This banjo, "the Titian," was inspired by the colors of the fall in mountains. It features a rolled brass tone-ring on a walnut pot with a mahogany neck. It has a dyed calf skin head, textured brass scoop, Brazilian rosewood fretboard and brass tubing inlay.
Lindsey credits the Folk School and his momma with developing his passion for the banjo, helping him bring it into his professional repertoire. He studied clawhammer-style playing in classes with Riley Baugus and later built his first few banjos in class taught by Patrick Sawyer. He continued to build upon these skills and now Mulheron Craft, Lindsey's studio a few miles from us, is known for producing custom handmade banjos that break the mold with striking embellishments.  
The ideas for these artistic touches, ones that set Lindsey apart from other luthiers, came directly from his Folk School experience. He learned how to make textured brass scoops from Resident Artist Barbara Joiner and longtime instructor Steve Artz. The idea of applying a watercolor wash, adding a pop of color to the instrument's cream-colored head, came from Suzy DesLauriers, another Brasstown local who has taught painting here for decades. 
The Folk School is all about trying your hand at something new. Our non-competitive environment and small classes encourage people to branch out without fear or pressure. It's about process, not product. We like to say that dabbling can open doors––perhaps in rekindling a hobby after retirement or discovering a new medium that can elevate your craft.  
In Lindsey's case, you can see the Folk School's influence in every banjo he makes. We encourage you to explore the subjects and classes that have inspired Lindsey in his journey, in the hopes that you find a similar joy.  
In addition to teaching at the school regularly, Lindsey is our Resident Artist in Woodworking, managing the program and developing our course selection. You can find him in the Woodworking studio, playing music outside the History Center during lunchtime jams, or at Community Tuesdays, our new weekly dance events. Next time you're in Brasstown, make sure to say hello! Hopefully you'll have a chance to see one of his remarkable banjos in person.  
Visit Lindsey's website at mulheroncraft.com to see more of his handmade banjos and fine woodworking.
Class Influences
ENAMELING & JEWELRY

Torch Fired Enamels–Well Connected
Steve & Aubrey Artz

ENAMELING

Tag Team Enameling Intensive
Barbara Joiner & Kay Patterson

PAINTING

The Winter Landscape in Watercolor
Suzanne DesLauriers

MUSIC & WOODWORKING

Build a Bracket-style, Open-Back Banjo
Jack Furman & Patrick Sawyer