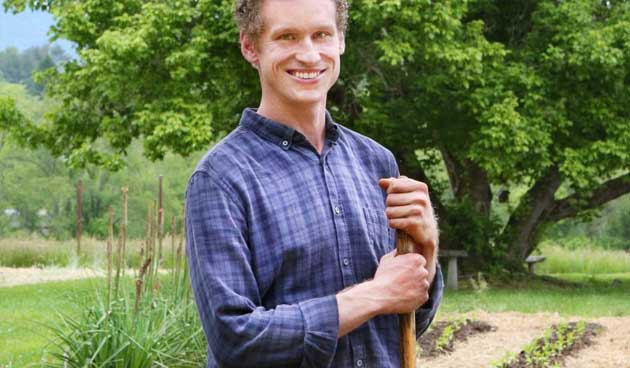 19 May

Welcome Jason Ebinger

We would like to extend a warm welcome to our new Gardener, Jason Ebinger! Jason has extensive history managing farms and brings a wealth of knowledge and experience to the Folk School.

We look forward to seeing how the garden flourishes this year. Read below to learn more about Jason and his goals in this new position.

BW: Tell us a little about you, Jason.

JE: I was born in Atlanta and have spent my life since high school in Missouri, Maine, and most recently back in the Atlanta area. My interests include cooking, hiking, and listening to and playing music (primarily clawhammer banjo these days). Hiking is a favorite shared activity with my fiancé Chloe and our dog Lucy, so you're likely to see us on weekends or evenings exploring some of the nearby trails.

During my time in Maine, I managed a pasture-based livestock farm, and most recently I have been running a Community Supported Agriculture farm in Atlanta. Prior to these positions, I was involved with a number of urban farm and community garden projects in St. Louis, Missouri.

BW: What makes you passionate about the work that you do?

JE: I am passionate about gardening because it is a window into understanding the natural communities around us. The garden is filled with infinite learning possibilities, and it keeps me in a state of constant wonder. While sometimes nature is best enjoyed without much interference, the garden is a place for humans to interact directly, make decisions, observe changes, and meet some of our human needs for sustenance, community, and beauty. I love how connected my work is to the progression of the seasons, and I am grateful that making observations of the natural world is part of my daily work. I am so excited to be at the Folk School because sharing these experiences with other people makes it all the better!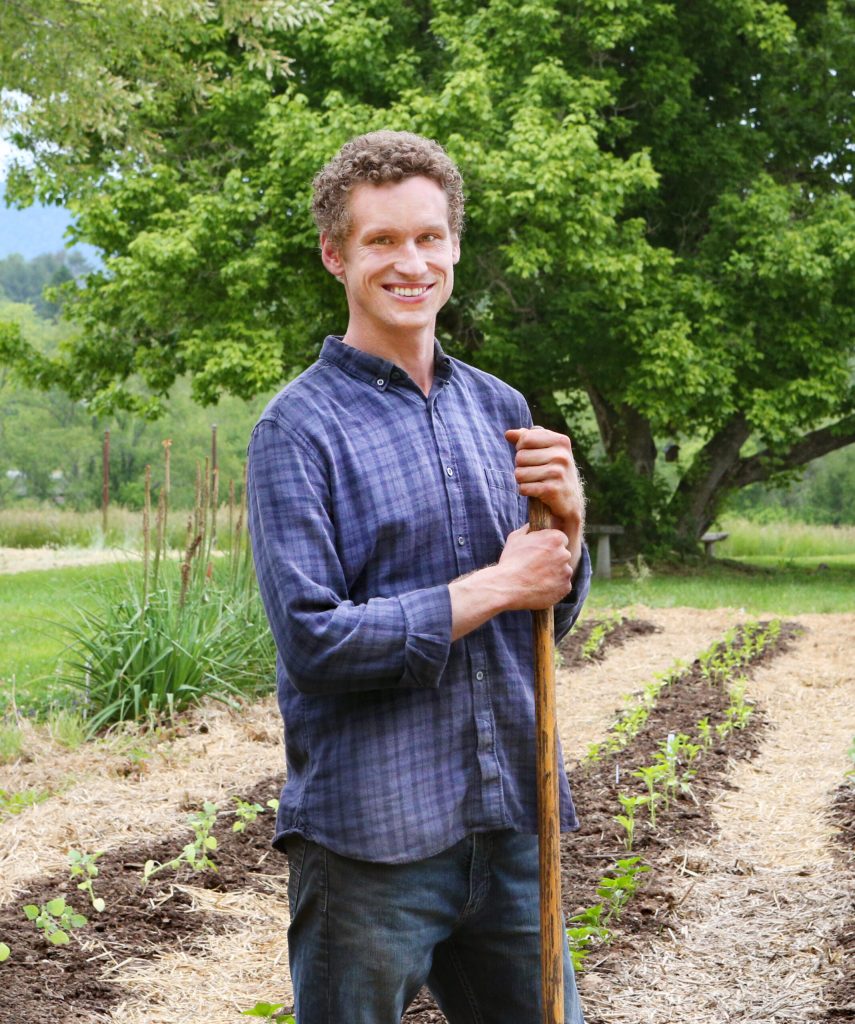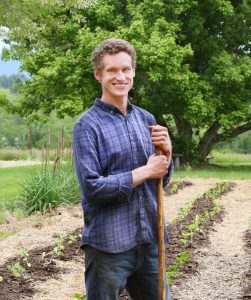 Welcome to Jason!
BW: How did you come to know the Folk School?
JE: I first passed by the Folk School when driving through the mountains after hiking in the area as a teenager. I immediately knew it was a place that I hoped to return to! Since then, I have learned a lot more about farming and preparing fresh and wholesome food. I've also played in an old-time band and tried my hand at woodworking, crocheting, and a variety of other crafts. In hindsight, it feels as though I was preparing for the time that I would return here!
BW: What will be some of your day-to-day responsibilities in your new role?
JE: I will be looking after the gardens as well as assisting with the Work Study program. Day-to-day, you will find me in the garden or among the many perennial beds throughout campus. I'll be growing lots of food crops for our dining hall and cooking classes. In addition, I'll be continuing work on establishing a thriving dye garden as well as growing crops for some of our craft classes like broomcorn and basket willows. When I'm not in the garden, I'll be doing all of the necessary planning and coordination to assist in integrating the garden into a wide variety of Folk School classes and programs.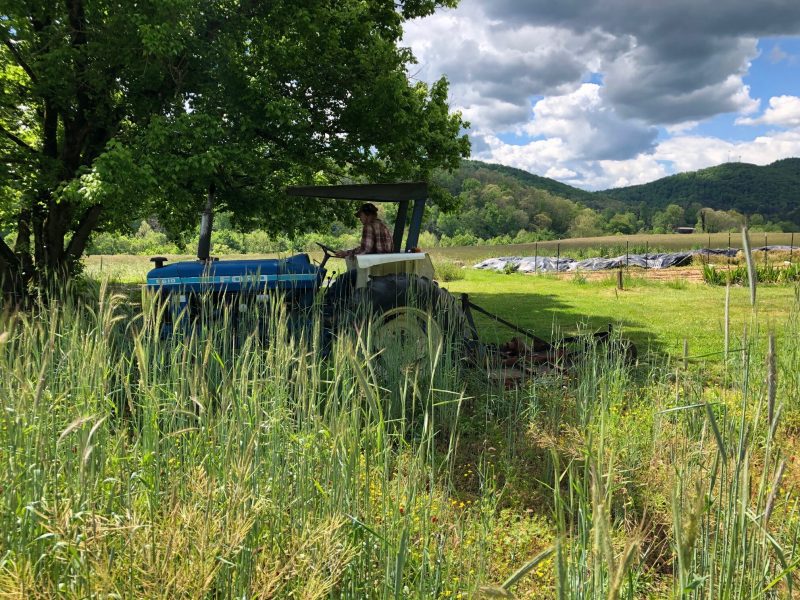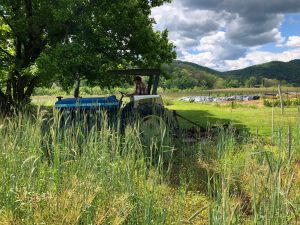 Jason bush hogging the garden
BW: What are you most excited about relocating to Brasstown?
JE: I am so excited to be surrounded by beautiful natural areas in a community full of so many life-long learners. I am eager to deepen my own learning in my specific areas of interest as well as benefit from being in a wider learning community. In my short time here, I already feel that I have learned so much! I am humbled to be gardening and stewarding the land in an area with such a rich history – countless generations of Cherokee land and home to the Folk School for nearly the last 100 years.
BW: What are you looking forward to accomplishing in your position?
JE: I am eager to build upon all of the hard work of gardeners, Work Study students, and all others in the Folk School community who have contributed to the beautiful gardens and landscaping over the years. I plan to continue to make the gardens a central part of the Folk School. I also look forward to further integrating the garden into a wide variety of programs at the Folk School. I am eager to learn how I can best support all of the classes that use the garden as a resource in various ways.
BW: You've even brought some friends along with you to help out in the garden! For those who don't know, who are they?
JE: I've brought my ducks! I was glad to hear that they could make their new home near the garden at the Folk School. I think they will make a great addition to the garden. They are a breed of domestic ducks named Indian Runners: a light-bodied breed that is primarily kept for eggs. I am excited to share their rich, delicious eggs with the Folk School community and maybe you will even see them utilized in some cooking classes! They are "working" animals, performing the valuable services of garden-pest management, cycling nutrients and providing manure, and sharing their eggs with us. When you visit the garden, you will likely see them scouring the area looking for all kinds of seeds, insects, snails, and slugs.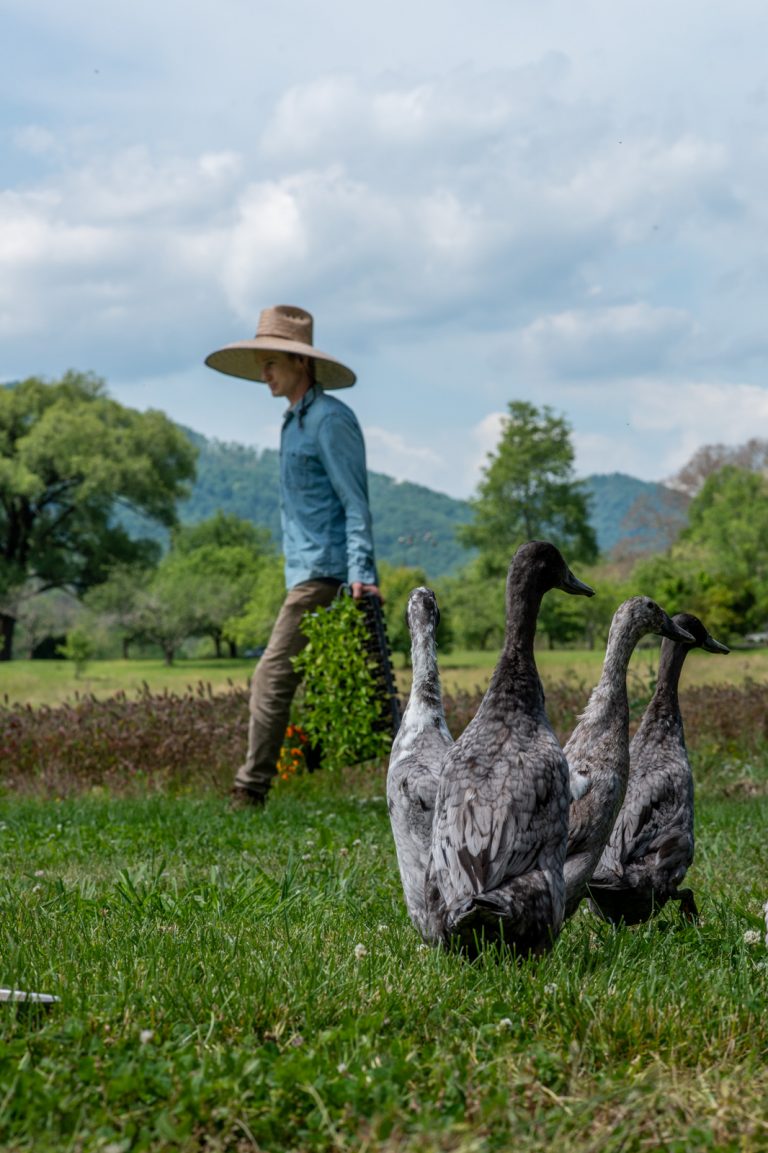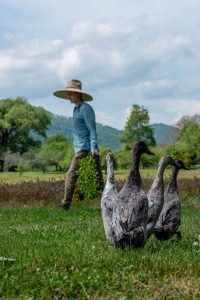 Jason's ducks roaming the garden
BW: If folks need to reach you, where can they contact you at?
JE: If you would like to reach me, please contact me at my email. I can't wait to meet you!