10 Feb

Recreating a 1933 Doris Ulmann Photograph with Lesley Darling

Last fall, I and eight other craftspeople joined John C. Campbell for the second session of the Traditional Craft Mentorship program. During this four-week program, we lived, ate, and crafted on campus (socially distanced of course). While we wait patiently for the Folk School to open in person later this year, I thought I'd share a story about just one adventure that befell us in October.

If you've ever been on campus, you know that John C. Campbell is a treasure trove for historical photos and archives. The campus is filled with photos from the last hundred years, showing folks learning the same skills that we've come for today. These images of community and learning connect me to my own history as a craftsperson, as well as our larger shared history across the world: humans, who make things. During a previous trip to the History Center, I'd come across a photo of Louise Pittman taken in 1933 by Doris Ulmann. In the photo, Louise stands next to a cauldron hanging from a wooden tripod over an open fire. She holds a large piece of cloth as she looks into the pot, steam rising from the liquid. Whether she was planning to dye, wash, full, or simply finish her fabric is uncertain – but I knew I wanted to recreate this photo as best I could during the mentorship program.

I was so fortunate to have the support and endless patience of my fellow fiber mentees, Mary Rubi of New York City and Megan Kelley from Nashville. The first step was to purchase a cauldron, which wasn't too tricky to find at one of Murphy's many second-hand shops. This particular hillside attraction had several options. Being as we were there on Halloween, it seemed like a strange omen to find a black widow spider living inside of the perfect cauldron! After gently relocating the spider, we loaded up the cauldron and set about organizing the rest of the materials.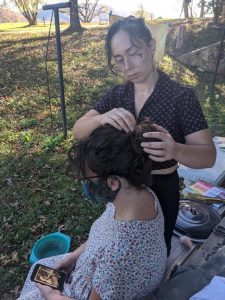 Mary Rubi, a fiber artist and costume designer in New York City, styles my hair to match a photo of Louise Pittman.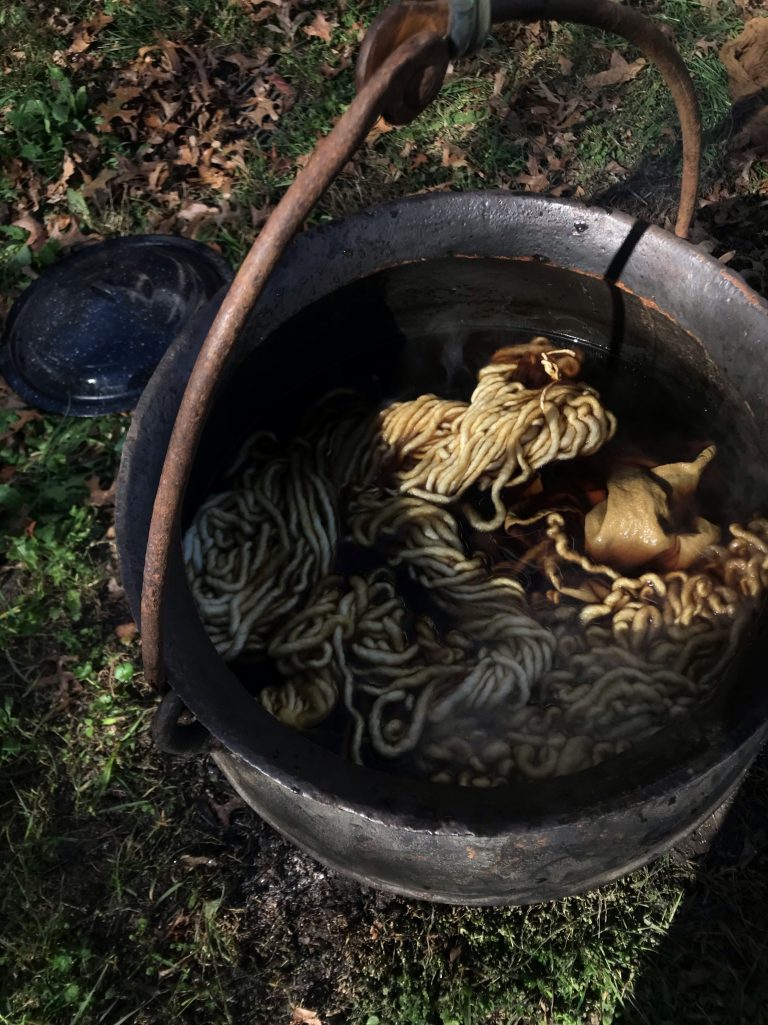 Outside the Wet Room, yarn and cotton wait to develop color in the cauldron.
The Brasstown community generously shared its knowledge and tools, so with the help of Kenan Institute Fellow Elizabeth Belz, I arranged to borrow some equipment from former instructor Tim Ryan. He taught traditional Appalachian cooking and other courses at the Folk School for many years, and still lives in the area. He lent us a welded pipe tripod and a bail, the removable handle from which the cauldron hangs. In the meantime, blacksmith mentee Talon Wilson helped restore the cauldron to its top condition with rust removal, brushing, and oiling.
Finally, with all the pieces together, and under the watchful suggestion of Resident Artist Martha Owen, it was the day for dyeing! With kindling and split wood from the cooking studio, I got a fire going under the cauldron, adding onion skins for dye. The iron reaction from the cauldron was producing a lovely sage green. I added yarn to the pot, while Megan put in some cotton towels for comparison. Mary graciously lent her professional expertise in costumes, styling, and production to fix up my hair and get positioned just so for a photo. I'll leave it to the reader to judge how we did!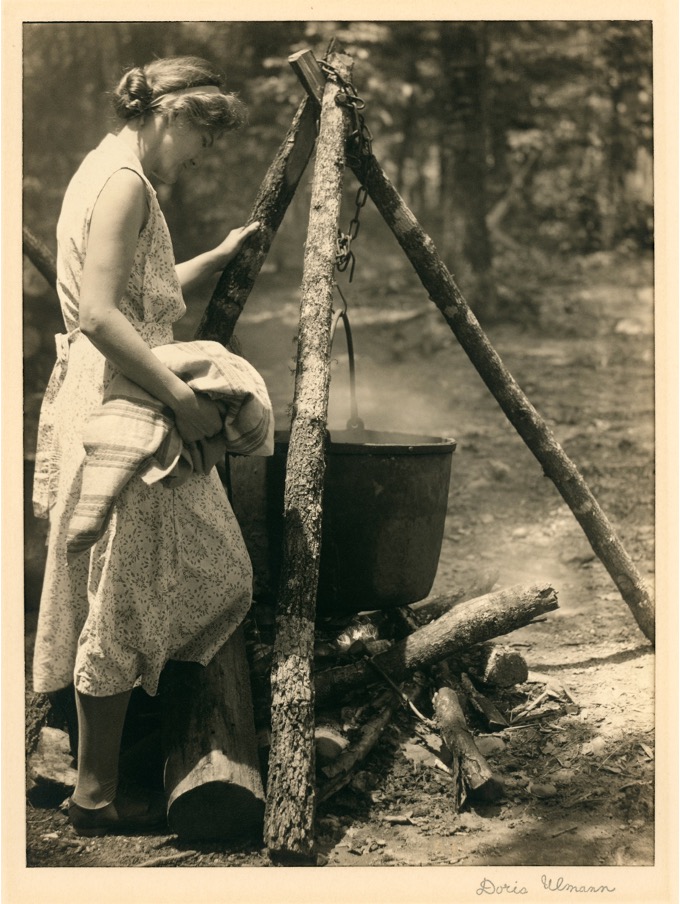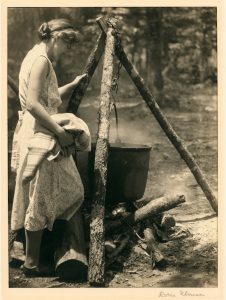 Original photo of Louise Pittman in 1933, taken by Doris Ulmann.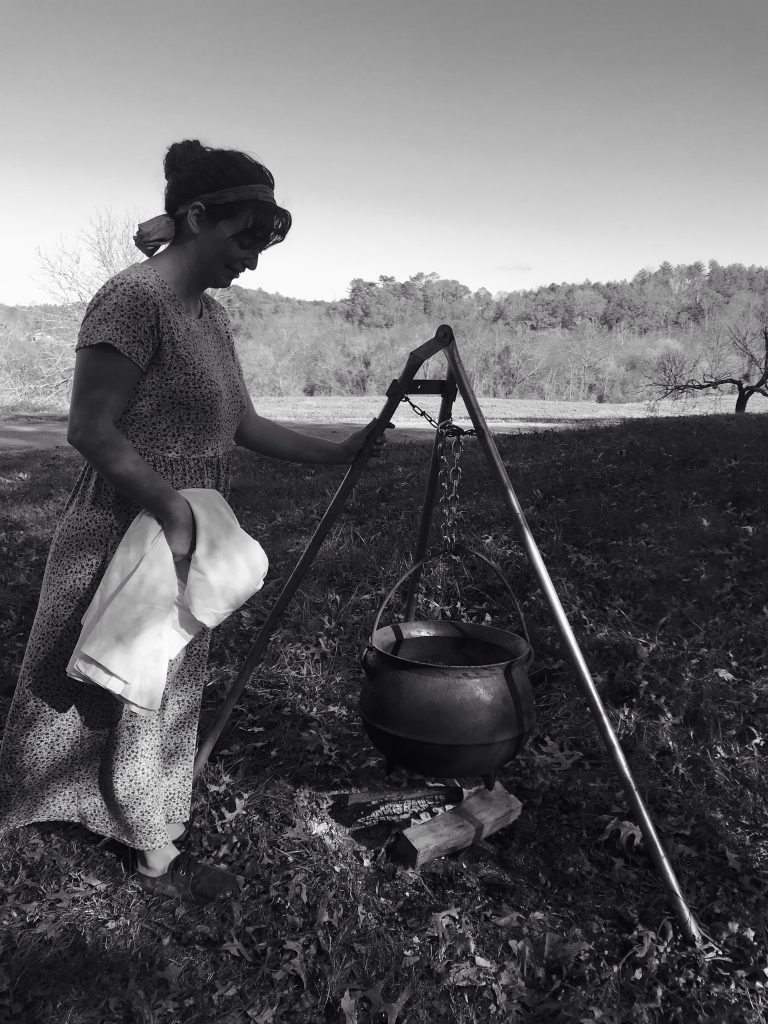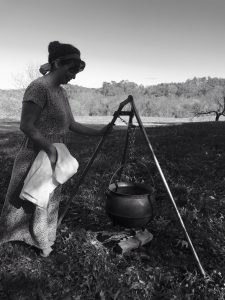 Lesley's recreation of Doris Ulmann's photograph.
Before our mentorship ended, I was able to commission the pieces for a tripod to take back to Nebraska. Blacksmith mentee Chris Lucibella crafted a stunning tripod and s-hook, hammered in such a way that the legs have an almost tree-like appearance. Elizabeth Belz fixed me up a bail based on Tim's and placed her signature blacksmith's mark of a fly in the center rivet. Since returning back, the cauldron has been put to use a few times, including a dye bath made from madder root grown at the Folk School. I look forward to using it many times as spring approaches, and I'm no longer buried under a foot of snow!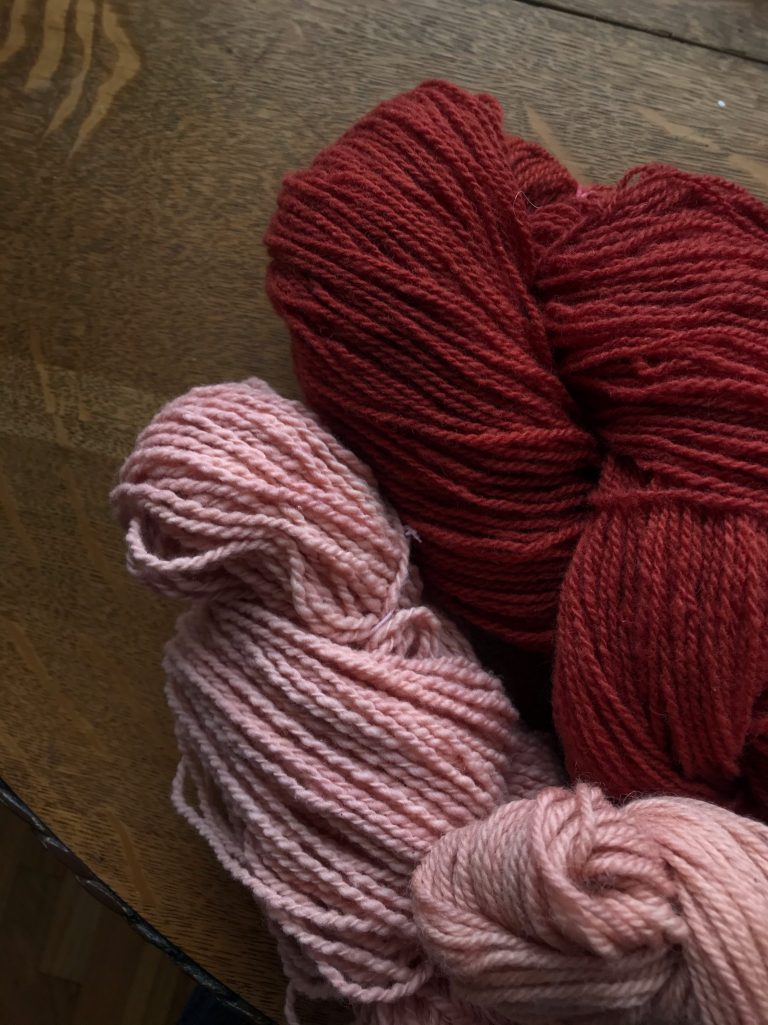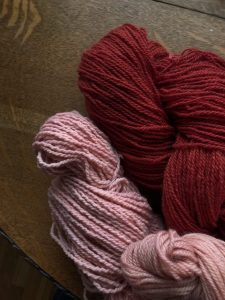 Finished yarns dyed in the cauldron with Folk School madder root. The lighter skein was made with an exhaust bath.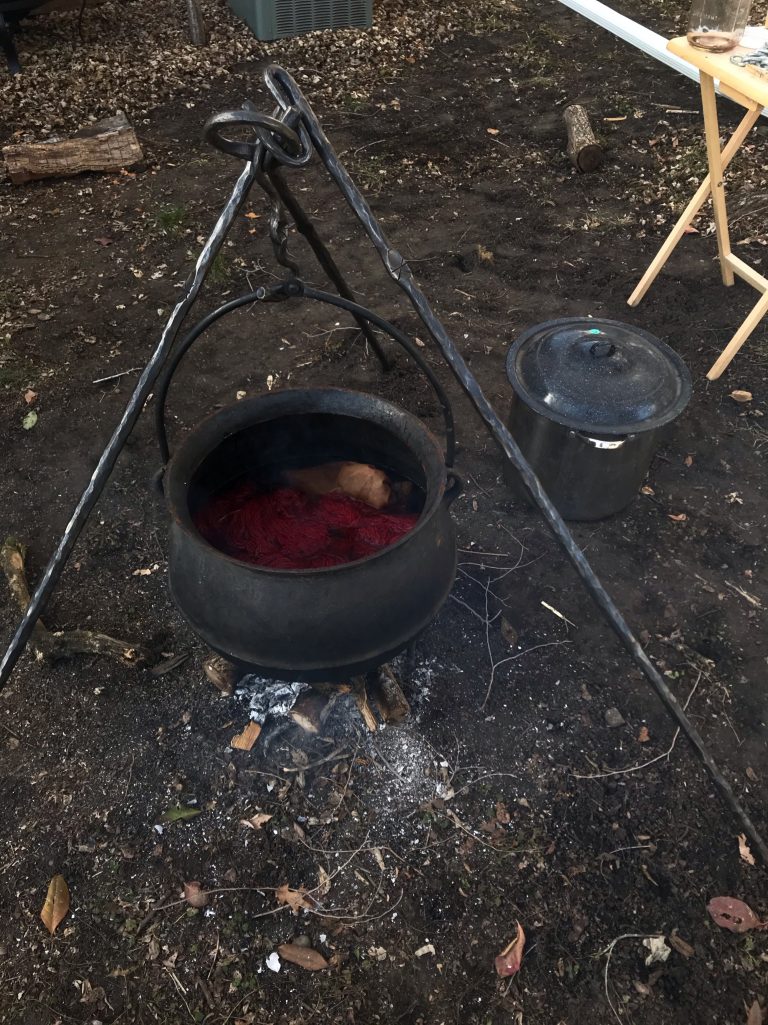 Back in Nebraska, dyeing with madder root grown at the Folk School. Blacksmith Chris Lucibella designed and crafted the tripod.
It was such an adventure to go back into history to recreate not only the photo, but the community and collaboration that makes it all worth it. I can't wait to share many more open-fire dye pots with students and friends, and feel fortunate that even during these unusual times, we were able to come together at the Folk School and create something magical!
About the 2020 Mentorship Program
The 2020 Traditional Craft Mentorship Program was a grant-funded opportunity for early-to-mid-career artists to spend a month at the Folk School, learning from master artisans. The unique situation of the Folk School closure due to COVID-19 allowed us to offer 6, 1-month-long programs, with 3 students per program, and 2-4 mentors working collaboratively and independently in studios. Subjects included: Basketry, Music & Dance, Weaving, Blacksmithing, Chairmaking, and Fiber Arts.
We'll be announcing 2022 Mentorship opportunities in July 2021.
Sign up for our eNewsletter to learn about upcoming opportunities.