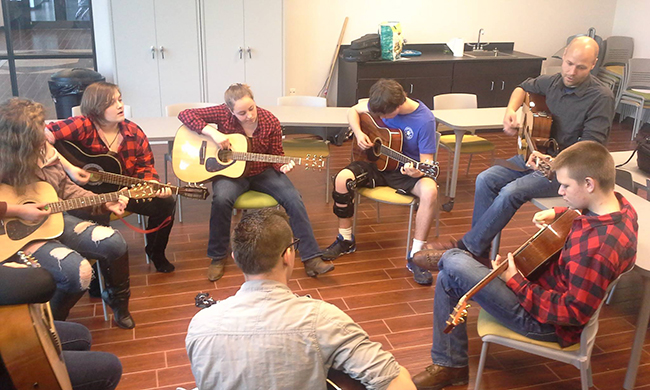 04 Apr

Folk School JAM Program Passes on Appalachian Musical Traditions to Local Teens

On Friday, April 8, high school students in the Folk School JAM Program played a concert in the Community Room to celebrate the conclusion of the first session. Under the direction of Johnny Scroggs (guitar) and Peggy Patrick (fiddle), students spent 12 weeks learning traditional Appalachian music as part of the Folk School JAM program. We recently sat down with Program Director Hannah Levin to find out more about this wonderful program preserving traditional Appalachian music in our local high schools. Read on to find out how you (or your teen) can get involved!

CP: What is the JAM program? What does "JAM" stand for?

HL: JAM stands for Junior Appalachian Musicians. The program is the brain child of Helen White (fabulous musician and partner of famed VA luthier/musician Wayne Henderson) who started the first JAM program at Sparta Elementary School in 2000. It has now spread to 30 programs in 4 states and provides free music lessons and instruments on loan to kids to connect them with the traditional music of their area.

JAM provides opportunities for students who might not otherwise have traditional music lessons available to them. Our Folk School JAM program is open to any high school student in Cherokee or Clay County and is held at Tri-County Early College. We meet twice a week for 12 weeks and have a concert at the end to celebrate what has been accomplished in each class.

CP: Can you talk about why continuing the tradition Appalachian music is important?

HL: The music that is indigenous to this area is a very distinct blend of music from Europe and Africa. In Appalachia, music has historically been a social component, bringing and holding communities together. People played music together, sang, and danced. The Folk School and surrounding community are keeping these traditions alive through weekly dances with live music and classes that teach a variety of song, dance, and musical skills.

CP: How is the JAM program related to the Folk School?

HL: The Folk School's mission is to provide education in traditional art forms in a non-competitive environment. The Folk School provides classes for adults to learn traditional music of this area, and JAM allows that mission to reach local youth.

The Folk School JAM program allows high school students to experience what is possible in learning a traditional art form and participating in community in a non-competitive way. It allows them the opportunity to put down their iPods and phones and experience the joy of making music come alive with other people. As part of the program, students are asked to attend one dance and one concert at the Folk School. They become familiar with the community aspect of music, what is happening down the road at the Folk School, and how they can participate in it.

The Folk School is also the 501c-3 facilitating organization for JAM which allows for support through the NC State Arts Council.

CP: Is the JAM program new?

HL: The JAM program is not new, but this is a new incarnation of it. Cherokee County JAM was run for many years at Martin's Creek Elementary School. It was a great program but attendance dwindled over the years.

Jan Davidson approached me this past fall about taking it over the Cherokee County program and reincarnating it. In 2003, I started the JAM program in Swain County when I was an elementary and middle school art teacher in Bryson City. I was delighted to take on the challenge and re-engage with this amazing program and thus, Folk School JAM was born.

After talking to many people in the community about ideas for how the program could look, I decided to create a high school program, open to both Clay and Cherokee county students, and hold it at the central location of Tri-County Early College. Alissa Cheek, who is the principal at the Early College, has been very supportive and helpful and we are grateful to have a wonderful facility in which to offer classes.

We just finished our first run of 12 weeks of Folk School JAM and it has been very successful. My hope is that as the word gets out that the program exists, all of our classes will be full!

CP: Can you tell us a little about yourself and what you do?

HL: I am the Folk School JAM Program Director. I do all the behind-the-scenes stuff like write the grant, create the budget, hire teachers, handle accounting, create the online enrollment forms, recruit students, collect teacher references, communicate with parents, write newspaper articles, order instruments, strings, etc, get instruments repaired and take attendance each time classes meet. I sometimes help out in the guitar class because I play guitar.

My father (Rob Levin) is an old time musician and used to play with Red Wilson of the Toe River Valley Boys. Since I grew up around this music, it holds a special place in my heart. Playing guitar was very important to me in my teenage years (which led me to a time of being a singer-songwriter in my late 20s and early 30s) and I am delighted to support the connection young people in this community have to making music of their own.

Outside of this position I have am a potter and have a business that incorporates many aspects of healthy living (yoga, Ayurveda, etc) called Heartfelt Wellbeing.

CP: Tell me about your teachers. What do they teach?

HL: Peggy Patrick teaches fiddle. She has done an amazing job with the students. Peggy is originally from GA and grew up learning mountain music as her father was a dance caller. She plays many instruments which allows her to accompany her students on guitar once they have learned a fiddle tune and can play it independently. She has a wonderful methodology of teaching and she teaches a new fiddle tune each class and reviews the other tunes they have already learned so they keep building a well-practiced repertoire. Peggy is also a talented craftsperson and teaches frequently at the Folk School.

Johnny Scroggs teaches guitar. He is from Brasstown and owns a recording studio here called Appalachian Sound. Johnny writes most of the music he plays and he has toured extensively in the past. Johnny says that he would have been so grateful to have this opportunity to learn to play music that  Folk School JAM offers when he was in high school. Johnny has a lot of fun with his class and has introduced them to lots of different kinds of music as well as assisting them in accompanying the fiddle class.

CP: How can people in the community get involved?

HL: Students (Grades 9-12) who want to register for classes next year can email me at folkschooljam@gmail.com. I will send them a link to our online application and help in any way I can. Our sessions will run September-November 2016 and January-April 2017.

If anyone is interested in teaching in the program, I would also love to hear from you! Like working with teenagers and play guitar or fiddle?

Additionally, anyone who would like to donate money can do so through the Folk School. Donations of instruments are helpful too. Currently, we have plenty of guitars but are hoping to get more fiddles either through donations of actual instruments or purchasing them with monetary donations.  We also have a new Facebook page, so please find us there at Folk School JAM!

CP:  Do you have any favorite classroom memories or moments?

HL: Most recently, I was in Peggy's fiddle class and she handed out music for a new fiddle tune, I walked out to visit the guitar class and when I came back in just a little while later, the whole class was playing the tune with no problem. I was blown away. I think they have learned a new tune during almost every class!
---
Visit the JAM website to learn more about the programs mission and beliefs.
Email Hannah for more information on how to get involved.