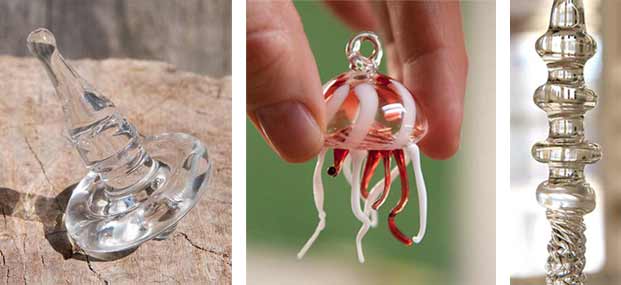 18 Feb

A Fiery Demonstration: Glass Blowing with Tony Prince

What do swans, jellyfish, marbles, icicles, and ornaments have in common? These design shapes are just a few of the incredible student projects you could see this week in "Intro to Glass Blowing," co-taught by Alex Greenwood and Tony Prince. Using tabletop torches, students are learning the craft of manipulating tubes and rods of borosilicate glass into unique glassblown ornaments and small vessels.

Last night, I attended Tony's demonstration in the studio. Many Folk School folks packed the room, eager to see the torch in action and the experience the excitement of moving glass. Tony explained that glass material comes in many forms: a solid rod, a hollow tubing, and thinner colored rods and that there are many ways to use and connect the different types of glass.

Everyone looked on while Tony lit the torch and prepared the tube to make a hollow swan. When the glass tube was hot enough, Tony blew into the tube and the body of the swan rounded out like magic! He made it look so easy. Tony described it like blowing bubble gum or blowing up a balloon.

Watch a short video of the glass blowing:

The class was making lots of ornaments this week. Ornaments are one of the most elemental glass shapes. The glass wants to naturally take a round shape as long as the heat is even.

Stopping by a demonstration is a great way to find inspiration of learn a little about the potential of a new material or technique. A big thanks to Tony for introducing us to the world of glass blowing!
FUN FACTS:
Borosilicate glass = same glass as Pyrex dishes. It is more durable and resistant to thermal shock (meaning it can cool off or heat up faster without breaking). Tony is teaching a class in April exploring this very material: An Introduction to Borosilicate Glass.
Both instructors, Tony Prince & Alex Greenwood live in Asheville and work at the Asheville Glass Center. Check it out next time you visit the River Arts District in Asheville.
It was lovely seeing Woodcarving instructor, Dylan Goodson, in the glass blowing class this week. He is teaching a carving class this August: Realistic Figures or Relief Scenes. The red and white jellyfish was his unique creation!
Famous Glass instructor and Brasstown local, Lynday Hunneycutt, stopped by the demo. Tony disclosed that his very first glass class ever was with Lynday at the Folk School in 1997. How cool is that?
Lynday assisted Tony in a demonstration of creating a "stringer" across the room. After Tony heated up the glass, Lynday was able to walk with the connected glass all the way to the back of the room, creating a thin glass string. It was a sight to see! This is similar to the way fiber optic cables are created.