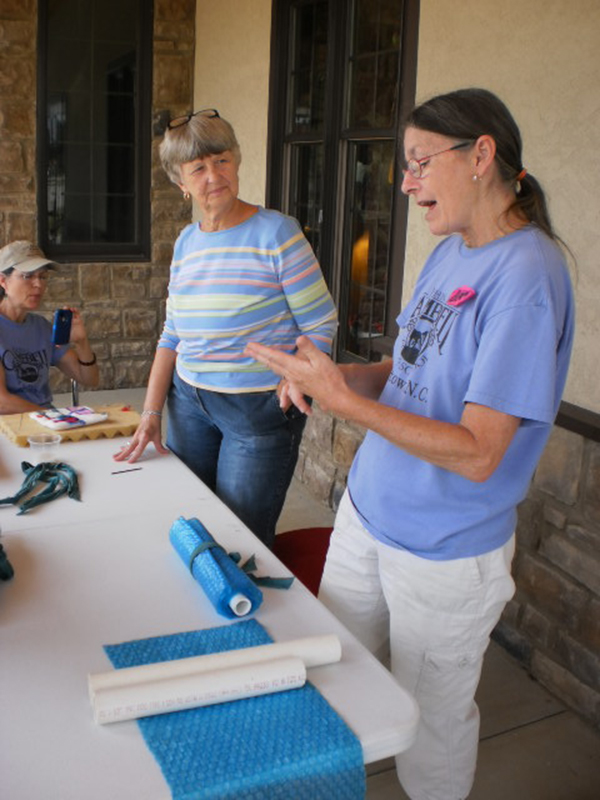 06 Mar

Fabulous Felting: An Interview with Becky Walker

Felt is the oldest known fabric used by man. That stands to figure… felt is so easy to make, it was probably first discovered by accident. The recipe for felt, after all, is wool, moisture and agitation. Picture lining a sandal or shoe with raw wool to act as a cushion. Now picture walking around on that wool, smooshing it with every step, maybe sweating on it a bit to add the needed moisture. By the end of a long walk, you're not taking out bits of raw wool, but essentially a felted sock that fits your feet perfectly. While felting techniques have come a long way, that essential concept of felt making is still the same.

 I sat down to talk with Becky Walker about her adventures with felt making. You've seen Becky around the Folk School campus wearing a knit hat, sweater or socks, or maybe on the dance floor wearing her felted name tag. Wherever you may meet Becky, her enthusiasm for her passions – music, dance, good food, good friends, animals and fiber – becomes clear right away. Let's meet her.

CC: How did you first become interested in becoming a fiber artist?

BW: Well, my mother taught me to knit when I was a real little kid, I was about seven. I've always loved animals, or anything with fur, anyway, and one thing lead to another. I've pretty much continued knitting through out my life so far. So I haven't knitted all my life yet (she laughs).

CC: How did you discover the Folk School?

BW: After I met Steve, my husband. He was a Folk School person and this was one of the first places we came. His son, Able lived over here, and he wanted me to meet Able and his mom. Of course we had to come dance because we were right here. Actually, I had encountered the Folk School in my early 20s in the book Handicrafts of the Southern Highlands. There was a chapter on the Folk School and I thought, "Wow, that seems like such a great place. I'd love to go there!" but didn't really think I ever would. So the fact that we came here right away was pretty neat, and I've been loving it ever since. It was a while before I got to take a class, so anyway, we'd come here to dance and see family.

CC: What kind of fiber arts do you do?

BW: Well, felt making is what I've become known for and I dabble a little bit with spinning. I'm not very good, but I just need to sit down at my wheel and do it more.

CC: Martha Owen, the Folk School Resident Artist in Knitting and Spinning, told me a story about teaching you to spin and you told her you might be more interested in felt making, right?

BW: I told her that I loved her, that I was interested in spinning, but I wasn't really ready to sit still yet. And so when I said that, she said "Well, you know, there's this thing called felt making and it's really active and I think you would like it. Carla is teaching a class here at the Folk School sometime coming up pretty soon and I think you should try that." So I did.

CC: And when was that?

BW: Sometime in the early 90s

CC: What classes have you taught here at the Folk School?

BW: Well, I started with weekend classes because when Martha first asked me to teach, I had just been teaching children, and I was afraid of teaching adults. So she said "Oh you can do this. You use bigger words and longer sentences but that's about all the difference there is. But I'll come hold your hand the first time." So she was my unofficial assistant the first time I taught. I probably taught a couple of years just doing a weekend, and then Martha approached me about trying a week. So since then, I've done sometimes a week and weekend during the year, but I've done one or the other ever since then.

CC: And you're still teaching children felt making?

BW: I do. I'm part of the artist in residence program in South Carolina, so I go into the schools for a week at a time and the kids get to make something of their own and then we all together make something for the school.

CC: That sounds great.

BW: Oh and Little/Middle!

CC: Here at the Folk School?

BW: Yeah.

CC: You've done that for many years?

BW: I've done it for a good many. I did the middles for several years, and then the past couple of years, I've done the little guys. They're easier to impress (she laughs).

CC: I happen to know that you keep sheep.

BW: I do.

CC: How many sheep do you have?

BW: I keep four at the present, and I've acquired them one by one from Martha calling me and saying "I've got this little guy and he has a great fleece, but I'm making hard decisions." I can almost say that I'm a rescue operation. Well, a selective rescue, because I won't just take anything. It's got to be what I can work with because I don't have a lot of space to keep a lot of animals. My love of animals eventually led me to want to have sheep. I'd kept horses in my younger adult years and that was just sort of a natural progression with my interest in fiber.

CC: What are the names of your sheep?

BW: The first one I got is named Sin Baad with two As. All of the sheep's names have to have that baaaaaa sound in it. Then I have Ali Baabaa and Baabaalouie, and the controversial one is Mister Obaama. The reason I named him that is that I got him on the day before our president was inaugurated the first time, that's why he's a Mister, not President. It was a way for me to remember when I got him and how old he is. So, I wasn't making a political statement, it was a convenience for me to keep track of stuff. So when I'm around people that I feel like this might offend, I call him OB – but his breed is Romney, well actually he's a Romney/Shetland.

CC: Tell us about taking care of them.

BW: Well, it happens every day. My shearer tells me my sheep are too fat, so I don't worry too much about making sure they're fed every day. They are obviously finding enough to eat in the pasture, but you gotta make sure they got water, and I want to see everybody on their feet every day.

CC: So I hear this question from fiber enthusiasts a lot. How many pieces can you make from the fleece of one sheep?

BW: So far, I've made five rugs that take a pound of wool each from one of my particular sheep and I've still got probably four pounds left that I will be using for a class. So that's just from one sheep.

CC: From one year's fleece off of one sheep?

BW: Yes.

CC: So do you weight the fleeces as they are sheared.

BW: I don't, but I probably should. So, I'm going from clean weight after I washed it and picked it. I'm weighing the carded batt, so really they have more than that, but some of it gets trashed and some of it's dirt. So this is probably honest weight, the fiber I can use.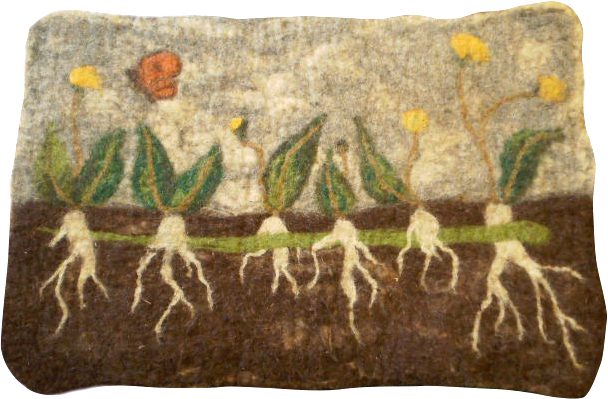 CC: When you get a fleece, walk us through the steps to turn it into a rug.
BW: OK, so my washing process is pretty primitive. I've got some big tubs that I put in hot water and soap, let it soak for a while, pour that water off and then after that keep putting it in the hot water until the water is fairly clear. So it usually takes the soapy wash and maybe two rinses before I'm satisfied that it's clean enough because you're gonna put a whole lot more soap and water on it when you make felt out of it. So I'm not going for pristine clean. I don't use the fleece of my sheep when I'm working with children because I feel like it's not quite as clean as what I could buy.
CC: You mentioned something about picking. What's a picker?
BW: Well, a picker is a apparatus that looks like a medieval torture device that has a lot of spiky things. It opens the locks that are the hunks off wool that come off the sheep and a lot of the dirt and vegetable matter and things like that fall out. I've already taken all the yucky (poopy) stuff out before I even wash it, so we're mainly talking about dirt that's bound by the lanolin, pieces of grass and hay and that kinda stuff.
CC: So, once you've washed it and picked it, now you're ready to make felt?
BW: Oh no, you gotta card it then. I'm fortunate to have an electric carder. I'm a person that appreciates simple tools, the simpler the better, but I've reached a stage in life that a little help is good. I tried with a hand crank carder and after a couple of pounds of wool my body was complaining. So, I had an offer from a Folk School person, also a felt maker here named Geri Forkner, who offered to sell me an electric carder at a price I couldn't refuse and I've praised her ever since. (She laughs.)
CC: And what does the carder accomplish?
BW: OK, the carder aligns the fibers in more or less a parallel situation. It's not perfect, but it's good enough for what I do with it. And then it's easier to manipulate and lay out when you're preparing a felt piece.
CC: Tell us about your upcoming class at the Folk School.
BW: Well, it's the same weekend class that I've done for a long time with the new twist that I'm actually using the wool from my own sheep this time. So, this winter had been about preparing wool for this class, and it's satisfying to know that I'm actually gonna use up my wool that was sheared last year and getting to see other people enjoy the product that my sheep produce.
CC: So you're going to be making rugs?
BW: Yes. It's the Rug in a Tub class, so we will be using mortar mixing tubs and every one will leave with a bath mat sized rug and maybe a few other little things depending on how hard they want to work.
CC: Will you be doing any needle felting in that class?
BW: Well, we do a little needle felting to affix the design. It's kinda like basting your design in place so when you start the rubbing and agitating, your design is not sliding around every where but it's sort of held in place.
CC: How did you came up with the idea of using a tub to make a felted rug?
BW: Well, once again it was Folk School people, in fact it was Nanette Davidson, Resident Artist in Cooking and the wife of our director. She said to Martha Owen, my fiber mentor, "I think somebody should make a rug in a kid's wading pool." And Martha said "Hmm, that's a pretty good idea" and she mentioned it to me. As far as I know, I'm the one that did it first, and I've just continued to develop that technique.
I've found that a problem with larger pieces of felt where you're using a quantity of wool is when you press after adding the water, things want to spread out and get thin on the edges, so if it's in a container that can't happen. It retains the shape and the integrity of the edges and it contains a little bit of the mess which is nice too. So, for years I've used the wading pool, and as I've gotten older I've used smaller wading pools and I've found the mortar mixing tub makes a nice useful size for the bathroom, beside the bed, or in front of the kitchen sink for almost anybody's house.
Not knowing just what I was seeing, I visited Becky's class at the Folk School quite a few years ago. It was one of her famous Rug in a Tub classes. Seven or eight folks were outside the wet room studio in the grass. They were all bare foot, pants legs rolled up, and each of them was stomping and sloshing around in their own wading pool. From a far, you may have thought they were crushing grapes for wine (maybe this idea was suggested by all the laughter and high spirits of the group). In reality, their feet were providing the agitation necessary to felt the gorgeous rugs they had designed and made themselves from the wool of sheep. Perfectly reasonable adults, splashing around barefoot in children's toys while making functional and beautiful art in the springtime sun. Sounds like just another typical day in Brasstown.
Upcoming Classes with Becky Walker at the Folk School:
Rug in a Tub
March 20 – Sunday, Mar 22, 2015
Wool + Hot Water + Soap + Elbow Grease = felt for a rug or wallhanging using a "tub" to retain the shape and contain the mess. We'll borrow techniques from several different traditions to produce colorful, non-woven, practical works of art. Open to all skill levels. Some strength and physical stamina are required – and willingness to get a little wet and have some fun! Register Today.
Begin with raw wool fresh from the sheep and end with a felted rug that's a toast for the toes! Experience the whole process, starting with how to select the best wools for rugs. Pick and card the wool to process it into batts, and then design and felt through soapy, wet, up-to-the-elbows agitation. This is a creative exercise (truly), with your reward being one or more artistic, durable rugs and/or a variety of mats and pads. All levels welcome, but basic physical fitness is needed. Register today.
---
Charlotte Crittenden, a guest blogger for the Folk School, is a local gal about Brasstown. You can often find her calling contra dances in the Community Room (and all around the region), working at the Yarn Circle, or assisting in Cheesemaking and Dyeing classes. She is passionate about dancing, sheep, hiking and her personal motto is: Eat more butter!