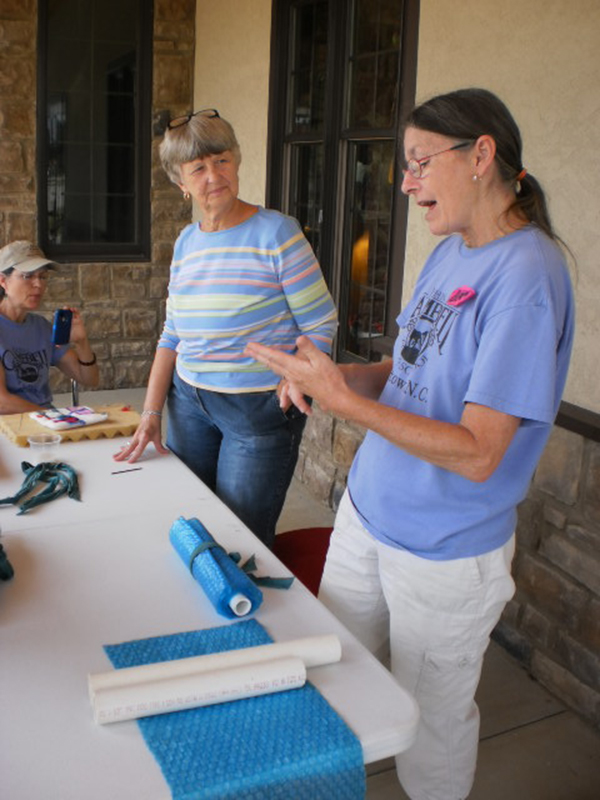 [caption id="attachment_12659" align="aligncenter" width="600"]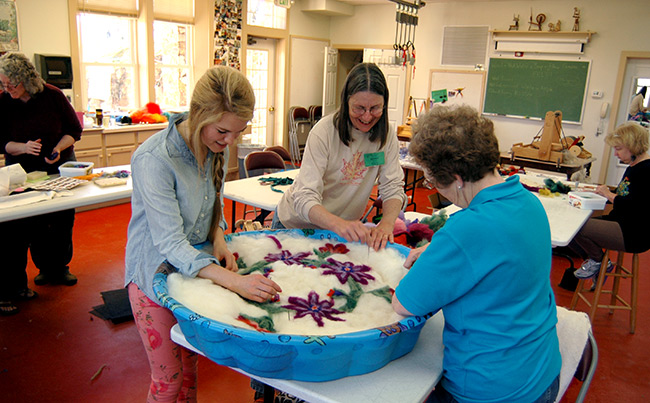 Felted Rug Class with Becky Walker in the Wet Room[/caption]
Felt is the oldest known fabric used by man. That stands to figure... felt is so easy to make, it was probably first discovered by accident. The recipe for felt, after all, is wool, moisture and agitation. Picture lining a sandal or shoe with raw wool to act as a cushion. Now picture walking around on that wool, smooshing it with every step, maybe sweating on it a bit to add the needed moisture. By the end of a long walk, you're not taking out bits of raw wool, but essentially a felted sock that fits your feet perfectly. While felting techniques have come a long way, that essential concept of felt making is still the same.
 I sat down to talk with Becky Walker about her adventures with felt making. You've seen Becky around the Folk School campus wearing a knit hat, sweater or socks, or maybe on the dance floor wearing her felted name tag. Wherever you may meet Becky, her enthusiasm for her passions – music, dance, good food, good friends, animals and fiber – becomes clear right away. Let's meet her.
[caption id="attachment_12657" align="alignright" width="208"]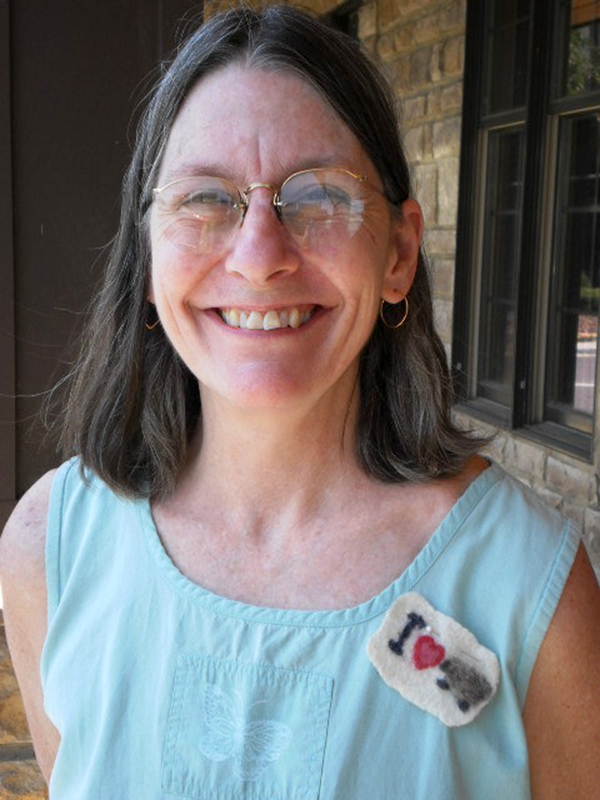 Becky and her felted name badge[/caption]
CC:
How did you first become interested in becoming a fiber artist?
BW:
Well, my mother taught me to knit when I was a real little kid, I was about seven. I've always loved animals, or anything with fur, anyway, and one thing lead to another. I've pretty much continued knitting through out my life so far. So I haven't knitted all my life yet (
she laughs
).
CC:
How did you discover the Folk School?
BW:
After I met Steve, my husband. He was a Folk School person and this was one of the first places we came. His son, Able lived over here, and he wanted me to meet Able and his mom. Of course we had to come dance because we were right here. Actually, I had encountered the Folk School in my early 20s in the book
Handicrafts of the Southern Highlands
. There was a chapter on the Folk School and I thought, "Wow, that seems like such a great place. I'd love to go there!" but didn't really think I ever would. So the fact that we came here right away was pretty neat, and I've been loving it ever since. It was a while before I got to take a class, so anyway, we'd come here to dance and see family.
CC:
What kind of fiber arts do you do?
[caption id="attachment_12666" align="alignright" width="217"]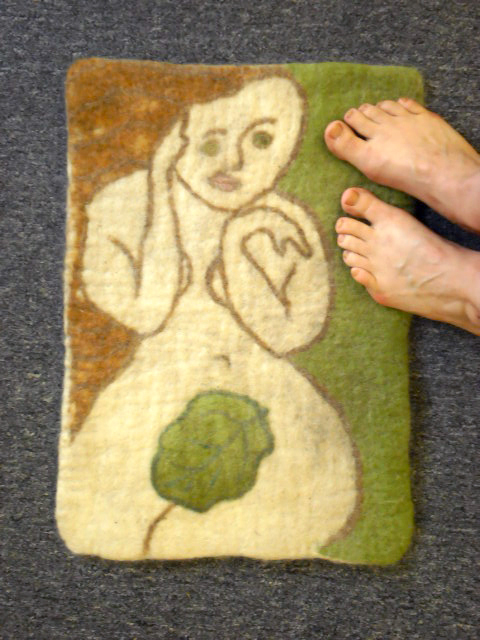 Felted Rug with Woman[/caption]
BW:
Well, felt making is what I've become known for and I dabble a little bit with spinning. I'm not very good, but I just need to sit down at my wheel and do it more.
CC:
Martha Owen, the Folk School Resident Artist in Knitting and Spinning, told me a story about teaching you to spin and you told her you might be more interested in felt making, right?
BW:
 I told her that I loved her, that I was interested in spinning, but I wasn't really ready to sit still yet. And so when I said that, she said "Well, you know, there's this thing called felt making and it's really active and I think you would like it. Carla is teaching a class here at the Folk School sometime coming up pretty soon and I think you should try that." So I did.