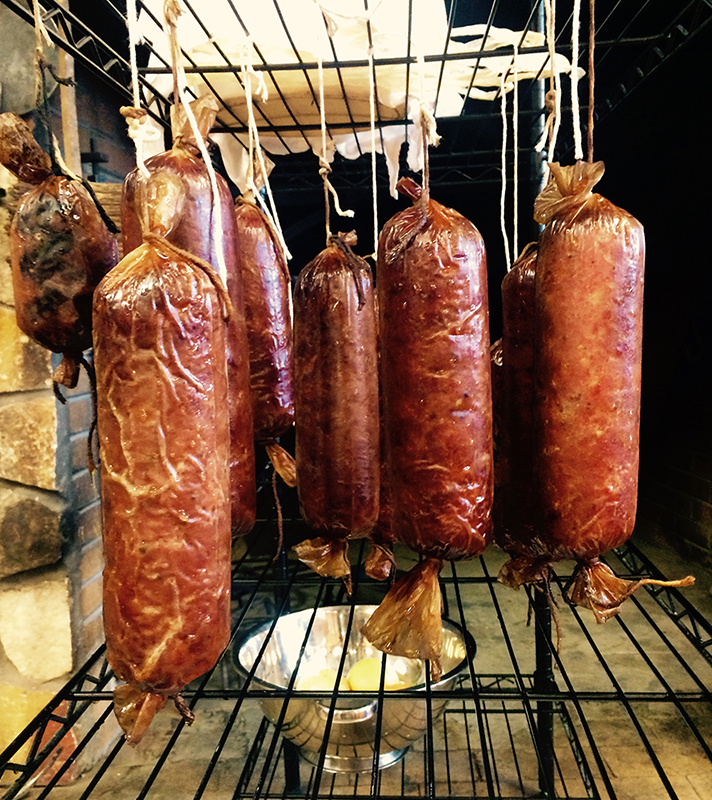 17 Feb

Charcuterie: The Art of Salting, Smoking, and Curing

Charcuterie, a French word stemming from the words chair 'flesh' and cuit 'cooked', is the branch of cooking devoted to the preparation and preservation of meat products, including sausage, bacon, ham, confit, and pâtés. Originally developed as a means of preservation, prior to the advent of refrigeration, charcuterie has made a resurgence in the local food movement as increasingly more craft eateries are offering local meat products on their carte du jour.

This course is instructed by Brian Knickrehm, Executive Sous chef for the Red Stag Grill at the Grand Bohemian Hotel in Asheville, North Carolina. Over the course of the week students learned the basic principles and techniques necessary to cure and smoke a variety of whole muscle meats and sausages, such as bacon cured in molasses and brown sugar, tasso ham, kielbasa, bratwurst, chaurice, bodin, Vienna, and blood sausage.
In addition to pork, the class also worked with local trout to make gravlax as well as duck in the production of cured and smoked duck breast bacon and duck leg confit. A variety of pâtés and liver mousses were also on the menu including a duck foie gras terrine.
The week's study in the kitchen culminated in a dinner on Thursday night. Those in attendance  were treated with a veritable smorgasbord of smoked, cured, and confit meats composed in a mouth watering arrangement.
One week is a good introduction to the vast collection of meat curing techniques and applications. Students the class departed with a great sense of possibility. Brian shared many sources for individual study in the production of dry cured meat products and fermented sausages, which take months to prepare.
The next Charcuterie class at the Folk School is scheduled for November 15-20, 2015. If you are interested in learning the art of artisan meat curing then this meat enthusiast suggests you consider this class for your next visit. Visit the Folk School website for more information.