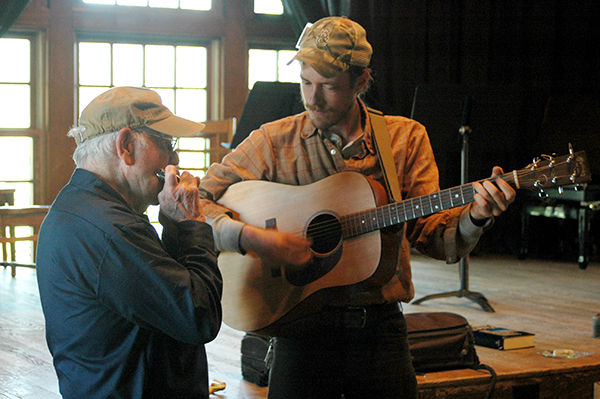 25 Mar

Two Corys on a Brasstown Porch

In the spring, the

Berea College Bluegrass Band

comes down from Kentucky to charm the Folk School Community with a Friday night concert and a jumpin' Saturday night dance. I had the opportunity to have a good porch sit with Cory Shenk, a former Work/Study,

Sticks in the Mud

Dancer, and former man-about-Brasstown. Cory left Brasstown to pursue his undergraduate degree at

Berea College

. He is a member of the Berea Bluegrass Ensemble who will be playing at the Folk School April 4.

CP: When were you a Work/Study?

CS: March 14 – May 15, 2010. I remember the date clearly because I recall being mesmerized by the St. Patrick's Day Party at the Murphy L & N Train Depot. Dale's imitation of a leprechaun trapped in a brown paper bag – I thought that was brilliant!

CP: What have you been up to since your W/S session?

CS:I am currently a student at Berea College. I have been there for three years pursuing my undergraduate degree. I've also done a bit of working and traveling. I went to Ireland and Japan with the Berea Bluegrass Band. For a while before I went to Berea, I was working with Meredith Dahle (former host) at Sugarboo Farms in Blairsville. That was great because I could still be involved at the Folk School.


CP: Berea was founded with similar principles as the Folk School. Can you make any comparisons?

CS: Every student at Berea must participate in the Work/Study program. Berea was founded in 1855 to serve the mountain folk of Appalachia, kinda of like how the Folk School was founded, even though the schools are quite different today. Also Berea was the first co-educational, interracial school in the South.

CP: Can you talk a little about being in the Berea College Bluegrass Ensemble?

CS: It's technically a class! We meet once a week to play together and we have gigs at universities, chapel services, dances, etc.

CP: Do you all play one instrument, or do you switch around?

CS: We mostly have one instrument we stick to, but we switch around depending on where talents lie within the group. Currently, I am playing the stand-up bass (the "doghouse bass" as Martin calls it). I also sing on some songs.

CP: Do you ever write your own songs?

CS: Yes – off and on since high school. I'm influenced a lot by old honky tonk music and by real life experiences which give me perspective and emotion and understanding to be able to write words. I really wanted to write songs people can two step to.

CP: What are you thankful for?

CS: Kitchens and Front Porches – a lot of really good moment have happened there. Those are places where community congregates and stuff happens.

CP: Picture you and your crush singing karaoke together – what song are you rocking?

CS: Jackson – June Carter and Johnny Cash

CP: What's your favorite place at the Folk School?

CS: Standing up by Orchard House and looking out over Paul's Shop. I've also had a lot of good memories at the Mill House campfire.

CP: What was your favorite Folk School Class?

CS: Blacksmithing with Robert Schulz. He was a former W/S and had founded the Driftless Folk School in Wisconsin. It was my first time Blacksmithing. Winter Dance Week was also awesome.

CP: What is your favorite Dining Hall meal?

CS: Bacon breakfast! Biscuits and Gravy too, but I'm a sucker for bacon.

—————————————————————————————-

Catch Cory and the Berea College Bluegrass Ensemble at the Folk School on Friday, April 4 at 7 p.m. for a free concert in the Keith House Community Room. Saturday, April 8 they are playing the Contra & Square Dance from 8-11 p.m. with Bob Dalsemer calling.

The Berea College Bluegrass Ensemble was founded in the fall of 1999 to give Berea College students with background or potential in bluegrass music an opportunity to play in a "working" bluegrass band with weekly rehearsals, performances, travel, etc. Members are selected by audition, and typically remain with the group until they graduate from Berea College. Members also earn academic credit for each semester of participation in the group. The ensemble is directed by Al White, formerly a member of the Bluegrass Alliance and the McLain Family Band.