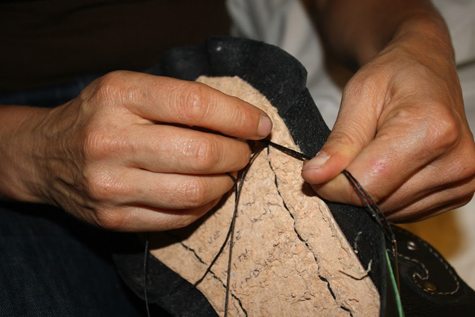 26 Nov

Brooklyn to Brasstown: 800 Miles and as Many Insights

This fall I made my second visit to the Folk School. On my first visit in 2011 I came alone and took a hand-building clay class. Most of my friends back in New York were supportive, but perplexed as to why I wanted to travel so far to do something I could do fairly easily back home. What I tried to communicate to them was that I wasn't going just for the class. I was going for the environment, for the community, and most importantly for the opportunity to see what it was like to be surrounded by other people who value personal growth, education, history and handmade goods.

Despite being a bit of an anomaly (I skewed young compared to many of the other students, and I was one of only two New Yorkers), I was welcomed with enthusiasm. I wanted to take part in everything: morning walks, morning songs, dances, and demonstrations. I attended them with the interest of someone to whom all of these events were completely out of the ordinary. It was a bit like being in an alternate universe – here were people telling stories (people still do that?) and dancing (where did they learn the steps?) and making beautiful things (where do they find the time?). This was the opposite of my life in New York, where I move with a restless energy and am constantly trying to carve out time for nourishing activities. At the Folk School I felt motivated but not rushed, excited but not overwhelmed. It was a unique feeling and I wanted it to last.

When I returned home I found I couldn't stop talking about my time at the Folk School. While friends and family were interested and supportive, the fact remained I couldn't pick them up and take them there. I realized quickly that for them to to really understand my experience they would have to go themselves- which was a long shot. A long shot until the catalog arrived!

I had the catalog out on the coffee table and when Briana picked it up I encouraged her to see if she could find a class she liked. Nothing sparked her interest until she came across the Shoe Making class. Within minutes of reading the description we were making plans to get out to the Folk School together. I was so excited to be returning, and doubly excited that I would actually have someone to share the experience with me.

We drove down from New York in late September. This time, I had someone who could share the transformative experience of being at the Folk School. I didn't know if Briana would be as moved or as excited as I had been on my first visit, and I was a little afraid that bringing her all this way might prove disappointing. As we made our way to our different classes (she to Shoe Making and me to Woodturning) I admit I was a little nervous. Luckily, both of our classes were exactly what we wanted and Briana was charmed.

One day in Shoe Making class something happened that struck a chord with her. A classmate had brought some decorative supplies from home to try to work into a shoe design. One of these supplies were a handful of '22 shells that might work as grommets. Briana's classmate offered her some and they began brainstorming how to make it work. There were some obstacles to overcome including size and shape as well as the fact that they weren't meant to be used in this way. One by one everyone in the class started to pitch in to help make it work. Ideas were tried, suggestions and alterations put forth. Even the folks next door in the Windsor Chair making class chimed in and offered up some of their tools in case that would help. Everyone pitched in with the spirit of helpfulness that we later decided epitomized our experience of the Folk School. Briana told me she couldn't believe that no one gave up the project as a lost cause. No one was daunted. No one was going to give up until all creative solutions and possibilities had been tried. Talking over this experience we compared this attitude to what we were used to in New York. We are used to challenges in New York, but the pace there is so fast we often don't have the luxury of time to meet each challenge with so much openness and collaboration.

This realization had a profound effect on both of us, and we returned home changed. We had been exposed to a different way of moving through the world and we felt the loss of it as we got closer and closer to Brooklyn. Our trip to the Folk School had ignited a yearning in us that we are still wrestling with. How do we bring that Folk School ethos and energy home? And if we can't bring it home, how can we finagle more frequent visits to fill up on enough of it to last us the whole year through?