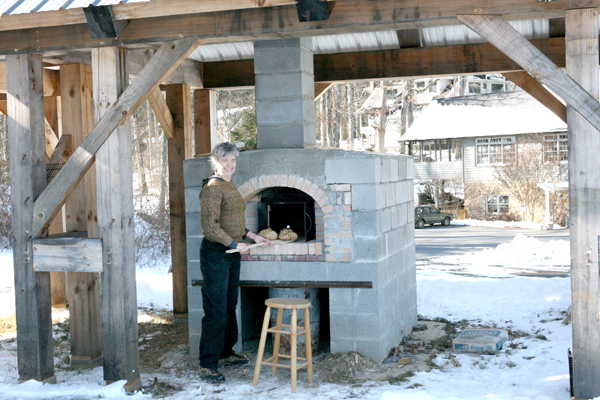 09 Feb

Outdoor Brick Oven in Use!

The outdoor brick oven has taken a long time to get from idea to reality, but becoming part of the cooking program happened fast! The oven was built in the spring of 2009 by a class of enthusiastic students headed by John Steely and Mary Daschiell. In August that year, a magnificent timber frame shelter was erected by local builder John Campbell (that's his real name) and a crew of volunteers. Our Buildings and Grounds crew fitted the finish work and the chimney building into their demanding schedule while Buildings and Grounds manager, John Clarke, made steel oven doors in the blacksmith shop. The curing was done just in time for the holidays and all the winter weather you could ever want.

With a full slate of bread-making classes coming up, we fired and tested the oven the week of January 12 and first time was a charm! The big sourdough loaves baked beautifully and Emily Buehler's Science of Bread class moved right in, with her able assistant Bryan leading, to boost production. The class experienced the wonderful effect of wood fire and brick on bread dough. Patryk Battle's Artisan Bread Baking class has since enjoyed the oven, and will be glad when the area is leveled, graveled and grassed. There's still plenty of clean up and landscaping to do, and the oven itself is a work in progress, as local craftsmen and future classes add rock facing and embellishments.

Inside the cooking studio, a new wall oven has replaced the one that couldn't hold an even temperature. The new one has performed beautifully and our fine baking classes will appreciate the predictability. With a newly painted floor and nice new plumbing fixtures, why did we let animals into the studio? We always keep them out, but Rob Withrow and Carla collaborated on new utensil jars for the work stations. Rob, famous local potter and Folk School instructor, provided the expertise, throwing, glazing and firing the basic jars, while Carla had the fun of turning them into animals that add personality to the studio.

What a great start to 2011!