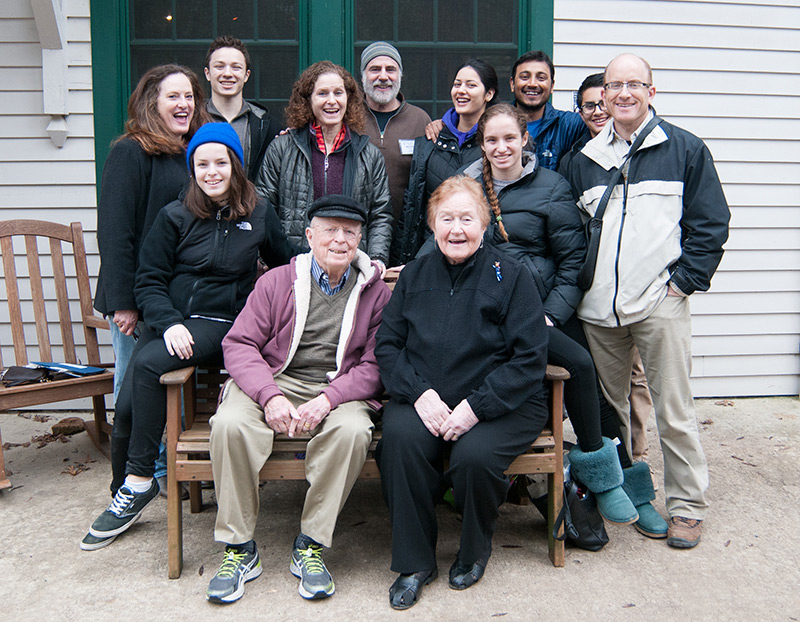 The Folk School recently had a very special group visit. To celebrate their 60th Wedding Anniversary, Dr. Fred and Mrs. Martha U. Goldner of Nashville, TN, decided to return to the Folk School and this time they brought their family and several friends to join in the fun! [caption id="attachment_12838" align="aligncenter" width="600"]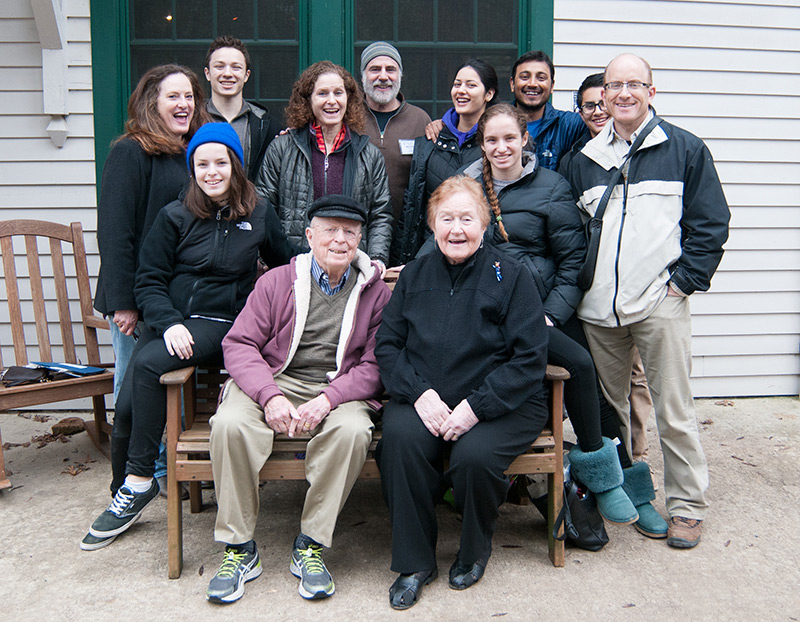 (Front Row) Dr. Fred & Mrs. Martha U. Goldner (Second Row L. to R.) Hannah Niederman, Francie Niederman, Natalie Niederman, Fredjoseph Goldner, (Third Row L. to R.) Cynthia Goldner, Aaron Niederman, Michael Niederman, Sana Singh, Prash Singh, and Julian Goldner.[/caption] [caption id="attachment_12848" align="alignright" width="244"]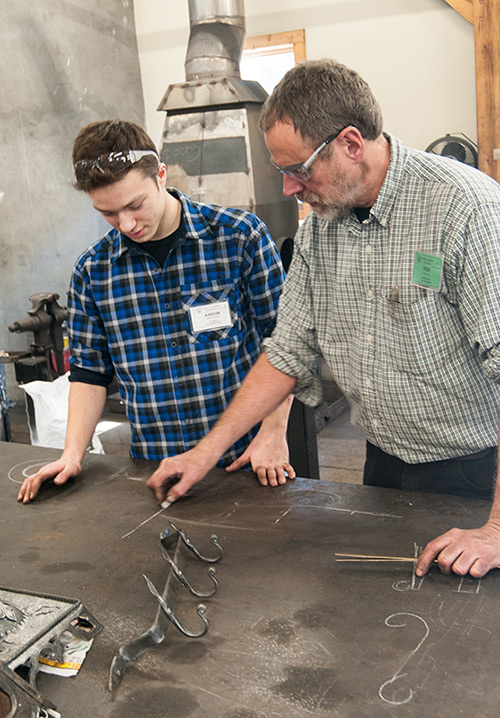 Aaron Niederman plans his Blacksmithing project with instructor Ron Nichols.[/caption]
While Fred & Martha toasted their 60th, one of their two daughters, Francie Niederman, of Skokie, IL, also celebrated her 20th anniversary with her husband Michael. Three generations of family members and their friends came to the Folk School to take a variety of Weekend classes including: Blacksmithing, Jewelry, Enameling, Drawing, Woodturning, and Woodworking. 
Creativity seems to run 
in the family. Their daughter, Cynthia, promotes her innovative art at Makin Time Clocks and their grandson, Julian, was a Silver Medalist in the most recent Scholastic Art Awards Competition.
Seeing them in the studio, at our family-style meals in the Dining Hall, and at Show and Tell was delightful. They made it look like the most incredible family vacation ever. I talked with Martha about her Folk School experience and what it was like to have her family congregate in Brasstown for this very special occasion:
CP:
Congratulations once again on your anniversary! Was this your first trip to the Folk School?
MG:
Fred and I had a previous experience at JCCFS around the same time of year in 2011. We took Bistro Cooking and Fiber Arts & Knitting. [caption id="attachment_12840" align="alignleft" width="286"]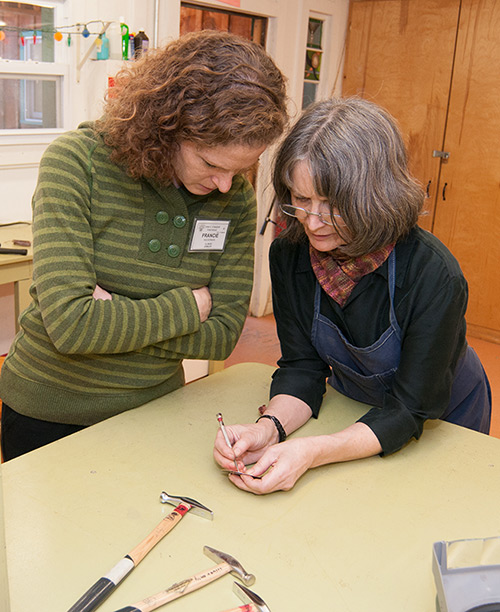 Francie learns a jewelry technique from Kay Patterson.[/caption]
CP: 
What made you decide to pick the Folk School as a destination for your anniversary celebration?
MG:
We identified our anniversary celebration with family. A weekend of the exact dates was in the catalogue and it was a perfect place away from everyone's usual environment. A place of unknown demands on them, yet programmed for each one to be surprised and inspired.
CP: 
How many of your family members congregated at the Folk School? Who came from the furthest destination?
MG:
Of the twelve members there were three couples. Our son came from San Jose, Costa Rica.
CP:
 How did you decide what classes to take?
MG:
When the idea was hatched we distributed the outline and description of what was available so they quickly made choices before the classes filled up.