25 Aug

Strap In & Jam Out! Art & Leatherwork with Angelina Elise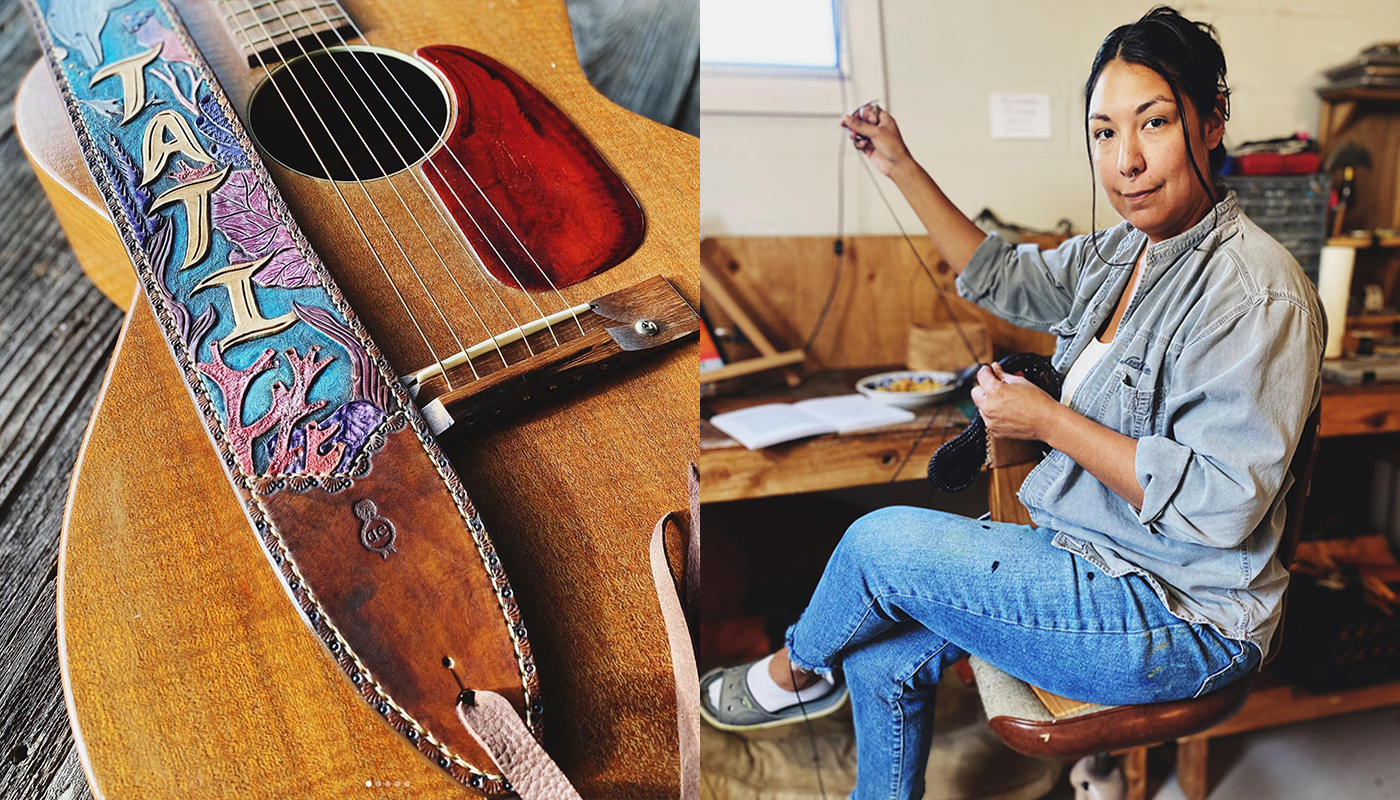 Angelina Elise is an incredible leatherworker, artist, longtime pal and she is teaching this year at the Folk School! I know Angel from the Los Angeles old time community and have always been inspired by her art, design, and leatherwork. She will be teaching the leather part of a multi-studio class, Strap in and Jam Out!, November 29–December 2, 2023. Don't miss this opportunity to spend our Long Weekend crafting a strap for your instrument and honing your jamming skills on your instrument. In the meantime, enjoy our interview!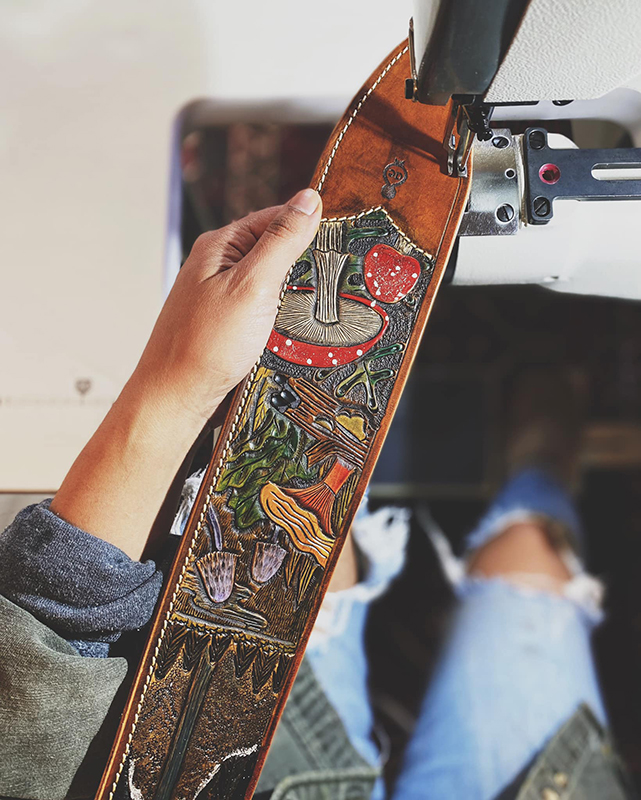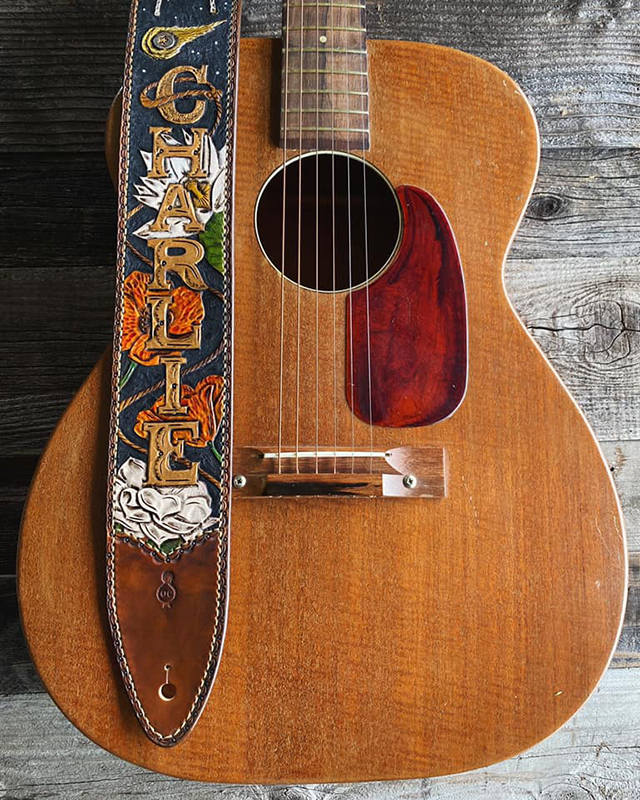 Cory Podielski: How would you describe what you make?
Angelina Elise: I create art inspired by traditional forms of music and my own personal feelings about relationships and the world. Some of that art has found its way on leather instrument straps over the years for folks. I think my passion is visual elements and having a good sense of humor with art. Or it could be just trying to convey a deep emotion. I think I'm still figuring it out myself!
CP: What is meaningful to you about leatherwork?
AE: It's been a journey figuring out how I fit in as an artist and leatherworker, as well as what I could offer the artworld with my work. After 10 years, I don't think I'm at the end of the road, or any closer to the expanse of knowledge out there, but completing a strap I've worked on with a client, and to be able to deliver a work of wearable art that will last a lifetime…  well, much like music or dance, you can create art alone, but sometimes it's a gift to collaborate with another human.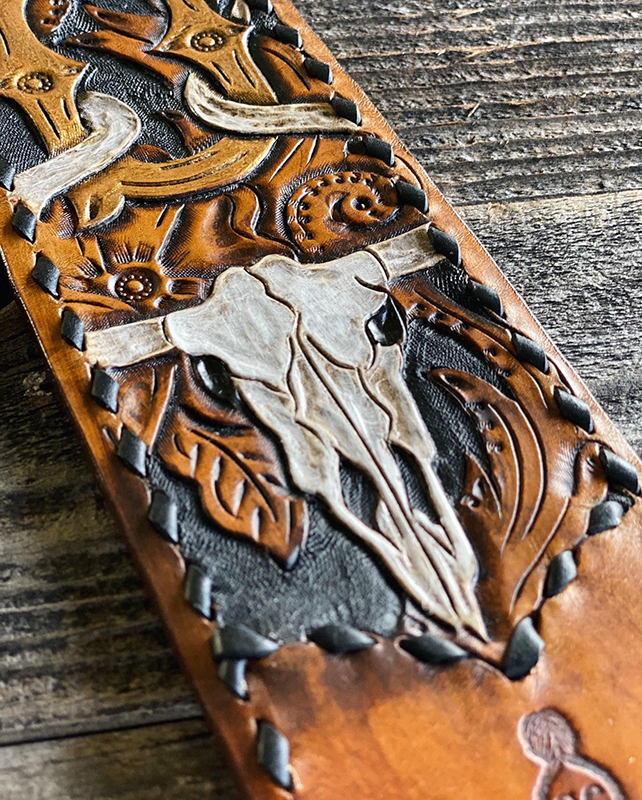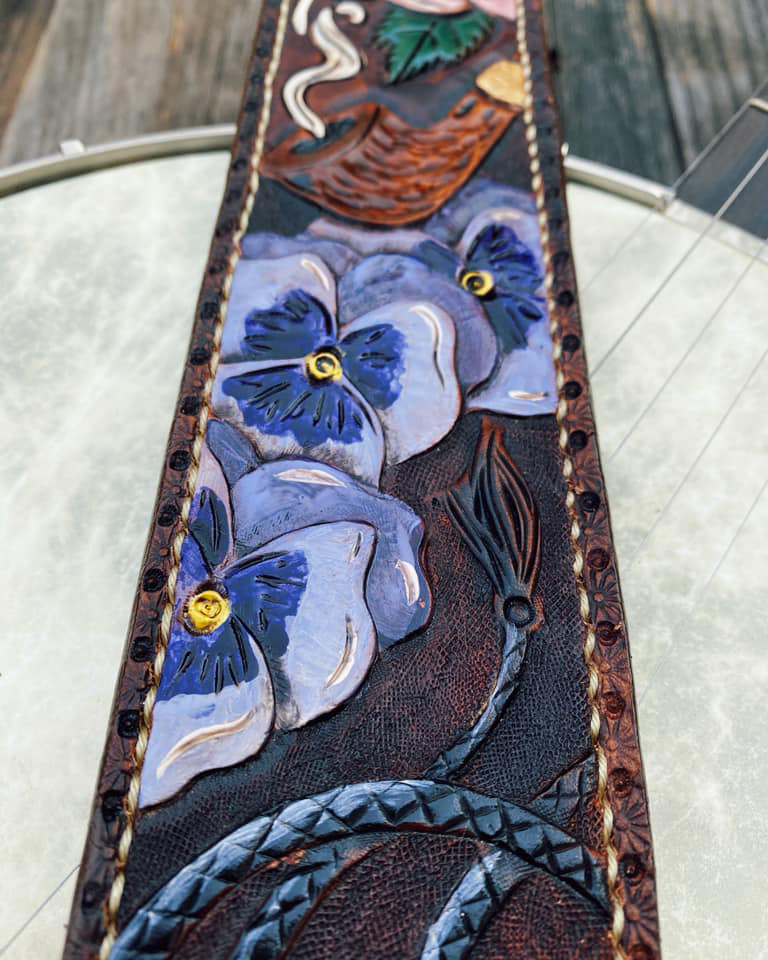 CP: Where are you from and where do you live now?

AE: I'm originally from Long Beach, CA but now live in the Seattle area. This too has been a journey having just moved up at the end of 2019. It's been a bit lonely after coming from a close old time community and friend group in LA but I'm making my way and have found art friends and a small dance community here.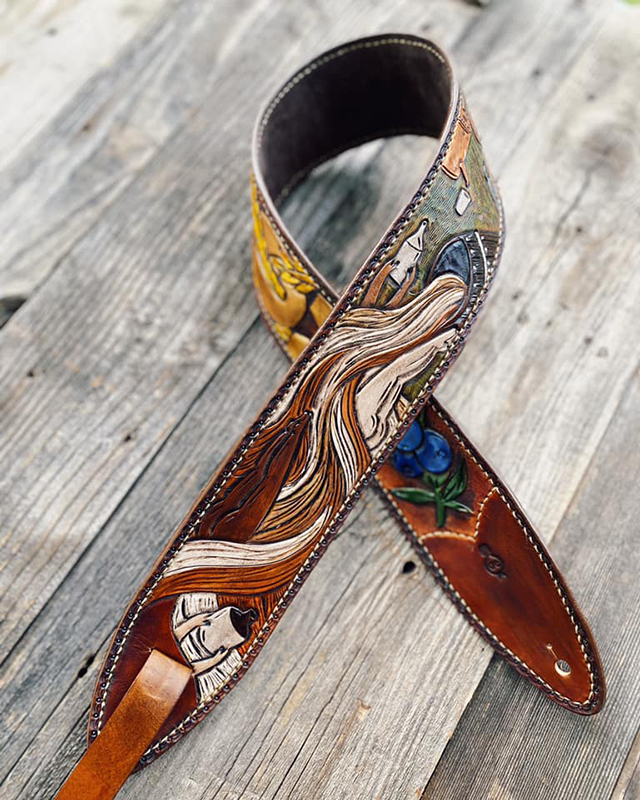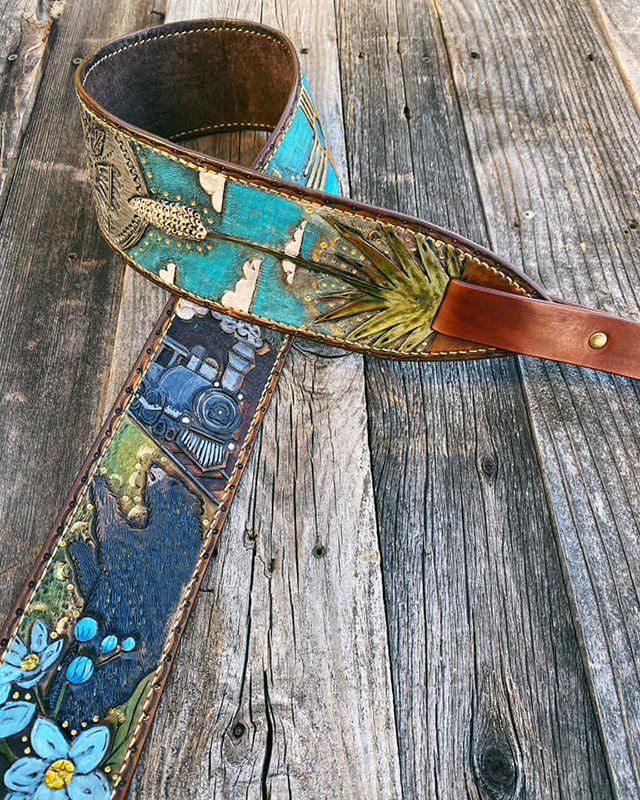 CP: What is the inspiration behind Howdy!Handmade? Why did you decide to focus on kitchen-centric leather goods?
AE: I've been making leather skillet handles for cast iron skillets since I started doing leather work back in 2013 for friends and family who wanted them. In 2021 I decided to try to make a business with it. Here in the PNW people love handmade small batch items and it sorta took off from there. I'm now busy with vending at farmers markets on the weekends but enjoy when someone reaches out for a custom strap because it feeds my creative art brain a bit more than what I offer for the Howdy!Handmade items. I'm hoping to add a bit more creative kitchen items soon though.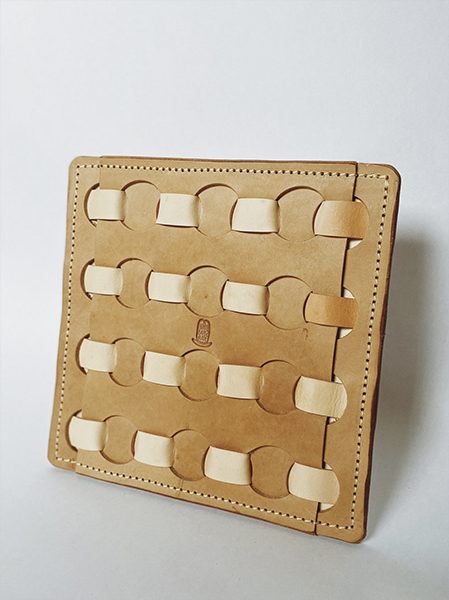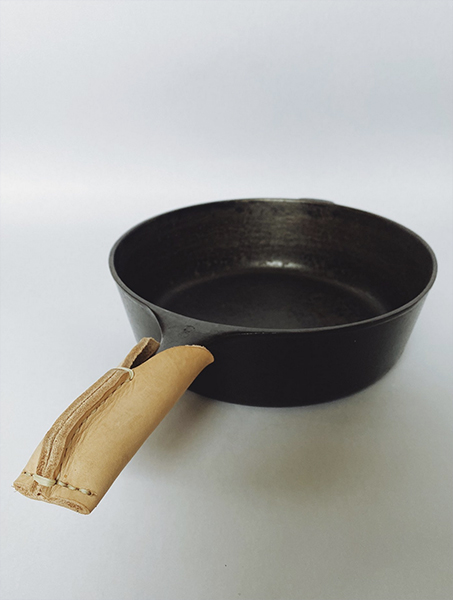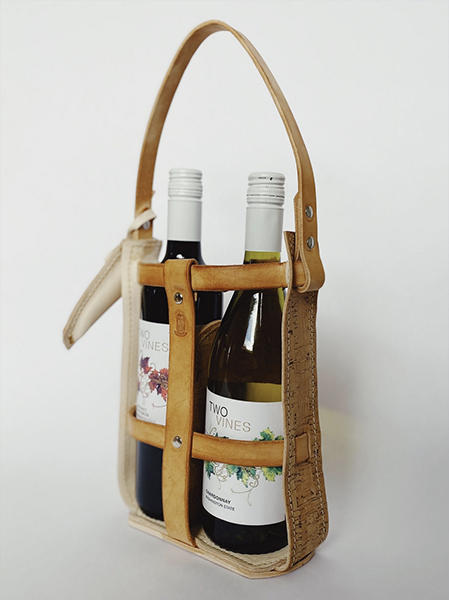 CP: What are some of your favorite motifs?
AE: I still blush when people remind me of the naked whiskey women and corn cobbed men work I've drawn over the years. Moving to a lush green place I have noticed I've been incorporating more mushrooms, and flora into my drawings. But also Cajun culture has found its way into my work the past couple of years.
CP: Who are some musicians that you've been really excited to make straps for?
AE: Oh this is a hard one! I'm always honored when anyone likes my work enough to want a custom strap and over the years I've made plenty for professional musicians to the home player. I think because I'm not a strong musician I'm always in awe of all the talented folks I get to see and chat with.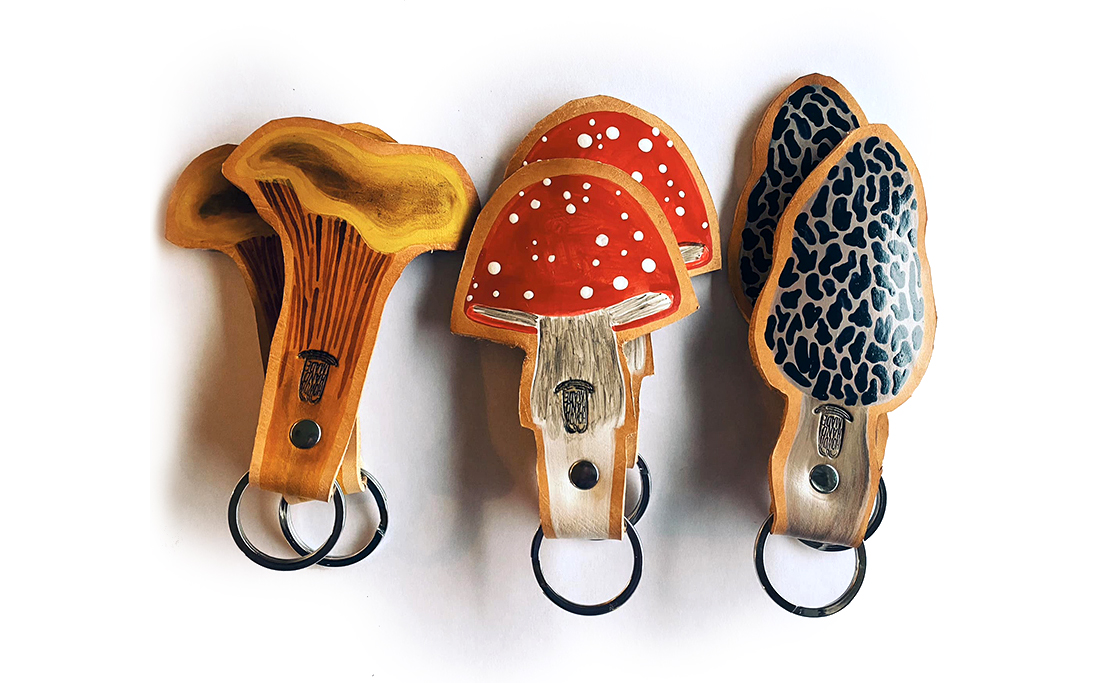 CP: Do you have any rituals or practices?
AE: I try to focus the early part of the morning to getting work done in my studio. I write lists for myself so I can focus during the week otherwise I can get sidetracked with doing the dishes or other distracting tasks that can be done later. Working from home is a luxury and I try not to take it for granted.
CP: What can students expect during Strap In and Jam Out, the upcoming class you are teaching with Ben Townsend?

AE: I'd like for people to enjoy their time with us and to leave happy with an instrument strap and maybe a few new tunes from Ben.
CP: What are you looking forward to the most with co-teaching with Ben at the Folk School?
AE: I've known Ben for years and he's always been a patient person and really loves to share his knowledge of music with people.
CP: Your class is listed as "intermediate." Does this apply only to music playing, or do you also need previous leatherworking skills? Who is the ideal student for this class?
AE: Oh I didn't know that! Maybe we can change it for leatherwork because you don't need any previous skills. I will be teaching super basic skills and simple strap techniques but if there are people who are a little farther along that is also ok. Time is limited and it's all in the prep work for leatherwork. My goal is for students to leave with a completed strap.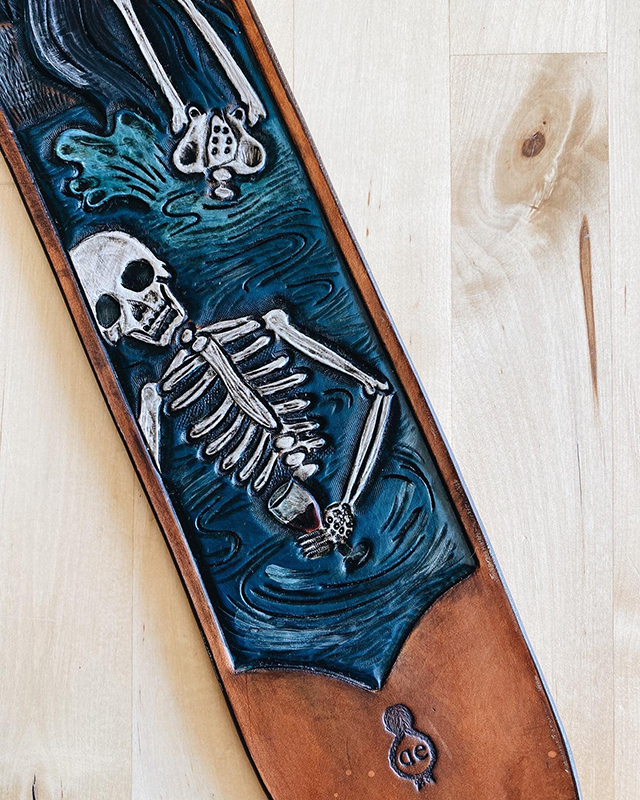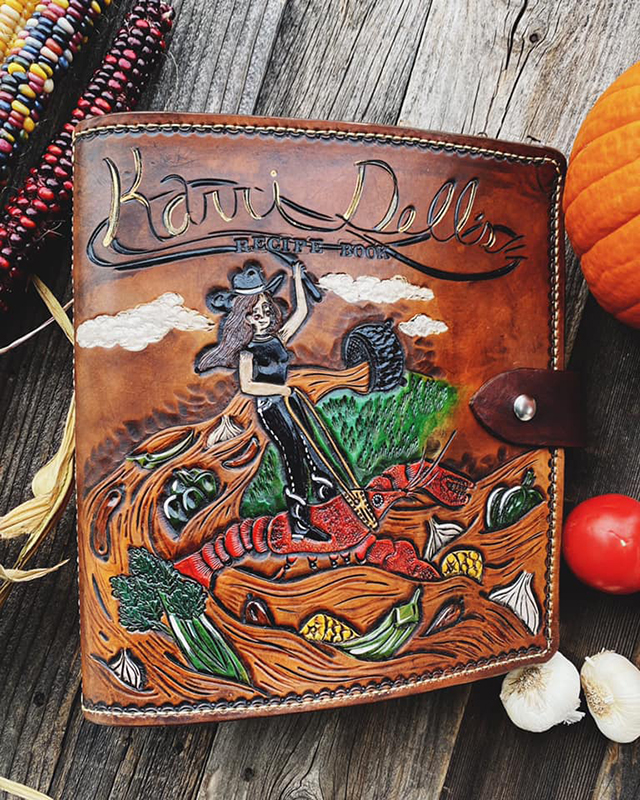 CP: How did you become involved in the old time music community?
AE: The old time community found me back in Los Angeles in 2008 when I had a night at The Hyperion Tavern. I fell in love with the music and more so these people that hangout, camped, cooked food, danced and played. Since LA and moving to the PNW, my musical community has grown even expanding to music and dance camps in Louisiana. There's real magic when you find folks who enjoy what you enjoy.
CP: What musical instruments do you play? What are your favorite instruments or styles of music?
AE: I play a little guitar and I enjoy sitting around a kitchen table song swapping. Again I'm not the strongest player and it's always a treat when folks wanna play with me. I enjoy dancing too, much more these days, from squares, to cajun and zydeco to country and honky tonk. I love it all!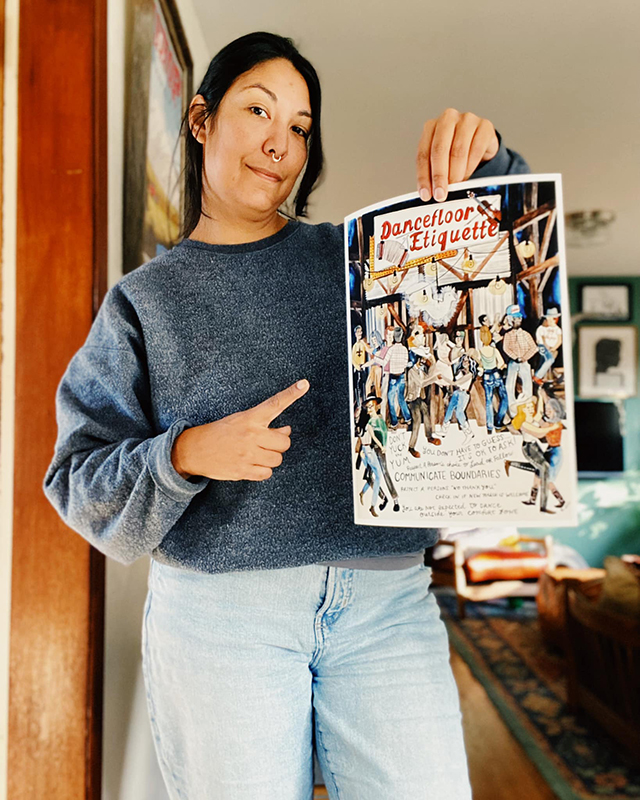 Angel's beautifully illustrated "Dance Etiquette" poster can be seen in our Community Room.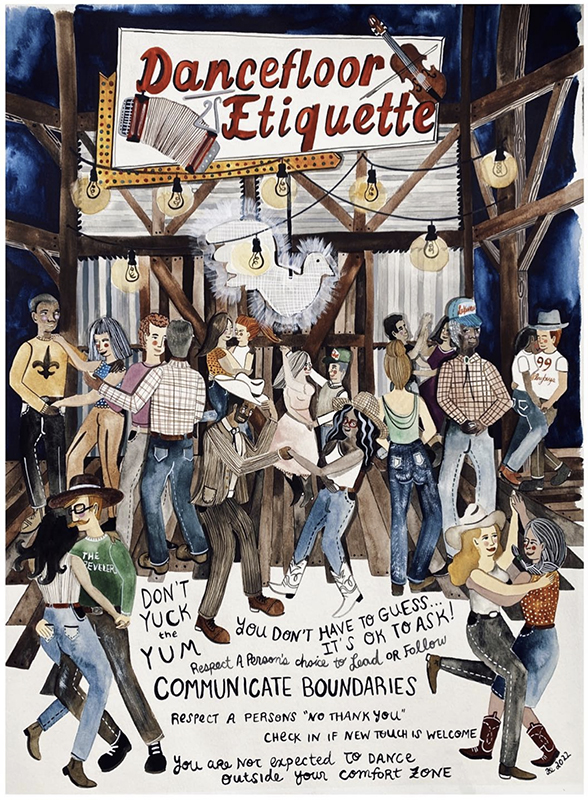 November 29–December 2, 2023 (Long Weekend + Multi-studio)
Instructors: Angelina Elise & Ben Townsend
In the leather studio, create an instrument strap of your choice for your guitar, banjo, ukulele, mandolin, or accordion. Learn basic tooling techniques and create a unique design for your pre-cut straps. In the music studio, dive into playing music with others: jamming, duets and trios, bands, and playing for dances or concerts. We'll also explore the fundamentals, etiquette, and theory of playing together. Banjo, fiddle, guitar, bass, and mandolin are all welcome!