08 Aug

Meet Barbie White, Our New Development Manager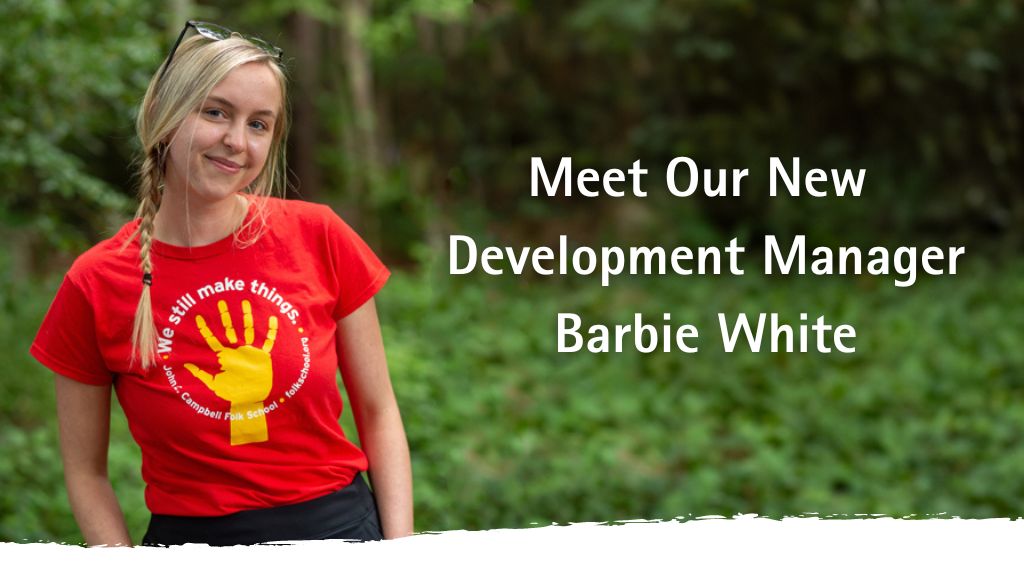 At the Folk School, we rely on your support to provide enlivening experiences for generations to come. Financial contributions from generous donors like you help to maintain and equip studios, support our robust programs, and enable scholarships for those otherwise unable to attend our magical campus.
Our Development Department works tirelessly to make sure your donation goes far, and we're thrilled to introduce you to the newest member of the team! Meet our new Development Manager, Barbie White. She's been part of the Folk School family since 2020, starting as our Outreach Coordinator before stepping into this new role. As Development Manager, Barbie will assist in fundraising efforts and continue to manage our scholarship program.
In our interview below, learn more about Barbie, her favorite aspects of the Folk School, and how a single donation from someone like you "can make such an impact on a studio, event, or campus initiative."
JCCFS: Tell us a little bit about yourself. Where did you grow up, and what led you to the Folk School?
BW: Hi! I'm Barbie, new Development Manager here. I've been at the Folk School since January 2020. I previously worked in Marketing as Outreach Coordinator, representing the Folk School at craft shows, community events, writing for our blog, or toting around with a camera. I grew up in Murphy, just up the road from Brasstown, and lived here the majority of my life until I left one mountain town for another (Boone, North Carolina). I found my way back home a few years later. This region is the perfect spot for hiking, camping, swimming, and outdoor exploring, which are some of my favorite things to do.
Growing up here, I always viewed the Folk School as a community resource, one of those special things you get to say "Hey! That's in my hometown!" about. My first exposure to the Folk School was attending Fall Festival. I have such great memories of the music, food, art, and the scenic fall background. I was drawn to the Folk School because I was curious about it. I had been a visitor, but never the one making. I wanted to be able to explore that creative side of myself we don't get to tap in to often as adults. There's so much abundance in this place, and I wanted people that live locally to know there are creative spaces and resources in your own backyard to take advantage of. You don't have to travel far!
JCCFS: What makes the Folk School a special place for you?
BW: I think what I love the most about the Folk School is it's a hub for building community. It's really special to see the ways people can connect here, whether that's by jamming together, eating together, working in the studios, and attending events. You'll never meet a stranger. It really is true what people say about Folk School magic, but if you really want to know the secret of the magic in my opinion, it's the people.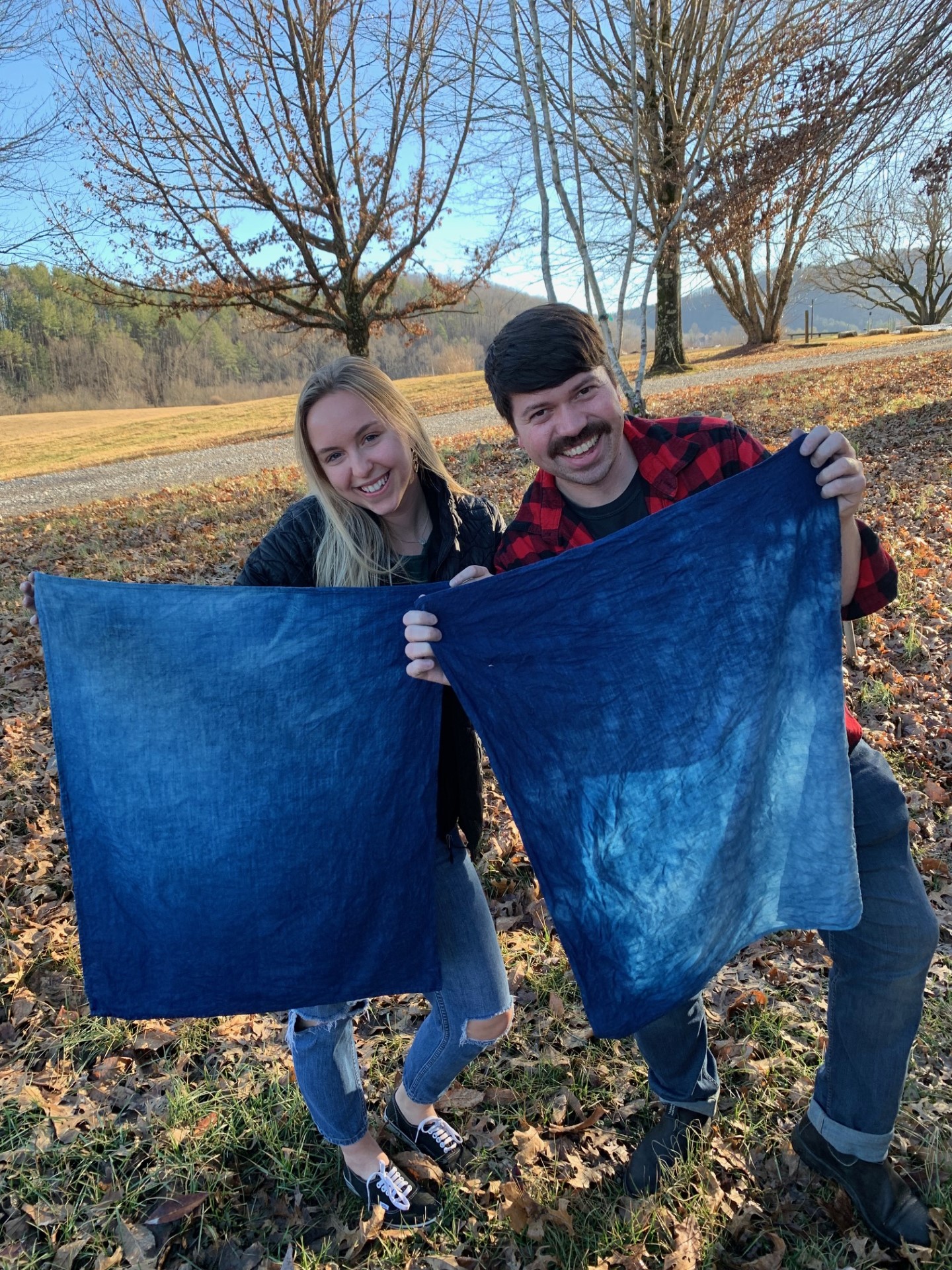 Barbie and Robert dying with indigio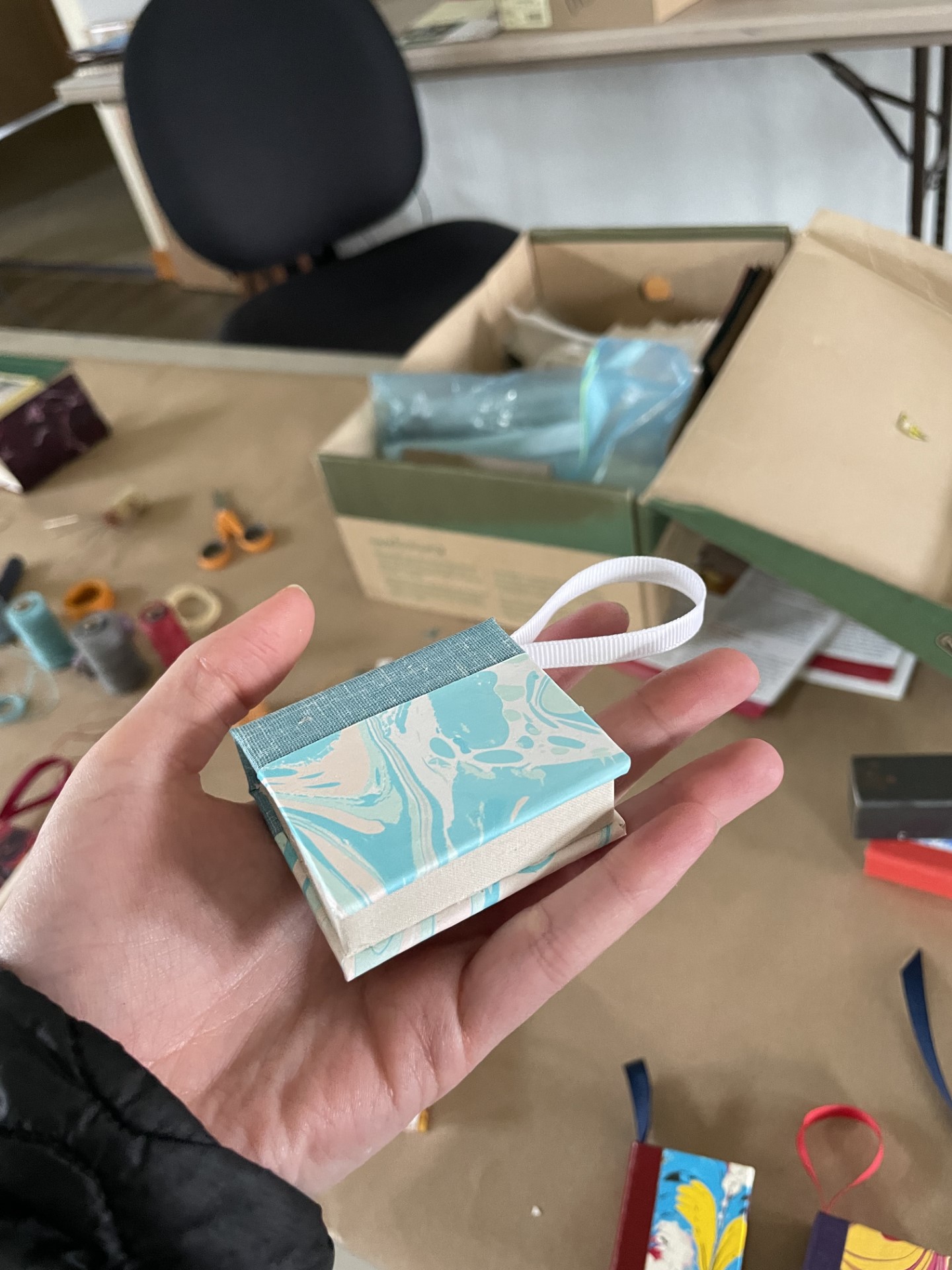 From one of Barbie's bookmaking classes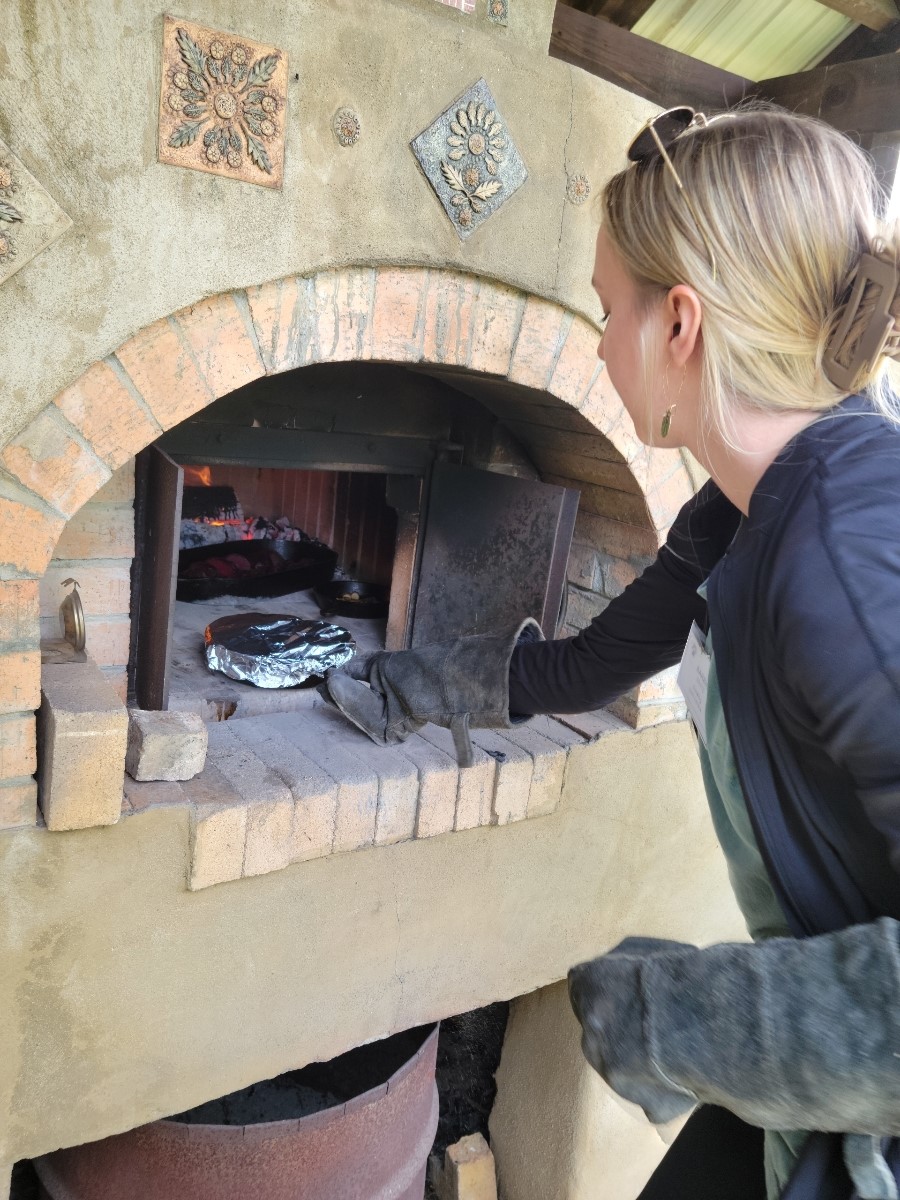 Barbie pulling a fresh dish out of the brick oven!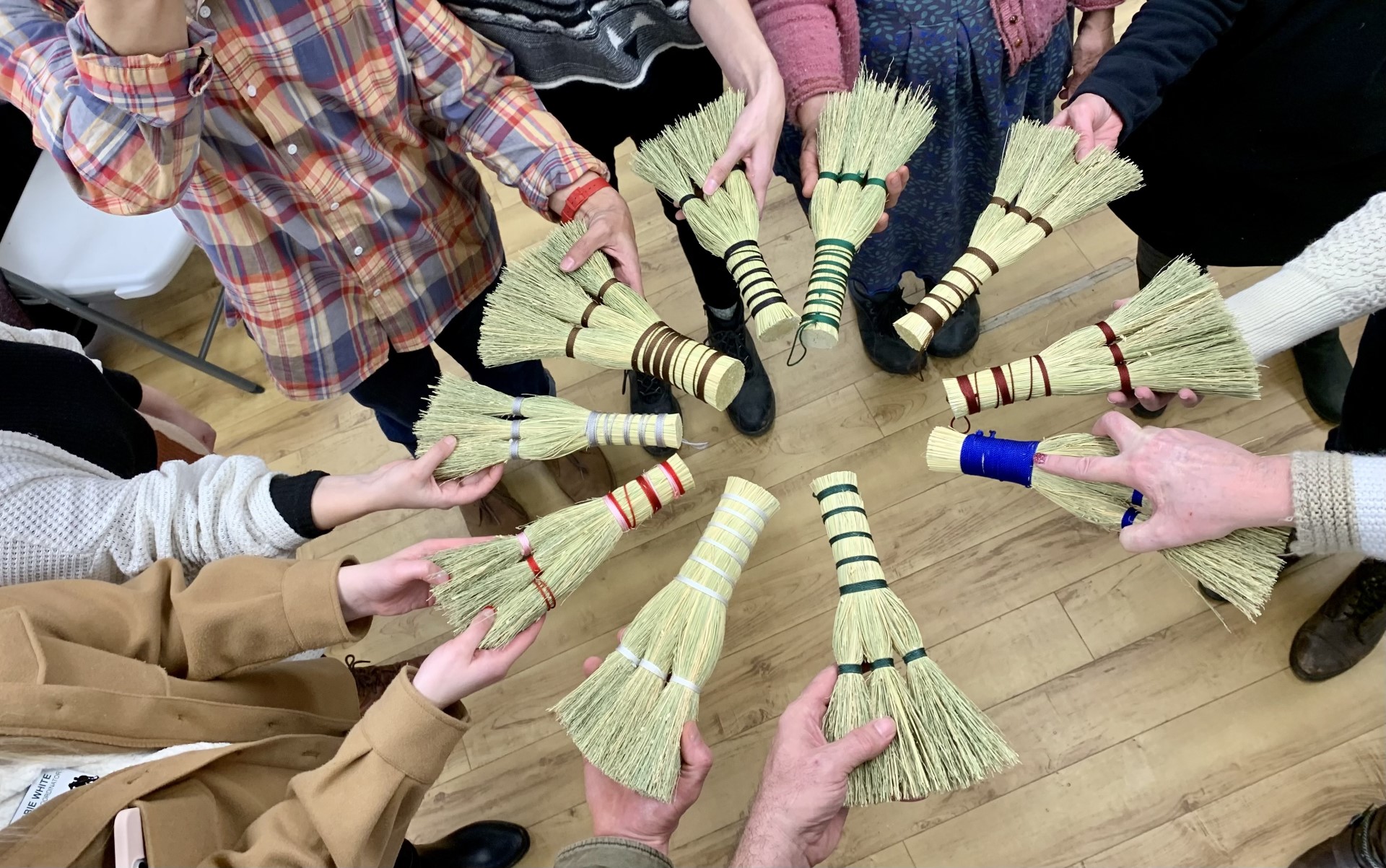 Making brooms during our staff retreat
JCCFS: You've taken quite a few classes over the years! What are some of the highlights?
BW: Yes! When people ask, I like to tell them I'm an expert dabbler. I've taken photography, book arts, marbling, cooking, and nature studies classes, and been able to take some smaller scale workshops too in broommaking, dyeing, painting, mixed media… The list goes on!
A special highlight was my last class, "Cooking with Wild Foods" with Cara-Lee Langston and Linda Chapley. Those two really made the classroom environment so fun, welcoming, and light-hearted. From scenic nature walks and foraging in the morning to ending the day with a full spread of food and desserts, it was the perfect blend of things I love the most.
Something I love about this place is there's no such thing as "good art" and "bad art." Everything you make is awesome because you're the one who made it. It can feel intimidating to be a beginner, but the Folk School is special because most classes are geared towards folks of all skill levels. So, you're learning from students who are professionals, masters in their craft, someone brand new to the studio (me, most times!), and the students who fall somewhere in between. The blend is really transformative, and it can be hard to find that type of environment in other places.
JCCFS: Can you tell us about how important it is to support the Folk School? What are some ways people can help?
BW: The Folk School is a non-profit, so we rely on support from our community of instructors, students, visitors, and staff to help make this place what it is. Just one person can make such an impact on a studio, event, or campus initiative. Supporting the school really is integral to keeping our mission alive, allowing us to share craft traditions across generations. We're extremely grateful for the generous support that allows us to continue to make improvements or revamp things when we have the opportunity.
There are more ways to donate than that, though. I think one of the most valuable resources someone can contribute is their time. Our volunteers make it possible for us to host Fall Festival or other seasonal events, and the makers who graciously donate materials to our studios allow us to provide an abundance of resources to our students.
JCCFS: Tell us about some new and exciting initiatives in the fundraising realm!
BW: I'm excited for the revamp of our Fund-A-Need site. Through Fund-A-Need, anyone interested in supporting the Folk School can find pages specific to studios on campus. You're able to see what items we're fundraising for and hear stories about how we were impacted by a donor's generosity. It's a really cool way for people to stay connected on how they can support their studios in real-time. It also makes it easy to donate to our scholarship program, since each studio page will have a button to give.
We also have an unrestricted giving form, which basically is a catch-all if you are just looking to support the school without a restriction. Fund-A-Need also has a new feature where you can set up recurring gifts, so it saves supporters time by allowing you to commit to donating once a year, quarterly, monthly, whatever timeline works best for your schedule.
Photos that Barbie took during her Introduction to Photography class with Warren Berry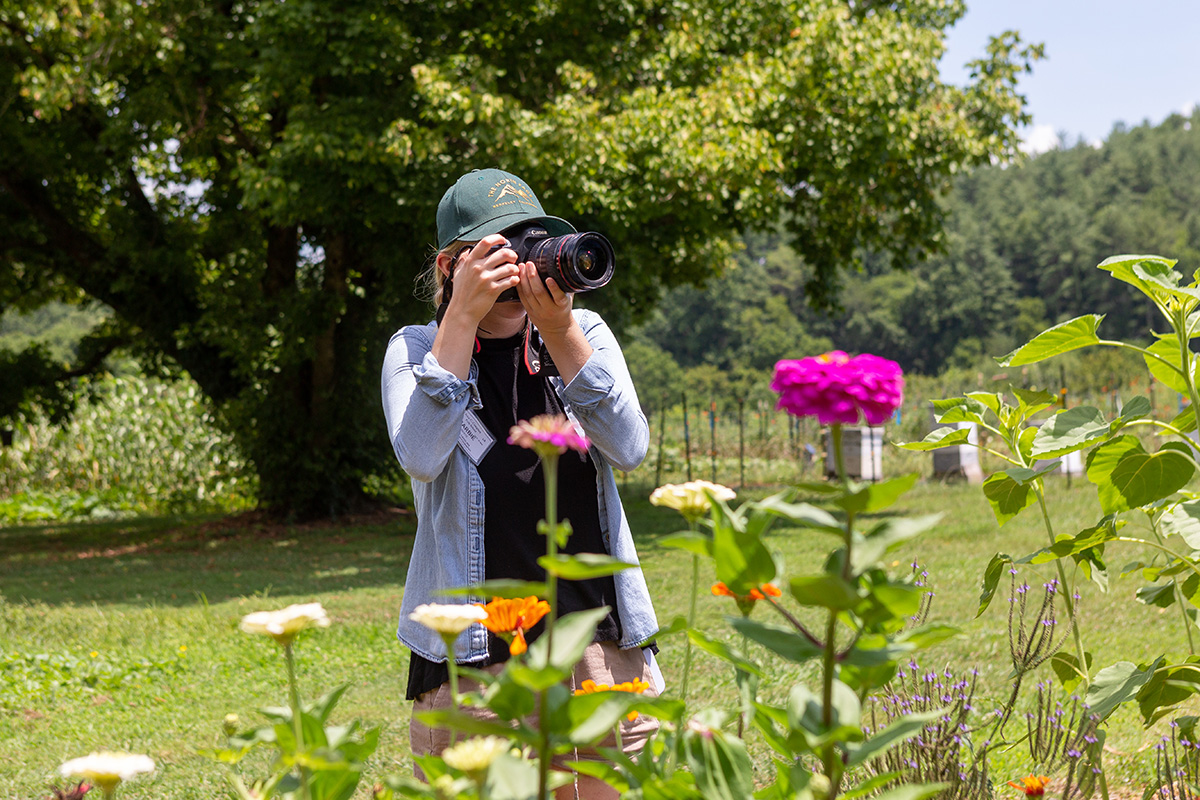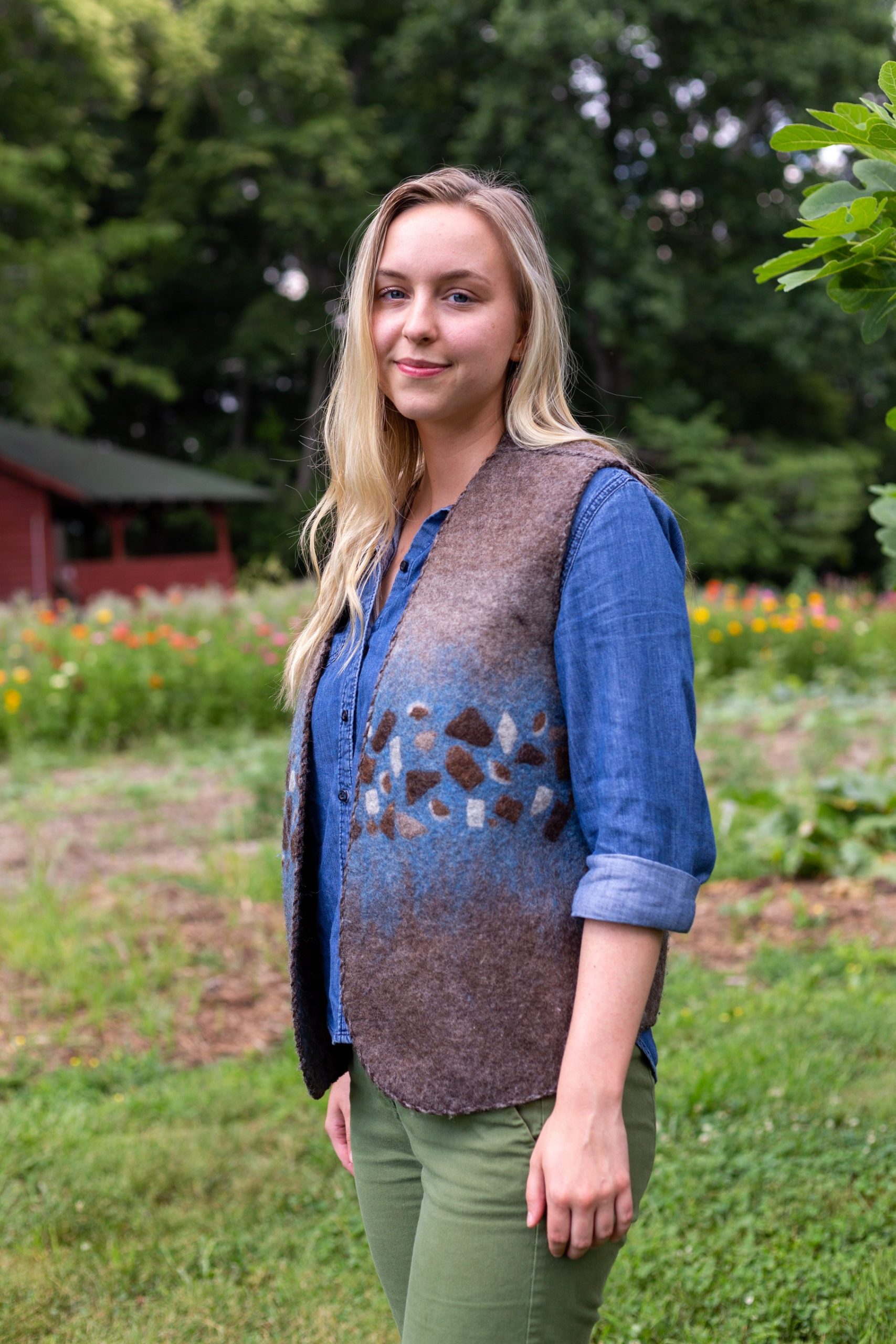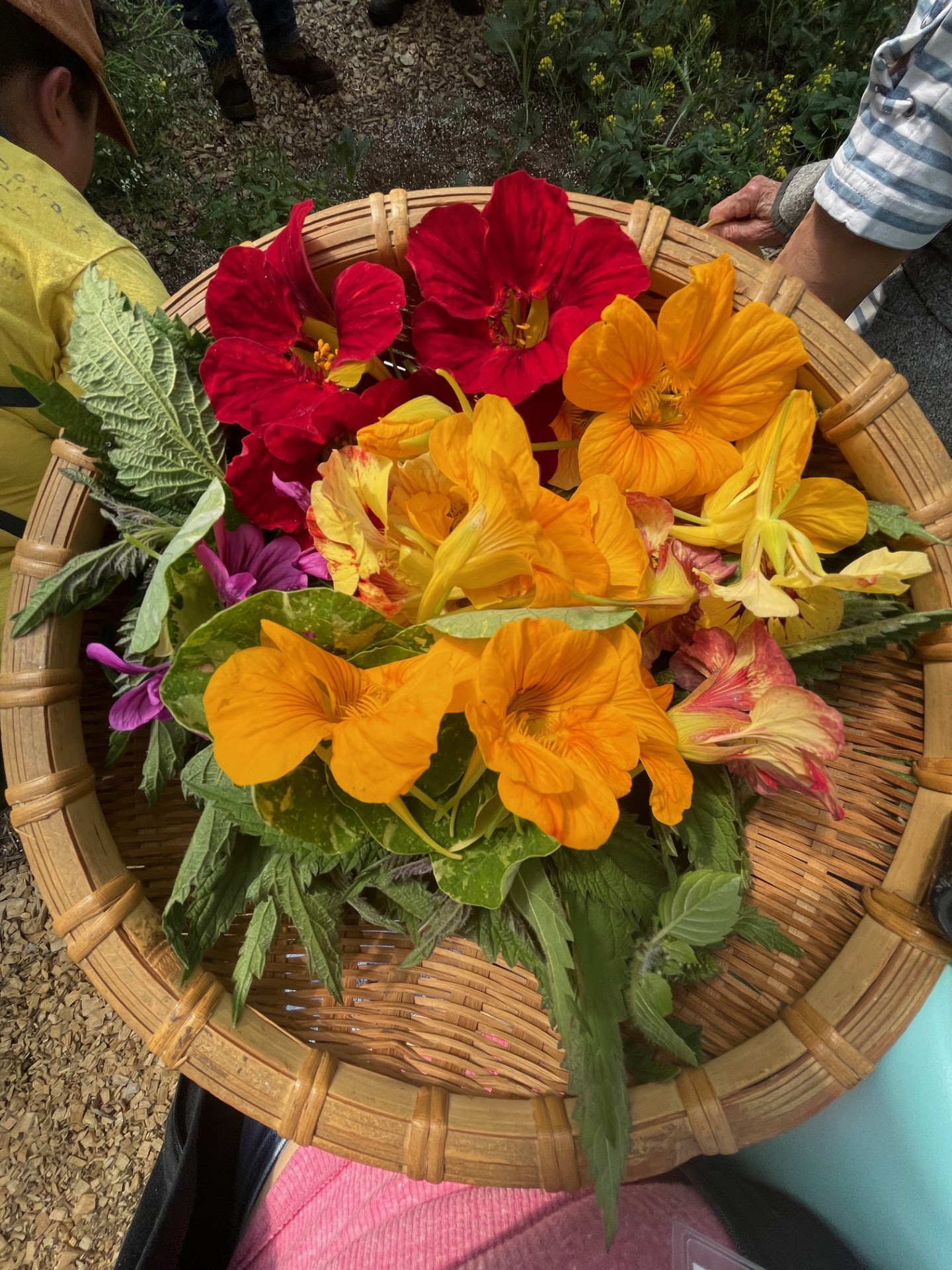 Edible flowers from Barbie's class with Cara-Lee Langston
JCCFS: What are you most looking forward to in your new role?
BW: I look forward to continuing to build relationships with students. It's special to sit at lunch and hear about what students are creating in class, see all the finished work from the week at closing ceremony, or take a walk around campus and see who you run into. I love hearing everyone's stories, and it makes me excited to have more time to connect with others and hear about what drew them to the Folk School.
JCCFS: The Folk School is full of inspirational stories. Can you tell us about a time you've seen a donation make a huge impact?
BW: I've been working as part of our scholarship program for the past few years, and I really can't think of another way I'd want to spend my time. Hearing scholarship testimonials from students, most of which are coming here for the first time, is so special. It's like seeing this place with fresh eyes. I love their excitement. The donors who contribute to this program are doing valuable work, because they're providing these students with an experience they might not have had without financial assistance.
So many of our scholarship recipients go on to be such important parts of our Folk School community – professional artists, instructors, and tradition-bearers. This year alone, we've already awarded over 80 scholarships thanks to the generosity of others! It feels like such important work we're doing to give talented people a platform to create without worrying about all the extras.
JCCFS: Where can folks find you if they want to chat?
BW: Come say hello if you're on campus! If you need to reach me and you're not on campus, I'd love to talk to you. You can email me at giving@folkschool.org.
Support the Folk School with Fund-A-Need!
By donating to our Fund-A-Need program, you help the Folk School fulfill its mission of bringing people together for experiences in learning and community life that spark self-discovery. Donation options include our annual fund, our program areas, scholarships, or specific items. We have a variety of specific needs, from painting easels and woodcarving workbenches to cooking studio shelves and golf carts.
You can browse your favorite studio/program area or check out projects and upgrades around campus at the right gift level for you. By donating, you become an enduring part of the Folk School and ensure a better experience for yourself and other learners