24 Jul

Cover Story: Crafting a Handmade Life with Delia Turner

Posted at 11:32h

in

Featured

,

Homepage

,

Instructor Voices

,

Stories: Basketry

,

Stories: Blacksmithing

,

Stories: Cooking

,

Stories: Felt Making

,

Stories: Leather

,

Stories: Music

,

Stories: Nature Studies

,

Stories: Puppets

,

Stories: Sewing

,

Stories: Shoe Making

,

Stories: Storytelling

,

Stories: Woodcarving

Delia Turner is hard to miss when she's on campus.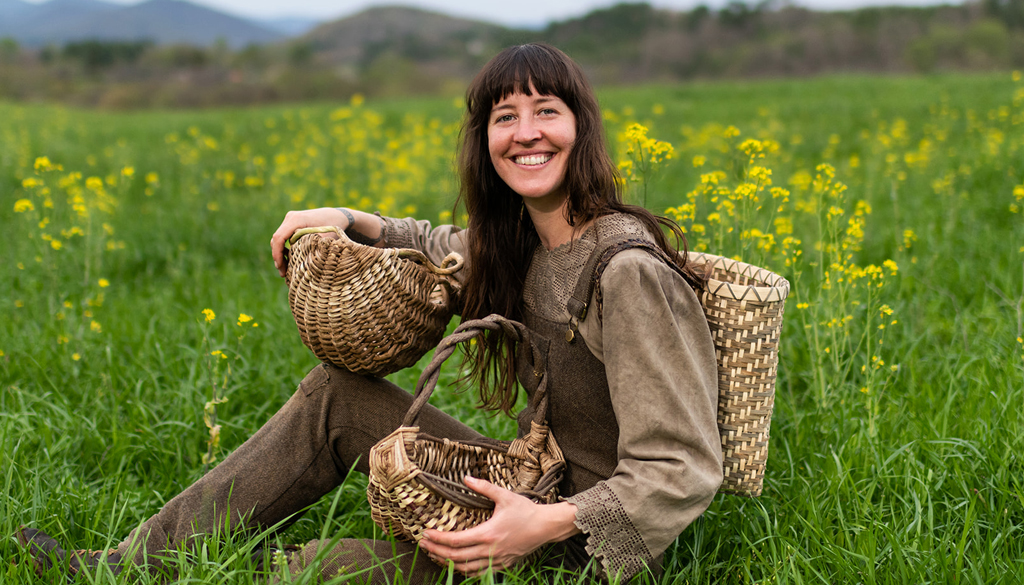 Often dressed in deerskin and carrying a satchel made from kudzu, it's easy to imagine that Delia has come to the school from another world deep in the woods. Of course, that's not the whole truth, but Delia loves the conversation it sparks.
Delia is in pursuit of the handmade life–one that's centered around craft and living in harmony with the natural world. Delia and her partner Joel live on a parcel of land in Murphy, North Carolina, that borders the Nantahala National Forest, and they make the most of what's available around them. Delia carries baskets she's made from invasive wild vines and tree bark, plays the banjo on occasion, and, in the winter, bundles up in felted wool coats and vests for warmth. During her annual summer camp for kids in a forest outside Athens, Georgia, Delia wears theatrical, papier-mâché animal masks that help transport children to a whimsical world. What's most impressive is that Delia learned these skills, and many others, here at the John C. Campbell Folk School.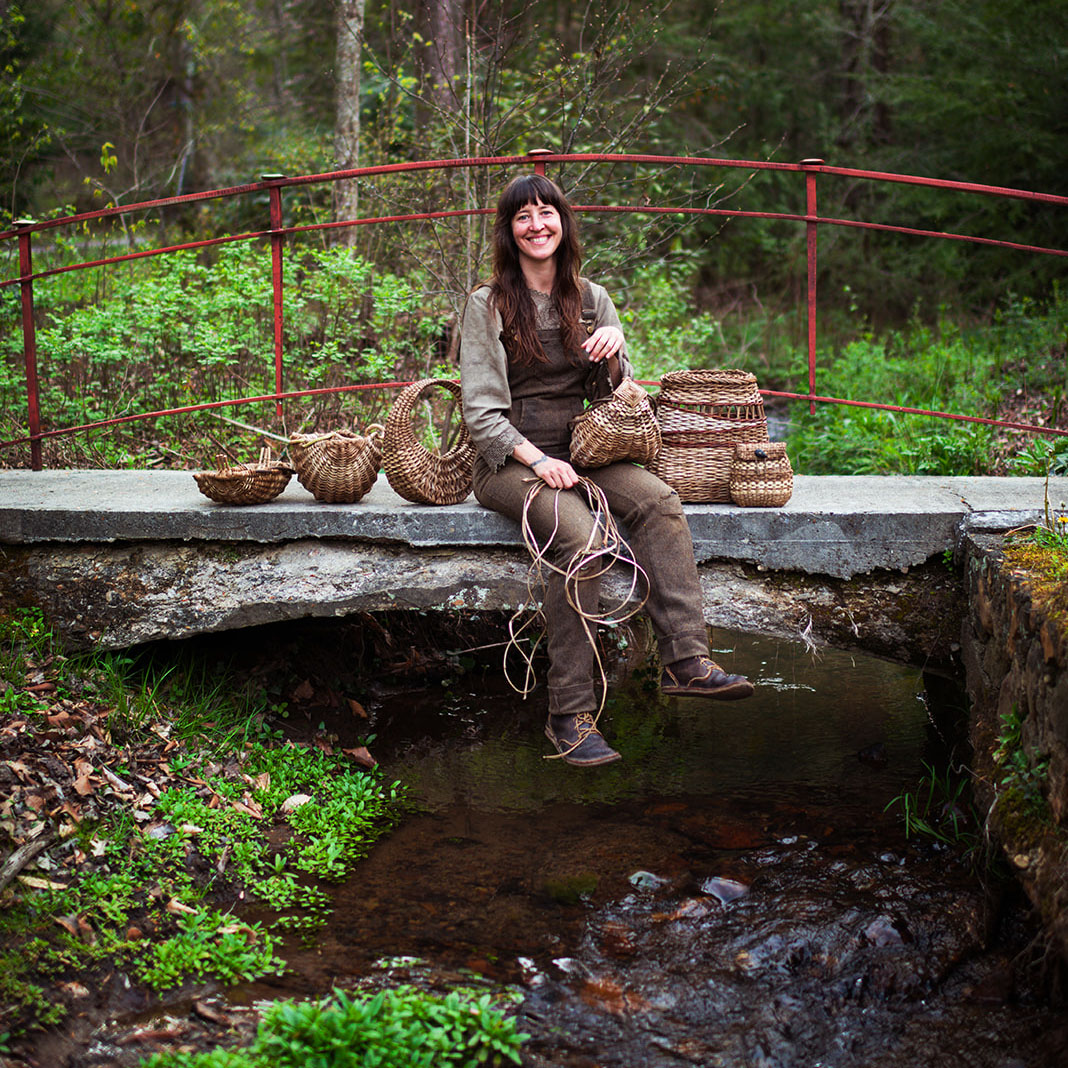 Delia recognizes that her life isn't for everyone. For her, the Folk School is special because of the wide variety of people it attracts. "There's a feeling in the air when you have so many creative people together," she says, adding that the warmth and kindness of students, instructors, and staff make her feel supported to try new things each visit. Delia's mom urged her to come to the school years ago, and she took a basketry class from our longtime instructor and former Resident Artist Pattie Bagley. "It was in that class, here at the Folk School, that my love of basket weaving just woke up," she said, noting how the experience forever changed her.
Many students talk about the Folk School unearthing their creative side, but for Delia, the school helped her tackle her fear of failure. "This fear was blocking me from trying many things that I wanted to do. When you're in class, though, everyone is messing up together. It can help you step through the belief that you're not creative, can't do it, or you won't do it right. The Folk School fosters this sense of let's explore, let's play, and learn together. The finished result is beside the point. It's the process, the journey, that we're here for."
Delia later delved deep into the art of basket weaving during our inaugural Traditional Craft Mentorship Program, spending a month learning from master artisans, including Bill and Mary Ann Smith, Sue Williams, and Betty Maney. These days, in addition to taking classes throughout the year, Delia teaches kudzu basketry in the spring, participates in our annual May Day parade, and shares snippets of her knowledge and #FolkSchoolExperience with her over 136,000 followers on social media. "Incorporating traditional skills into your life can be very enriching," she says, noting, "for tradition to continue, it needs to be accessible, easy, and relevant." That's been her driving force in teaching, one the Folk School is proud to support.
"I'm so glad the Folk School is here and that it's been going for almost one hundred years," she says, and we're glad too. Folks like Delia, her instructors, students, and–most importantly–you create a learning environment like no other and help us carry this tradition of enriching, non-competitive learning into the next century.
Upcoming Class with Delia: Chairs from the Woods
Weave a traditional Irish coiled chair using a plentiful roadside resource—kudzu! Coiled chairs were once common in many Irish homes and woven with straw from the fields. They were considered the seat of honor and set by the hearth for the eldest family member. Learn to apply traditional coiling techniques to this local material to create beautiful, comfortable chairs that are unique works of art for the home. Time permitting, students may also go on to weave kudzu baskets.
Register Today
Jan Burger & Donovan Zimmerman • April 21-26
Join in the fun of May Day by crafting your own puppet for our parade & festivities. This class will cover giant parade puppets like the one featured in the photo with Delia and Joel above, and papier-mache mask like Bonnie's bear.