03 Jul

Empty Bowls at the Folk School Supports Food Banks in Clay and Cherokee Counties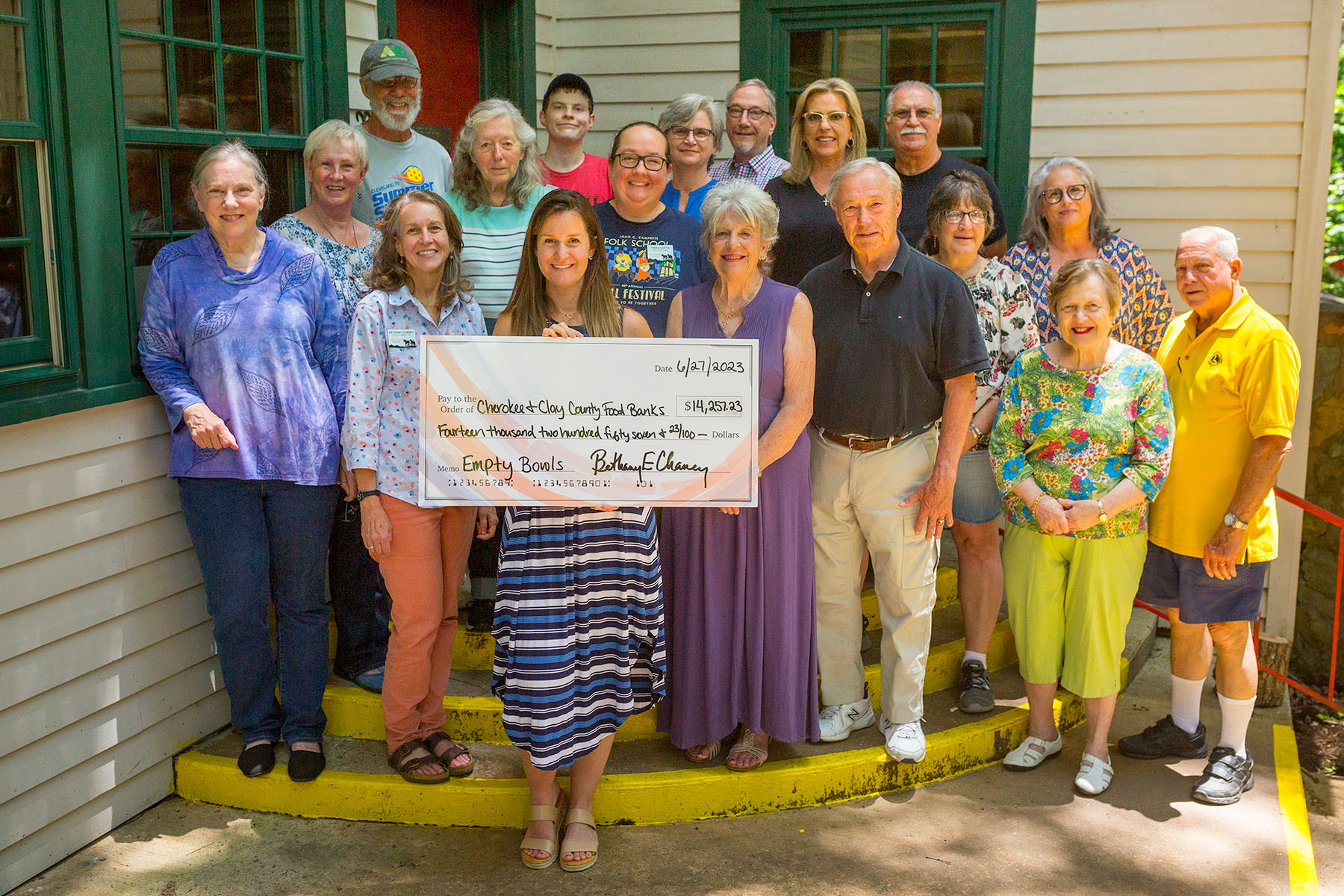 Folk School staff, local potters, and contributing restaurants presented a check to four local food banks for funds raised during the school's annual Empty Bowls event.
Thanks to community support and gracious donations, the Folk School's Empty Bowls event, held on Saturday, May 20, raised thousands for our local food banks! Last week, the school presented a check for $14,257.23 to be split among four food banks that serve Clay and Cherokee counties: the Sharing Center in Murphy, Matt's Ministry, Cherokee County Food Bank, and Clay County Food Pantry.
"The inspiring generosity of our community helped us to surpass our fundraising goal for this year's Empty Bowls, and we are so proud," said Morgan Budzinski, the Folk School's Event and Volunteer Manager. "Helping to fight hunger locally takes many hands, and we want to thank everyone who donated to, supported, or attended Empty Bowls or contributed in the days following the event."
Special thanks to Perrone's Neighborhood Grill in Murphy and The Crown Brasstown for providing the delicious soups for the evening, along with Black Stagg Coffee and Café and Chance Luc from Nocturnal Brewery, both in Hayesville, who provided freshly brewed coffee and helped with serving guests and clean up. Executive Chef Terra Ciotta and Folk School Dining Hall staff prepared a fresh garden salad and splendid dessert. Thanks also to Dawn Davis and David Bellino, who provided live music for the evening, and Chris Jones of Chris Jones Pottery for demonstrating alongside our Clay Coordinator Sienna Shute. Folk School staff were integral in all stages of this event, and we are deeply appreciative of their efforts. We also want to give a tremendous thank you to all the artists who donated their bowls and pieces for the Brown Bag Raffle.
If you or your organization is interested in participating in next year's Empty Bowls event, please contact Morgan Budzinski at 828-837-2775, ext. 116 or email Morgan via our website.