22 May

The Folk School Welcomes NC's First Lady Kristin Cooper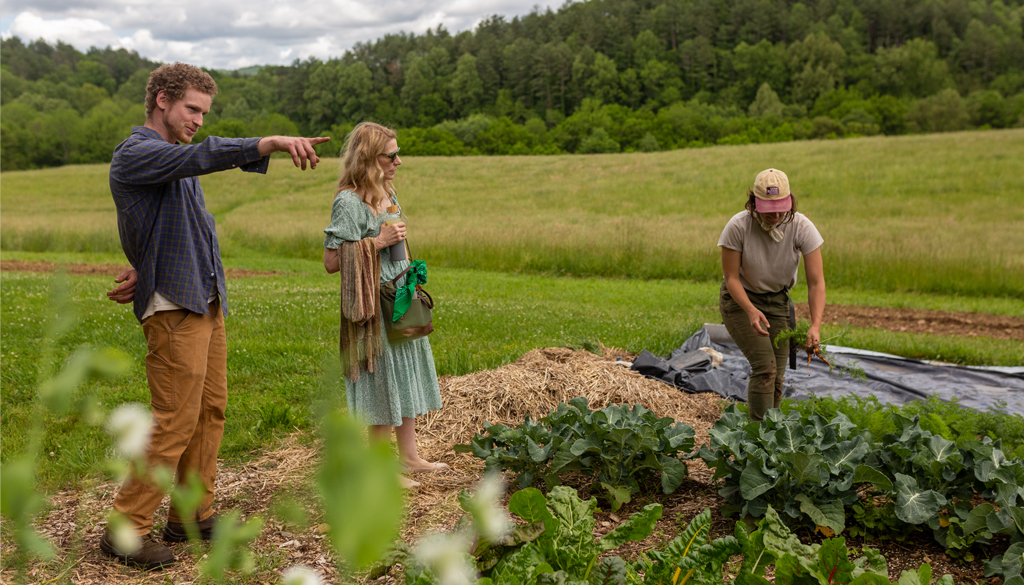 The John C. Campbell Folk School was pleased to host North Carolina First Lady Kristin Cooper for a campus visit on Wednesday, May 17, 2023. Cooper's visit to the Folk School was one of several stops in the state's western region last week for her ongoing 100-county tour.
Cooper visited the school's History Center, toured their garden–and tried some fresh snap peas–before heading to a handful of studios to see the Folk School experience firsthand. The First Lady visited the Blacksmithing shop and chatted with students as they finished making fire pokers–many working at the forge for the first time. Next, she visited the Book & Paper Arts Studio to see the work being made in the "Enhanced Paper Decoration" class and watch a marbling demonstration led by world-renowned instructors Daniel & Regina St. John.
The First Lady ended her visit with a brief roundtable discussion involving a handful of staff members before leaving for her next stop. Nanette Davidson & Barbara Swell's "Savory Pies and Summer Suppers" class sent her off with a plate of delicious, fresh-baked hand pies.
The First Lady also visited Olive's Porch during her tour with Tim Radford, the Mayor of Murphy, on Friday, May 19. Olive's Porch, a Folk School experience in downtown Murphy, features community workshops, a retail shop showcasing the work of Appalachian artists, and a studio space dedicated to the Artist in Residence program.
"It was a real honor to be included on the First Lady's tour of Cherokee and Clay counties and to share the story of our almost hundred-year-old folk school with her. Some of the traditions and techniques we teach go back centuries and still contribute enormously to the economic and cultural fabric of the state," said Bethany Chaney, the Folk School's Interim Executive Director. "We hope she felt the magic that happens here and across our western North Carolina communities every day."
Cooper also visited Smoke in the Mountains Pottery while in town, meeting longtime Folk School friend and instructor potter Rob Withrow, who helped with the "At Home with the First Lady" series in 2020.