28 Apr

Explore "street art, folk art, quilting, nostalgia, and community building" with Taylor Shaw this summer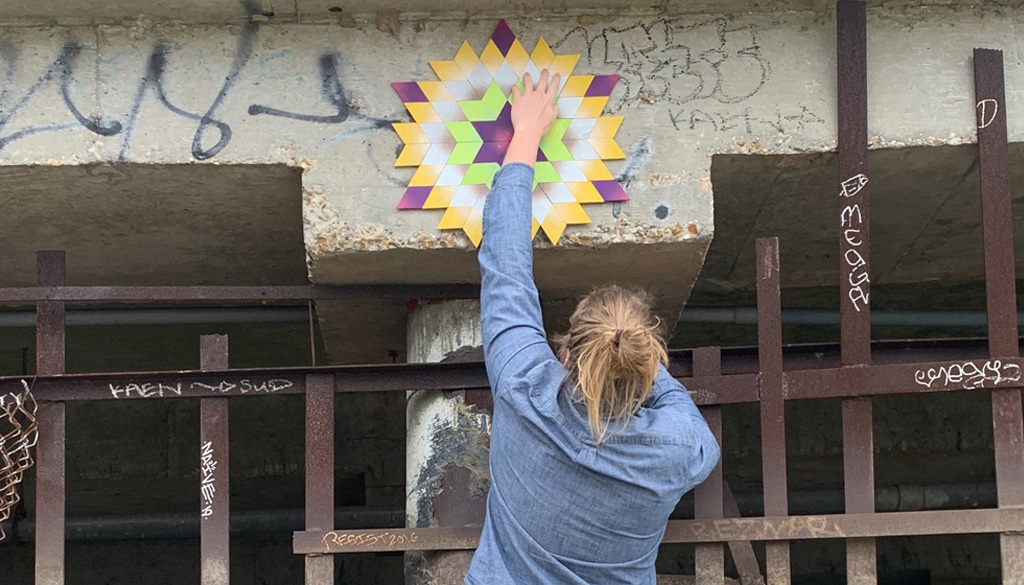 We're thrilled to welcome Taylor Shaw to the Folk School this summer, where he'll teach during our annual Intergenerational Week. From July 16-22, 2023, youths ages 12 and up can take a class side-by-side with a parent, grandparent, guardian or other adult. It's the perfect way to spend quality time together away from the distractions of day-to-day life and has become one of our most popular theme weeks over the years.
Taylor is a former chef and restaurateur with a love for street art who changed direction to become a full-time artist and teacher. He tells us that in his class, "Paint a Wooden Quilt," students will "dive into the world of street art, folk art, quilting, nostalgia, and community building" by creating wooden quilt blocks that use geometry, design, and craftsmanship to tell a story. We can't wait to see what students produce from this mix of traditional and contemporary inspirations!
We wanted to hear more about Taylor's accomplishments as an artist, his approach to making, and what students can expect in his class this summer. Enjoy our interview below!
Interested in Taylor's upcoming class? There are still a few spots available–register today!
JCCFS: Tell us more about your upcoming class during Intergenerational Week, "Paint a Wooden Quilt." What was the inspiration for this course?
TS: This project derives from quilt-making as a familial tradition and a communal practice. I combine that with my love of street art and community building.
The wooden quilts started making their way onto abandoned buildings, much like barn quilts, in order to draw attention to forgotten structures. It eventually morphed into a communal project during the beginning of the pandemic in which I shipped out over 100 sets of 6 pieces of a star across the country and into Canada. People would receive the pieces and decorate them however they wanted and ship them back to me. Once I collected all the stars, I assembled them into larger installation pieces.
JCCFS: What can students expect to leave this class with?
TS: Students should leave this course with design techniques, spray painting and hand embellishing techniques, how to make a stencil, and basics of sculptural/wood sculpture assembly. We will dive into the world of street art, folk art, quilting, nostalgia, and community building.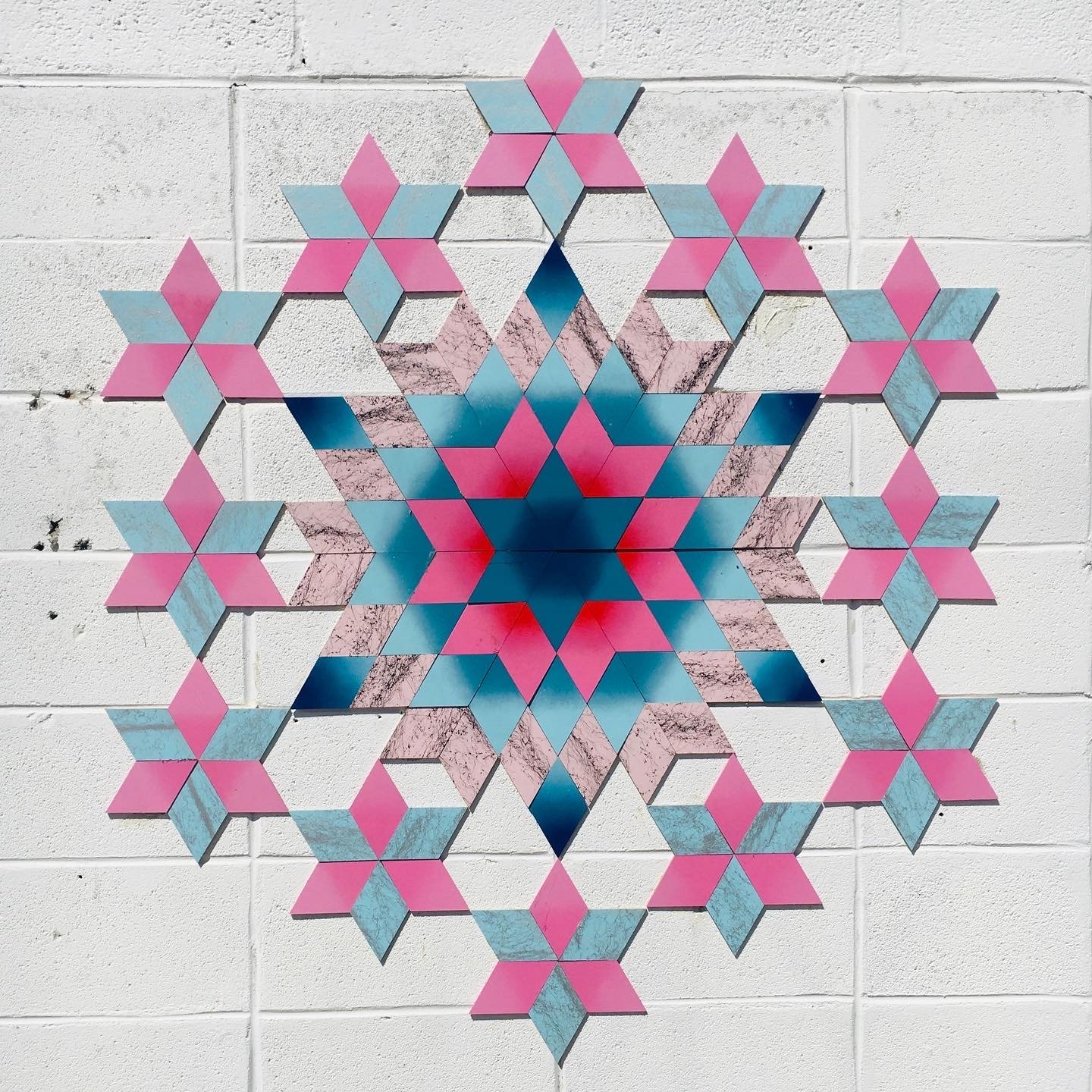 One of Taylor's wooden quilts outside New Hand Signs in Mobile, Alabama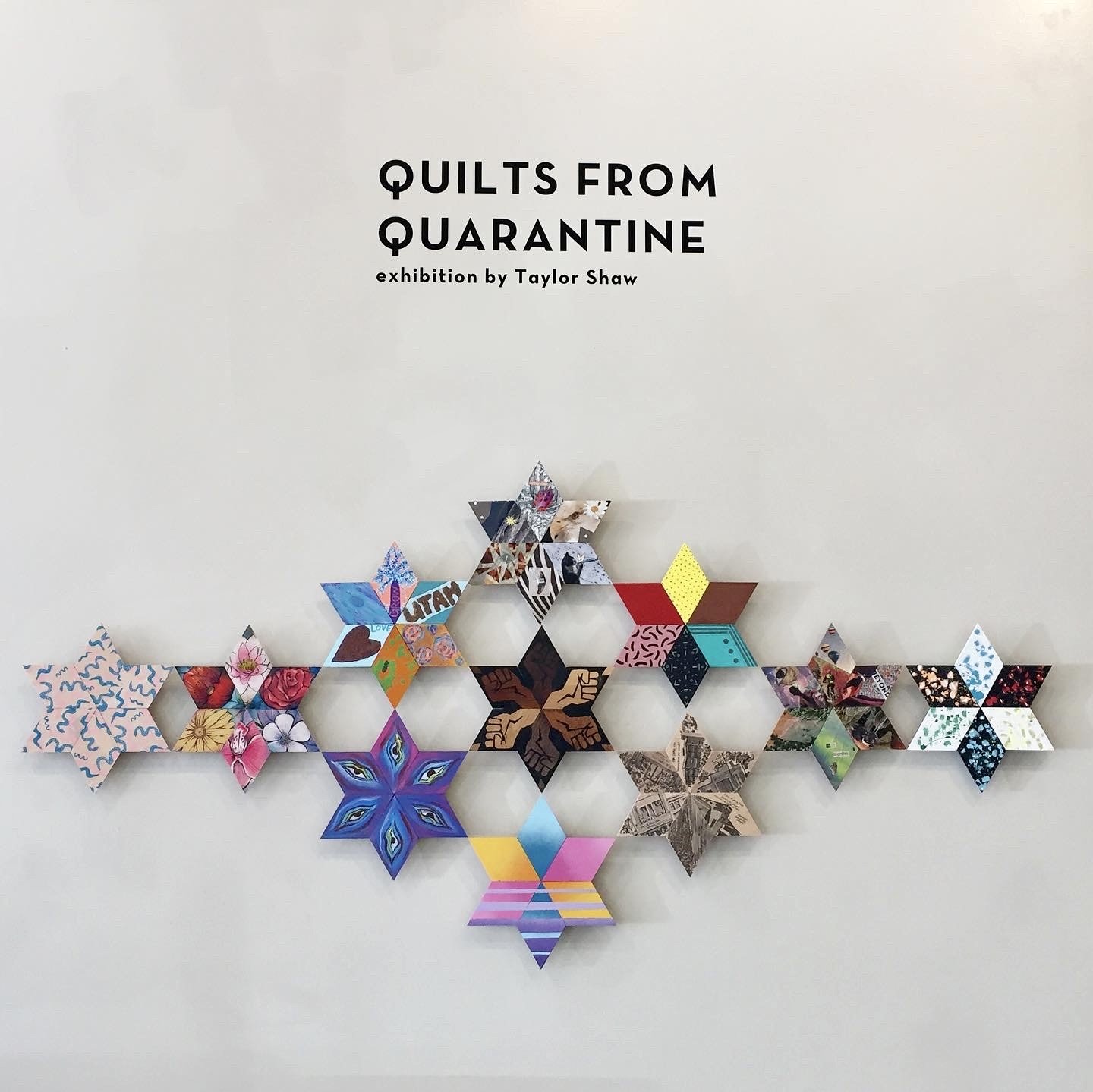 Some of the wooden quilts collected during Taylor's communal project, on view at the Mobile Arts Council Gallery in Mobile, Alabama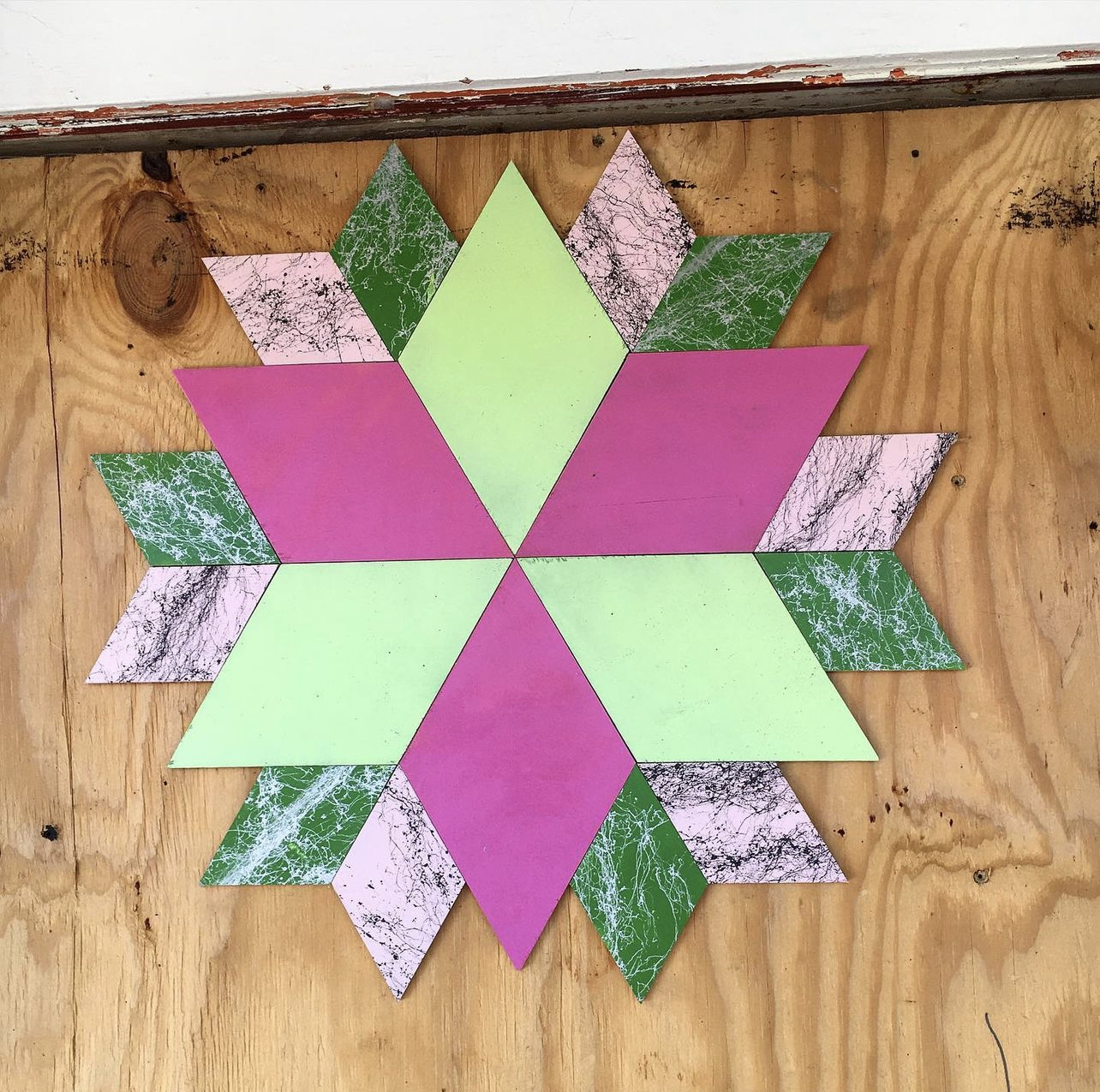 One of Taylor's wooden quilts hanging in downtown Mobile, Alabama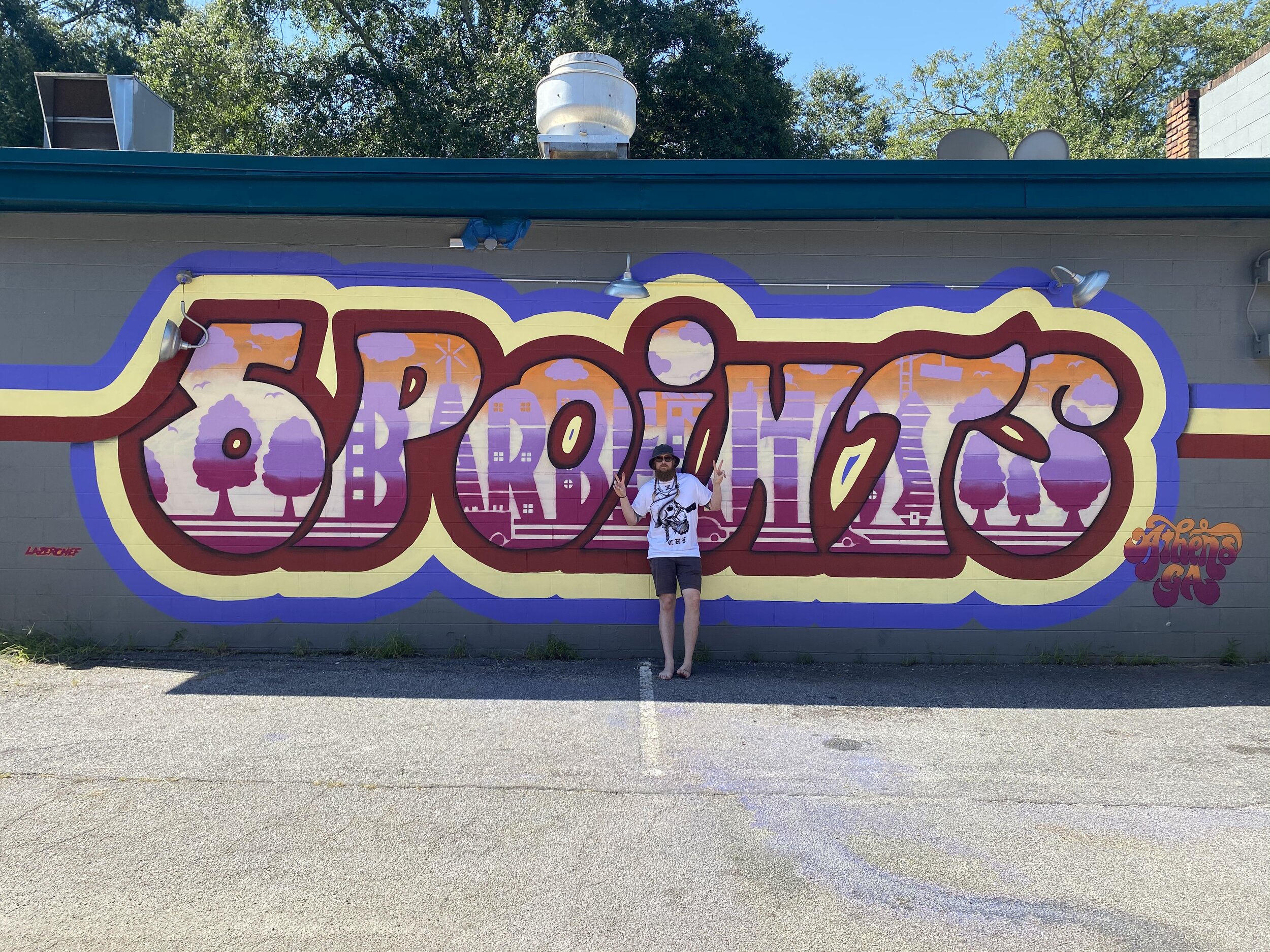 Taylor with a mural he painted in Athens, Georgia
JCCFS: This will be your first time at the Folk School! What are you most excited about?
TS: Teaching in a non-academic setting is very exciting. Where I grew up, I had never heard of a folk school or craft school for that matter. This will be my first experience in this environment, and the new experience is what I'm seeking.
JCCFS: Where have you taught before?
TS: I'm teaching now at Valdosta State University and have taught at University of South Alabama and University of Georgia. I focus mainly on murals at the moment but have always loved any sort of public art. Teaching a mural class this semester at a University was the cap on my career thus far. Art enables us to partake in experiential learning which differs from a lot of the ways schools operate now. Hands-on making and critical thinking are embedded in teaching art and that is what is exciting to me.
JCCFS: What do you enjoy most about teaching? What advice do you have for students?
TS: When a student makes something that they're proud of or makes a connection they did not have before. That's what teaching is all about.
I'm really open to new ways of creating and I surely don't have all the answers so I always encourage my students to try something if they're not sure what the outcome will be. We can always cover paint with paint. It may be a mistake or it may be an opportunity to explore a new technique or style.
JCCFS: Where do you draw inspiration from in your work?
TS: Almost all of my work has roots in old school Florida. The colors, imagery, and tourism based aesthetic decisions really inform my work. Street art, graffiti, pop-art, folk-art, and vintage graphic design/fonts are major influences as well.
I love when my art can be an event or create a connection amongst people. Public art is a really great way to bring art to communities who might not make it galleries. Barn Quilts are a perfect example and yard art as well.
JCCFS: What's one piece you've made recently that you're proud of, and why?
TS: I finished a really fun 70's inspired mural over spring break with my slogan "Take Care Of Each Other". It's been a goal to paint that sentence for the public and I finally had the opportunity.
JCCFS: What tips would you give an aspiring craftsperson?
TS: Embrace the difficulty. Artists are good at creating problems for ourselves and good artist find creative ways to solve these problems. I wish I would've taken more advantage of the expertise of my instructors.
JCCFS: Where can folks find you if they want to stay up to date on your work?
TS: lazerchef.studio is my website and my instagram is @lazerchef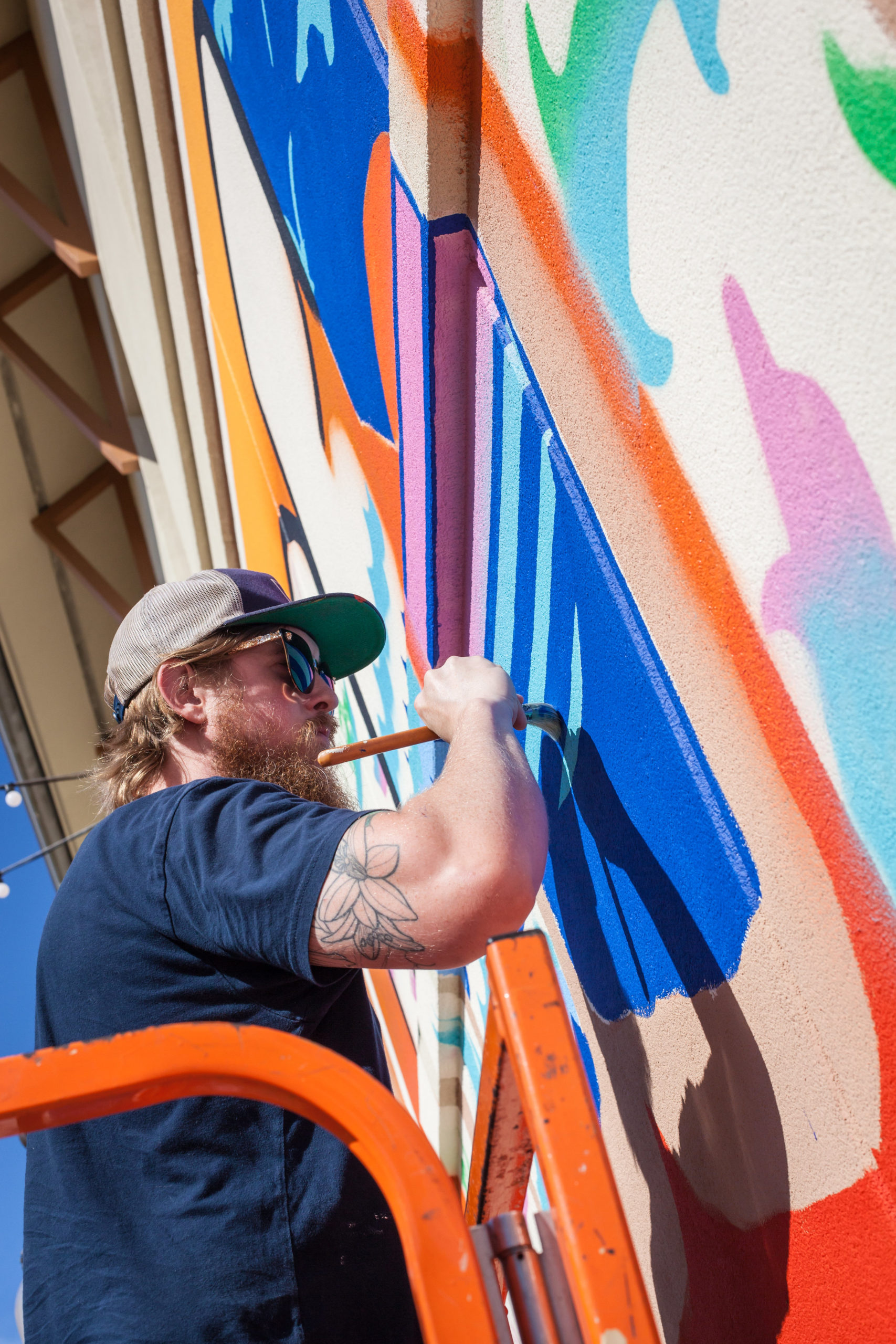 Taylor working on a mural for Destin, Florida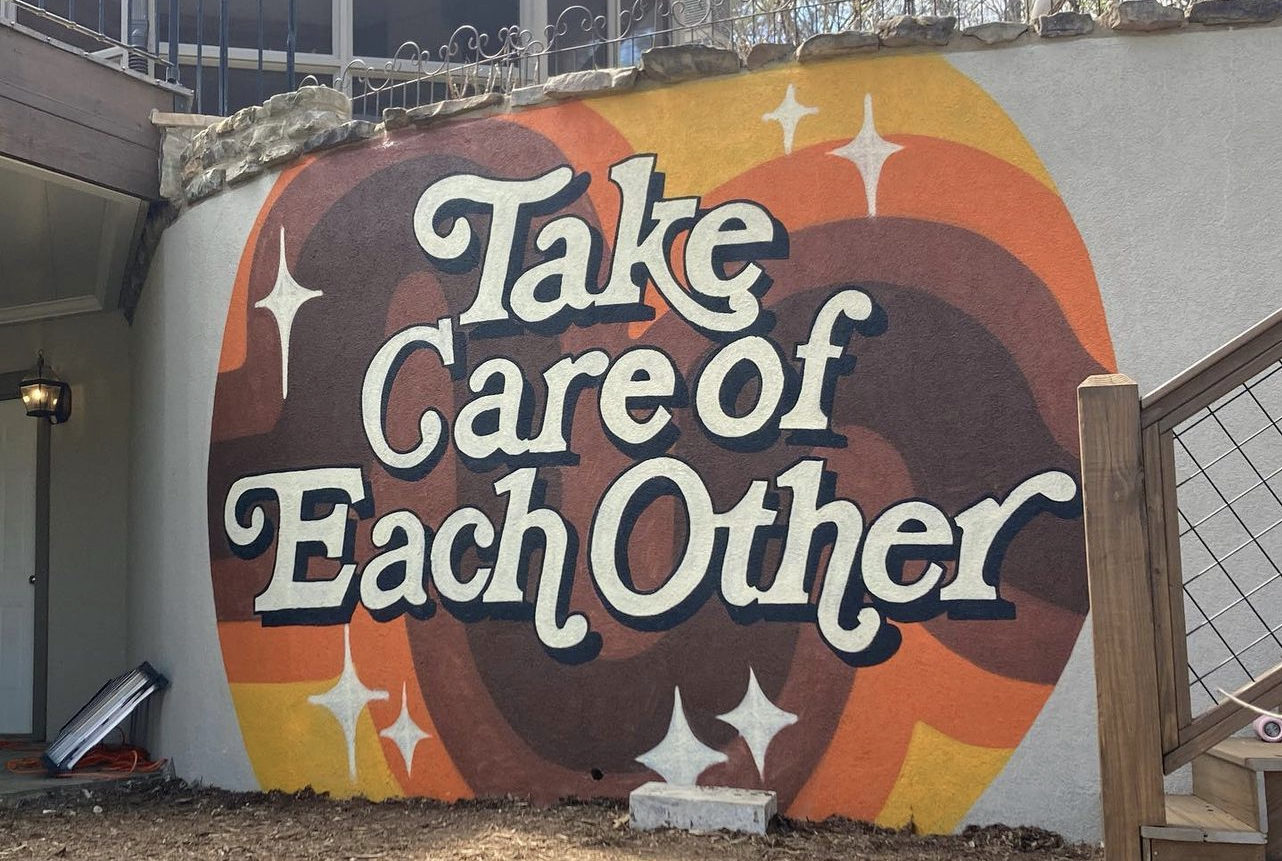 Taylor's recently completed mural
Upcoming Class with Taylor
Paint a Wooden Quilt (Intergenerational)
July 16 – 22, 2023
Discover how barn quilts use geometry, design, and craftsmanship to tell a story. As a class, we'll search for design inspiration in traditional and contemporary quilts, barn quilts, and imagery from the world around us. Using spray paint, stencils, and multi-media, create your own individual wooden "quilt blocks" that come together in a collaborative class quilt.
PLEASE NOTE: This class is for 12-17 year olds to attend with a parent, grandparent, or guardian — 1 youth per 1 adult. To register, you MUST purchase adult and youth spots as a pair, one youth per one adult: $792 (adult), $623 (youth), $1,415 (combined).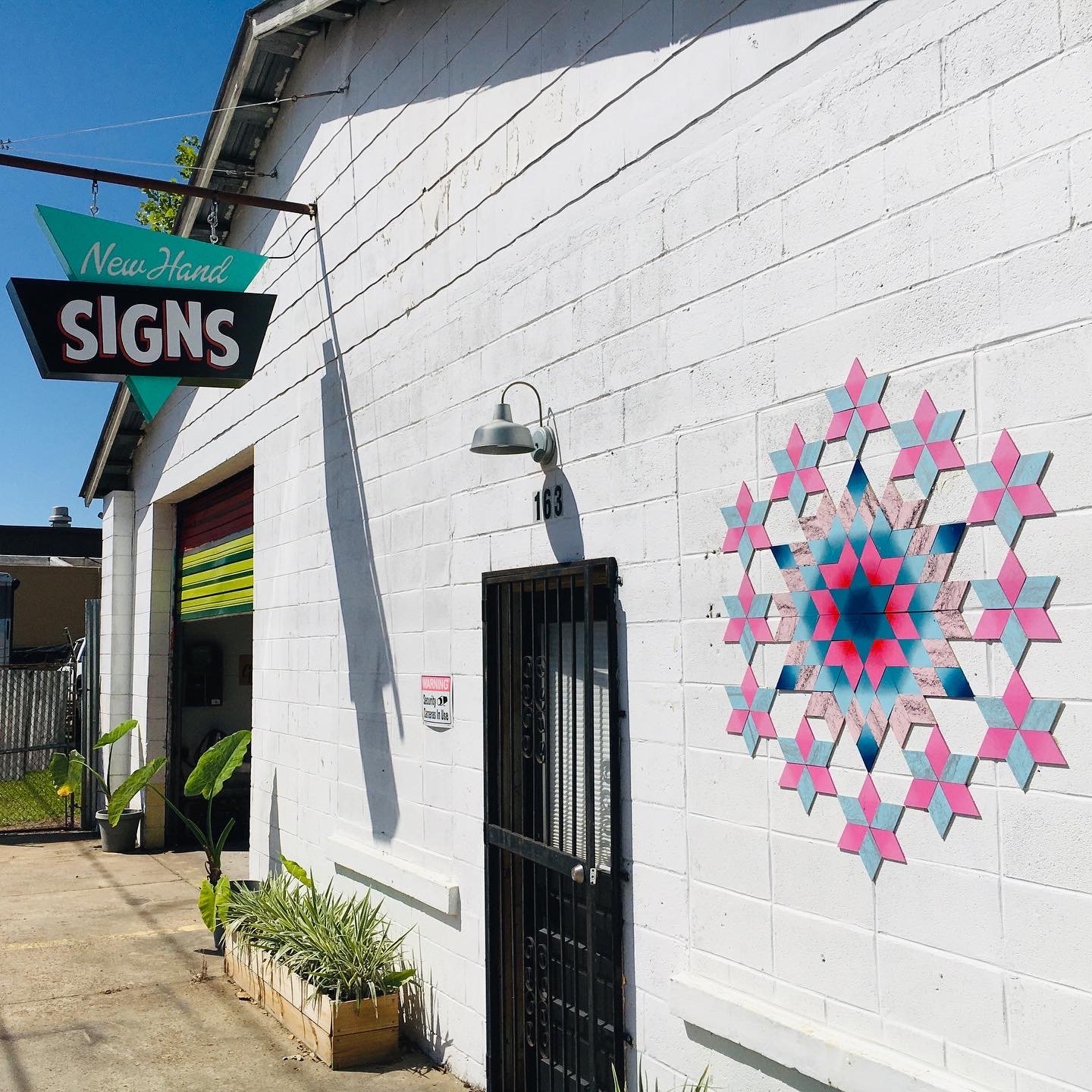 One of Taylor Shaw's wooden quilts on the wall of New Hand Signs in Mobile, Alabama
Taylor Shaw is the Co-Director of the Dedo Maranville Gallery at Valdosta State University where he teaches 2-D and 3-D Design, Senior Presentation and Exhibition, Stimulating Creative Behavior, and Murals. Taylor has been featured in multiple publications for his murals in the south east. His largest and latest mural spanning 130 feet by 20 feet tall, located in Tifton, Georgia. Shaw is a former chef and restaurateur with a love for street art who changed direction to become a full-time artist and teacher. Learn more at https://lazerchef.studio/