14 Apr

Thank You, Woodworking Work Week Volunteers!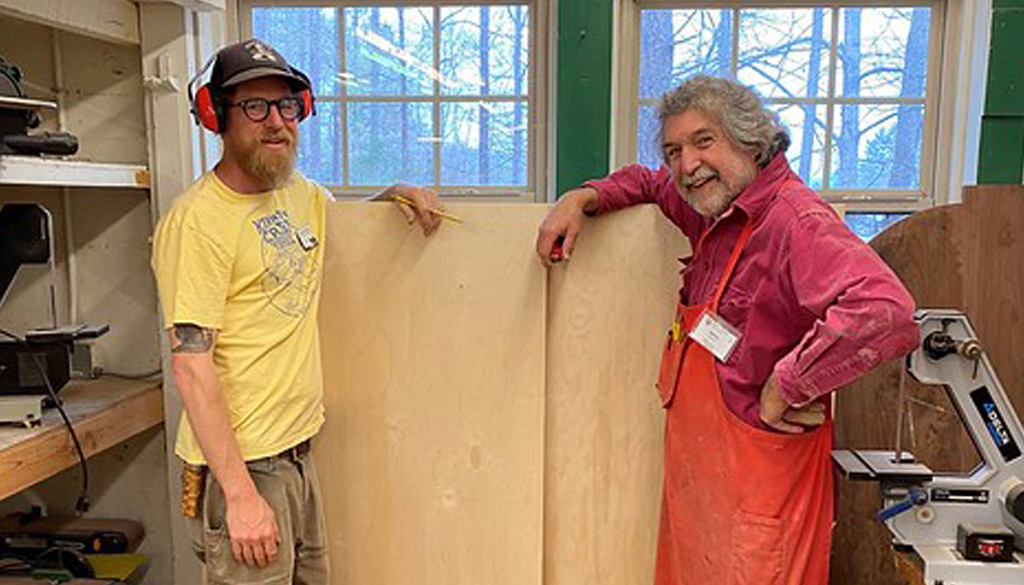 Work weeks are a wonderful annual tradition at the John C. Campbell Folk School. Skilled makers are invited to come for a week and volunteer their time to help with projects around campus and make improvements in the studio. Currently, we have Blacksmith Work Week, Woodworking Work Week, and Weavers' Work Week, and you can see hallmarks of their work all across the Folk School–from the iconic red railing in the center of campus to the colorful Sticks-in-the-Mud Morris Dance-inspired panels hanging in our Dining Hall.
We're grateful for the outpouring of support and the generosity of our volunteers, and look forward to their contributions every year. Below, read short summaries of 2023's Work Weeks from our studio coordinators and join us in celebrating their accomplishments!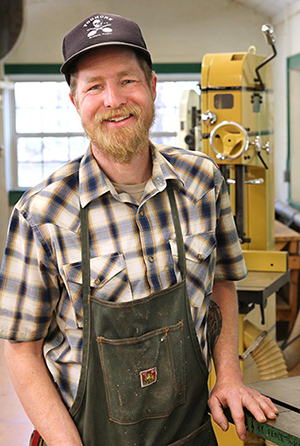 From our Wood Coordinator Gabe Strand:
Just a short note here to report about all the work that happened in the Woodworking Studio this past week, and to acknowledge a small group of 6 dedicated volunteers who made it happen. Our volunteers included both long time and new instructors (John Combs has been teaching here since 1986 and Tyler Rogers will teach his first class in 2023!), Brasstown locals (Joe Deslauries, Seamus Gardener, and Mark Taylor), long time student Jerome Laux, and board member Jack Smoot.
We tackled two big projects and the results are impressive! Check out the photos if you don't believe me! John teamed up with Joe and Seamas to tackle the renovation of our chop saw table, which now floats off the wall and has incredible dust collection. Jerome and Mark spent the week building a showpiece of a workbench with stout joinery and a 3 ½" thick Southern Yellow Pine top. This new bench replaces an eyesore of a table in the machine room, and will probably be around longer than any of us! Tyler turned 10 beautiful all wood vise handles for our student workbenches. Joe built some drawers and much needed lumber storage racks. Joe and Seamas installed 2 new clamp racks forged by Ron Howard during blacksmith work week, effectively doubling our clamp storage capacity (thanks, Ron!) Jack disassembled, cleaned and tuned up our bandsaws, hung trim, and told a few jokes.
I'm humbled and feel supported by this group of people who accomplished so much for the Folk School this week. All of the projects we completed will improve safety, student experience, and studio functionality in upcoming woodworking classes.
Please check out the photos below to see evidence of a week well spent!
Support the Woodworking Program