14 Mar

Celebrate Cajun Culture with Upcoming Classes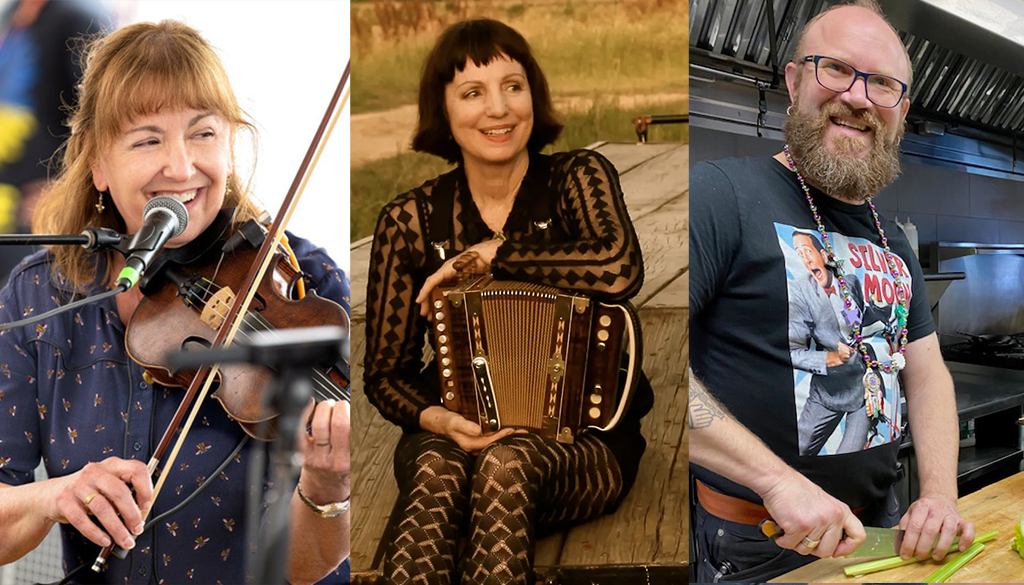 This May, we're hosting an abundance of classes celebrating Cajun influence in the music, dance, and culinary world. Read our story below to learn more about each class, the instructors teaching them, and how you can get involved in the fun!
Louisiana Cooking with James Naquin
James was born in Houma, Louisiana, and started cooking at an early age as an avid home cook. He completed the culinary program at A-B Tech in Asheville, NC and began a 21-year career of professional cooking in a variety of different cuisines. James teaches cooking classes offering a full cultural immersion to engage his students through books, food, music, and video.
James will be teaching Louisiana Cooking and Rajun Cajun Gumbo, two classes that dive into the mashup of flavors and dishes Louisiana-style cooking incorporates.
BW: Tell us about yourself and your background in cooking. How did you get started?
JN: I love cooking! I grew up in south Louisiana and started cooking at a very early age with my grandparents and parents. There is such an emphasis on food in south Louisiana that the seasons aren't separated by spring, summer, fall, or winter but by the foods that are harvested at that time (i.e., crawfish, shrimp, sugarcane, etc.). I started cooking professionally in 2001 and a few years after moving to NC I attended culinary school at A-B Tech in Asheville. I have cooked many kinds of cuisine over the years in scratch kitchens around the state. I left kitchen life in 2021 and haven't looked back. I do cook at home a lot with my wife and find it much more enjoyable.
BW: Tell us more about the specific approach to teaching you'll be taking in your upcoming classes.
JN: Cajun food is all about technique. It is rooted in French cuisine and follows the same techniques, but is adapted to the rural Louisiana experience. Creole cooking shares some similarities but is influenced by several cultures and came from more metropolitan areas like New Orleans.
How the dishes we make are treated dictates the outcome of what I think of as creating very particular flavors of the region they were born from. I bring a professional yet fun style to teaching. I will present this class with a multidisciplinary approach using food, music, film and other visual aids. We will eat good and learn a few things along the way.
BW: What can students expect to leave your class with?
JN: If I do my job right we will all leave with a full belly, recipes that can be replicated at home, and a new string of expletives that would make your grandma's wig catch on fire.
BW: What does the word "Cajun" mean to you?
JN: To me, Cajun means heritage. There are so many ideas packed into that word. It comes with an origin story that is shared with most of the people around you, which is what makes cultural expressions like the stories, music, and food easy to hold on to and pass down to the next generation.
Growing up in Louisiana automatically involves you with the heritage, food, dance, and music. There was a Mardi Gras parade right outside the hospital the day I was born! It truly was a different way of growing up.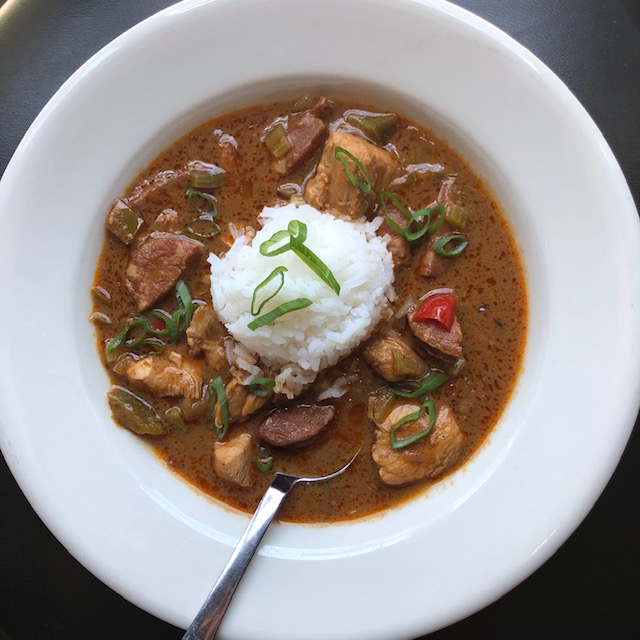 Chicken-sausage gumbo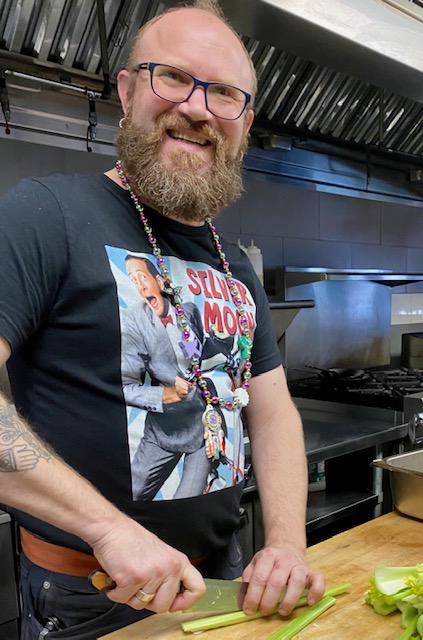 Mardi Gras celebration at Stanbury Restaurant in Raleigh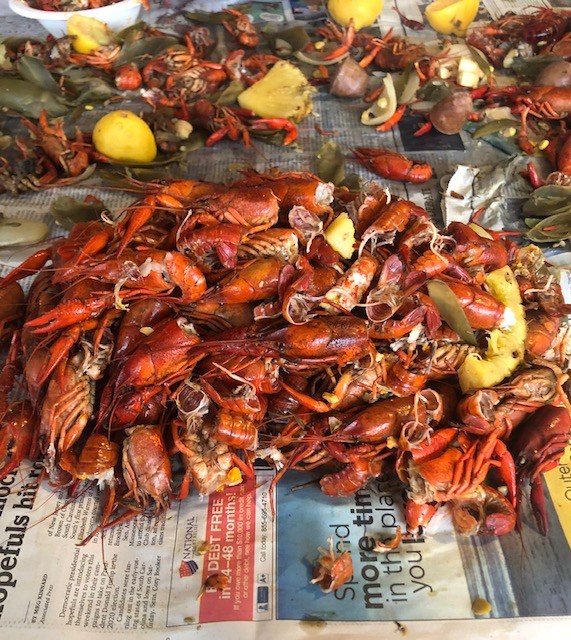 Crawfish boil in Houma, Louisiana
Playing and Dancing to Cajun Music with Ann Savoy
Ann is a four-time Grammy Award nominee and has traveled the world over with her Cajun bands, Savoy Doucet Cajun Band, Savoy Family Cajun Band, and the Magnolia Sisters. She is also an award-winning author and has appeared in several films on Cajun music.
Learn the basics of Cajun-style partner dancing from southern Louisiana alongside Ann and Corey Porche in their weekend class Cajun Couple Dancing this spring. If you're looking to spend a full week at the Folk School, join Ann and Jane Vidrine for their class Playing Cajun Music: Fiddle, Guitar, and Vocals.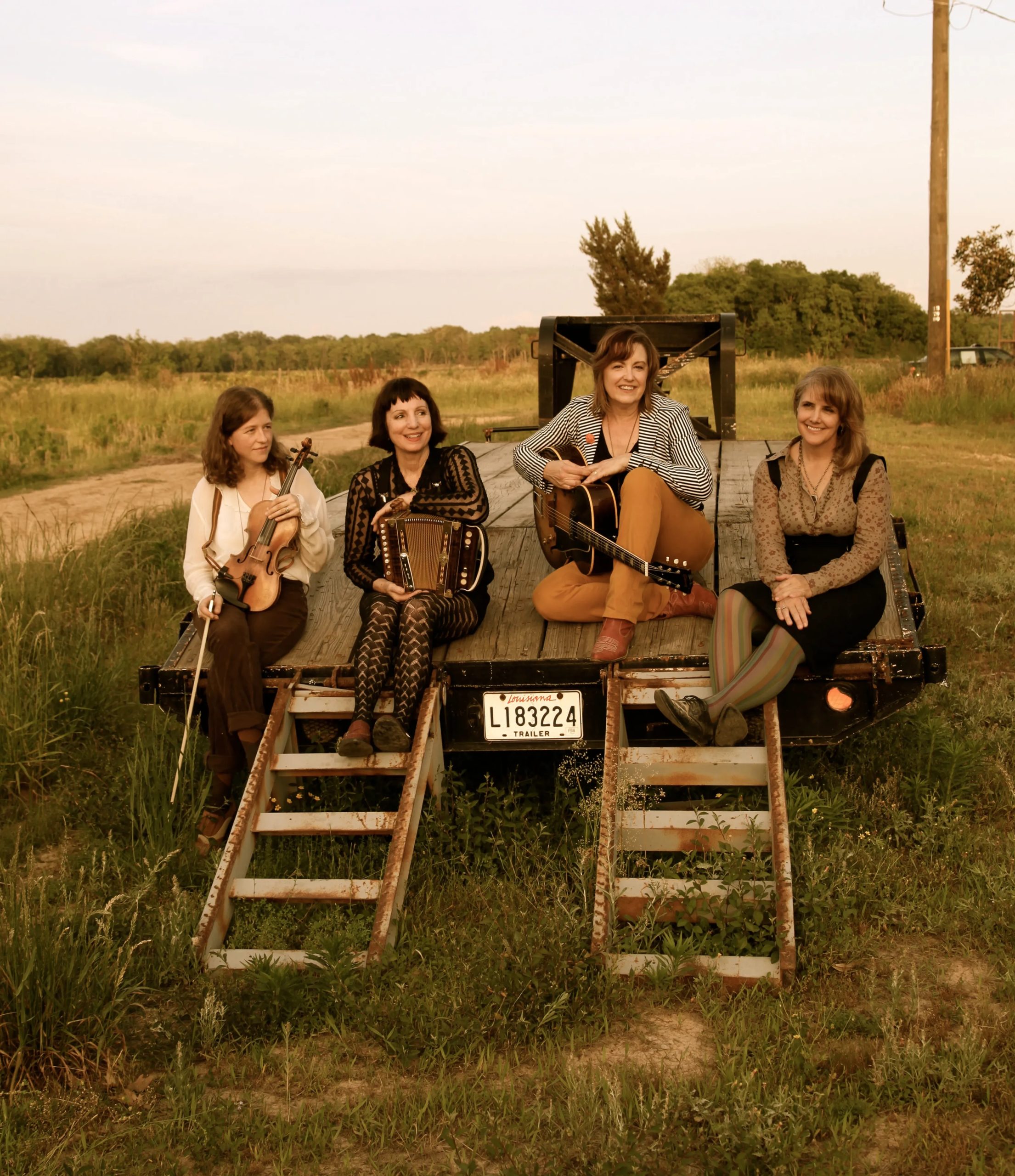 The Magnolia Sisters. Photo by Gabrielle Savoy.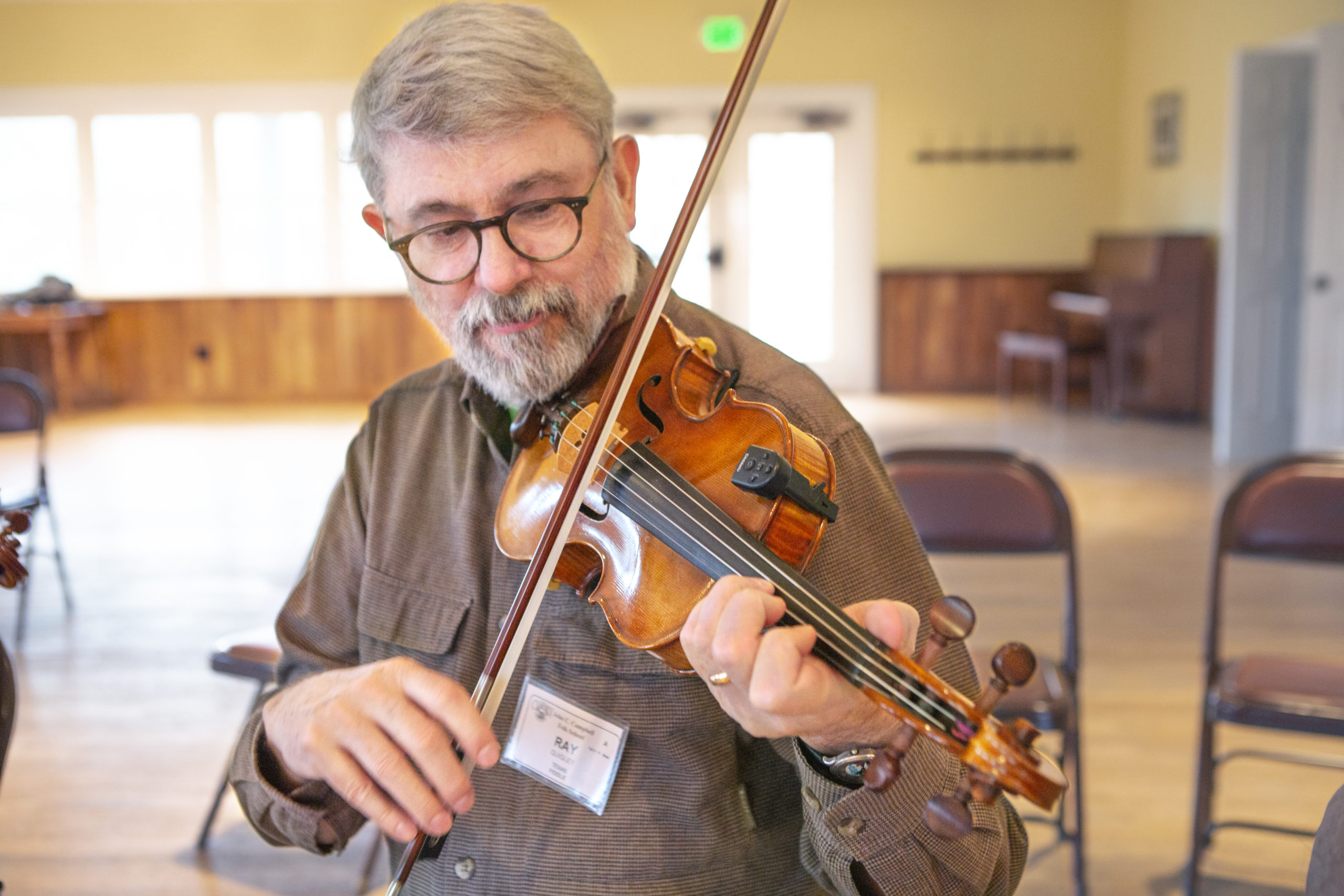 Learning fiddle tunes
BW: When did you get started playing music?
AS: I have been playing American roots music since I was 10 years old. I am from Virginia but have lived in Louisiana since 1977. Most of my musical career has been touring playing Cajun music with my husband Marc Savoy and the Magnolia Sisters.
BW: What can folks expect in your upcoming music class?
AS: We will play a song, then either teach the whole class the Cajun lyrics to the song or split off into groups for guitar, fiddle, and vocals. The fiddle part will be broken down and taught, both seconding and lead. At end of the class, we will do the song or songs together. Students will take away a good knowledge of some new Cajun tunes, and how to sing and play them.
BW: What tips would you give an aspiring musician? Anything you wish you knew as a student? 
AS: Whatever you want to do, be prepared to do a lot of work, be it practicing on your instrument or fine-tuning your craft. So go into it ready to work and expand your brain!
BW: Where do you draw inspiration for your music?
AS: Music is all around me in Louisiana, with live music, jam sessions, and the Cajun radio shows. My family all play together a lot.
Cajun Fiddle with Jane Vidrine
Jane is a founding Magnolia Sisters Cajun band member and preserves and promotes folk cultures as a musician, folklorist, museum curator, festival producer, and educator.
Spice up your fiddle repertoire and learn some real fiddle gems in Jane's upcoming weekend class, Cajun Fiddle, or enjoy her weeklong class alongside Ann Savoy, Playing Cajun Music: Fiddle, Guitar, and Vocals.
BW: How did you get started performing Cajun music?
JV: I have been a working musician all my adult life as well as a folklife festival organizer, museum curator, and music educator. I play Cajun music (mostly) on fiddle, guitar, and vocals with the twice Grammy-nominated Magnolia Sisters and other bands. As a teacher, I have taught at many music camps and also in the classroom setting. I created a classroom guitar program nearly 20 years ago, the first of its kind in our state. I love teaching adults to play the music of south Louisiana and sharing a bit of our rich Cajun culture through its sounds.
BW: What can folks expect to learn in your upcoming class, Cajun Fiddle?
JV: In this class, you will learn to play classic and rare Cajun two-steps, waltzes, and maybe even an acapella song or two by ear, the same way our elders learned this hand-me-down music. We'll dive deep into Cajun fiddle styles to learn melodies, lyrics, rhythmic chordal seconding, and fiddle harmonies. And we'll explore how to combine these parts to play in a band setting. At the end of this class, I hope that students will have several new tunes for their 'tune box', and will have a greater appreciation for the Cajun culture where this music originated.
BW: What do you enjoy most about teaching?
JV: Cajun music is at the center of our cultural life in south Louisiana. It has a long history, yet our music and culture were not widely known until the 1960s. Opportunities such as this class allow more people insider access to the music and technique that make Cajun music unique and special. As a musician and teacher, I love being part of the process of sharing Cajun music with musicians outside Louisiana. I feel that Louisiana's people benefit from others appreciating and understanding us through our music.
BW: What attracted you to the Folk School? What are you most excited about for your first time teaching here?
JV: The John C. Campbell Folk School is kind of a legendary dream place in my mind. I've heard about it since I was young and have always wanted to come here. Now, to get the opportunity to teach Cajun music for a week at the John C. Campbell Folk School – magical!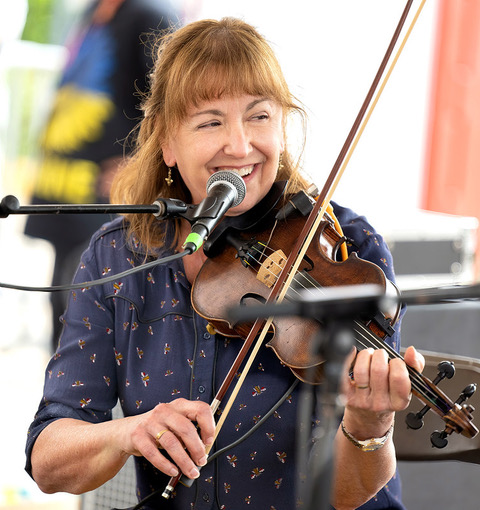 Jane performing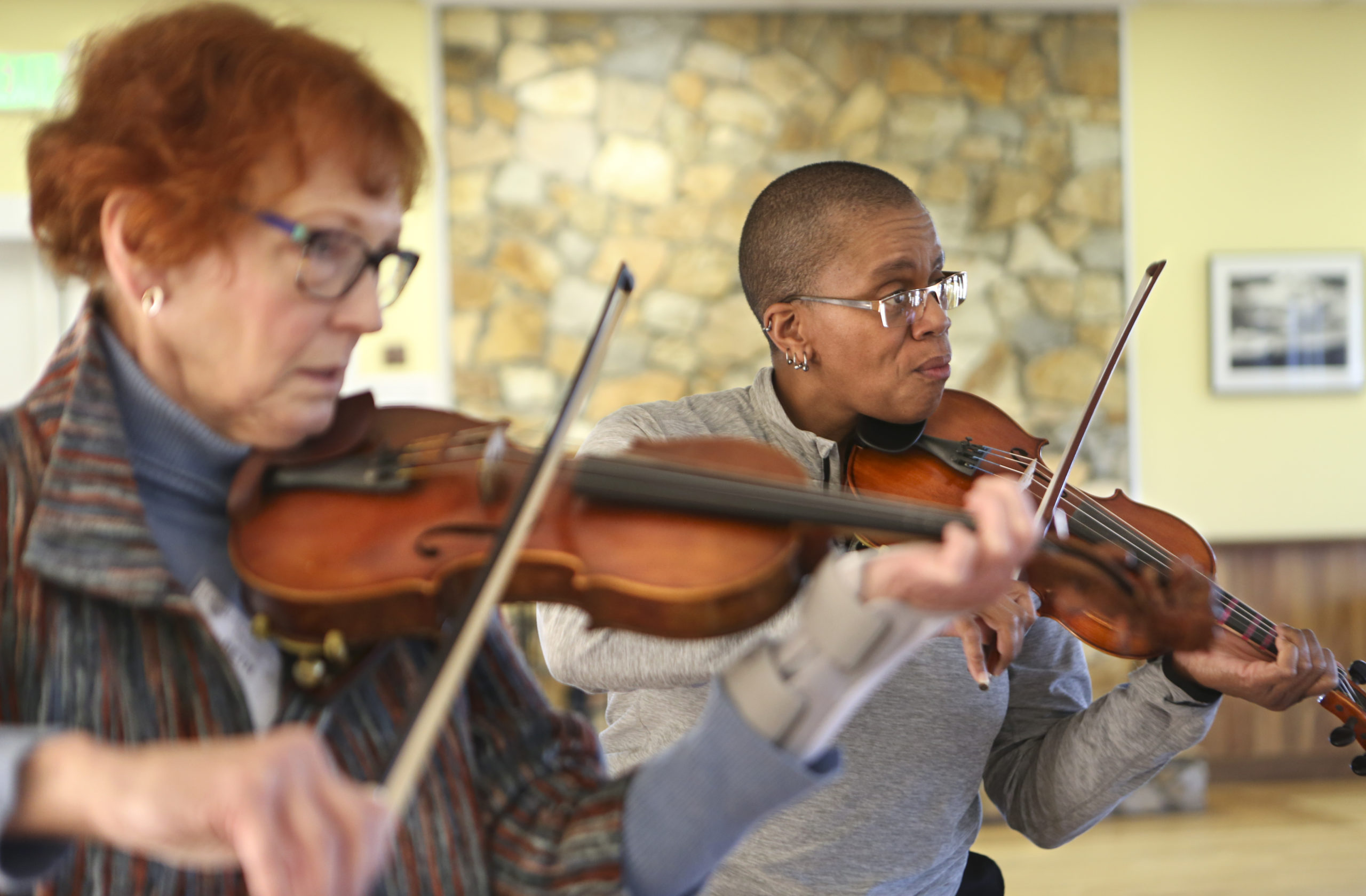 Refining fiddle skills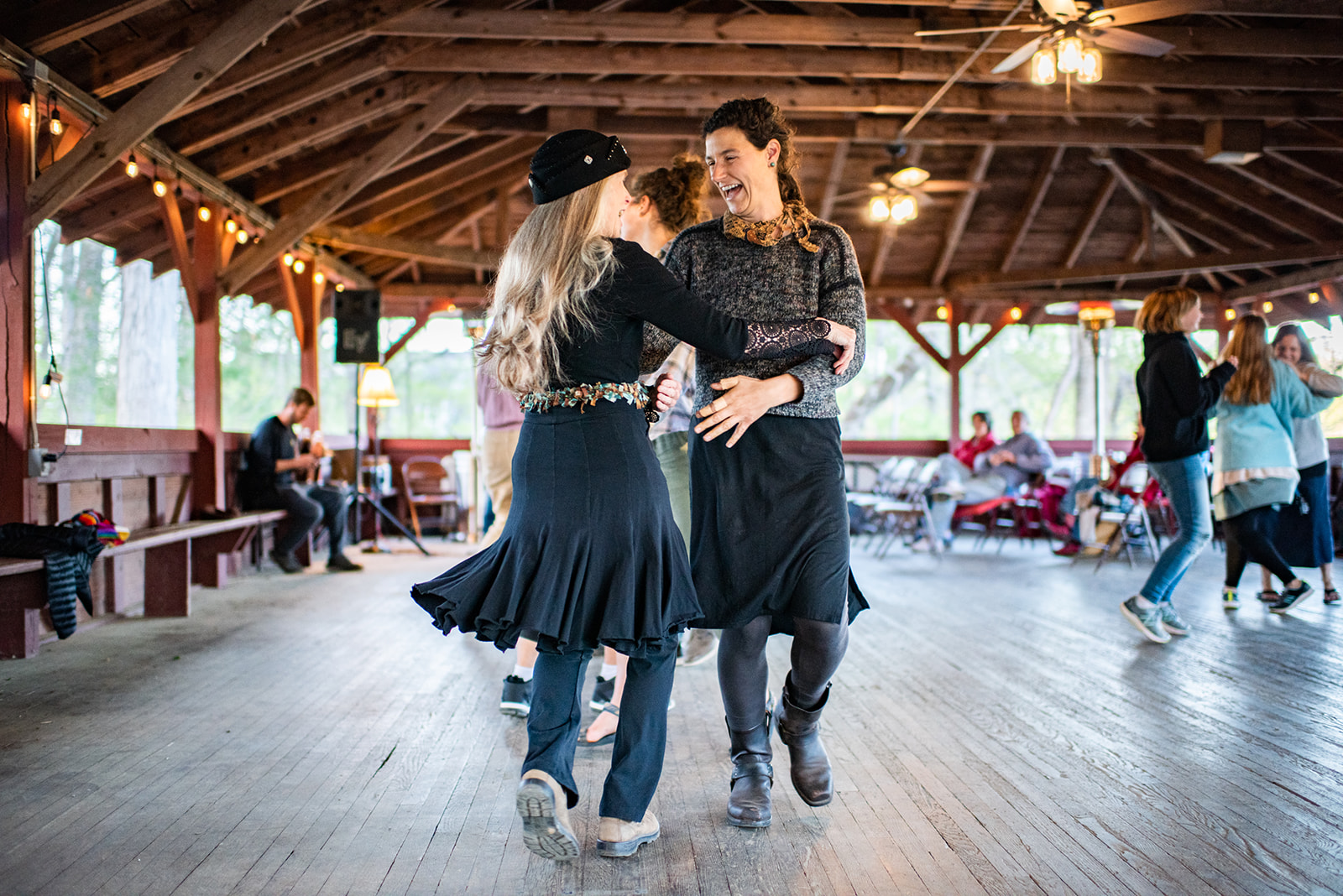 Dancing in Open House on Community Tuesday
Register for These Upcoming Classes
Playing Cajun Music: Fiddle, Guitar, and Vocals with Ann Savoy & Jane Vidrine
May 21–26, 2023
Dive into Cajun music, the traditional music of southwest Louisiana. Have fun learning two-steps, waltzes, and blues tunes in the company of two seasoned musicians. Learn accompanying fiddle parts, guitar, and vocals in French. For lagniappe, we may even learn to Cajun dance. This class is open to intermediate and advanced-level students who are proficient in the basics of any style of fiddle playing, and able to play several tunes in all major keys.
Louisiana Cooking with James Naquin
May 21–26, 2023
A mash-up of flavors, Louisiana-style cooking combines elements from West African, French, Spanish, and Native American cuisines and pairs them with ingredients readily available in the American South-resources like rice, okra, and crawfish. Explore the flavors and techniques used in traditional dishes. Learn to brown meat, whisk up a roux, make gravy, and prepare gumbo. If time and weather allow, we may also do some outdoor cooking in the traditional Louisiana style.
Cajun Fiddle with Jane Vidrine
May 26–28, 2023
Spice up your fiddle repertoire with some Cajun tunes. The fiddle is an essential part of the Cajun music tradition, and we'll learn some real fiddle gems-two-steps and waltzes. By day, learn tunes by ear. By evening, get the chance to play for a house dance (bal de maison) and tap into the authentic feel of southwest Louisiana. Fiddlers should be at a continuing level and comfortable with the basics of playing their instrument.
Rajun Cajun Gumbo with James Naquin
May 26–28, 2023
Gumbo is one of the best-known and most popular dishes in Louisiana cooking. Recipes vary with different thickeners and ingredients, creating raging controversies about what constitutes a proper gumbo. Join us as we test out a few different versions and whip up a big ol' batch to share with friends. Find your favorite style and learn the skills needed to make gumbo at home.
Cajun Couple Dancing with Corey Porche & Ann Savoy
May 26–28, 2023
Learn the basics of Cajun-style partner dancing from southern Louisiana. We will cover leading and following; body posture; basic steps to waltz, two-step and jitterbug; and turns and transitions. Explore some basic zydeco and hybrid dance if time allows, all to excellent live Cajun music.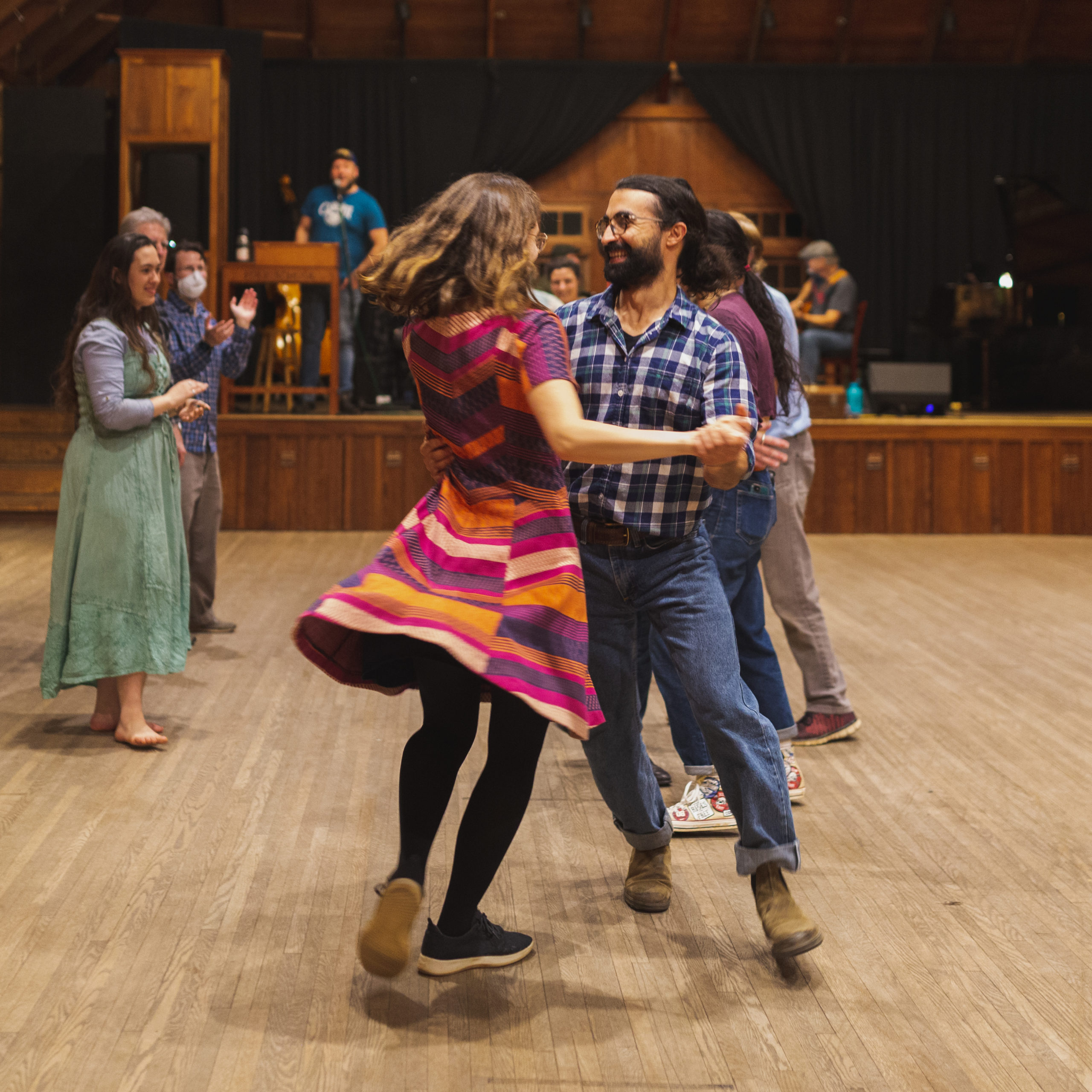 Dancing in Keith House