21 Feb

Using Vintage Fabrics to Make New Quilts: An Interview with Quilting Instructor Dana Bolyard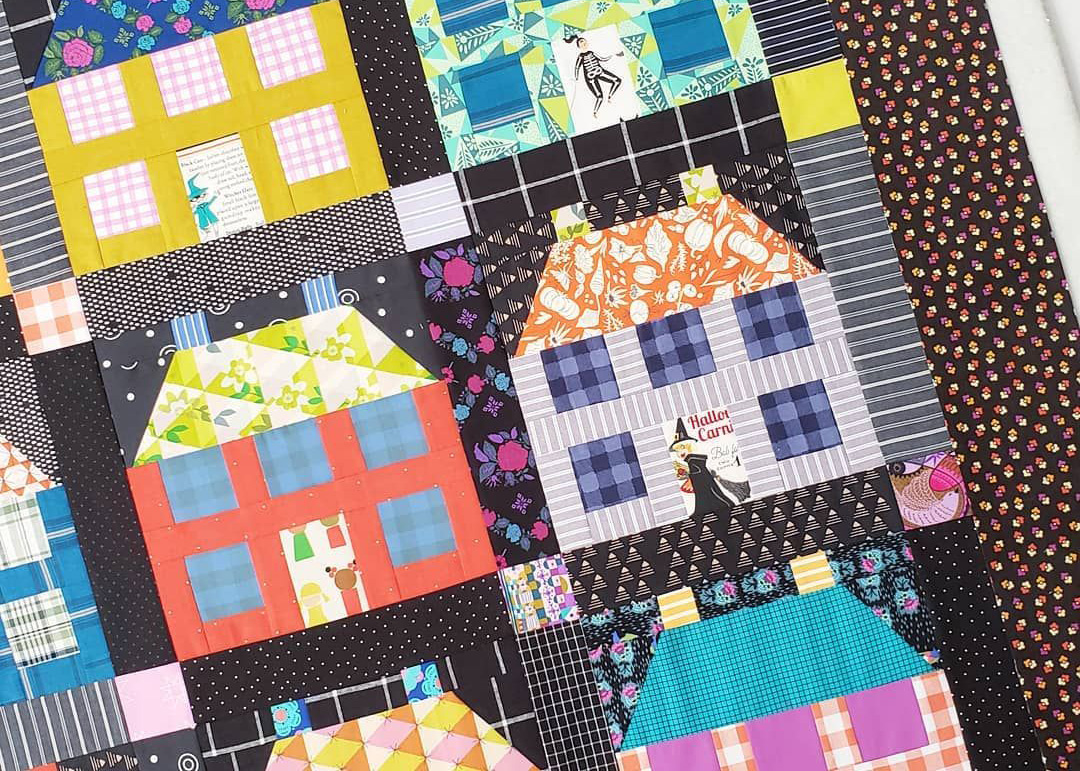 Dana Bolyard is an influential quilter who often sources repurposed and recycled fabrics to make her colorful, dynamic creations. Her designs appear in numerous compilation books, and she is the author of Imagine Quilts – 11 Patterns from Everyday Inspirations. She's taught at the Folk School numerous times, and we're thrilled to welcome her back twice this year!
Dana recently taught "Recycle, Reuse, Repurpose Quilting" this Spring, just in time for Earth Day, and will teach "Modern Traditional Quilts" in mid-September. She also teaches weekend workshops at Olive's Porch, our space in downtown Murphy throughout the year.
Enjoy our interview below to learn more about Dana's approach to quilting and what her students can expect to learn.
RG: Tell us more about your upcoming class at the Folk School, "Recycle, Reuse, Repurpose Quilting." What can students expect?
DB: We will learn to recycle, reuse, and repurpose clothing into quilts. Students will come with worn-out or thrifted blue jeans and 100% cotton clothing to use in a cathedral window quilt.  We will also experiment with dying, overdying, ice dying, and bleaching fabrics to make exciting new fabric options. 
RG: Can you discuss the importance of repurposing materials and "working with what you have"?
DB: It not only connects me to past quilters but is the responsible thing to do as a good steward of Earth. Textiles are vastly overproduced every year, and I like doing what I can to keep some of it out of landfills. Plus, the old saying "they don't make things like they used to" is true. Vintage fabric print and design are just so good, and it's a thrill for me to find them in thrift stores and give them life in a quilt.
RG: Oh, I know it well! We joke around here that you and Zak Foster, our former artist-in-residence, developed quite a reputation with the local thrift stores.
DB: I like to use everything at my disposal when it comes to sourcing fabric for my quilts. When Zak was in town, he sure did give me a run for my money at the thrift stores because all the good fabrics, vintage linens, and such were scooped up by him!
I love incorporating vintage fabrics, repurposed clothing, and newly manufactured fabrics into my projects because I find each source beautiful. In my opinion, sourcing repurposed, recycled goods is both frugal and responsible and gives my quilts a uniqueness and one-of-a-kind quality that I like.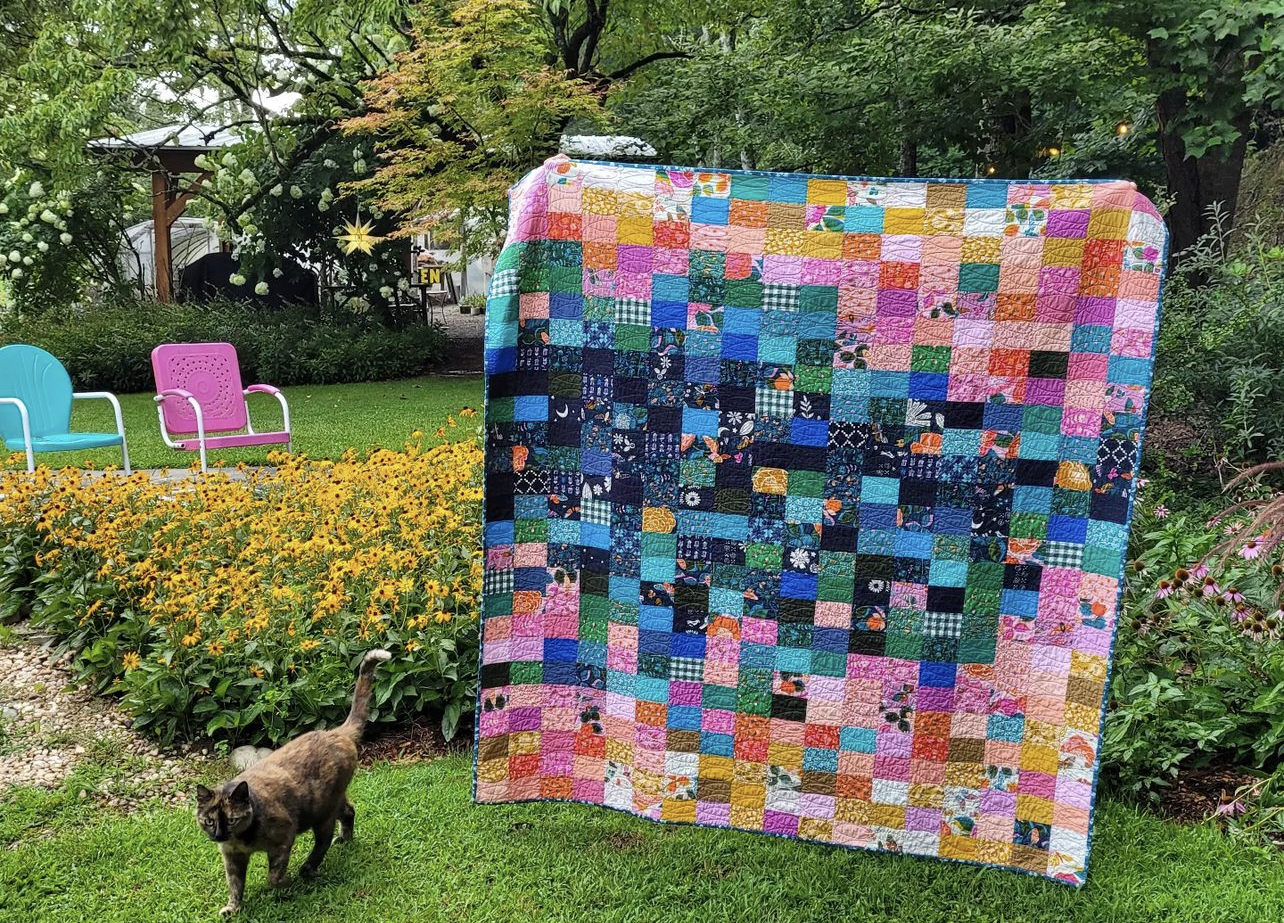 One of Dana's "scrappy quilts," with a special appearance from her cat Brownie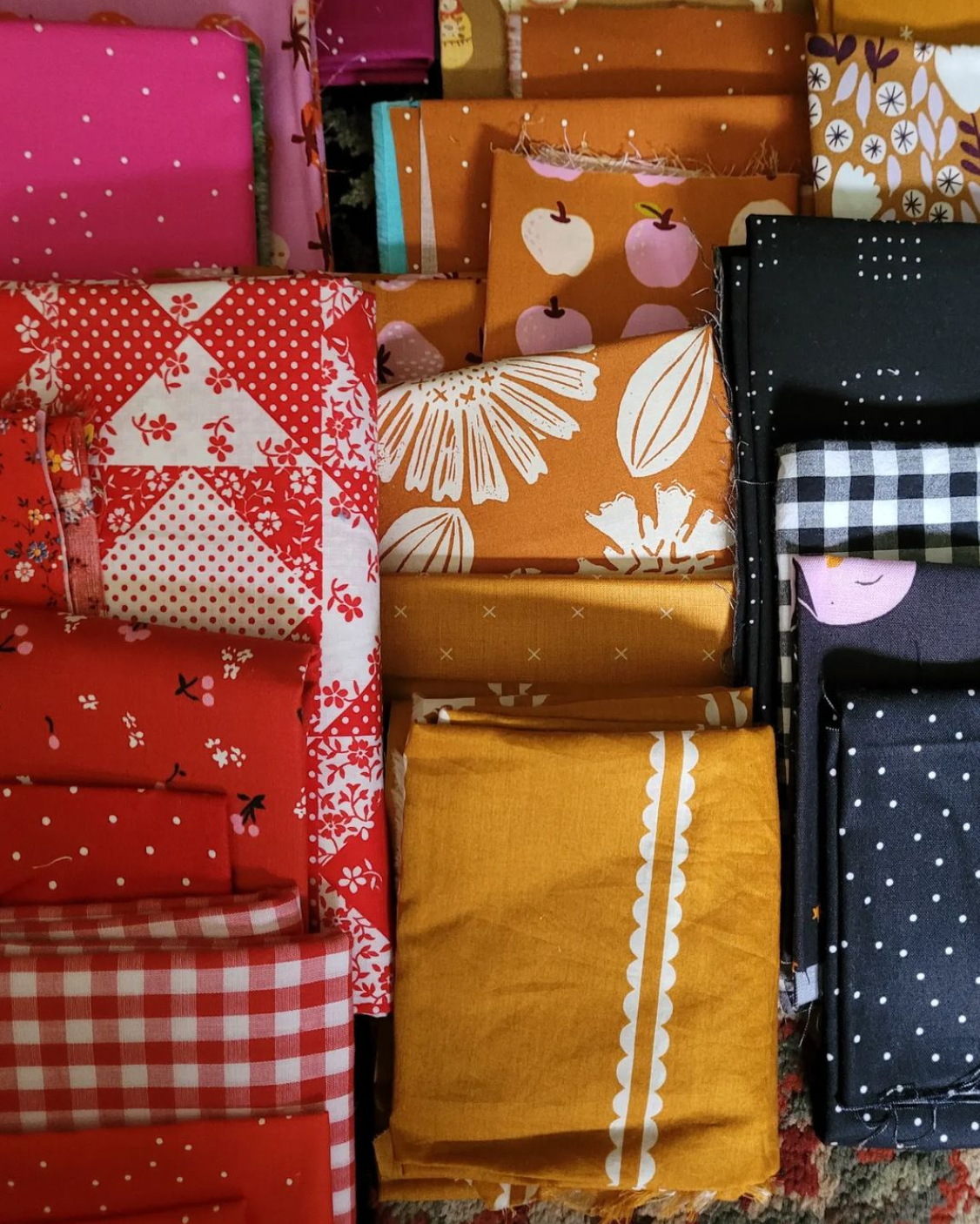 Some of Dana's colorful fabrics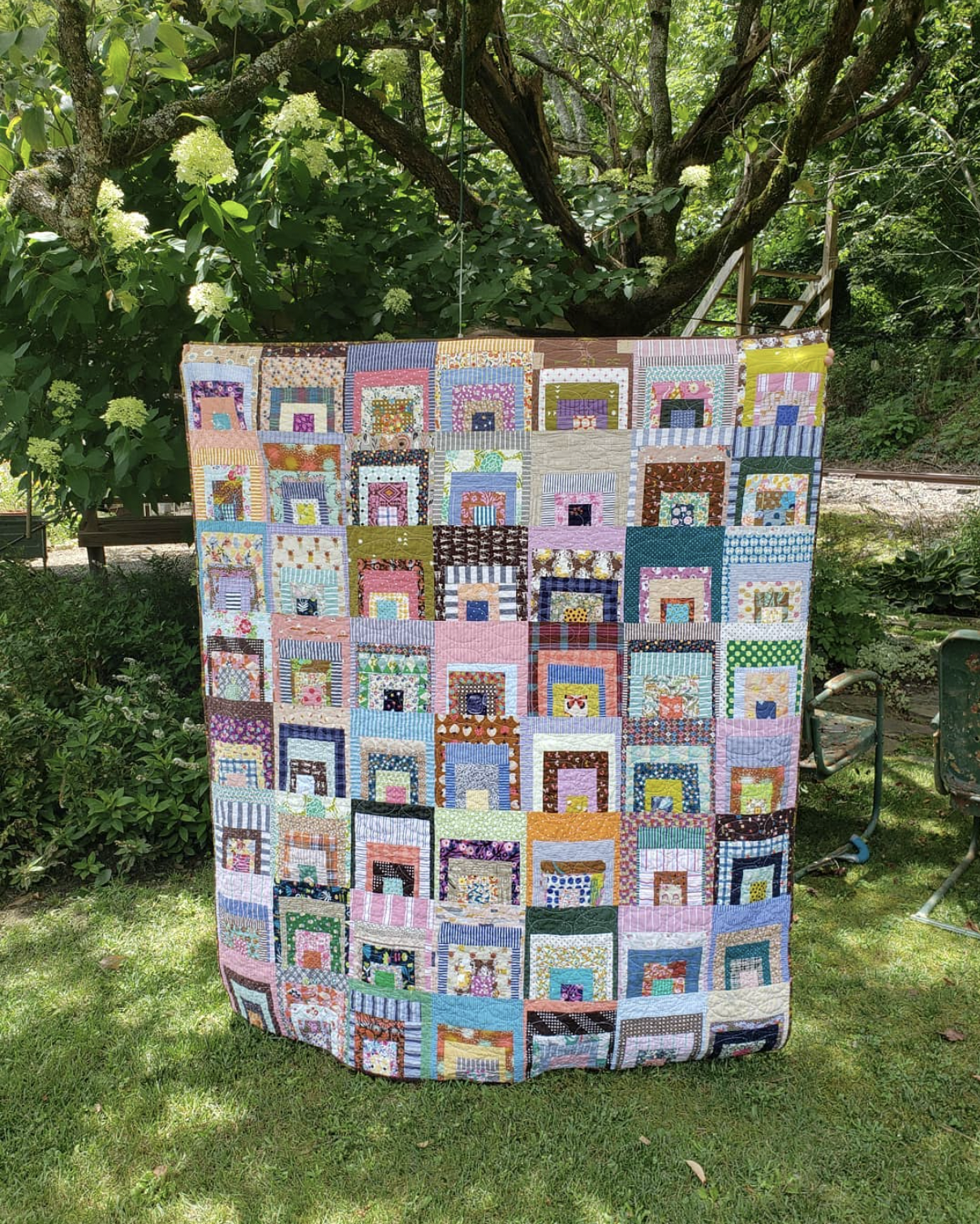 An example of Dana Bolyard's modern traditional quilting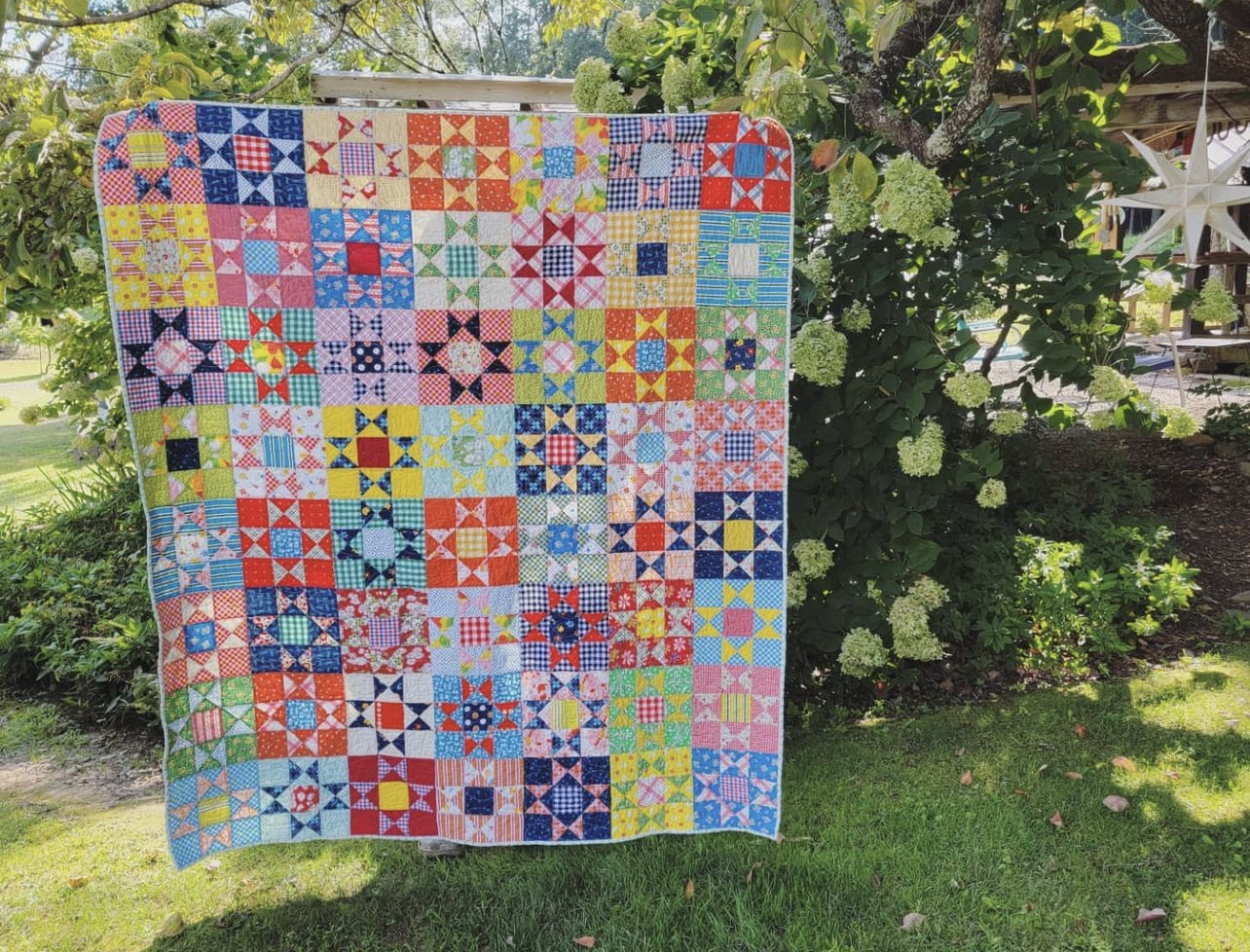 One of Dana's Ohio Star quilts
RG: I heard you're also teaching a workshop at Olive's Porch, our new space in downtown Murphy! What can folks expect to learn there?
DB: My weekend class at Olive's Porch is a primer on exploring a modern approach to traditional quilt blocks and designs. Today's modern quilts have their roots in our ancestor's quilts. The block designs, the settings of the blocks, the fabrics, and the method of construction are steeped in history. However, it's the choices of the quilters today that make quilts modern. Using scraps, recycling clothing, and using every last bit of fabric is how early American quilting began, and modern quilters are just as frugal. Plus, we have gorgeous new fabric designs readily available at quilt shops. Combining the two is a rewarding challenge!
This class will explore the traditional patchwork Log Cabin design and give it something new. We will study basic color theory, free-form cutting, plan, and layout compositions, and use both old and new fabrics to combine traditional quilt blocks with a modern aesthetic.
RG: What do you enjoy most about teaching?
DB: I love being surrounded by people that are as excited to work with fabric and thread as I am.
RG: Tell us a little bit about your background in quilting. How did you get started?
DB: Quilting has been a thread throughout my entire life. From the patchwork-inspired wallpaper on my childhood bedroom to my collection of quilts that I began while in college, quilting seems just a part of my DNA. In 1998, I asked to take my mother's sewing machine home with me, and quilting has been a love affair ever since.
RG: Where do you draw inspiration from in your work?
DB: I draw inspiration from color. Colors tell stories to me, and combining colors expands the story in my head. Maybe it's not even stories so much as feelings that colors make me feel. I notice the color play in dew drops on leaves, the sun setting over a mountain range, the brightly-hued graphics on a candy wrapper, and the variations and interplay of leaves and moss on the forest floor. When I become especially enamored with a color palette, I begin pulling fabrics and scheming my next quilt.
RG: What's one piece you've made recently that you're proud of, and why?
DB: People ask all the time what my favorite quilt is that I've ever made. My answer is always the last one I finished, and it's so true. Whatever project I just completed is my favorite… right until my next finish comes along, and it becomes my favorite. I think that's because I've spent so much time gathering, planning, and making my latest quilt that I've become so attached to it that it is my most favorite thing. That is until my next favorite thing comes along.
RG: Well, my favorite is your Ghost Town quilt! How did the idea for that one come about, and how did you source fabric for it?
DB: Ah, thanks so much! I love the mood and feeling of Halloween. Not the scary, make you jump out of your skin stuff. Rather, the quiet, moody colors of fall and kids dressing up and walking door to door in search of candy while their breath leaves puff of foggy mist in the cold, dark night. Every fall, my entire creative being is pulled to craft something that evokes that feeling when I look at it. That is how my Ghost Town quilt pattern came to be. To date, I've made four Ghost Town quilts myself, and I imagine there will be many others down the road. It is so fun to scroll the #ghostownquilt hashtag on Instagram and see all the different variations that people have been. That alone has inspired dozens more in my head.
A closeup of one of Dana's Ghost Town quilts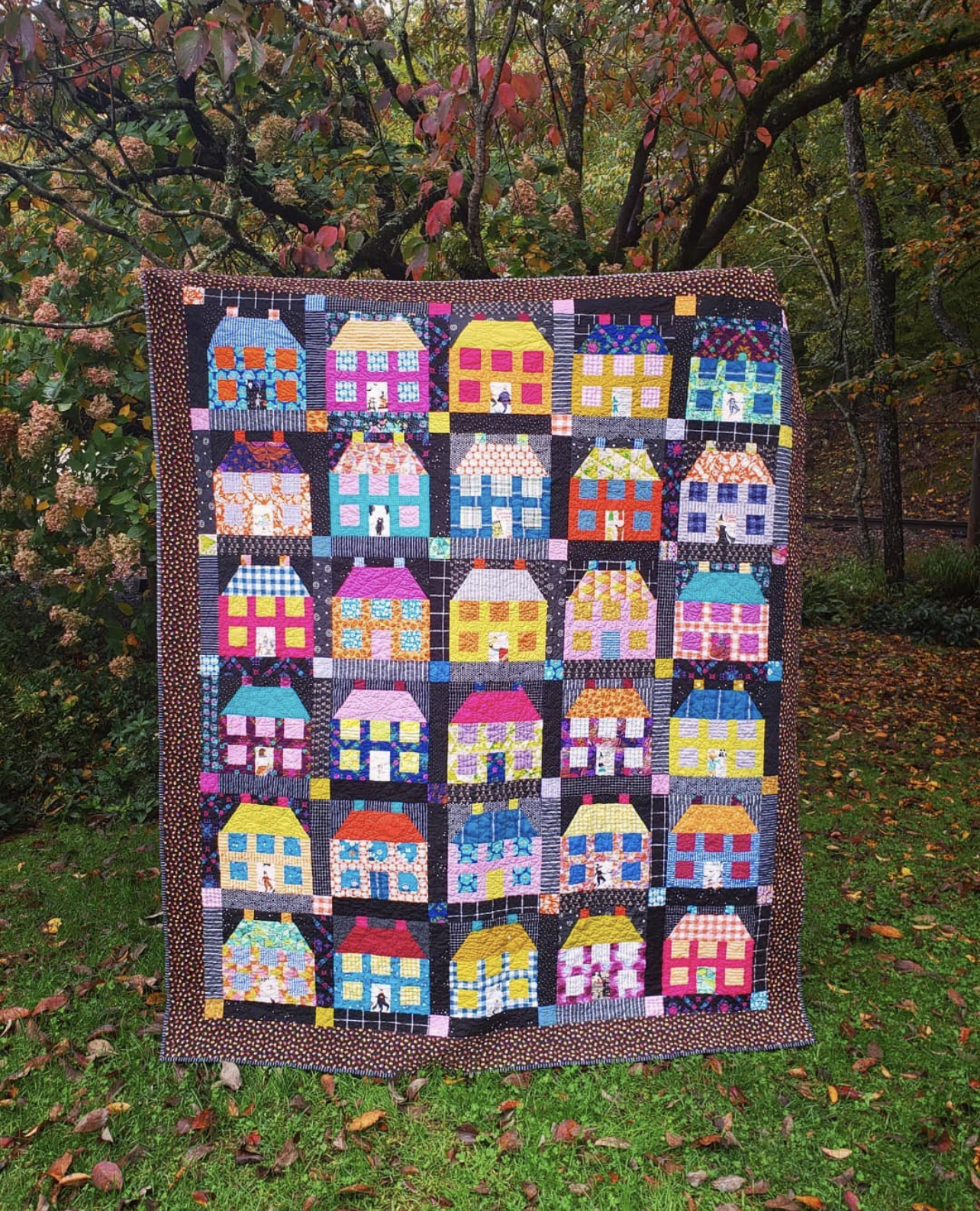 A finished Ghost Town quilt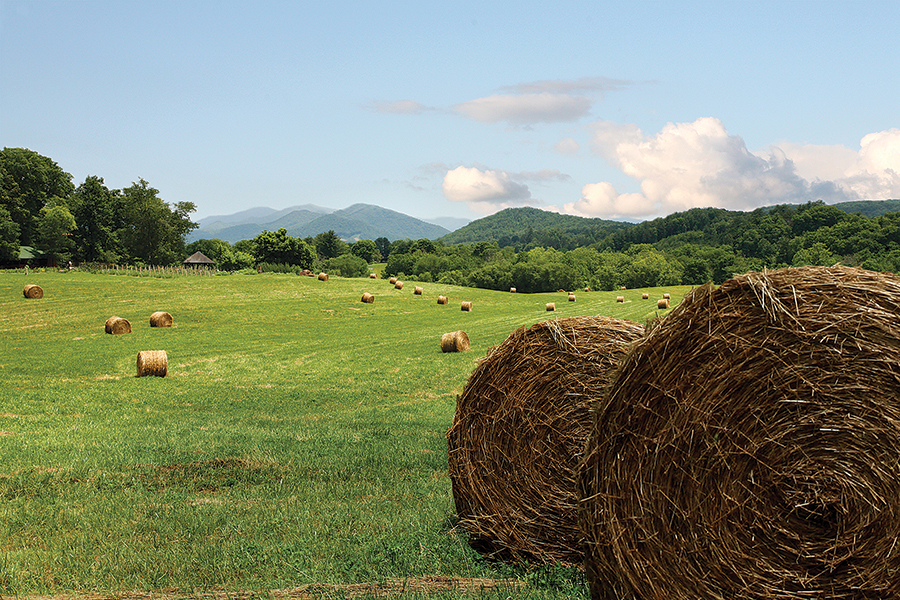 The iconic hay bales in the Folk School's fields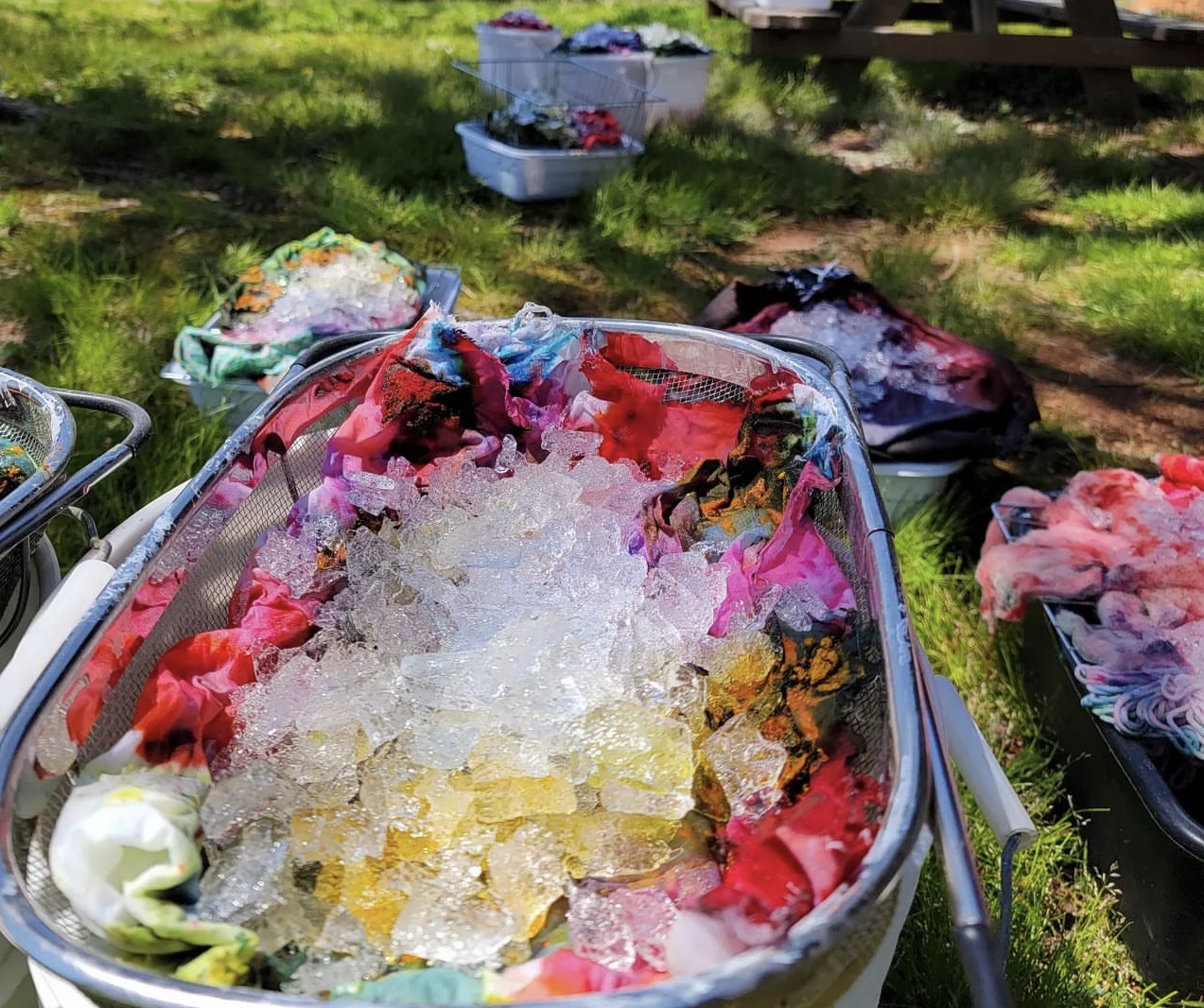 Dana's class ice dyeing outside the quilting studio
RG: What's your favorite part about coming to the Folk School?
DB: The Folk School is, hands down, one of my most favorite places to be. The natural beauty of the campus grounds and buildings is the perfect backdrop for the magic that happens in every nook and cranny at JCCFS. Whether it's the creative breakthroughs happening in studios or the hush along the wooded path to the dining hall, every moment on campus is magic.
RG: What tips would you give an aspiring craftsperson?
DB: The process of making is what matters. Not every result is amazing, but the process always teaches and informs us for later works. It's the process that is the reason we craft. Keep processing.
RG: Where can folks find you if they want to stay up to date on your work?
DB: You can find me on Instagram, @oldredbarnco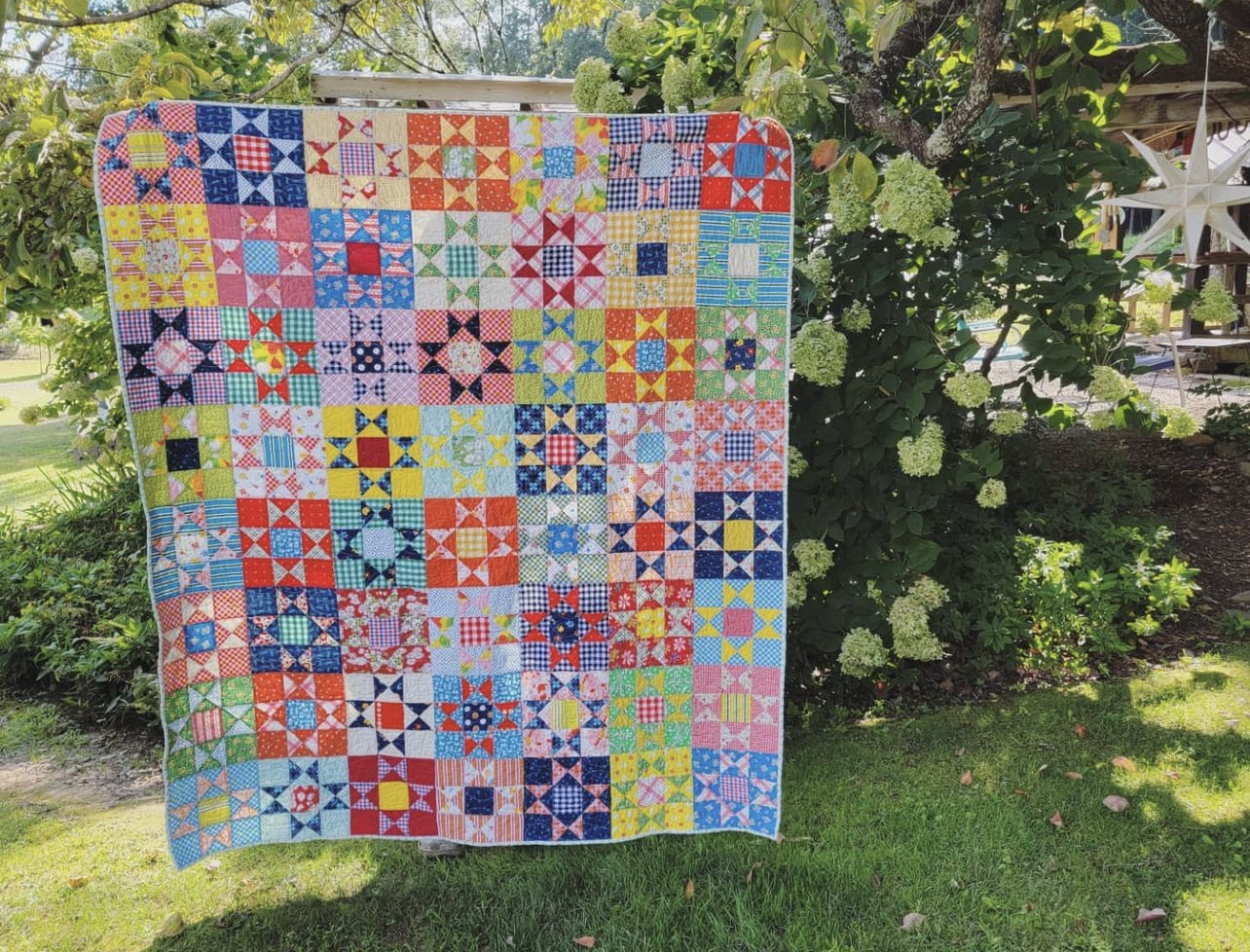 Modern Traditional Quilts
September 17 – September 23, 2023
Modern quilts have their roots in those made by our ancestors. Explore the traditional patchwork log cabin quilting design and give it something new. Combine the resourcefulness of quilters before us with new fabric designs that are at our fingertips. Study basic color theory, freeform cutting, and planning and laying out compositions to combine traditional quilt blocks with a modern aesthetic.
Dana Bolyard is a modern traditional quilter who wrote Imagine Quilts:11 Patterns from Everyday Inspirations and has had her designs appear in numerous compilation books including, Modern Baby, I Love House Blocks, The Big Book of Fat Quarter Quilts, and The Big Book of One Block Quilts, all from Martingale Publishing. You may find examples of her work on her Instagram at @oldredbarnco.