14 Feb

Hear and Repeat: Learning Appalachian Ballads and Building Crankies with Elizabeth LaPrelle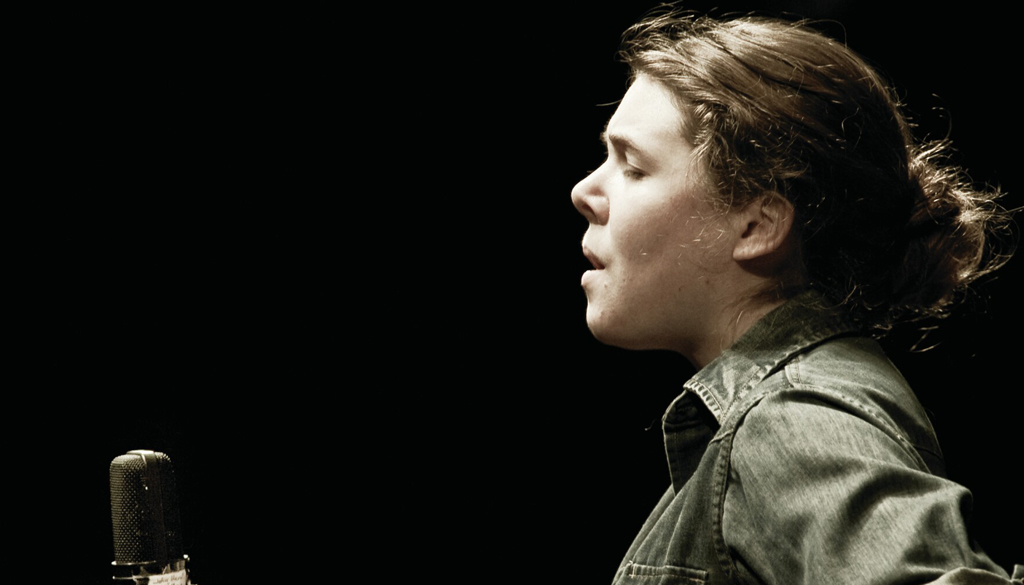 Elizabeth LaPrelle began winning prizes for her singing at a young age and has dedicated research, passion, and a powerful voice to the ancient art of Appalachian ballad-singing. Learning from field-recordings, books, family, friends, and tradition-bearers like Sheila Kay Adams and Ginny Hawker, LaPrelle has become one of today's leading Appalachian folk singers, pioneering new ways of presenting old songs and stories to modern audiences. As part of Anna & Elizabeth, she toured the country, was featured on NPR, and released an album on the influential Smithsonian Folkways label; this month, she released a new album of folk lullabies, in collaboration with her husband, and will come to the Folk School soon to teach crankies and old-time ballads!
We wanted to hear more about Elizabeth's history with folk music while also learning about what she has planned for her upcoming classes–her first time at the Folk School. Elizabeth will be teaching the weekend "Crankies for Old Songs Ballads and Stories" and the week-long class "Appalachian Ballads." Both offer an incredible chance to learn from the multitalented and esteemed Appalachian folksinger. Spots are still available if you're interested! Enjoy our interview below.
RG: Elizabeth, we're so excited to have you in Brasstown soon! You're a lauded musician, actress, and teacher with incredible talent. NPR said you were "almost single-handedly reviving the crankie," something you'll be teaching here at the Folk School in April. Tell us a little more about your background in music and how you became interested in traditional Appalachian tunes.
EL: Those are very kind words, thank you! In the duo, "Anna & Elizabeth," I worked for about 8 years making crankies collaboratively with Anna Roberts-Gevalt. We toured quite a bit and made a point of performing for schools and teaching workshops, so I think we scattered the idea of the crankie pretty widely!
I grew up in Southwestern Virginia, although I wasn't born there. My parents took me to fiddler's conventions when I was little, and my mother is a talented singer, so I grew up in a musical environment. I listened to a lot of folk and traditional records from my parents' collection as well.
RG: What have you been up to recently? I heard you have a new album out.
EL: Yes, my husband and I just released our album of lullabies, which we recorded while quarantined in 2020 – when our son, Noah, was just a few months old. My husband, Brian, is a songwriter; I'd say we are kept on our toes figuring out the changing landscapes of parenting and working in the arts! For the past few years now I've been teaching private lessons in addition to performing and recording, which I find to be very fulfilling work.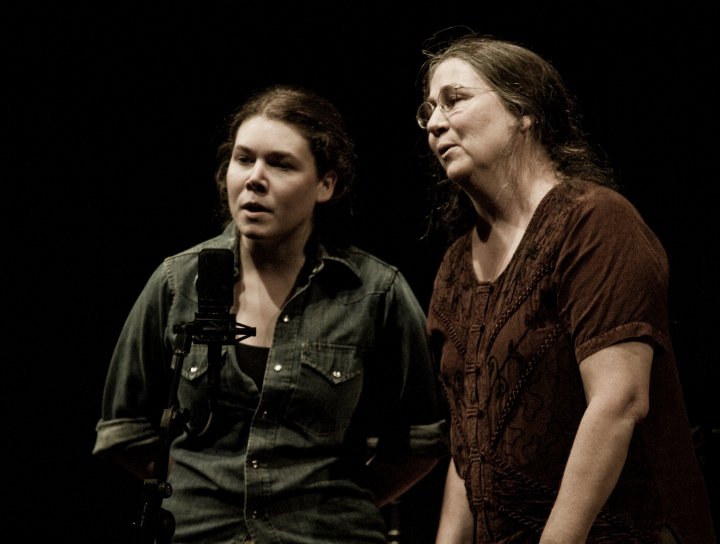 Elizabeth and her mother Sandy LaPrelle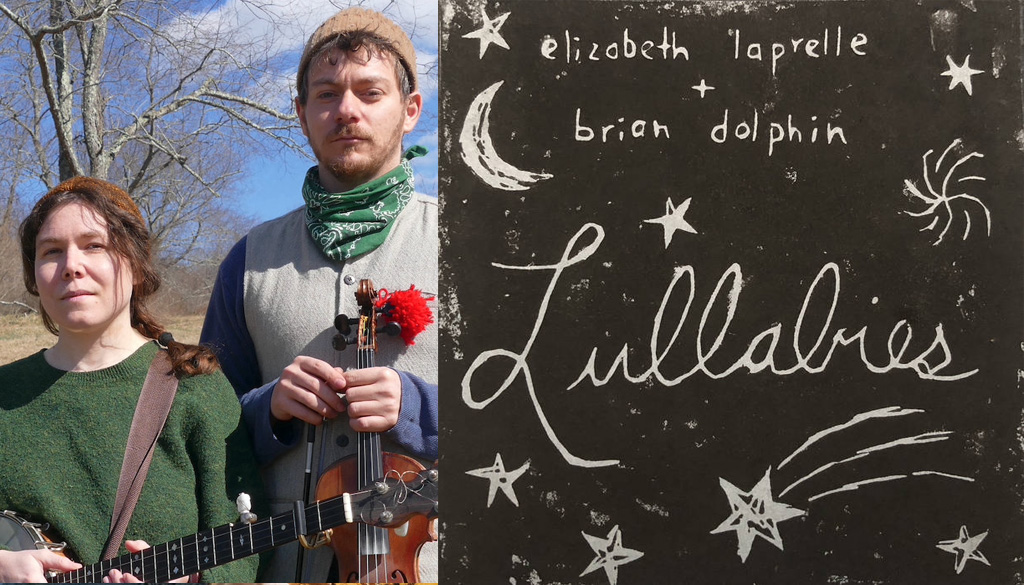 Left, Elizabeth LaPrelle and Brian Dolphin. Right, the cover of their new Lullabies album.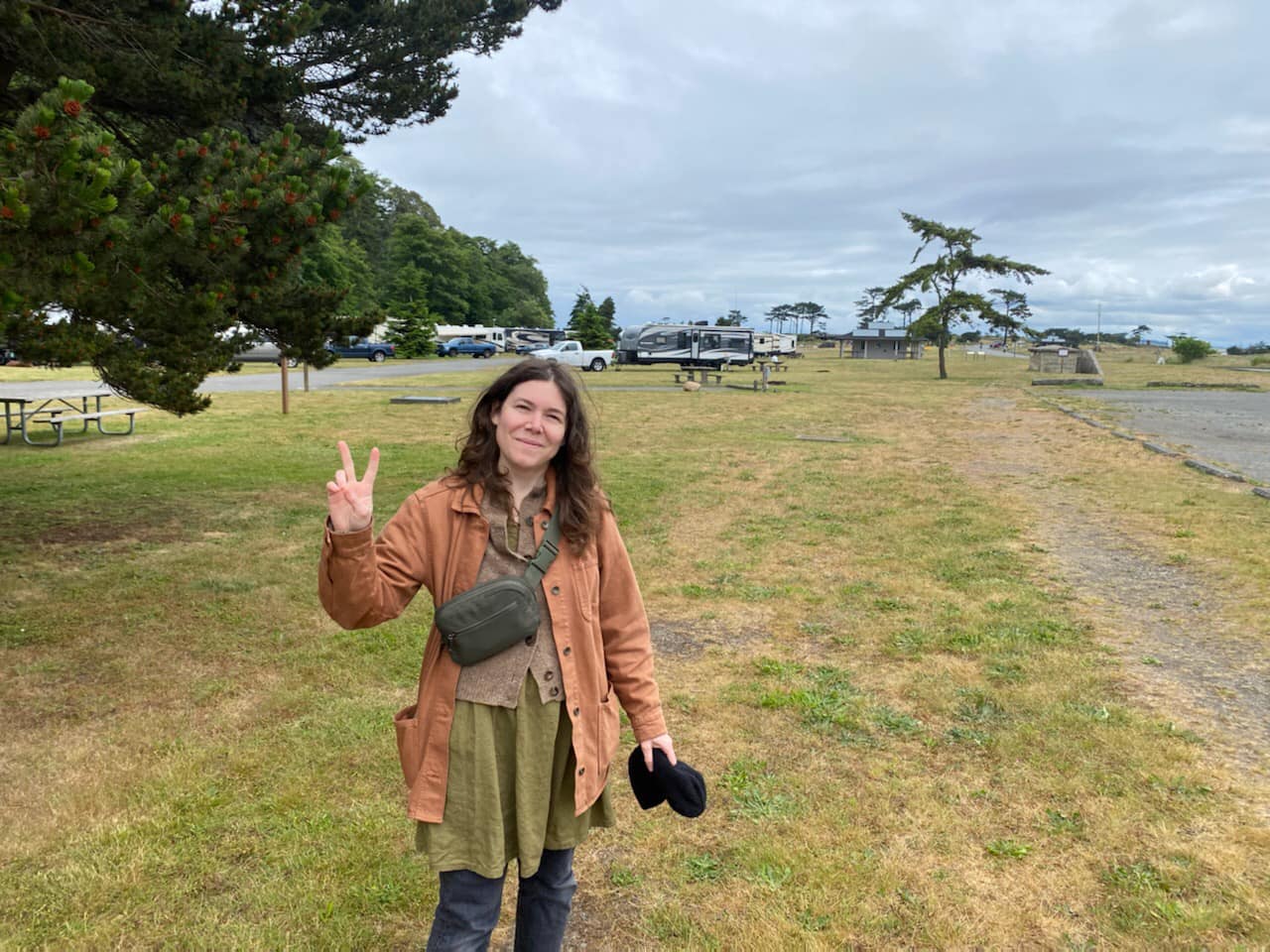 Elizabeth at Voiceworks at Centrum in Port Townsend, Washington
RG: This will be your first time at the Folk School. What are you most looking forward to while here?
EL: I first heard about the Folk School many years ago as a teen, and thought it sounded too good to be true: a mix of music, stories, and handcrafts, all nestled in the mountains! Later, when I learned more about its founding and how it was modeled on Danish folk schools, I realized that there was something very idealistic in how it formed as well. I grew up going to summer camps and feel very homey with these temporary communities that come together to share and learn a skill or an art.
RG: Tell us more about your upcoming weekend class, "Crankies for Old Songs Ballads and Stories," April 28-30. What can students expect to cover in your class?
EL: I think we'll touch briefly on some history of crankies, and mainly talk about ideas for how to translate a song into an illustration. And of course, we'll all make a crankie (or at least start one) to take home!
RG: You're also teaching a week-long "Appalachian Ballads" class right after, April 30 – May 5. Can you tell us more about that one?
EL: We can really dive deep into repertoire & technique in this one. I love talking about the lives of the people that sang the songs before me. I also enjoy talking about how to use your personal voice to deliver these story-telling songs.
RG: Learning melodies by ear may scare some people, but isn't it actually easier in some ways? 
EL: Well, it's certainly easier for me! I'm not very good at reading music, so my ear has had a lot of practice picking up melodies. And there are so many subtle ornaments in the old ballads that are not so easy to translate to the page, but that people can certainly hear and repeat. And that's all we'll do, is hear and repeat.
You can support Elizabeth on Patreon at patreon.com/elizabethlaprelle and purchase her new Lullabies album on Bandcamp at https://dolphinlaprelle.bandcamp.com/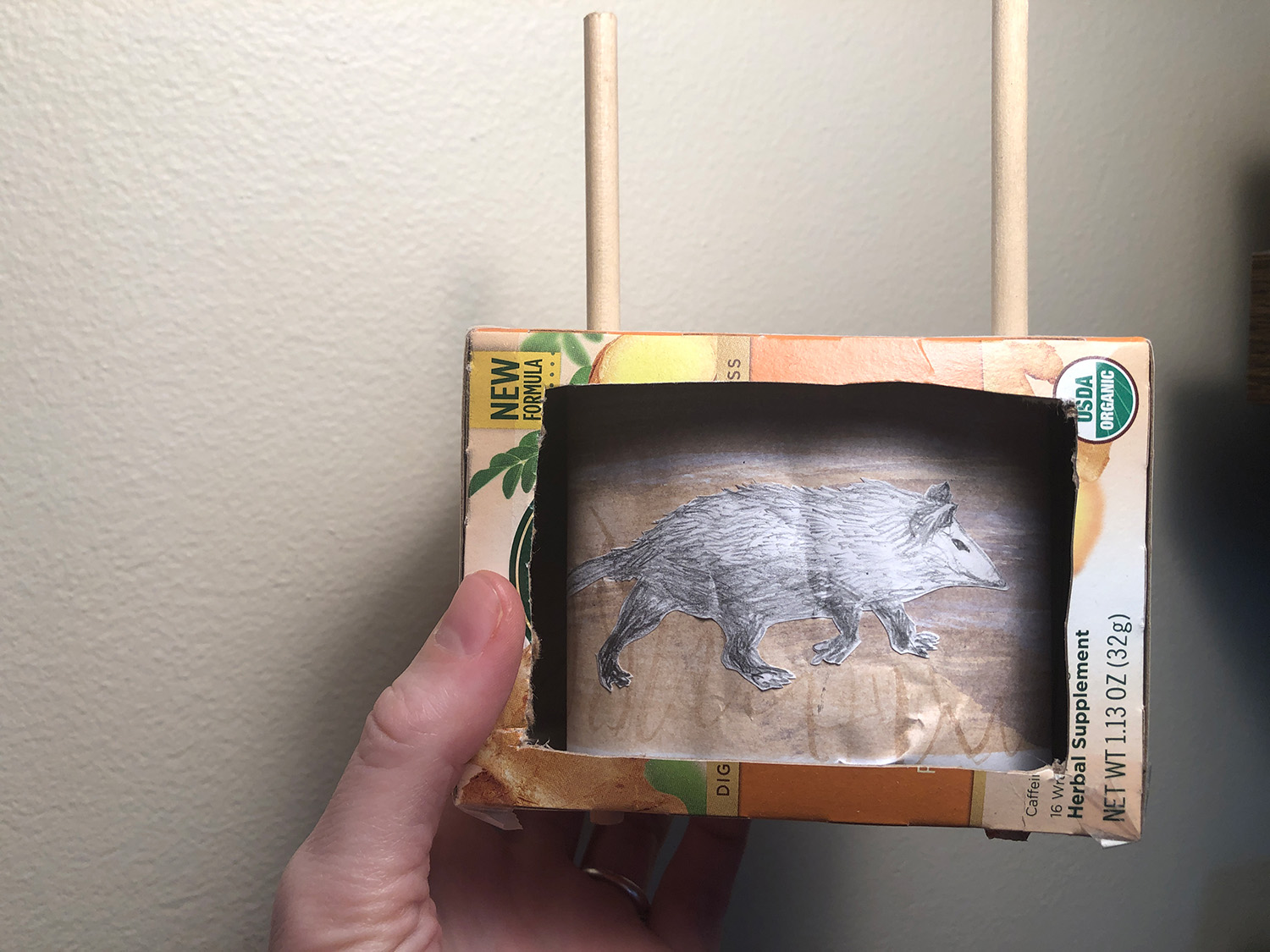 A tiny crankie Elizabeth made out of a cardboard tea box, will an illustration of an opossum.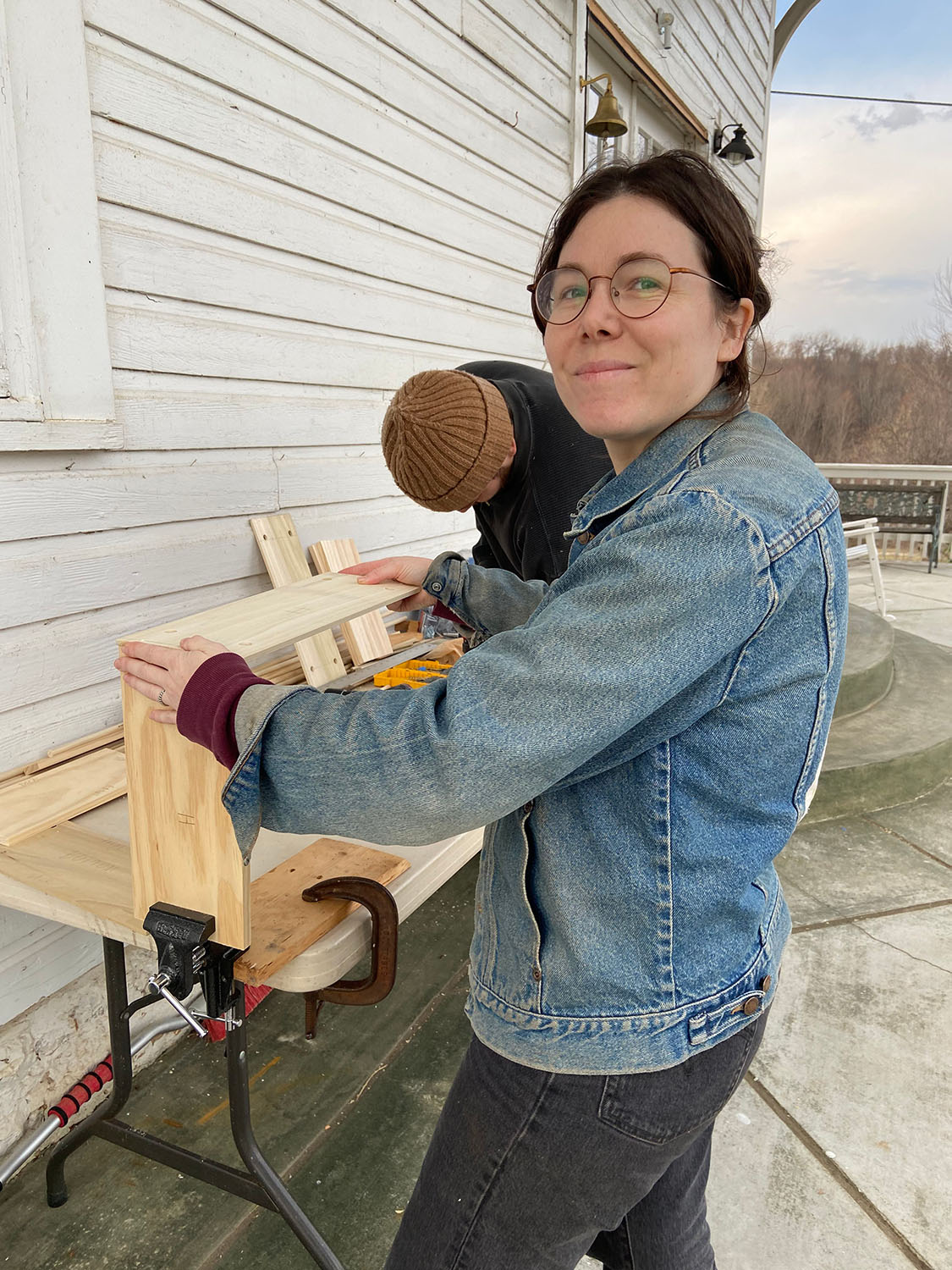 Elizabeth building a crankie
Upcoming Classes with Elizabeth
Crankies for Old Songs Ballads and Stories
April 28 – 30, 2023
A crankie is a scroll of images on paper or fabric, cranked in a box to make a low-fi moving picture. Crankies work especially well to engage audiences with a story, old song, or ballad. Come with a song in mind (or select one on day one); we'll discuss the meaning and how to communicate it visually. Then, create your scroll using watercolor, pen and ink, and/or paper collage on paper backing, and make crankie boxes from wood. Open to all-no art or music skills required.
Appalachian Ballads
April 30 – May 5, 2023
Learn ancient storytelling songs, sourced from archival recordings and the instructor's teachers, friends, and family. Gain familiarity with the history of ballads and the folks who sang and collected them. Discover characteristics that make the Appalachian singing style distinctive, and how to bring those elements to our own voices. Lyrics will be provided, but we will learn all melodies by ear.
Elizabeth LaPrelle has been performing Appalachian ballads and old-time songs since she was eleven. She attended old-time fiddlers' conventions and sang harmonies first with her family, then learned ballads from Sheila Kay Adams and from archival recordings. She received her undergraduate degree from the College of William and Mary, with a major in Southern Appalachian traditional performance. In 2011 she and Anna Roberts-Gevalt formed the duo Anna and Elizabeth, which went on to put out three studio albums and tour internationally with their many crankies illustrating ballads and stories. Elizabeth lives with her husband and young son.